Browsing articles tagged with " scream"
Label: Napalm Records
Review by Tony Cannella
From Russia, Arkona has already made a heavy footprint in the pagan/folk metal genre. Now they return with their 7th album (yes, I know, It's hard to believe) "Yav". The thing I have always loved about Arkona is the ability to mix in elements of thrash, black metal and traditional metal along with the pagan and folk influences. In Maria "Masha Scream" Arkhipova the band can boast a top-notch front lady – a fact she proves again and again on "Yav".
Even though "Yav" features only 9-songs, it clocks in at a whopping 68-minute! There is plenty of cool epic stuff here, like the 9-minute opener "Zarozhdeni". The next track "Na Strazhe Novyh Let" shows off the diversity of the band and is one of the best songs they've ever done. Continue reading »
Label: Lunatic Asylum Records
Review by Tony Cannella
From Italy, the 'Vampire Gothic' metal band MandragorA Scream was formed in 1997 by female vocalist Morgan Lacroix. In 2001 they released their debut "Fairy Tales from Hell's Caves" and have consistently stayed true to their gothic metal roots, whilst still managing to add new wrinkles to the band concept. In 2009 they released their landmark album, "Volturna" and have now followed that up with possibly their most ambitious album to date, "Luciferland".
The ominous intro "The Chant of Furies" gets things off in a dark, foreboding direction. "Hekate – En Erebos Phos" is next and is strong out of the gates. The duel vocals of Morgan Lacroix and Terry Horn are done pretty well throughout the album. Continue reading »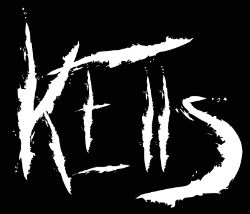 Interview by Ary R.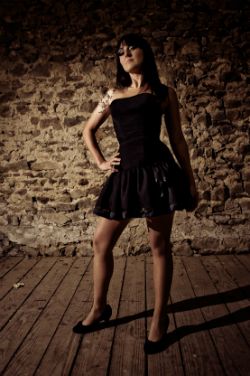 They rocked Europe last year with Leaves'Eyes and Tarja Turunen, and with Epica and ReVamp the former year as well. Now they're back on the music scene with the upcoming album, "Anachromie", that will reveal some other music features of the French rock band Kells. Just read with us what the front-woman Virginie Goncalves told to us!
Hi Virginie. Welcome to Femme Metal. How are you doing? Recently, you've released the new Kells album, "Anachromie". How are the feedbacks from your fans going?
I'm fine, thanks! "Anachromie" has been out for a month now, and it seems that both the press and the fans have praised this record. We are very happy about that because somehow we had chosen to take artistic risks, not to repeat ourselves and to renew our image, and people liked it!
I've been surprised about the title you've chosen for the album, as I've been amazed by the artwork as well. Would you like to talk about them? Who has created the cover and how was the choice for the name of the album born?
In this album, everything in the lyrics is written in a disjointed way, the space-time notion is broken, the reality mixes up with the dream, as in the surrealist genre… Globally, the lyrics are anachronistic. Also, I use many adjectives of color (ochre, silver, gold, amaranth, blue, white, black, saffron, amber, sapphire, sandy…), which gives the lyrics a very pictorial aspect. It is the mixture of these 2 concepts, the chromia and the anachronism, that gave birth to "Anachromie". The cover artwork has been made by Blackthorns Design. We appreciated what he had made for other bands, this mixture of surrealism and modernity, that's why we decided to work with him. The frontcover and the booklet are an illustration of the lyrics… the girl with her bridal veil, with all her dreams, the tortured childhood, the nightmares and the anachronism always there, with the hours of the clock, the tracklist in disorder … as in the surrealist universe, where nothing has any reasonable landmarks or points of reference.
The recording and the creation of the album have been quite challenging. How long did it take to put down all the material, to record it and to mix it properly?
We recorded this album in November 2011, more than a year ago already! We went to Mon Studio in Nancy, to work with Yann (MyPollux). We began with the recording of the drums, then the basses, the guitars, the strings, the choir, keyboards, electro music, to finally end up with the vocals, at the end of November. So it took almost one month, because we prefer taking time! Yann then attacked the mixing in December, and we eventually sent it all in New York to the Sterling Sound Studio for Ted Jensen to master it in february 2011.
Interview by Ed MacLaren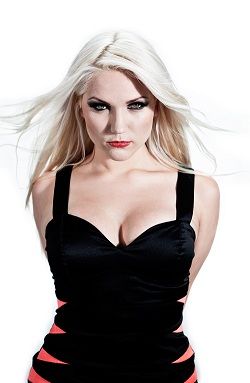 Hearing a band's debut album for the first time is like digging up a treasure chest. You have no idea what's in it but you're hoping that, whatever it is, it's going to make you rich. Uncovering "Breaking the Stillness" – the powerful debut album from Finland's  Shear – is a treasure in its own right – a refreshing and engaging listen that will reward your ears again and again. The album is built on catchy melodies and progressive arrangements but what really raises the eyebrows are the balls-out voice of singer Alexa Leroux. On each track, her vocals cut loose adding some grit to the polished music underneath. Femme Metal Webzine got the inside scoop from vocalist Alexa Leroux on the new album, her powerhouse vocals and how classical training works well in the metal world.
Welcome to Femme Metal Webzine, Alexa! Congratulations to you and the rest of Shear on "Breaking the Stillness". An excellent debut album!
Thank you very much! Glad you like it!
Shear brings a sonic cornucopia to the ears – crunching riffs, swirling keyboards and powerhouse vocals. This album will definitely appeal to fans of power and symphonic metal not to mention the progressive metal faction.
Well, thank you, once again. Our album is a little more melodic mixed with progressive, than symphonic, but I hope it reaches fans of different metal styles also. I believe it's diverse enough, so even if people don't like all the songs they might find some elements they really like.
Are you excited? What are your expectations for the album? The prediction here is that even though it's early in the year, you could be seeing "Breaking the Stillness" on some best of lists at the end of the year.
I am very excited about having an album finally come out. I can't really predict anything and in a way I think it's better I don't even try to, but it would be totally awesome to see it succeed.
Track for track, "Breaking the Stillness" is a powerful listen from start to finish. What's the secret to maintaining that kind of momentum over a whole album?
We really took our time writing the songs. Every song was written with a purpose and they all come from a very personal space, so that is probably what helped the most.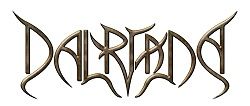 Interview by Ed MacLaren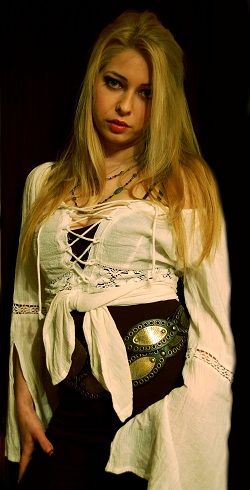 Music has always been an amalgamation of styles and influences and metal is no exception. By channelling folk through the heavy riffs of metal, Hungary's Dalriada have combined the best attributes of both styles with intricate and unique results. With their latest release, "Ígéret", Dalriada prove without a doubt that you can celebrate culture while still bludgeoning the eardrums. Dalriada's vocalist Laura Binder took some time to speak to Femme Metal about the challenge of expressing Hungarian folklore in a metal framework as well as the band's goals for "Ígéret".
The new album "Ígéret" on AFM is an album that really transcends language. You don't have to understand a word of it to feel the energy and passion in the music – and that's no small achievement. Congratulations on another great album!
Thanks a lot on behalf of the whole band! We all put a tremendous amount of work into this album. I tried really hard to add more of myself, ourselves, my style and our combined style to it and to share some of the emotions I felt while writing these songs with the whole band.
You choose to stay true to your folk tradition and write and sing in your native tongue. Many bands adopt English lyrics to reach a wider audience. What are the advantages and disadvantages of singing in Hungarian or is it even an issue with the band?
Not an issue really! We've been writing our lyrics in our native Hungarian since the beginning back in 1998, and that isn't realistically going to change.The Hungarian language in itself sounds quite exotic already to the western European ear and Hungarian folk music isn't very well known in your region either, so I think it gives us something that is totally unique. This is only one of the many things we're able to use to strengthen our work: it's a way of honouring our own culture as well. If you look very closely, you'll probably find more similarities between Swedish, Finnish or German folk metal bands than you'll find comparing us with them.
Technically, folk music isn't really about the type of instrumentation but the common people reflecting the traditional forms of a society. Do you and Dalriada consider yourselves a modern folk band?
Yes, I think we accept that but we also embrace being tagged as a folk metal band too because in terms of a definition of our work, this sounds about right. Having said that, we operate with lots of other musical elements too and we aspire to diversity and variety, whilst adhering to our principles, so I always try to ask people to look below the surface as well!
The music on "Ígéret" feels very 'celebratory'. Is this how Dalriada views its country's history?
Well, our home country's history abounds with severe, tragic events, yet much of it is extremely heroic too, so in a way you're right! Peace was extremely rare. Hungary never went to war to conquer as such – although it had the power to do so – but very often to defend its people from outside foes. Many of our songs tell about our ancestors' bravery and self-sacrifice and therefore their character is quite celebratory and epic; yes!
How do you determine your source material for each album?
It depends; it's very different. In many cases, it's a single folk song, a poem or a good book that starts the process of song writing. But, sometimes we knowingly adapt a specific folk song or melody too – a particular tale or legend. There are some personally very inspiring songs on our new album "Ígéret".
Is Dalriada making an igéret – that's a promise in Hungarian I believe – with this album? Is it to anyone in particular?
Yes, in a way, but it's a pointer as well. This album is for anybody who is open minded and interested in modern metal, combined with eastern European folklore and culture and especially Hungarian folklore and musical traditions alike. We don't expect a sudden flash of brilliance and increase in our popularity abroad; our goal with this album is to put ourselves on stages across Europe (and maybe beyond) and to become a viable part of the world's "metal heartbeat"!
You and Andras Ficzek serve up some excellent vocal performances and harmonies on "Ígéret" – especially on tracks like "Igazi Tuz" and "Leszek A Hold". Did you two have any particular vocal strategies when recording the album?
Thanks a lot! Basically, we are our own producers; when Andris sings his parts at the studio, I regularly give him instructions and feedback and vice versa. We can be quite productive when working together; it's a result of long lasting, constant teamwork, and we compose all the vocal and choir parts this way. We have no specific plan; I, for my part, try to utilise my abilities as best as I can to add something new and extraordinary to the whole, for what the songs require and he's also trying to always give each and every song its own unique note.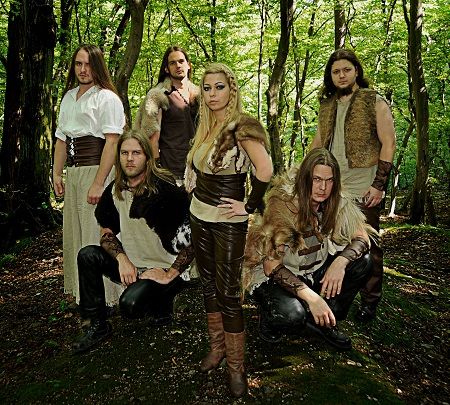 You even did some grunting on your part! How did that go? Had you done this before or did you have to learn how to do it? Hopefully your throat held up well!
Yes, it's not hard… I've actually used this technique on stage for years now and even on our album "Szelek" from 2008 where I had a small screaming part. The new album is truly the first one with longer parts, that's true, but I didn't have to learn or even practice this kind of vocal technique. It just bursts out of me, naturally. In one of our new songs – "Hajdútánc" – I alternate, time and again, between screams and clean vocals, and it drives the crowd crazy! (Laughs)
The traditional "Intro" and "Outro" were very interesting bookends to the album. Were they functioning like a book's prologue and epilogue, setting up and closing the stories in between?
Exactly and that was definitely our goal: to create some kind of frame for the album. The "Intro" – chosen and played by the Fajkusz Band – a traditional Hungarian folk music trio that has constantly backed Dalriada on stage since 2009 – is a fragment of an old poem written by Tinódi Lantos Sebestyén who's a Hungarian soldier/poet from the 16th century. The "Outro" is a part of the song "Leszek A Hold" with shaman drums.
Tracks like "Mennyei Harang" and "Ígéret" incorporate lyrical and melodic elements of older traditional folk songs in your music. How important is it to maintain a connection between the modern and your traditional folklore?
Extremely. When we first started playing back in 1998 in a slightly different band to Dalriada, our primary goal was to mix Hungarian folk melodies and some classical music elements with traditional heavy metal. Of course, this idea wasn't new since there were some outstanding folk metal albums by bands such as Skyclad and especially Amorphis who were writing masterpieces of this genre with their album "Elegy" in 1996. But, although we wanted to create something similar we knew we had to better this and add to it our main idea of expressing our love for Hungarian folk music and folklore. We mustn't forget to mention the Fajkusz Band in this regard too, since they too have helped us a lot in combining these styles in an authentic and real way.
"True Fire" is a tribute to a fallen band mate, Peter Hende. What a great homage to immortalize him and his life in a true folk fashion.Thank you once again.
Yes, Péter Hende was a founding member and the spirit of the line-up back in 1998. He died suddenly and unexpectedly in January 2001. He spent only 3 years in the band and was only 23… This song was written in his memory. Rest in peace!
Dalriada is very prolific as far as metal bands go – six albums in seven years. What's the secret to producing such consistently high-quality music for so long? Isn't it about time for a break?
I hope not! There's no big secret, we just like to work on short deadlines; it seems to inspire us, and it's just the way it goes in this band. Certainly, it's always important to show progress from album to album; the sound and the songs' need to move forward. If, in our opinion, the new stuff will be weaker than the previous ones, we wouldn't publish it and I think that would be the time to stop for a bit. But we'd like to stick to this schedule for now – one album per year approximately. That's, of course, just theory though because you never know how it'll turn out! (Laughs)
"Ígéret" is very danceable, for a metal album – it has a real groove to it. Your concerts must be a real party!
Our Hungarian friends and fans support us in an incredible way; the spirit and the atmosphere of a Dalriada gig is fantastic. I can't even compare it to anything! Without the support of our Hungarian fans, we'd be nowhere!
Do you have any tour plans for the summer? Will you be performing around Europe or maybe North or South America?
We have some confirmed concerts abroad in Europe certainly; in Austria, Germany and Italy, but hopefully, there will be more of them as well. The tour dates will soon be available on our homepage. Feel free to check them out!
(Famous) Last words?
No real quote, sorry!! Just thank you for this opportunity, and I hope to see you at a gig somewhere in Europe soon to show you just what a real Dalriada concert is like!
Links
Latest Multimedia
6 color styles available:

Style switcher only on this demo version. Theme styles can be changed from Options page.