Browsing articles tagged with " simone"
Interview by Miriam C.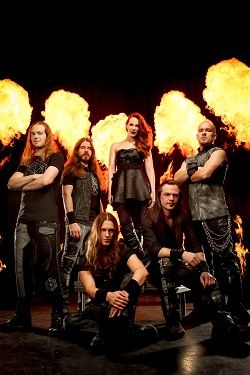 Although we haven't still have had the chance to give a thorough listen to this fantastic (at least we presume so) album, we asked Epica's  Mark Jansen to introduce us this brand new opus called "The Quantum Enigma" in his own words. We're sure of one thing:  TQE will be the breakout album for Epica. Discover something more about this new work in the following Q &R!
Would you mind telling us something more about how "The Quantum Enigma" was devoloped? When you have started to draft out the first ideas for this album?
The first ideas emerged 2 years ago when we started writing songs for the album. When we had enough songs we sat together with producer Joost van den Broek and selected the best songs. Still a quite big amount of songs (18). After the selection we did rehearse those songs and jammed a bit in order to make them better. We worked very hard on the final details with the whole band and Joost, this effort resulted in improved compositions. We also worked on the sound of the bass, guitars and drums. We have tested several amps and tried out multiple combinations in order to find the best possible sound. Continue reading »
Interview by Ary G.& Anna Fortini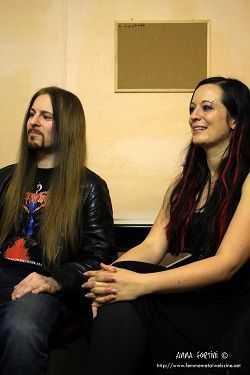 On the occasion of the two new italian dates that see Xandria as the opener act for the new Epica tour, Femme Metal had the pleasure to have a great chat with Manuela and Marco in Milan, that kindly talked about the new record, "Neverworld's End", about the influence they've taken from Nightwish, the life on the road with the colleagues Epica and Stream of Passion and a possible of a new music direction.
Ok. We are here with Xandria, with Marco and Manu. Welcome to Femme Metal.net!
Marco: Hello!
Manuela: Hello!
How are you doing guys?
Marco: Oh great!
Manuela: I'm fine, grazie!
So, yesterday you've been in Rome for the very first time. How was to visit a city that you've never seen before?
Manuela: Well, actually we didn't visit the city, but I could tell you about the concert: it was really amazing! The people were really great and we really had fun on stage, so it was great to be there, really…
Marco: The location was about 40 km far from the city center of Rome, so unfortunately we had no chance to see all the famous things in Rome…
What about the weather?
Marco: April weather! Ehehe! Rain, shine, rain, shine…
What could you tell about the lyrics, instead? Today you are here in Milan again, after having been here for Out of the Dark Fest. How is going? How do you feel like coming here again in Italy, for the second time this year?
Manuela: I like it very much

because concerts in Italy have always been great, also for me in the past I've been here with Haggard already, so I know we can expect a big concert.
This tour is the first one that doesn't see Nils unfortunately, because he had been injured after some dates you had with Epica and now you have a replacement, that is Fabio D'Amore from Serenity. What did cause this choice and how have you decided to take Fabio in your crew?
Marco: We have joined Out of the Dark Fest with Serenity, the main band with Fabio, it was one of the five bands we have been on tour, we were in the same tour bus, we were friends, so he was the first one we thought of when we were searching for a replacement.
Manuela: He is a very good bass player and he has a great personality, we like him very much. Nils is recovering, but he will be with us as soon as possible…
We want to wish Nils a good recovery, we wish him to get well soon!
Marco & Manuela: Oh, thank you

So, as I said, you'll be in Milan tonight. So, will we expect some surprises tonight from you guys?
Marco: We'll play the songs from our new album, some songs because we have only 35 minutes, as we're the opening act, but it's the first time we'll play some of the new songs of the album for this tour, it's a great thing for us because we're also fond of the new material, all the years we've been really looking forward to play that stuff, because we knew that it would have been working, it would be great fun to play live, as we've seen in these last 2 days it's really the case and so I think it will be great tonight.
This tour sees you with Epica and Stream of Passion. It started a week ago or so, but I discovered that some dates were already sold out, so what's the feeling of discovering that "your dates" are sold out?
Marco & Manuela: Ehehe!
Marco: Of course, it's Epica sold out shows, but we are amazed of possibility to get new fans, we hope to get new fans on this tour

Last month you've released "Neverworld's End", after five years of silence. How've been the feedbacks so far from the media and the fans? Are you happy about the result?
Manuela: Well, until now it has been really positive and we got very good reactions and responses to the album. Of course there is someone that says "We want Lisa back!", but it's always like that when singer is changed, but most of the people accepted me as the singer now, so I'm really happy about this…
I see that daily you receive lots of compliments on your Facebook profile and Facebook page, so are you happy to be so accepted in the band from all the foreign and European fans of course?
Manuela: Yes, of course I am! I am really thankful for it. It puts me a big smile on my face when I see all the comments on Facebook, this gives me strength to go on, I know that I am on the right path, that we are on the right path with what we do, so it's very nice to have such good fans!
Marco: It's the best choice we could ever do with Manuela, really…
Manuela: Oh, thanks you

Marco: I think all those five years of silence you've mentioned it was all good worth, we followed ourselves again for the future, a new musical path, we wanted to do more heavy, more symphonic, more bombastic. The new album is the more ambitious we've ever done and we also have the best singer we could ever find for this album, I think it's the strongest incarnation of Xandria.
Yeah, I agree

Marco: We really feel like that. We feel like being reborn, it's a really good feeling!
What about you? Are you happy about what you wrote in this album? Because I know that you write and wrote most of the lyrics for Xandria, so what about this result?
Marco: Yeah! It really turned all the way I wanted from the beginning, I wanted this symphonic, this more epic style for the very beginning, when we were thinking about the album, we wanted to be like that from the very beginning.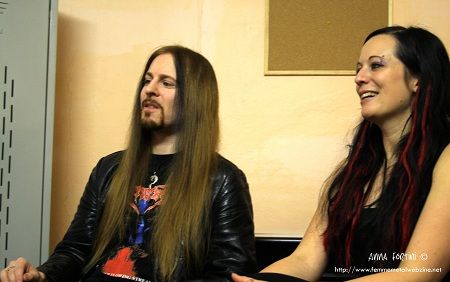 Now Xandria is more metal-oriented than before. In the last album called "Salomé", if I'm right, it was more gothic-oriented, it was less metal than this one. This is more symphonic. What do you feel like writing some new stuff? Do you feel yourselves more mature in this new record?
Marco:Yeah, definitely! As a songwriter, I've been able to do things that I've never been able to do before, and I've always been fan of more complex, more heavy stuff, because also the new songs are a bit more sophisticated and complex and this was a challenge for me as a songwriter, I always need new challenges, something that pushes me forward.
Where do you get the inspiration when you write something for Xandria?
Marco: It comes every day from somewhere

While driving the car from my home to the studio, where we recorded the vocals in Munich with Manuela… or on long travels or even here on tour and that comes the inspiration…
So you're definitely happy of having written this new record, that fans really appreciate for what I've seen but my attention was catched up by a song called "A Thousand Letters". What can you tell us about this song?
Manuela: For me it's a very personal song, because I wrote the lyrics for it. The lyrics are about my grandparents, it's inspired by what my grandfather and my grandmother told about the War and about their love. I've read a diary of my grandfather and it touches me very deeply and after their death, it was easily for me to overcome this sadness about their death and I wanted to write something for them and about their love. It's about their love and the 2nd World War and it has a positive end, because they meet again after the end of the war. In reality, it was the same so… It made me very happy that this song has finally made it on the album.
Concerning "Neverworld's End", I've read some reviews on the web and I've seen that so many reviewers told that you are a "clone" of old Nightwish. How do you react to this statement?
Marco: Well, I think that they think this album reminds something of the old Nightwish but I really don't like the word "cloneW because most of the people see that it's not about doing the same stuff again, but understanding what they did and appreciate it, taking it as an "influence" and making your own stuff with that.
Was you inspired maybe by from old Nightwish era somehow?
Marco: Honestly, I am a real fan of Nightwish, yeah… that's right! I love all their material, even the last two albums! Yeah.
What do you think about "Imaginaerum"? Random question…
Marco: It's different from what I expected! When they told all the people that it would have been a real soundtrack thing, I expected more soundtrack and not so much rock songs, it was a bit surprising for me but I like it

Usually when you get some criticism, from the media or fans, even if they are positive or negative, how do you react? Do you feel yourselves offended or do you think "Ok, it's a constructive sentence, it's a constructive critique, so I have to accept it"?
Manuela: Well, I try to take the good things out of the comments, I separate the critique, I mean I take the rights ones and I put away the bad ones, what I mean is: there are some comments that are sometimes very mean. I don't care about those! I just try to take the good things

Marco: You have to push them away, sometimes it's just a matter of tastes, you know! If someone say "Oh it's too much bombastic!", it's more cheesy, sometimes for some people, I just say "OK, this is not the music you like, it's ok for us". We can't include everything that comes from somewhere, because it would be something that doesn't please everyone. We want to make music we feel, it's all from our heart, it the people like it, it's ok, if the people don't like it, it's ok also!
Manuela: Yeah! Everybody has different tastes! That's okay

When a band changes her own vocalist, every single fan always dares to compare the single member, the female singer and so on. So has it never happened to hear maybe some fans saying "We want Lisa back" or "We want Kerstin" back or some evil things like that?
Manuela: Yes, of course, but that's okay for me, because you know, we have very different voices and some like Lisa's voice better, some like mine better, so it's ok. I was prepared for that, because of the things I saw going on in Nightwish, for what concerned Anette and Tarja and so on and so I've thought "ok, it might be some people say that", but it really didn't touch me, I just focus on people that really like me and love me and appreciate me.
As you said, you're on tour with Epica and Stream of Passion. Have you had the chance to get in touch with the girls or the boys?
Manuela: Well, of course we had the chance to get in touch a lot with Stream of Passion because they are in the same bus with us, so it's really great, they're really great guys and a great girl and we had lots of fun together…
What about Epica?
Manuela: Well, not so much but we still have some talks here and there and had fun of course.
Marco: We're just not in the same bus, so we always meet occasionally. We have different date schedules on the show dates, so sometimes we meet and they are great people too!
What do you think of Simone Simons as a vocalist or as a person?
Manuela: I think she's a very, very great vocalist, I adore her voice very much, and well she is a very beautiful person.
Marco: And she knows how to handle a metal audience, it's really cool.
What about Marcela?
Manuela: She is a really ground to Earth person! I love her personality a lot, she's a very interesting person! I like her very much!
Okay. Tonight you will play here at Alcatraz venue and I assume you'll play also some old songs. What could we expect?
Marco: We will play "Ravenheart", eheheh. You know, we have only 6 songs, we're the opening act so it's a short time for us to play . We really want to present our new album to the people, because it's the new Xandria! We want to leave the past behind because of course it still belongs to us, there are still some songs we like to play, but the time is very short on stage on this tour. We chose just one of the old song and the rest is new, in order to know the new Xandria.
Ok. This question is for Manuela only. I've seen some videos on Youtube from Marcela practicing some famous opera by Puccini and some other famous composer. The same did once Simone Simons from Epica so what about you? Will we ever hear you singing and playing something from any famous composer?
Manuela: Perhaps. I don't know yet. I focus now on my metal things but next I'm going into a Celtic project, so I don't know what to expect now, but this is going on. Perhaps you will hear some classical stuff in the future, but nothing is planned yet.
Ok. Thank you for the interview. Would you like to say something to our readers and your fans of course?
Marco: Thanks for your support, Femme Metal! It's really great. Thanks to all of your visitors for supporting us and coming for the show, it would be great to meet you in our shows.
Manuela: Thank you very much for accepting the new album so much and for accepting me, as the new singer. I'm very happy about the new response, so thank you for your support!
Credit Photos
Photos by Anna Fortini
Links
MySpace * Facebook * Twitter * Site
Latest Multimedia

Photo by Roberta Ilaria Rossi
Gig Review by Marcy Bell
It's clear: Epica and Italy are entwined. The concert at the Alcatraz in Milan on the 27th October was a huge success for Simone Simons and her fellows. Stage B was almost full, there were more fans and friends than in the previous tour. As in 2008 Epica were supported by the Finnish Amberian Dawn and in this new tour also by the brand-new German band: Sons of Seasons lead by Oliver Palotai. The Dutch band presented live some songs of the new album "Design Your Universe" but most of the show was made with hits from the past such as "Black Infinity", "Cry for the Moon", "The Phantom Agony" and "Consign to Oblivion". The gig started with the new "Resign To Surrender" and then it went into the old mood with "Sensorium", hands up with Simone and the whole band with the beginning of "Quietus" and then the Oriental style of "Fools of Damnation". It was time for "Design Your Universe" and the first single "Unleashed", the beat of Ariën on drums started very loud running through "Martyrs of the Free World". Epica's classic "Obsessive Devotion" led the central part of the show, as it's always a pleasure listen live this song with Mark on growl and Simone running back and forth the stage in a seven minutes Epica-old-style-vibes. "Tides of Time" showed all the deep and sweet part of Epica with Simone solo in all her vocal talent and Coen on piano: a moment that gave you shivers on your spine. The band went again on stage with the last three songs: "Black Infinity", "Mother of Light" and the techno-version of "Phantom Agony". The latter was an enjoyable surprise for the crowd that started dancing with color lights as in a dance floor. Good point for Epica indeed. The encore was with "Cry for the Moon", "Sancta Terra" and the final "Consign to Oblivion". The show was good, the crowd really enjoyed it and finally we can say that Epica are improving themselves live in every tour.
Links
MySpace * ReverbNation * Facebook * Twitter * Site

Gig Review & Photos by Erwin van Dijk
Epica has released their new album and this evening is more or less the release party. And because Epica is sponsored by Jägermeister the first 200 visitors will get an Epic USB stick full of exclusive, rare and previously unreleased Epica stuff. Also, the band will play the entire "Design Your Universe" album at this gig. Like Kamelot and Megadeth last year the venue was indeed sold out and this resulted once again in a queue from the doors of the Paradiso to the Leidseplein (Leiden Square) The last time for me at the Paradiso was for CHIC and Jello Biafra. Jello Biafra is the legendary singer of the Dead Kennedys and CHIC is a funk/disco/rock band from the seventies. Two cool bands but the opposite of Epica so to say. This was the second time for Epica at the Paradiso. The first time was supposed to be released on DVD but all we got was a book: "The Road to Paradiso". This was years ago and the band has grown since then. Kingfisher Sky is a nice band who had the honour to be the opener tonight. Every band in Holland will sell thesouls to the devil to do a Paradiso gig so this was for Kingfisher Sky the opportunity of a life time. The Paradiso might be one of the most prestigious venues in the Netherlands, it does not have the biggest stage and with seven band members and your own drum kit and keyboards next to all the gear Epica uses the stage was very cramped. But Kingfisher Sky managed to squeeze six songs in the little time they had. Kingfisher Sky had barely 30 minutes. To save the Polar bears there was no light on stage – good for environment but not for us. But there were no budget cuts concerning the use of smoke machines and this gave the gig a mysterious feeling which suited the music. Kingfisher did a good gig but personally I would not be in their shoes this night. Epica is way out of their league and even a band like Within Temptation should be worried right now with this new incarnation of Epica. In short, Kingfisher Sky is an 'art house movie' while Epica is popcorn entertainment for the masses.
Maaike, who plays the cello said about this gig: "Supporting Epica in a Sold Out Paradiso really was one of the best things happening in 2009, we had a blast and in our opinion it was over far too soon. Thanks Epica and Epica Fans". From the first notes it was clear that this gig would contain the usual ingredients: smoke pillars, firework, flamethrowers, etc – enough to start World War III Visually it was a very entertaining show to see but, more important, the songs from Epica's latest album are strong enough to keep their own against all that visual violence. Not many bands dare to play their entire album live (and if they do, like Iron Maiden, there is a lot of critic and / or negative response) but Epica got away with it. And Medusa, who the true Epica fans will remember from the 2008 autumn gigs, says : "We had a great time, it was very crowded and hot, but of course we added some heath as well :)". Medusa would also show up at Metal Female Voices Fest, together with Floor Jansen. Like Jello Biafra a month earlier Mark did a crowd surf but while Jello did the full round from stage to bar and back again Mark vanished somewhere midway into the crowd. And the Jägermeister girls also had a small appearance on stage with an air pressure cannon designed to shoot t shirts into the audience. Funny enough a lot of those shirts ended up on stage again. Poor marksmanship I guess. A word about the album: Like the latest Leaves'Eyes I would say it is a save buy for the fans. It has all the ingredients for an Epica album and the fresh blood from the God Dethroned boys makes it more metal. Epica did not reinvent themselves with this album. They took the best parts of their music and improved them even more. And, if I am really honest, this gig was better than the one at Metal Female Voices Fest.
Links
Epica : MySpace * ReverbNation * Facebook * Twitter * Site

Interview by Erwin Van Dijk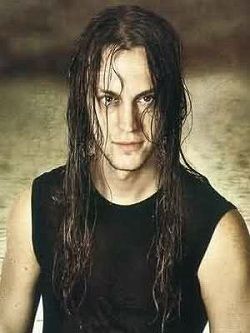 An interview with Mark Jansen from Epica. The band Epica does not really need an introduction. 2009 was a busy year for the band. Epica did a festival tour this summer and released a live album,"The Classical Conspiracy – Live in Miskolc, Hungary". Even better is the news that Epica will also release a new studio album in October. This interview is with Mark Jansen, the mastermind behind Epica.
Did you always wanted to become a guitar player and singer?
No, I wanted to become a cyclist and I also have a master degree in psychology but none of these made it to a profession. When I was 15 years old I went to a show of the Dutch death metal band Gorefest and from that moment on I knew I wanted to be on the stage as well. By then I didn't have the intention to become a singer. I started playing guitar and that was fun enough but when the male singer of my previous band After Forever left I started singing as well.
And did you have any other bands before After Forever?
No, After Forever was my very first band and Epica my 2nd. I never played in any other band.
How do you see yourself, as a guitar player that can do some grunts or as a singer who also can play the guitar?
As a guitar player that does some grunts as well. But above all I see myself as a composer who plays the guitar (… and do some grunts as well haha).
And did you follow any singing/grunt lessons?
No, it was more or less trial and error, grunts should not hurt your throat but everybody who tries to grunt for the first time won't feel comfortable doing it, you just need to find the right way and there you go

What kind of guitars and amplifiers do you use?
We just signed an artist deal with V-empire guitar amps, it's a Polish company and they make damn good amps. We were using Mesa Boogies before and they were good as well but when you have the possibility to sign a deal and get all these great amps for free you just have to grasp that chance with both hands

To what kind of music do you listen yourself and what are your favorite bands?
I often listen to bands which I liked when I was a teenager: Dream Theater, Megadeth, Guns N' Roses etc, it brings back nice memories. A band that I discovered 5 years ago and listen to a lot is Opeth. Besides that I also like to listen to film scores and classical music.
Is it difficult to combine Epica with your personal life?
It's a challenge and I need challenges in my life. My girlfriend lives in the US, so you can imagine it's not easy to combine, but nothing is impossible. At the moment we are 1 year and 8 months together and we see each other quite a lot in spite of the distance. Besides making music, we also manage the band ourselves, we don't want to throw money in the pocket of a lousy manager. The disadvantage is that there's a lot of extra work. But I still manage to have some free time and during this free time I like to enjoy the beauty of nature, sport and watch football

What are your favorite Epica songs?
It's hard to choose as I like many of them. But if I'm forced to make a selection with a shotgun pointed on my forehead I would say: "Cry for the Moon" ("The Phantom Agony" – 2003); "Consign to Oblivion" ("Consign to Oblivion" – 2005); "Fools of Damnation" ("The Divine Conspiracy" – 2007); "Kingdom of Heaven" ("Design Your Universe" – 2009)
I think that the trouble with Transmission Records was without doubt a negative experience for Epica. But what are the highlights so far?
There are many highlights, to name a few: – Lowlands and Pinkpop, playing these great festivals in the Netherlands were highlights; Wacken Open Air (2009) Germany, for me a dream come true to finally play the biggest metal festival of Europe; – "The Classical Conspiracy" and the show itself with orchestra and choir, the biggest highlight so far; Signing with Nuclear Blast, the record company I always wanted to be on since I started playing guitar; Being the first metal band from abroad to play in Tunisia, people were crying of joy, I will never forget that.
And do you have any updates about the Transmission Records situation?
Yes, the label owner signed a deal with Nuclear Blast to re-release the old albums and the previously unreleased "Live in Paradiso DVD".
Epica has two new band members now, both from God Dethroned. The God Dethroned music is very different from the style Epica has. Will the new blood in the band have much influence on the new songs? This is because I've noticed at live gigs (like Wâldrock) Epica has far more energy on stage.
You're right, since these two guys joined us we are a way more energetic band, not only music wise but also the stage performance has become more energetic. The guys have also an influence on the songs as everybody in the band influences the songs so some differences are due to them. But I like it this way, new blood means also the chance to integrate new elements (like solo's) and we did

Where do you get the inspiration for the music and lyrics?
Inspiration is a fantastic thing, you don't know where it comes from and what causes it, it's a mystery

What is the idea behind the name of the album?
"Design Your Universe" basically refers to the capacity to take control over your own life and create your universe. Many people don't live their dreams as they think it's unrealistic and out of reach. I am one of the many prooves that you can succeed, don't fear the unknown and take risks

And can you tell us something about the songs on "Design Your Universe"?
We went quite deep into the details this time. We want to make improvements on every album and as "The Divine Conspiracy" got great critics by press and fans we had to come up with something better this time and that's quite a job! haha. So we worked our asses off to try to make an even better album. My favorite song is "Kingdom of Heaven" a very long song but we managed to keep it interesting, long songs can easily get boring but I think we finally found the perfect ingredients for the longest song of Epica 'till now.
Three songs on "Design Your Universe" are a part of the "A New Age Dawns" saga. This saga has now six chapters. What is the relation between the "Design" chapters and the "Oblivion" chapters?
The relation is that we need to make a change, we lost contact with nature, each other and the earth. We need to get rid to some of our addictions which will destroy us in the end. Like our addiction to earn more money than our neighbour, money is the "antichrist" of our civilization..
You have also recorded a song with Tony Kakko from Sonata Arctica. How was it to work together with him?
Great, we toured with Sonata in Europe and asked him one of these days if he would be interested to record a song with us. Fortunately he was and with his very unique voice he lifts the "White Waters" song to a next level.
There are plans to record DVD at the Metal Female Voices Fest in October. What can we expect?
We will record DVD material, so whatever turns out great will reach a future DVD but if we're not satisfied nothing will happen. The facts are that we are gonna do a big show there, probably the biggest we have ever done. So probably you'll find at least some of this footage on a future DVD together with other concerts. MFVF made advertisements with the message that we will record a DVD there but we don't want to disappoint our fans as long as we're not sure.
Besides the upcoming tour, what else can we expect from Epica in the future?
We don't look to much ahead of us, so I don't know but until the summer of 2010 the whole schedule is fixed already so for like 1 year we know already what to do haha.
And the last question, is there anything the reader should know that I have not asked?
Erwin, you covered it all

Thanks a lot!
Links
MySpace * ReverbNation * Facebook * Twitter * Site
Latest Multimedia
6 color styles available:

Style switcher only on this demo version. Theme styles can be changed from Options page.
Archives