Browsing articles tagged with " studies"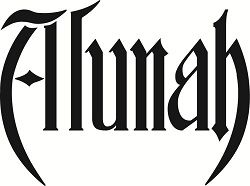 Interview by Alessandra Cognetta
Soph Day is the lead singer and guitarist for the English doom metallers Alunah. With two albums released and an upcoming European tour in 2013 we took the chance to have a nice chat with her about the band, the music, vinyl vs digital and more. If you're into doom, check out their work ("White Hoarhound" is already out and is getting a special vinyl edition very soon!), you definitely won't be disappointed.
Hello and welcome to Femme Metal, Soph!  It's a pleasure to have you here and feature Alunah on the 'zine. Let's start off with the big news: you recently signed with no other than Napalm Records / Spinning Goblin Productions! A limited edition vinyl is going to be released in mid January. So, how did you guys get to such an important deal and what was the reaction to the news?
Hello guys, thanks for having me! Yeah we're very happy to be working with Austrian label Napalm Records and their sub company Spinning Goblin Productions. The label is very important in terms of metal, and more recently in terms of stoner and doom metal with the likes of artists such as Monster Magnet, Brant Bjork, Karma to Burn and Candlemass. It's because of these artists that we came to be familiar with the label, and sitting amongst our musical inspirations is a dream come true. We released our debut album "Call of Avernus" on Catacomb Records which is run by myself and our guitarist Dave – so self-released really. "White Hoarhound", our second album was released on PsycheDOOMelic Records, another well respected Austrian label which we are proud to be a part of. Napalm Records will be releasing "White Hoarhound" on limited edition green vinyl and white vinyl, we basically sent it over to them for consideration and they got in touch, we couldn't be happier. Our PR Company Platinum PR also did an amazing job in getting us European press, which helped our profile over there greatly. The vinyl will be released on 25th January 2013, and pre-orders are available now from the label.
Music has evolved greatly throughout the years, and technological innovation definitely played a big role in the process. We've seen devices come and go in the blink of an eye. But vinyls seem to be willing to survive the change. Why is that? What is, in your opinion, their value and what do you think about digital music and the billion formats that are currently available?
You get a completely different listening experience with vinyl than you do with any other kind of format. I'm a graphic designer so being able to see the artwork up close is important for me. I remember when I was 14 years old listening to my mom's copy of Electric Light Orchestra's "Out of the Blue" for the first time. Staring into the amazing spaceship artwork and hearing this (for me) new sound blew me away, it gave me a whole new musical experience. In the 60s, especially with psychedelic bands such as The Grateful Dead and 13th Floor Elevators, the artwork was such an important part of the music, and that's been passed onto the stoner, doom and psychedelic scenes. It's definitely something we try to do with Alunah – make the artwork part of the music. With vinyl, the complete package is a piece of art, from the artwork and the way the sleeve folds out, to the colour of the vinyl and the warm sound and crackle of the music itself – it's precious and means different things to different people. Also, my heart is rooted in the 60′s and the 70′s, so for me, my favourite albums of all time were meant for listening to on vinyl, and this is how they are best listened to. The first bands I heard on vinyl were Deep Purple, Electric Light Orchestra and T-Rex, I'm not sure I would feel the same about those recordings now if I had first heard them on mp3. However, if you live a life of convenience where you require music on the go as opposed to sitting down and drinking it all in, then digital music is great! I don't actually own an mp3 player, but I have a Spotify account and racks upon racks of CDs. If I come across a great band or musician through Spotify, I'll buy their album, and I've found so many bands this way. I would never choose to download the album and listen to it on an mp3 player, but I suppose if I had to take public transport or work outside etc. then I definitely would. Nowadays people have more choice as to how they listen to music, and that can only be a good thing, you can wake with music, spend all day with music and go to sleep with music… what's better than that? Continue reading »
Interview by Andy Axworthy
When you read that a band is by turns described as epic, symphonic, power, progressive and classic metal all in the space of a few paragraphs you might be left wondering whether such a broad approach could dilute the end result. Ivory Moon is one such band, however one listen to their latest album and it's easy to hear why in this case, the whole is greater than the sum of those descriptive parts. To find out more about this promising Italian band we caught up with new vocalist Gabriella Aleo to find out a little about her and about the rocking new release, "Dark Time".
Hi Gabriella and greetings from all of us at Femme Metal. How are you today?
Hello! Thanks for this interview, I welcome the opportunity to talk about me and the music I was involved from yesterday to today.
You've recently taken over female vocals for Ivory Moon. Can you tell us a bit about your background and of how you became a singer?
I have always supported my singing talent, heading for perfection in this art that is very complex today. I've been singing since I was a child but my serious studies began at age of 20. I studied opera singing at the Conservatory of Music and I have never stopped since then. I teach singing to children. Singing is an integral part of my life, I could not deny it.
You've come from the more classical side of singing. To us it seems like a world of difference between an aria like Habanera and full-on rock song like Apocalypse. How do you adapt to mixing up these vocal styles?
Opera and gothic are different, but they live parallel inside me. You have to know well the two musical paths from their technical point of view, and above all you'd be thinking wider than just those who sing only classical or rock. I have always been living with two musical souls. The mixing of the two genres should be done with care. I tried to be not too opera singer using a language more suitable for "Dark Time" and his genre.
You've also indulged your inner Electra, recording "Tutte nel cor si vento…" from Mozart's Idomeneo. How did that experience differ from working with Cristian Ice at Temple of Noise on the new album "Dark Time"?
There were two different experiences but both constructive. Music is what really matters, if it makes you feel good.
You share voice duties with Sandro Manicone. Do you both bring different ideas to the vocal parts or do you work together and adapt the style and harmony as the song writing and recording progresses?
Me and rocker Sandro Manicone are also friends in everyday life. We met even more by sharing this experience together. He is a great musician, composer, arranger and good singer. Along the way he helped me a lot on the side. In the past I had a brief stint with a heavy metal band: Zero Kelvin. I then absorbed part of the language back in this new project after so many years. We have given our voices to the songs of "Dark Time", we have not dealt with the processing of the texts. Sandro is a complete musician and also took part in the arrangements and musical choices.
We've mentioned Sandro. Could you also introduce is to the rest of the band and tell us a little bit more about each of them?
I've been knowing the band for a very short time, so I can say very little about them. What is sure is that I am sharing this experience with veterans for the fans of this genre. I am a newcomer, they instead go way back so they had plenty of time to design and create this music.
"Dark Time" had its digital release on the 1st October. How do you feel now it's out there and how do you feel it has been received by your fans?
I was very pleased and surprised by the performance of "Dark Time". "Dark Time" is my first record, so I'm glad to have left traces of me in music. The fans do not even know us, but they will be able to do it very soon.
The album itself is a blend of classic metal styles from power through to operatic yet it still has its delicate moments. It is consistently good throughout with tracks like "Soul Disguised" and "The Merchant of Venice" especially standing out. What was it like for you to go from recording and putting down your parts to actually hearing the finished songs? Was there a defining moment for you?
Certainly for me it was a challenge to face this genre. I loved this genre for a long time so I tried to absorb all possible shades. Recording for us means converting our ideas into music. The most important moment was when we heard all the mastering, and we listened to all of our work, all our dreams and our thoughts.
How about sing-writing duties? Do you all get a say in how the song ideas develop? How does a song like, for instance, "Out of Control" come together?
I'm just a performer who sings with passion and love for music, and then a popularizer. I never ventured to write texts. Everyone has their own role. Ivory Moon lyrics are written by the other members of the band.
Is there a story or theme to the song writing on the album? Where do you and the band draw your inspiration for the songs?
We took inspiration on actual topics of today's life: The crisis, rupture, rebirth. These were the pillars of "Dark Time".
The album launch gig is on the 7th December. How does it feel to get "Dark Time" out there in front of alive audience and what are you looking forward to the most on the night?
"Dark Time" will debut on Dec. 7 at the Jailbreak in Rome. We'll expect a good audience who can give us the right boost within this new work. I hope it could bring so much magic in everyone's hearts.
What about your own personal soundtrack? Who or what do you listen to when you've got some time to yourself?
My soundtrack is "Nemo" from Nightwish. I put this song as a ringtone in the phone : ) When I have time I use to listen to different musical Opera, Loreena McKennitt, Epica etc.
What would you be doing if you did not sing? What hobbies, passions or ambitions do you have when you are away from the microphone?
I can not see myself without music… I have several passions: I like to paint, I'm not an intellectual but I'm reading a literary work of Proust, sometimes I play games with Sandro Manicone and I love to walk my French Bulldog Morgana and take long walks in nature. I like to meet up with a few true friends and my family. I would love to travel every year….
Now you've taken this step from the light of opera to the dark side of metal what would you say are the main differences for you between the two styles of music? Does either genre have something that can be used and sits comfortably with the other?
The difference in the two genres is absolutely singing style. I think mainly you need to have a good voice, educated in classical singing and in the modern one, in order to obtain a good result. I always followed both the roads. In vocal symphonic rock you have to play a lot with the expression and sometimes the listener can be confused by a hybrid between an opera and a metal singer!
What can we look forward to beyond the launch gig? Are there any plans to tour with the new album? What next for you and Ivory Moon?
We're busy with this every single day. It is not an easy time for music here in Italy. We hope that we may get some specialized major label interested… it would be a dream.
Thanks for takin­e to chat with us Gabriella. Is there anything else you would like to say to the fans and readers to wind this up?
Ivory Moon strongly hope "Dark Time" can be appreciated both in Italy and abroad. Greetings to all!
Links
MySpace * Facebook * Twitter * Site
Latest Multimedia
Interview by Roberta Ilaria Rossi
Symphonic metal is one of the most fashionable among the music metal genres and surely it has got a very special care, becoming the "landmark" for lots of emerging bands. This surely is the case that concerns the Croatian metal band Downcast Art which recently brought its music around Croatia and now is trying to enlarge the boundaries. Here's what the lovely Jelena revealed to us.
Hi Jelena and welcome to Femme Metal.net. Let's start our interview talking about the project Downcast Art. Would you like to introduce some more detail to our readers?
Of course!

We are a symphonic metal band from Croatia and this year we released our first album called "Forbidden Memories". The band consists of five members, Kristijan (guitar and vocals), Davor (bass guitar), Zdravko (keyboards), Lukas (drums) and me (vocals).
Downcast Art is a Croatian band which makes symphonic and opera metal music. How did this band start?
The band was formed by our keyboard player, Zdravko, in 2005. During the first few years, they played covers of the well-known bands of the genre, but with time, they started to develop their own musical expression. I've been in the band since 2011, so I don't know too much about the years before, only some general stuff the guys told me

The band was formed in 2005, the path was long but before releasing the debut album, something happened in the band: there were a lot of lineup changes, you've released an EP, "Downlight", containing 3 songs only and then, you've found a stable line up. How is going on your musical path at the moment?
Well, I'd say. We have live concerts often enough to promote our debut album. Along with live shows, we are working on some new songs and ideas.
Before your entrance in the band, there was another singer, Iva Grdić. How did you get in touch with the band?
We got in touch via a Croatian forum dealing with music, instruments and playing in bands. I wasn't registered there (I did not know the site even existed), but my best friend decided that I needed a band, and made a post on the forum about a certain classical singer searching for a band, preferably symphonic metal

Zdravko saw the post and contacted me, I listened to their music, liked it, and before you know it, I was having rehearsals with them.
Let's talk about your album. It's called "Forbidden Memories". Could you please tell us how was this record born and could you please say something about the album title?
When I came in the band, the music was finished, only the vocal lines had to be completed. All the instruments were already recorded (only a few things had to be fixed in the studio), so I got the lyrics and the music and started working. In five or six rehearsals (lasting 3 to 5 hours each

), I sketched the vocal lines with the help from the guys (sitting on the floor and saying: "Yes, that's it!!!" or "No, could you do it…. somehow different"

). It was recorded and mastered, and after finishing the booklet, the album was complete. Its title refers to the idea which binds all of the songs together: something lost, perhaps living in the past, where all the things are brighter; our memories of that place and everything in the present that connects us to it.
Did the record obtain good reviews and good feedbacks from medias and fans?
It did, we are still extremely proud of the American review in which we received 11 of 10 points, and other reviews, from Canada and Croatia, where the number never went below 8 of 10. The fans are great, they are mainly getting in touch with us and commenting our music on the band Facebook page after the live shows.
I've noticed that there is a lyric in your mother tongue, called "Miris Prošlosti" and the remaining ones are written in English. What about this choice?
Well, so that we could say there is a symphonic metal song in Croatian.

Just kidding, there was the idea of translating the song to English, but it just sounded better in Croatian, I suppose. The other songs are in English so they are understandable to the fans in the world. And our songwriter likes to write in English

In the track "Miris Prošlosti" we can see and read these lines: "Drugi svijet u tišini vremena, sve, sve što sanjam ja, negdje u meni, Čuva tajnu zvijezde daleke". What do they mean?
Literally translated: "Another world in the silence of time, everything I am dreaming of, somewhere in me, keeps the secret of a faraway star". As you can see, it also has a reference to the past and the secrets it keeps.
"Forbidden Memories" is the song that gives a name to the record and it sees a duet. What could you tell us about this song?
As much as I know about the process of making of that song, it was made to be a "catchy" song

Thematically, it deals with memories defining who you are, which defined you as a person, your individuality.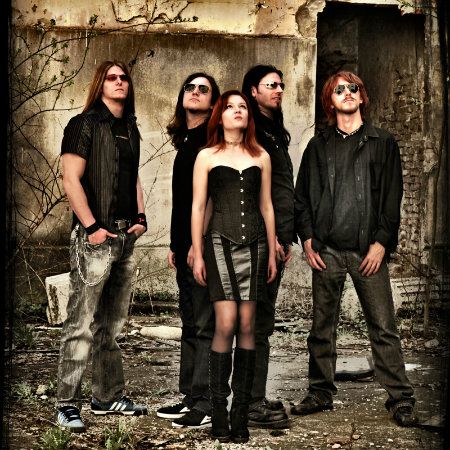 The lyrics of this record are well-written and they show off a very good skill in writing. How does a lyric branded Downcast Art come to life?
The only person writing the lyrics in the band is Zdravko. Since I joined the band after all the lyrics for the first album were written, I can tell you only that, at the moment, we have a great amount of music and ideas for the second album, but the lyrics are kept in secret until the very end.;
If you could pick a song taken from this record to identify the sound of the band at its best, what song would you choose? I would say "Whisper of a Dying Rose"…
Hmm, I'd choose "Home of Silence". It is soft and sad at the beginning, it gives you hope on the chorus and it fully awakes the whole band (and the audience) after the guitar solo.
"Chants from the Deep" is an instrumental track and it fits well on the album. What could you say about this song? Who did compose it?
That song is made to recall the song of the lost captains and sailors of the seabed. A deeper meaning would be that it's a song from the bottom of the heart, pure and untouched by empty words of this world. It was composed by Kristijan and Zdravko.
You mainly are a soprano, what did your adventure in music start?
It started off at the age of 7 at the School of Music in my hometown, where I studied piano and music theory. At the age of 15, I changed my major from piano to classical singing and vocal techniques. After finishing high school and the School of Music, I continued my education on the Faculty of Humanities and Social Sciences in Zagreb, thus completing my formal musical path.
What were your biggest influences?
Classical opera singers had the biggest influence over me and my singing, mainly Maria Callas, Anna Netrebko, Cecilia Bartoli… Their tone and the ability to portray a huge number of completely different characters in the opera inspired me to think, to act and to feel as a protagonist of the songs I'm singing on the stage. It is the most important task of the singer, to be in the song and to pass it on to the audience.
Now that the album has been released, what are your future goals?
In the near future, we would like to perform live as much as possible, especially outside the Croatian border. Also, at the moment, we are trying to improve and fill in our merchandise offer with T-shirts and similar stuff. Later in the future, we are planning to release the next album, of course

What could you say about your fanbase? Are you accepted by the Croatian public?
Pretty much, yes. Croatia is not the country where metal and symphonic metal are popular and well accepted music genres. With that in mind, we are receiving surprisingly positive feedback from many people who aren't even fans of the genre, but still like to listen to our music in the car, or at home relaxing after work, for example

That is a great compliment, if you ask me, to satisfy the needs of the people who aren't used to the sound of metal and operatic voice.
What about the European one?
We still didn't present the material from the album live in Europe, but judging by the reviews and individual feedback we got, the European public might like us

I'm very optimistic.
Will we ever see Downcast Art touring Europe one day?
Oh, I certainly hope so

It will probably be an exhausting and beautiful experience and I can't wait for it to happen!
Ok this was my last question. Thanks for your time Jelena. Do you want to say and share something with our readers and your fans out there?
Thank you for the interview and for your interest in our music! To readers and fans: listen to good music, love and respect each other and visit www.downcastart.com every now and then

Links
MySpace * Facebook * Twitter * Site
Interview by Ed MacLaren
Finland's Katra made a big impact in 2007 with its debut album, the folk/symphonic metal hybrid "Beast Within". Originally conceived as a solo effort by the band's namesake, Katra Solopuro, she carved out a fine niche for herself in the metal world. But instead of continuing down that same path on her next album, she expanded Katra to include the band full-time to augment her own considerable songwriting skills. Together they retooled an already unique sound and returned with an even stronger sophomore effort – the aptly titled "Out of the Ashes". Femme Metal got the chance to chat with the lovely Katra on the key changes, musically and personally, that combined to create "Out of the Ashes".
"Out of the Ashes" hits the ground running with the pounding track "Delerium". It's heavy riffing sets the stage for the rest of the album. Were you trying to make a statement right away that you were going a different direction with this album?
Yes. We felt that "Delirium" was one of the best songs to represent this album.
On "Beast Within", you called the shots and now with "Out of the Ashes" you're working as part of a group. Why did you make the decision to change Katra from essentially a solo project to a full band?
Well, during that time we've kind of sealed together as a band. We've been a full band on stage and on tour for a long time now and every one of us wanted to change the settings to be a full band on paper too.
How did you go about selecting each band member? What musical qualities and personality traits were you looking for?
I wanted to gather good guys and musicians that I already knew before Katra. It was important for me that we get along well on the stage and also behind the scenes. Musically, I wanted the guys to have their own sparkle and visions about music overall and, of course, good skills technically.
How would you describe the chemistry between you and the rest of the band?
We co-operate really well, we all know how to have some fun and we enjoy a similar style of humor, which can be quite black sometimes. (Wink)
Did you have any problems getting used to the new dynamic? Was it difficult to relinquish an element of control over the music? Did you run into any problems at first?
I think everything worked out without problems.We've found a good way to co-operate and everyone has their own important role in a band. Democracy rules.
How did your creative process change with the input of the band?
Now the whole band composes and arranges; there's at least one song from everyone on the album. Usually the basic structure and idea of song is made by one of us and then everybody arranges their own parts. I write the vocal melodies and lyrics. Riffs, chord progressions and song ideas are usually done before and then we build it up together.
You can hear new energy in the harder-edged sound of "Out of the Ashes". You toned down the symphonic and folk elements and cranked up the guitars. How has Katra's sound evolved between albums? How would you describe your new musical direction?
"Out of the Ashes" is a more mature and powerful album if you compare it to "Beast Within". We wanted to take our sound in a bit more straightforward direction with less orchestration, but with a more intimate feeling.
Was the change in musical direction a natural outgrowth of the new "collaborative" environment or was it a conscious decision?
I'd say both. Of course, the fact that everyone's taking part in the composing process has a straight effect on our sound, but we also wanted to consciously develop our sound in a more rough and rockish way.
"Beast Within" was an excellent album but after the experience recording of "Out of the Ashes" in a band environment would you have recorded your debut any differently?
Hmm… maybe not. I think it's only natural that things develop and change. Of course, there's always something that we could change, but it's better to keep your eyes on the road and head towards the future.
On "Beast Within" , you favored more operatic vocals drawing out the length of notes. You've expanded your already impressive singing style to include a quicker delivery to match the speed of the music. Was there a lot of experimentation on "Out of the Ashes" working out the vocal parts or did you just go with the flow of the music?
Thank you! For me, the most important thing that influenced my style of singing was when I got in to study theatre music and music drama at the University of Applied Sciences. The main point of singing is now in jazz/rock technique more than classical. So, on this album I made the vocal lines to support more of the technique that I'm studying now.
Tracks like "Vendetta" and "Anthem" are great tracks and add new elements to the Katra sound. What differences do you hear when you listen to "Beast Within" and "Out of the Ashes"?
I hear a lot differences. It's definitely more guitar driven now. We have less piano parts and orchestrations. My voice is different and closer. Lyrics are dealing with heavy issues rather than fairytales. Overall, I feel that the sound is more intimate and represents us more.
You've said that "Out of the Ashes" feels like your first album. Why is that?
Maybe because it's the result of our co-operation and I've put so much feeling and experience into it. I was having a really hard time a few years ago and I kind of feel that making this album was like free therapy for me.
Does the title of "Out of the Ashes" have a personal meaning to you and the band?
Yes, it does. As I said I've experienced really difficult things during last few years.I feel that nothing is easy.You have to always bang your head against the wall until it breaks… or you give up. Almost every song on the album is about the end of something, "After the fire there are only ashes, then it's one's decision, whether to stay or rise out of the ashes and start again". The album title is a statement: refuse to give up.
You had a memorable show opening for Theatre of Tragedy in Mexico City this summer. How would you describe the concert?
I have no words for it… It was absolutely amazing! The atmosphere was unbelievable. There were lots of people sharing the moment with us, singing with us and having fun with us.
Did you take away anything from the experience to use in future shows?
Yes, I did. I always take some pieces and fond memories from the shows and the next time I will try to give something extra from myself to the audience.I love the fact that music is so universal and goes over boundaries. That's something I noticed literally during our gig in Mexico.
Did you road test any of the new songs? How did they come across live?
Yes, we did. We played "Out of the Ashes", "Delirium" and "Hide and Seek" at gigs long before we started composing material for this album. We felt that they worked really well – especially "Delirium".
What are your tour plans for the fall and the new year? Where can we see Katra live?
The booking management is not in our hands, but I hope we can do a tour in Europe at some point.
(Famous) Last words?
You can't experience being alive without realizing that you have to die. But it's just as impossible to realize you have to die without thinking how incredibly amazing it is to be alive.
Latest Multimedia
Photo Credit
All the photos by Peero Lakanen
Links
Katra : MySpace
Katra Solopuro : Facebook

Interview by Robin Stryker

Two years after releasing their debut album "Reversing Time", Greek/Turkish progressive symphonic melodic metal band, Dreamtone & Iris Mavraki's Neverland, returns with its second album "Ophidia" (AFM Records 2010). Femme Metal sat down with Greek female vocalist, Iris Mavraki to get the inside story on the band and its new album.
Welcome, Iris, and thank you for joining us today! Would you start off by telling us why you joined forced with the Turkish band, Dreamtone, to form Neverland? What was it about Dreamtone's music that caught your attention?
First of all, hello Robin; it's a pleasure to be with you! Well…. A few years ago, my son Orpheus Spiliotopoulos, who was at that time reviewing for the Greek site MetalTemple.com, suggested I listen to a CD entitled "Unforseen Reflections" by a band called Dreamtone. I was immediately, tremendously impressed by the power of their compositions and the symphonic elements in their music. Then I found out that they are from Turkey; a nice surprise to me as I was then also singing with the Turkish Symphony Orchestra, so I suggested we get in touch. There was something in their music, something really different.
Neverland was born as a project to combine metal with a symphony orchestra for live performances. At what point did Neverland mature from a concert project into a full-fledged band?
That didn't take long really! As I mentioned above, that's how it started in my mind for sure, the metal band working with an orchestra and being about the live performance. It was certainly our first idea for it, but we quickly realised that there was so much more interesting material and potential that could be shared, and that it had to be right to start a new band recording our own music! We decided to unite forces and become Dreamtone & Iris Mavraki's Neverland, and we've never looked back!
For someone who has never heard "Ophidia", how would you describe the album's sound? And, for fans of "Reversing Time", what are the biggest differences between the two albums?
I think "Ophidia" has the more powerful sound of the two but it also combines, in some parts, an Anatolian, Mediterranean, spicy touch, Medieval parts, symphonic parts and bombastic melody too. I think it goes further than the first one! "Reversing Time" was maybe more symphonic; we had The Istanbul Philharmonic Orchestra play on it, but both albums ultimately have the identity of Dreamtone & Iris Mavraki's Neverland because they're written with all the musical styles present.
Which bands have influenced Neverland's sound the most?
Hard to say as I think each and every one of us have different influences. But, if asked specifically, I would say: Blind Guardian, Jon Oliva's Pain and many others!
What does "Ophidia" mean, and does the title play into the album's overall theme?
Well, "Ophidia" basically tells the story of how the evil inside every one of us slowly corrupts anything and everything. Our title track is basically a semi-electronic, semi symphonic, mid tempo piece with its subtle change of pace as well as some nice guitar tricks. The song covers the theme from the perspective of "evil" as having a tongue and speaking. The song presents evil as a "snake", slowly crawling inside our minds. "Ophidia" means worshipping the snake or following the path of the snake. Since humans almost always lie, the song suggests that we are all Ophidians… In the album, there are a lot of different meanings in the songs as well though, I don't think we had a total concept of "Ophidia", but just tried to represent just a few of them.
Please tell us a bit about your musical training and background. Also, who are your personal musical heroes?
Well, I studied classical piano and had singing lessons at the National Conservatoire And Hellenic Conservatoire of Greece in Rhodes. I was a member of the Municipal Choir of Rhodes for about 10 years, and a member of an amateur theatrical group there. I have been singing alone and with bands for many years and with Symphony Orchestras from Turkey and elsewhere, at numerous concerts for the "environment", "against racism", "antiwar concerts", "for human rights", etc. I had many different influences, starting with: Joan Baez, Maria Callas, Janis Joplin, Pink Floyd, Metallica, Trans Siberian Orchestra, Leonard Cohen, Blind Guardian, East West Divan Orchestra and Daniel Barenboim, plus Mikis Theodorakis who you might know? I was very lucky back in the 80's to have had an audition with David Gilmour (Pink Floyd). I think that all these years of experimenting with many kinds of musical styles and in several different languages, have given me a wide range of repertoire and experience.
With your background participating in human rights concerts and given the historic tension between Turkey and Greece, how important are politics to Neverland?
It's not really about this, but there is some aspect of it to think about I suppose! If you think about it, our countries have had bad relations for many years and are slowly recovering from these wounds of the past, so it is important that we help promote such a conscience, especially in the young. To build a cultural bridge through music is the best way to spread messages of hope and peace, as music is a universal language, no? "Politics" in the narrow sense of the word, is for Politicians. I think, for us, it's a matter of keeping eyes open helping people to be more aware of things. We, as people from Greece and Turkey, have far more to share than those who try to divide us can take away! We share the same sun, and that means "light". It's politicians that create the problems, not us!
The new album has fantastic guest appearances by metal vocalists Jon Oliva (Savatage, Trans Siberian Orchestra, Jon Oliva's Pain), Edu Falschi (Angra, Almah) and Urban Breed (Pyramaze, ex-Bloodbound, Tad Morose). How did these collaborations come about?
Oganalp and our band members contacted all of them and asked them if they would accept an invitation to be our guests basically, and it's so wonderful that they all accepted. It's really wonderful having people like this on our new album. It's humbling!
Neverland will be touring Europe with Jon Oliva's Pain in October. Is the tour a direct result of his guest vocals on "Ophidia"?
We were planning to go on tour anyway, but, I think Jon's appearance on our album definitely played a role. I think the general reaction to the album from the fans is also so great that that plays its role too and is the main reason for us being accepted on the tour.
One of the most touching songs on the new album is "Places Unknown", a farewell to Mike Baker (Shadow Gallery) who passed away in 2008. During the upcoming tour, will Neverland perform "Places Unknown" or "Reversing Time" (feat. Mike Baker) — the title track from Neverland's debut album, which was also Mike's last official release before his death — or are emotions still too raw to sing these songs during a live performance?
Emotions are, of course, still present and raw. It was such a shock for us, and especially for the Dreamtone guys, who were in touch with Mike for a long time. But the fact that he sang "Reversing Time" and that this was his last song recorded; you know the lyrics of the song? Well, it seemed to me, very strange. There are sometimes things you simply just can't explain in words and that is one of them, sorry! Yes, we will be playing these two songs, definitely! May Mike rest in peace and in our memories.
Speaking of tours, how was ProgPower Europe 2009? What is your best memory from the festival?
It was a terrific experience; bands from different countries, a fantastic audience that came just for the Festival. It was amazing. I was impressed by Evergrey's acoustic performanc. We had lots of fun and good memories. We hope to be there soon, once again. Promoters, audience and bands were all awesome and very friendly to us!
Congratulations on the video premier of "This Voice Inside" on Headbangers Ball (MTV Greece)! Why did Neverland pick this song as the album's first music video?
Well, "This Voice Inside" is about the main character of "The Wheel of Time" series, Rand Al'Thor, one of the main characters of the book. It mainly tells of Rand's unwilling turn into an anti-hero, whilst constantly trying to battle with the voices inside his head. It's a powerful song. You're right. It had its premier on Headbangers Ball (MTV Greece)! In fact, they will be presenting it again, as we have a concert in Rhodes at the Colorado Club (Rhodes) on June 10th. We picked the song because it was powerful, of course, but also because it somehow defines the album's sound. There are more complex and alternative tracks than that one, but it shows generally, what to expect from the album!
Which is your favourite Neverland song of all time, and why do you feel a strong connection to the song?
Mine is actually "Black Water", off "Reversing Time". It talks about, black water; oil, or more specifically petrol and reminds us of the eternal fight humans seem to need to have to keep control over it. It is a lovely song also, from the pure musical side!
If you could design the perfect Neverland gig, what would it be like (venue, guest appearances, etc.)?
I would love to do this! First of all, I would design it with a Symphony Orchestra, of course, live with Neverland. I would have all our guests appear also, in memory of Mike Baker. I'd do two big concerts. One in Athens and one in Istanbul. And I would give this the title, "Connecting Bridges"!
How is 2010 shaping up for Neverland?
So far, it looks very exciting. In Rhodes, the concert is organized by the Road Knights, the MCC of Rhodes (The Harley Davidson Club of Rhodes) and my son Orpheus will present "Ophidia" and us. Orpheus presents Headbangers Ball (MTV Greece) now and is also writing for Rock Hard (Greece) and they will be our Media Sponsors. Then we're preparing for our European tour with Jon Oliva. It will be great. There are many shows booked, and we will visit several countries. I believe we've just added two more gigs, one in the Czech Republic and one more leg in Germany? It will be a great experience,w e will have a real chance to connect with our European listeners, and I'm so looking forward to it. 2010 is probably going to be our most active year to date.
Thank you for taking the time to chat with us, Iris. Do you have any parting words for your fans at Femme Metal?
I thank you also, it was a pleasure to speak to you. Thank you for some really good questions. I send our greetings from this part of world and hope to perform somewhere close to you soon, hopefully in the UK? Keep listening and supporting Metal Music; it's a good way of life and it rocks!
Links
MySpace * Facebook * Twitter * Site
Latest Multimedia
6 color styles available:

Style switcher only on this demo version. Theme styles can be changed from Options page.