Browsing articles tagged with " studios"
The heavy, do-it-yourself, Hamburg based metal band A Million Miles are proud to announce their recent signing with German label Abandon Records for their long awaited debut album "What's Left Behind" scheduled to hit stores on April 5th, 2013 via New Music Distribution!
After 4 years of heavily touring the metal underground of Europe, A Million Miles signed a publishing deal with Enorm Music, the publishing company of Wacken/ICS in early 2012 and entered the Hammer Studios Hamburg (Gammy Ray) with Eike Freese of Dark Age to record their first full-length album.
Candlelight Records has announced the signing of DEMON LUNG. The Las Vegas-based quartet, featuring guitarist Phil Burns, basisst Patrick Warren, drummer Jeremy Brenton and vocalist Shanda Fredrick, is set to begin recording its full-length debut in the coming weeks at Sharkbite Studios in Oakland, California with producer Billy Anderson (SLEEP, HIGH ON FIRE, EYEHATEGOD) for a spring 2013 release. The band commented: "We are very honored to join the Candlelight roster. To be included among such talented artists is very humbling, and we thank the great people at Candlelight for giving us the opportunity." Metal Hammer called DEMON LUNG's four-song demo, "Pareidolia", "earthy yet horror-themed doom metal a la CANDLEMASS with an ACRIMONY groove." The magazine called Fredrick a "wild-eyed, satanic songstress." Popular music and film site Ave Noctum noted, "DEMON LUNG has a deft touch and solid sound. Their music is clearly from the soul. Fair to say they are a welcomed addition to the ranks of the doomed." Teeth Of The Divine added, "Fredrick has the requisite sultry pipes that keep a steady, hazy tone. She has a deep, bluesy voice that fits the languid music perfectly." DEMON LUNG has performed alongside PENTAGRAM, HIGH ON FIRE, JUCIFER, WITCH MOUNTAIN and CASTLE and will resume performing once recording has been completed. A video for the song "Lament Code" is available below. It was directed by Dustin Mills, the mastermind behind "The Puppet Monster Massacre".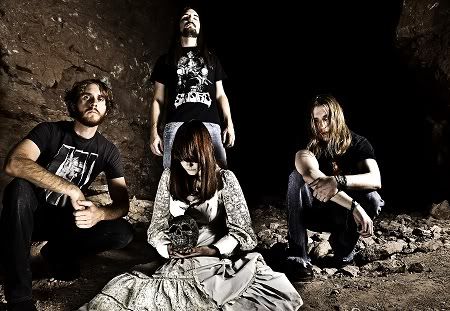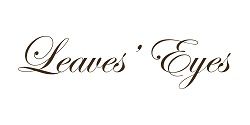 Interview by Ed MacLaren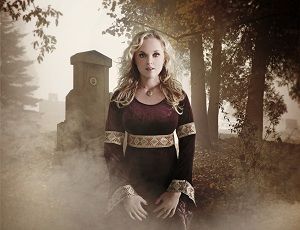 In the European metal scene, Liv Kristine is an icon. From her years with the seminal gothic metal band Theatre of Tragedy to her current success with Leaves' Eyes, she is the archetype to which all female metal singers are compared and measured against. With their fourth full-length album, "Meredead", Leaves' Eyes have created their magnum opus – a brilliant fusion of music, melody, rhythm and language that transcends categorization and redefines the definition of metal. After finishing a spring tour with Midnattsol and Tarja, Liv took some time to talk with Femme Metal about her creative process and the creation of "Meredead".
Since our last interview for your solo album, "Skintight", you've returned once again with your fourth Leaves' Eyes album – the brilliant
"Meredead"
. Could you actually get any busier without having to clone yourself?
(Laughs) True, we've been very busy the last six years! However, I was born with a hyperactive artistic mind, so being creative – composing, writing lyrics, recording and performing – is something I really enjoy doing. It's all a part of me and experience has made me become the person and artist I am.
Concerning our latest production, we needed about one and a half years for the complete production of "Meredead", which is only possible because we do have our own studio – Mastersound Studio. The composing process went overwhelmingly fast. It was one great pleasure writing and recording the album together with Thorsten and Alex. We actually just arrived back from tour, and I'm now looking forward to further shows and tours. In April we toured with my sister Carmen's band Midnattsol, and then in May we joined Tarja. Wow! Both tours were full of magic moments when the ladies got together! Busy, for sure, but very happy!
"Meredead" sounds fantastic – a full, rich musical experience from beginning to end. It has everything fans love about the band but expands the Leaves' Eyes sound in some interesting ways. With each album your music becomes more progressively intricate and layered – complex and elaborate. Was "Meredead" a deliberate direction or an organic outgrowth of the writing and recording process?

I'd say it was an organic outgrowth of the process. We just started composing with an open mind. "Meredead" is our fourth album, and in my opinion there is no need to reduce ourselves to a certain style. The artistic development is the basic energy for the survival of an artist, and art as such. The press, fans and friends say that "Meredead" is "the most diverse, emotional and best-sounding production" by Leaves' Eyes so far, moreover, "Leaves' Eyes have created their own genre". Believe me, this warms my heart! We never go with the commercial flow; we only go with the creative flow of the band! I prefer not to force Leaves' Eyes into a specific already settled musical genre. I would rather say that Leaves' Eyes' music combines elements of gothic metal, classical music, folk music, with history and mythology.
You, Alexander Krull and Thorsten Bauer are the core of the band. How would you describe your working relationship – the role each of you plays in the band?

True, Alexander, Thorsten and I are the songwriting and production team. Most of the time, music comes first, then vocal lines and words and then we work even more on the instruments until the three of us have a good feeling about it. Thorsten is our main composer, whereas words, concept and vocal lines are my area. Alexander is our producer meaning he's the person in the band that gets only half of the sleep compared to Thorsten and myself. There is always a strict deadline, there a tons of different instruments in our music to take care of in the mix. Everything is recorded live in our studio except for the Lingua Mortis Orchestra from Minsk. Moreover, Alex is a perfectionist. I am really happy my husband didn't suffer from a heart-attack yet – he's incredible!
Seeing that "Skintight" was such a departure from your band material, did it take you and the guys some time to switch gears and get into a Leaves' Eyes groove for recording the new album?
No, not at all. We compose and record in two different recording rooms. However, normally there is only one production going on at the time. Anyway, the mental "switch" is no problem at all. After all these years, doing everything by ourselves, there are enough reasons to call us professionals. I know very well that I'm surrounded by first-class musicians.
You've also added some new members since "Njord". How are their contributions adding to the core trio?
The feeling within the band and between the band members has never ever been as positive, strong and inspiring as it is now since the latest line-up changes. That's utterly important for the existence and the creativity of the band. I am so, so proud of my guys! It's such a pleasure composing, recording and touring with them. We already knew Sander van der Meer and Roland Navratil for a long time before they joined the band. Sander replaced Matze on guitars, who quit because of family growth, whereas Roland replaced Chris Antonopoulus, who had different plans for his future. J.B. is our session player on bass, joining in after Alla Fedynitsch decided to pay more attention to her 9 to 5 job. After joining in, Sander and Roland were immediately members of the Leaves' Eyes family. They travel from Holland and Austria to stay and work at Mastersound Studio as often as possible. We often hang out at my house after work, as I love cooking spicy Indian food and baking my special "Norwegian" cakes, moreover, sharing some bottles of wine.
"Meredead" integrates much more folk elements and melodies than previous albums. The pipes, fiddles, flutes – the more diverse instrumentation on
"Meredead"
really expands your musical palette.

For the production of "Meredead" it was highly important to us that each song had its own "face", individuality and perfect, crystal clear sound to strengthen the emotional effect. We just let the music inspire us to add new and interesting "spices" to our music, like pipes, the nyckelharpa – a Swedish folk instrument – the fiddle, cello, classical orchestra or the flute. That's what makes the album that diverse and exciting as you discover a different story, different instrumental combinations, different ways of singing even in various languages in each song.
"Meredead" or "deadly sea" is the underlying theme of the album. How does that concept of death by water thread through the songs on the album? It's an interesting contrast as water is also looked at as a giver of life.

The title is my own word-creation: To my grammatical knowledge, "Meredead" could mean 'dead by the sea', 'or the deadly sea'. Poetically, we could add some imagination and lyrical sound and say "Sea of Death". Secondly, the word "Meredead" sums up some of the themes rooted in my lyrics on the album. I grew up by the fjords, and I sense pure luck every time I return to my birth-place. Yes, you are so right, water is the giver of life. Again you find a whole palette of contrasts in our music, which has always been a feature for both Leaves' Eyes and Theatre of Tragedy, my ex-band, that actually founded the "beauty and the beast" concept in metal back in 1995.
Your lyrics generally look to the epic history of Norse literature and mythology for inspiration but on "Meredead" you've gravitated towards other cultures for inspiration. What was the genesis of that expanded outlook?
I just let the music itself inspire me. If I chose a theme from Nordic mythology, I would include Norwegian lyrics. It was very intimate to sing in my mother tongue Norwegian, it makes the lyrics even more emotional and personal. Singing in Old-English meant digging my nose in my Old-English grammar books once again, however, I am very interested in historical languages, which I also studied. I think that Old-English has a very special "sound" phonetically. You'll find Froeya, three-headed trolls, vampires, ghosts, witches, Vikings travelling on sea, Viking ladies mourning and of course many images from the Norwegian harsh weather and wild nature landscapes. I guess there is some homesickness towards Norway in my lyrics actually, it's more than obvious that I miss my home country.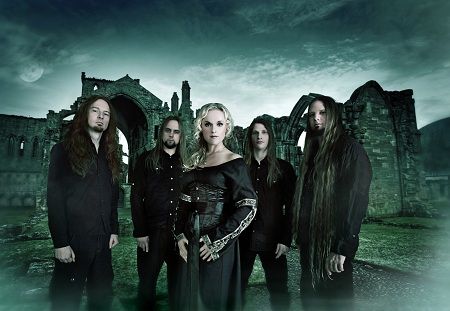 You've also expanding your use of language on "Meredead". You obviously spend a long time working on your lyrics and the meaning and symbolism of the songs. Given your affinity for language are you taking the opportunity to experiment with phonetics to provide a different listening experience?

Yes, phonetics is a great help for me. I studied Old-English, Gothic, Middle-High German, phonetics, phonology, language acquisition, next to Modern English and Modern German at the university in Stavanger, Norway, and then following up at the University of Stuttgart, Germany. Sometimes I use lyrics existing only in the form of a phonetic string of sounds. Such a phonetic sequence has an important meaning: it conveys an emotional state provoked by that particular sound of my singing. My acoustic aim is not the words and a certain thematic content; it is the sound and the emotional effect of it in the listening experience.
Despite the hardships and dangers that are such an integral part of those adventurous and epic stories, your lyrics give them a romantic perspective of love and commitment. This view seems very deeply rooted in your personality and creative muse.
Thank you very much, that's a wonderful compliment. I always had a very creative mind. My childhood was also highly creative. I grew up in the nature, far away from the city. I was lucky: I had the space, the room to breathe, to expand, use my intelligence, fantasize, to live out my dreams. There weren't that many play-mates around, however, I had a fantastic childhood. I still have no problems "activating" my free, creative artistic spirit and mind. It seems to be a never-ending process rooted in my genes. I really hope that I will always be creative!
Your vocals are more emotional and intimate than previous efforts. Is it the lyrical content that is bringing this out – your relationship to the material?
Absolutely. Singing in Norwegian, for-example, is very special, also having my sister, Carmen from Midnattsol, next to me, being my duet partner in some songs. Wonderful Maite Itoiz from Elfenthal also inspired me highly during the recording process of my vocals. I have truly learned a lot from her.
You have a number of excellent guest stars on "Meredead". Maite Itoiz and John Kelly (Elfenthal), Anette Guldbrandsen and Victor Smolski's Lingua Mortis Orchestra provide great performances – even your sister Carmen Elise Espenæs (Midnattsol) makes an appearance. What got them involved?
We met Victor Smolski some years ago at a festival with Leaves' Eyes and Rage in Greece. It's an honour to work with him and the Lingua Mortis Orchestra from Minsk. Victor is a genius, moreover, he understands the musical goals of Leaves' Eyes. I had wanted to sing a duet in Norwegian with my sister, Carmen, since our debut "Lovelorn"! It feels so good having her next to me. I think our voices complete each other perfectly. Some days ago, we had two visitors at our studio, Maite Itoiz and John Kelly from the band Elfenthal. I love their music, both of them are outstanding musicians and composers. There is a deep friendship between Elfenthal and Leaves' Eyes. It is my deepest wish to sing with Maite on the next Elfenthal album. Her voice is such an inspiration to me, and it was such an honour and pleasure for me to sing with both Maite and John on "Meredead". Anette is a long-time friend of mine, moreover, she studied music and singing. She had some brilliant ideas for the folk songs, and she has a unique voice.
With the epic concepts of your albums have you ever entertained the idea of creating a full-blown rock opera based on a Norse character and story with a number of supporting guest vocalists? It would almost seem like a natural evolution to your last three albums.

What a wonderful idea! This would be fantastic! Let's hope the universe hears this! I would love to do it. I have seen Elfenthal's "The Blue Elf's Dream" and I am stunned. What an amazing show. Maite Itoiz and John Kelly are outstanding composers, musicians and performers.
You've had much ongoing success in music appearing in two big bands – first Theatre of Tragedy and now Leaves' Eyes. Does success with Leaves' Eyes feel any different than what you achieved with Theatre of Tragedy?
I always wanted to become a singer. Singing is a part of my nature. When I was little, I thought everybody was able to understand music and control their vocal chords. The fact that my parents were interested in music – listening to it – plays an important role: I grew up with Black Sabbath, Deep Purple, Edvard Grieg and Tschaikowsky, and female singers like Enya, Madonna, Kate Bush, Abba, Tori Amos and Monserrat Caballe. From the very beginning, I've followed my musical instinct: I wanted to combine a romantic, female, angelic voice with powerful, impressive music. Then suddenly, when I was 18 years old, I found myself in the middle of writing music history with Theatre of Tragedy, being one of the founders of "gothic metal with female voices" and "the beauty and the beast concept"! I am first of all grateful to our fans and friends all over the world, who have been there for me throughout all these years! This feeling has remained the same – my gratefulness towards my fans. Being thrown out of Theatre of Tragedy was perhaps bad luck; however, sometimes bad luck leads to good luck. Today I have Leaves' Eyes; it's like having a family, next to my own family. For me two dreams have come true: I am a full-time singer, and I am a mother.
How do you manage such a busy career as well as being a parent? Do you have any advice for women in the business that are hoping to have children one day and still pursue a music career?
You need a good plan in your daily life, you need your own studio not far away from your home, moreover, a family who is there for you. My plan is strict however, and effective: when I work I am working my ass off; when my family is around and needs me, I am only there for my family, keeping our rituals. In between work and family I do a lot of sports, sauna and yoga, which is my way to recharge my battery if necessary. And then, from the business point of view, find the right people to support you, honest people. And speak out if you have an opinion. Money can be such an evil means to make you forget about your inner voice.

You've recently finished a tour with Midnattsol and Tarja. When do you hit the road again and where will your travels take you?
We do have a few festivals this summer, then hopefully a North American and an Asian tour, including India.
Your music is reaching more and more people internationally – you even toured India recently. How are you enjoying your progression towards becoming a truly global band?
There is this special feeling that gives me the energy and the inspiration to travel the world – I get caught up in every moment that I am able to share with my audience. Every performance is one process of giving, and receiving, I call it "exchange of positive energy" between the band and the audience. I really have to say that we do have fantastic fans. I am looking so much forward to every gig, and to meet our fans after the show!
(Famous) Last words?

Give a little bit love, and you'll get it back. My mother taught me that. Thank you, mother.
Photo Credit
Photos by Stefan Heilemann
Links
MySpace * Facebook * Twitter * Site
Latest Multimedia
French heavy metallers MYSTERY BLUE will release their 7th album, "Conquer The World" on December 21 worldwide via Road Show Productions. A rough studio version of the track "Running with the Pack" feat. Andreas Babuschkin of Paragon can be streamed using the YouTube player below.
The new album was recorded, mixed and mastered by Uwe Lulis (Grave Digger, Rebellion) at Black Solaris Studios, Frankfurt, Germany. The artwork and booklet was created by Jobert Mello, Sledgehammer Graphix (Sabaton, Primal Fear, Thunderbolt, Benedictum). Andreas Babuschkin (Paragon) feat. special guest vocals on the song "Running with the Pack".
"Conquer The World" track listing:
Conquer the World

Innocent Crime

Running with the Pack

Evil Spell

Cruel Obession

Ticket to Hell

Keep On Dreaming

Road of Despair

Behind Those Walls

Guardian Angel

Accroche-Toi À Tes Reves (bonus track)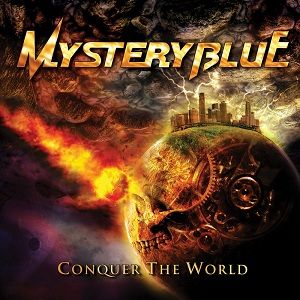 MYSTERY BLUE's current lineup includes female singer Nathalie Geyer, guitarist Frenzy Philippon, bass guitarist Matt Gabnai and drummer Vince Koehler.
The foundation of MYSTERY BLUE dates back to 1982
Originally founded by the guitarist FRENZY PHILIPPON, MYSTERY BLUE rather quickly became a household name in the world of Hard Rock, as we called Metal in those pioneering days. The band released two successful albums, the eponymous debut long-player MYSTERY BLUE (AXE KILLER RECORDS), followed by CIRCLE OF SHAME (DREAM RECORDS/CBS), and toured Europe with big guns such as MOTÖRHEAD, DEF LEPPARD, SAXON, VENGEANCE, and fellow "Frenchies" H-BOMB and SATAN JOKERS… read more
Video teaser of "Conquer the World": http://youtu.be/4NII6BQnY2E
Today True Metal doesn't get any better than MYSTERY BLUE. Get ready to bleed!
www.facebook.com/official.MysteryBlue
Interview by Ed MacLaren
Since blasting out of the Great White North in 1999, Canada's Kittie has pushed and evolved from its nu-metal roots into a tight thrash-oriented unit of massive metal mayhem. With the twin guitar attack of vocalist Morgan Lander and Tara McLeod backed by the bludgeoning rhythm section of bassist Ivy Vujic and drummer Mercedes Lander, Kittie's new album, "I've Failed You", is anything but one, reaching new levels in the band's songwriting and sound. Femme Metal got a chance to talk with Morgan about the new album, the changes in her writing, and her dedication to Canada's national beverage.
"I've Failed You"
is a failure in title only. Massive riffs, great vocals. Straight to the point, no filler. A pretty successful combination. Do you agree?
I do, of course! I think this album came out much better than we ever could imagined and as it started to take shape, we knew that it was going to be a monster!
The album features some heavy thrash guitar. It must have been a blast for you and Tara McLeod to throw down on this album.

Tara and I always have a blast when we are writing and playing together. We still have wildly different styles but I think that's what makes this band so interesting and allows for us to continue to evolve. We're always pushing ourselves to be better, play faster and challenge the expected for us.
"I've Failed You"
is a testament to the turbulence in your own life for the last few years. Did writing the album work as a type of catharsis for you?


I certainly didn't set out for it to be like that but going into it I knew that it was going to be tough. I had no idea where to begin. As it turns out, this really was the most difficult and cathartic experience I've been involved in. I promised myself that I would be honest and real with the things I wanted to express, and it certainly helped me to see the situation for what it was and allowed me to grow from it and move on.
Did opening up through music let you push your songwriting to another level?
I think so. We certainly wanted to out do ourselves. At the same time, I think a lot of the songs have a downtrodden, slow feel to them because of the emotions involved. The defeat, the guilt, the sadness. I was physically affected by it and it contributed to the end product.

You, your sister Mercedes and Tara all write for the band – it seems like a very integrated creative core. Has the writing process gotten easier for you or are there challenges with every album?
It wouldn't be a band if there weren't challenges. If things came easy, there would really be no reward. The writing process between the three of us has become easier in that we all know how each other writes and works, so we know the others next move and usually we can anticipate where the song will go. There are always challenges in writing though, whether it be getting stuck on a part or finding the right riff, or scrapping a song all together.
You slow it down to an effectively sludgy pace on tracks like "What Have I Done" and "Time Never Heals". What's the key to a good metal "ballad"?
I think for us, its all about the emotion. It's important to connect with the feeling of the song and the reason behind it, and really bring that forward. Ballads can be huge and heavy too.
Your screams and your clean vocals have never sounded better. On
"I've Failed You"
it feels like they've each become a distinct personality. How do you know which voice is going to show up on a given track?

I've always prided myself on my ability to have a voice for every emotion on a song, if needed, and have worked hard over the years to make that distinction glaringly apparent. Usually when a song is in its beginning stages, is when I start the process of figuring out what will go where. Some songs are written with the specific intent of becoming a "singing only" song but for the most part, it's not until the song fully takes shape do I have a set idea of the patterns and vocal styles. It takes time and practice and hearing the song over and over again, as well as channeling the emotion I feel that is put into the riffs of the song.
It looks like Kittie has finally hit upon a stable lineup and it shows in the ease and confidence of the album's performances. Is there some kind of relief now that you've nailed down a solid lineup and you can get on with the business at hand?
It's a relief, yes but I feel that everything happens for a reason and that we would not have been able to appreciate the stability we have now if it weren't for the instability of the past. I feel like each line-up change was a learning experience for us and shaped Mercedes and I into easy-going chameleons.
How important was it to have Siggy Meier return to the helm on this album? He was a big part of helping you level up your sound on "In the Black".

I think it was of huge importance to have him return to produce "I've Failed You". He is responsible for helping the band to re-define our sound with "In the Black", so it was a no-brainer to have him return. He really knows what we are looking for, sonically, and really helps to get the best performances out of us possible. On top of all of that, he is a great friend and Beach Road Studios is a really laid back place with a great environment. We feel welcome and comfortable there, which makes for a better output I think.
You recorded
"I've Failed You"
at Beach Road Studios in the picture postcard town of Goderich, Ontario on the shores of Lake Huron. It's almost surprising you could record such a heavy and aggressive album in such an idyllic setting. Does the recording location ever have an impact on your writing and recording?
In terms of writing, no, as we always come fully prepared with songs and structures for the session but the environment itself is rather relaxing and no-pressure, making for a pleasant experience. It's creative, it's fun and we work at a good pace. Nothing is ever set in stone and with Sig we're always able to try new things and experiment.

You've dealt with your share of negative press in the past. Do you think that with
"I've Failed You"
you've successfully bludgeoned critics long enough with better and better albums that they have to finally give you some props?


This is the music business and if I have learned anything over these past 15 years, it's that you cannot please everyone. We just continue to do our own thing, improve at our own pace and make the music that we identify with and love. I think with time and effort, that people are beginning to take notice, at the professionalism, the musical improvement and the changes. They're noticing that we aren't giving up and are getting better with every album, so that says something to them and they're giving us props for that. I can't complain.
Kittie has hit the 15 year mark. You've essentially been leading this band for half your life. Do you feel any kind of accomplishment having this kind of longevity?

Absolutely. This industry is so fleeting, especially now and it really say something to me, that we've been able to do this for as long as we have. I'm still humble, still amazed, however, that on the eve of my 30th birthday, that I am still in this band, touring and making music. If asked 15 years ago, I would have laughed in your face. It's a good feeling.
What's it been like for you and your sister Mercedes to essentially grow up in a band? Is listening to your early material like looking back at your high school yearbook where you?? Are cringing at a certain chord progression instead the hair style you wore back then?

It can be like that at times. There were a lot of things going on behind the scenes that made it unbearable sometimes, but overall it was a good experience. The memories are fond and I would never want to go back and re-live them but I wouldn't change anything about those days, either. I am the person that I am today because of it. We all grow, evolve and change, as people. We just so happened to do all of our growing pains in public.

When you look at the teenage Morgan do you still recognize her in you? Despite all the struggles and roadblocks in the bands history do you still have any of the wide-eyed amazement and optimism of that kid from London, Ontario?
I see some of her in me, now, but for the most part she has turned in to a jaded, angry, cynical beast! (Laughs) I'm still enthusiastic about my music and the band, however and am still amazed at times that this is still my life.
I'm sure after all these years you're sick of the women in metal angle of too many articles and interviews. But with that said there's no question that there's been more than a few young woman who've looked at Kittie and said, "They're women and they rock! I want to do that too!" and then they run out and start their own band. A great compliment as a musician and as a woman in metal.

And I applaud them for that! There is nothing wrong with inspiring ANYONE, be them male or female, young or old. I can't say I see myself as a role model but it is always nice to know that what you do makes people want to better themselves.

When you think of specific countries, certain styles of metal will come to mind. Canada? Not so much. Is that an advantage from a creative standpoint not to have one type of music being constantly funneled around you?
Canada, as I'm sure you're well aware, is quite the melting pot of diversity, and I think that funnels down into other aspects of our society and culture. Food, clothing, art. So in a way, I wouldn't expect that diversity to leave music untouched, too. We have all kinds of different things going on and it makes for a really wonderful, vibrant scene, and creatively it doesn't pigeonhole anyone. We just do what feels right and aren't expected to follow any particular rules.


What's the most Canadian thing about you and the band?

Our devotion to the glory that is Tim Hortons!

In addition to Kittie, you also run your Poisoned Black clothing line and the X of Infamy management company and all of this before your 30th birthday. Are you intent on becoming the metal equivalent of Jay-Z?

I'm quite certain that I have more than 99 problems! (Laughs)
Do you ever see yourself putting down the guitar and focusing more on your other interests?


I think I will always gravitate towards music in some capacity and perhaps one day this band may not exist but that doesn't mean that I will stop being creative or being an artist.


(Famous) Last words?

"My works cast down and trampled to dust is no defeat. The soul that built them cannot die. My home burned, I dress in ashes and bend my arm to the harp and sing a while. My love is dead, I mourn and live. My revenge is to live."
Latest Multimedia
Links
6 color styles available:

Style switcher only on this demo version. Theme styles can be changed from Options page.