Browsing articles tagged with " temptation"
Label: BMG Rights Management/Dramatico/Victor Entertaiment Japan
Review by Tony Cannella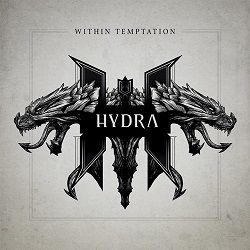 When the Iconic Dutch metal band Within Temptation released the EP "Paradise" featuring a duet with Tarja a few months ago it built the anticipation for their new album "Hydra" which is exactly what it was meant to do. Well, "Hydra" has just been released and was it worth the wait? Is it any good? The answer is yes, and yes. The thing that I have always loved about WT is that after all these years (this is their 6th album, I believe) they have always managed to grow, evolve and push things a little bit further. Each album has its own vibe and life and "Hydra" is no different.
"Let Us Burn" is the opener and has a great up-tempo, melodic base to set the table. The next three songs feature collaborations from varying ends of the music spectrum. Continue reading »
Label: Dramatico Entertaintment
Review by Tony Cannella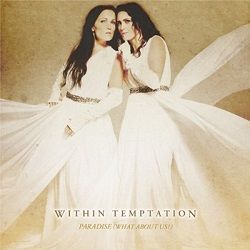 What a treat this turned out to be. The collaboration between two of the most iconic female singers in metal was eagerly anticipated (by me anyway). On their new EP "Paradise (What About Us?)" the Dutch band Within Temptation joins forces with Tarja Turunen on the excellent title song and it is a match made in Femme Metal heaven.
In addition to the title song, "Paradise" also comes with three demo versions of new songs, which will presumably be on the next Within Temptation album. But the song and video that has everyone talking is "Paradise (What About Us?)". This song is a melding of two phenomenal singers who bring different styles to the table but also go about their business cohesively – neither one tries to show up the other and neither tries to hog the spotlight. Continue reading »

Interview by Grace Méridian, Kassandra Novell & Lindsay Schoolcraft
Video by Mary Zimmer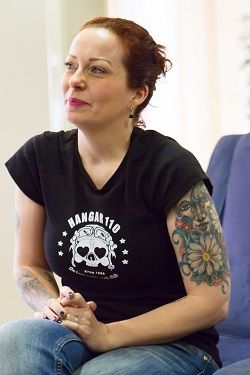 Here what we present you is a special interview done by the Eve's Apple (Don't you know what is? Just take a peek

here

!) members Grace Méridan (

Lifeaftergod

), Kassandra Novell, 

Lindsay Schoolcraft

 & Mary Zimmer (

Luna Mortis

). First of all I thank the girls for this awesome interview and if you wanna enjoy the video experience, please check out

here

but we must warn we that there's a little mistake that we cannot fix, we hope you like it the same.
Then we come to the special guest – we're talking about Anneke Van Giersbergen. The fantastic Dutch singer, after her departure from The Gathering, has slowly built a solo career with her 5 albums. The girls interviewed Anneke during her short trip in US, on March in Chicago. Beside the girls, I want to personally thank Mr.Rob Snijders for helping us setting this interview up. Well, after this short intro it's time to read the interview, so enjoy it!
Grace: I'm Grace Meridan and we're here interview Anneke van Giersbergen for Femme Metal and Eve's Apple. So, Hi Anneke, pleased to meet you. Continue reading »
Dutch Symphonic Rock superstars WITHIN TEMPTATION issued a new statement about the upcoming album, read below :
"Hi everyone,

We have been, and we are still hiding in our studios since winter started. With every writing session new things are happening. We are experimenting a lot and are trying to hold on to this magical feeling. We are looking forward to the moment that we can share with you where this journey has taken us. Continue reading »
Interview by Ed MacLaren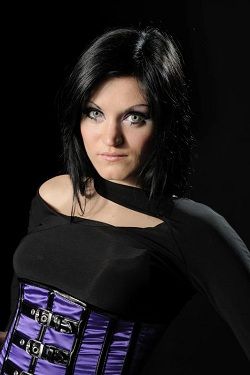 Italy's My Black Light is a band with a plan. Since its inception in 2008, the band has clawed and grabbed its way through the ranks starting as a cover band to performing original songs in music contests and to industry reps. In the final phase, the band steadily sharpened its skills and music into the razor-edged gothic prog metal tracks on their debut album "Human Maze". Lead vocalist Monica Primo took some time to talk to Femme Metal Webzine about the debut album, its musical style and its deal with Massacre Records.
Hi Monica! Thanks for joining Femme Metal for this interview!
Thanks to you!
"Human Maze" is a strong debut with a positive response from fans and critics alike. Were you and the band happy with the end product?
Of course we are! We couldn't imagine such a great enthusiasm and interest in our music and when we signed with Massacre Records it was so surprising we couldn't believe it.
When you and the band got together you started off playing cover songs. What songs did My Black Light cut its teeth on?
We were born as a Within Temptation cover band. This first step helped us play together and know each other better and grow up together. But we had so much more to say and show, so after a while we decided to write and play our own music. And you don't come back when you start!
Why did you start with cover songs instead of starting to write original material?
Well, like I said before we didn't know each other, either as musicians or as persons, so we just wanted to see what playing together was like. Some of us were very young and I think we just wanted to test the band.
6 color styles available:

Style switcher only on this demo version. Theme styles can be changed from Options page.