Browsing articles tagged with " therion"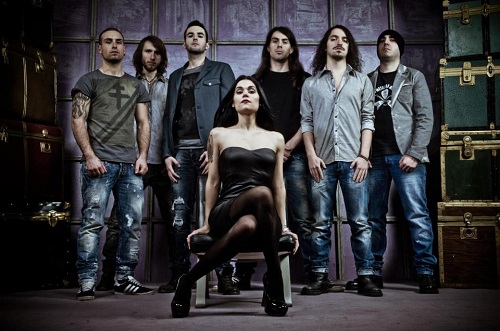 Italian symphonic metal band PURSUING THE END has been confirmed for ROMMELROCK 2013. The festival will take place in Maasmechelen (Belgium) on August 16-17 and they will have the pleasure to share the stage with THERION (special 25th anniversary tour), TOKYO BLADE and many others cool bands!  Continue reading »
Label: Ad Noiseam
Review by Luisa Mercier
"Silent Siren" is a multifaceted album, but how could it be otherwise when so many disparate personalities and influences are involved in the Underhill project? It features vocals by Martina Astner (from symphonic metal legends Therion) and MC Coppa (Marvin Hay, whose vocals have shown up in many different contests ranging from drum'n'bass to dubstep, and hip-hop) and music written by Dean Rodell, Ivan Shopov and Tim Elliot.
In the first three songs alone, trip-hop, dubstep, lounge and ska music surface, but they often are mixed together therefore to label the exact style is even more a challenge. This trend is found throughout the album, as shown by tracks like "Black Sun Butterfly", which is equally influenced by dubstep and ska. "Night Lines" opens the album with a polished instrumental of downtempo music before vocals appear in "Blind", which is easily compared to a Portishead ballad. You might hear influences of an myth like Dead Can Dance in the ethnic-dark atmospheres of "My Shadow" . The quintet are closer to noise on a couple of occasions ("Civil Lies" and "Creator"), and "Silent Siren" includes also heavier tracks, such as the gloomy "Rivers of Hades" and drum'n'bass based "Solace".  Variety is not something that is missed on "Silent Siren", but I found that the album is a bit too long and may result boring on the long term. Continue reading »
Label : Adalruna
Review by Tony Cannella
Whether you like the avant-garde metal band Therion or you don't, there is no denying that they have done things their own way since they were founded by Christofer Johnsson in 1987. Going back to their debut EP "Time Shall Tell" in 1991, Therion has morphed from a Death Metal band to an experimental symphonic metal juggernaut and with their latest opus "Les Fleurs Du Mal", the band marches on. 2012 marks the 25th anniversary of Therion and "Les Fleurs Du Mal" is part of commemorating such a milestone. The album title is based on Charles Baudelaire's writings and poems and the title "Les Fleurs Du Mal" (English translation is "Flowers of Evil") is the title of a collection of poems from Charles Baudelaire. Therion's avant-garde approach is happily intact throughout this 15-song 45-minute effort. As always Christofer Johnsson has surrounded himself with some top tier musical talent, including vocalists Lori Lewis (she sounds amazing as always) and metal veteran Thomas Vikström. Some of the strongest moments are: "Poupee De Cire, Poupee De Son", "Initials B.B.", the hypnotic "Mon Amour, Mon Ami" and "Lilith". The whole thing is quite grandiose and is simply huge in sound and scope. One thing Therion has proven over the years is that they are not afraid to take chances and they do exactly what they want. For better or worse, "Les Fleurs Du Mal" is another shining example of this.
Rating – 83/100
Tracklist
Poupee De Cire, Poupee De Son

Une Fleur Dans Le Coeur

Initials B.B.

Mon Amour, Mon Ami

Polichinelle

La Maritza

Soeur Angelique

Dis-Moi Poupee

Lilith

En Alabama

Wahala Manitou

Je n'ai Besoin Que De Tendresse

La Licorne D'or

J'ai le mal de Toi

Poupee De Cire, Poupee De Son
Line Up
Thomas Vikström – Vocals

Lori Lewis – Vocals

Christofer Johnsson – Guitar

Christian Vidal – Guitar

Nalle Påhlsson – Bass

Johan Kullberg – Drums
Links
MySpace * Facebook * Twitter * Site
THERION are currently celebrating their 25th anniversary and will release their new album "Les Fleurs du Mal" tomorrow in North America via End of the Light Records. Today GuitarWorld.com the online home of Guitar World Magazine is hosting an exclusive stream on "Les Fleurs du Mal" in its entirety HERE. There are still many details that are unknown about this mystical art project, and so far only the album title "Les Fleurs du Mal" can be officially announced. The album title refers to Charles Baudelaire's (French author and poet 1821 – 1867) famous poem collection "Flowers of Evil" (Les Fleurs du Mal in French) that caused such an upset of emotions in France that the author was brought to court and got fined for "insulting the public" with six of the poems, that remained forbidden in France until 1949 when the ban was finally lifted. The spirit of the project is a tribute to Baudelaire, and is imbued into both music and artwork. The album was recorded at Adulruna studio, located in a separate building next to Johnsson's decadent "Villa Adulruna" where the band lived together while recording.
"Les Fleurs du Mal" is available to order on Amazon.
For more Information Visit: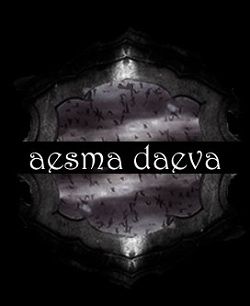 .
Interview by Erwin van Dijk
On June 1st the compilation double CD "Demonic and Divine" is released by Femme Metal. The CD is to support the Macmillan Cancer support and Cancer research UK. Aesma Daeva appears with the song "The Loon – Thalassa mix". This song originally appeared on the album "The Thalassa Mixes". Aesma Daeva is a symphonic metal band from the USA. Most people in Europe will know this band because former Visions of Atlantis singer Melissa Ferlaak was a member of this band and Therion singer Lori Lewis is the singer of Aesma Daeva. This interview is with John Prassas – Composer/Guitarist of the band.
Did you always wanted to become a guitar player?
Only for a short time did I want to be a guitar player – after that I started to see guitar as a compositional tool.
Where did you get the inspiration for the music?
Nature is a big influence for me. Sometimes life experiences – but I try to not focus on my own experiences as much as I try to focus on the experiences of others.
And to what kind of music do you listen yourself?
I listen to a lot of different music – I find it changes with the seasons. Lately I have been listening to Leo Kottke Blue Man group, Dan Swano, and S.U.P.. When fall hits I will probably start to something slower.
Did you have any other bands before Aesma Daeva?
No not really, I have a few things I am working on that will not be released under Aesma Daeva. They have yet to be completed though.
How do you work together with Michael Platzer, the lyricist of the band? Do you have a general idea about the lyrics before he starts writing or is Michael free to use his own imagination?
Both – "The Loon" – is adapted from a poem he had written. Where as "The Bluish Shade" was a song where I gave him just a few lines and phrases.
Aesma Daeva is an unusual name for a band. What does it means?
Shining One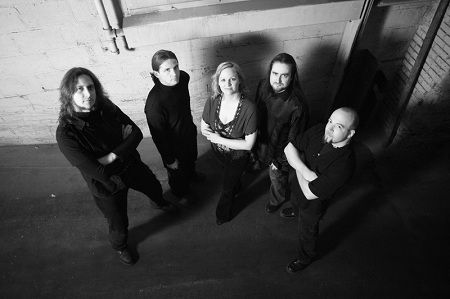 How would you describe Aesma Daeva's music? Because many bands describe themselves as Gothic – Metal – Progressive and the name of your website is "symphonicmetalband".
I think of it as Symphonic Metal – Mainly because I have so many classical and symphonic influences. Especially when it comes to colour and dynamics. We can debate all day as to what bands are symphonic and what ones are not.
Can you introduce us to the other members of the band?
Lori is the main vocalist, Chris plays bass, and that is about it for main members. I have been working with a lot of guest guitarists and musicians. At the moment I write 90% of the music, but they certainly are good at bringing it to life (which is not something that easy to do).
Aesma Daeva contributed a song to the "Demonic and Divine" double CD. This song was "The Loon". Why did you choose this song for the album?
It was the only new track I have under 5 minutes. 😉
Thalassa is Greece for "sea" and the goddess Thalassa was the personification of the Mediterranean Sea. And another Greek connection is "The Garden I Long For" which is performed by classical guitarist Kostas Grigoreas. How did you get in touch with him and what are the differences between this version and the original version?
Kostas and I have been friends for a while. I suppose the main difference is that this version is played and recorded much better than the original. I also adapted it to have a bit more "water" influence.
What is the idea behind this EP and why did you choose these songs for it ?
I was in Greece visiting friends and family. I did not have much for musical ideas, but when I left I found I was thinking about the sea and all of the colour's within the sea. My original idea was to make a remix that would give the impression of the sea. Like "Le Mer".
Speaking of Greece again, does the band have something with this country because the album "Dawn of the New Athens" which was released in March 2007 has also a very Greek name. Or is it about New Athens in Ohio (USA)?
No, it is about the "New Athens Colony" in the book "Childhoods end" by Arthur C. Clarke. However to assume it had something to do with Greece is completely understandable since so many other things I have done are influenced by Greece. Arthur C. Clarke is the writer of "2001: A Space Oddyssee". Together with Isaac Asimov he is one of the most important SF writers of the 20th century.
When can we expect new Aesma Daeva music?
We are re-releasing our first album with a bunch of bonus material. However at the moment I am working hard at a new approach to music. Which means working with different singers and musicians. The new material probably will not be released under the band name Aesma Daeva.
And will it be different from your previous work?
Very much. I hope you can always stop by our web site symphonicmetalband.com. Their you can go to my personal web page where you can hear bits and pieces of new material. Thank you for the interview and support!
Credit Photos
Single photo by Jill Vansickle
Band photo by Debbie Stiller
Links
MySpace * Facebook * Twitter * Site
6 color styles available:

Style switcher only on this demo version. Theme styles can be changed from Options page.