Browsing articles tagged with " times"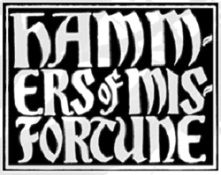 Interview by Luisa Mercier
After listening to their latest release, Femme Metal Webzine had the chance to have a quite interesting chat with John Cobbett, mastermind of Hammers of Misfortune. He has explained us a lot about what lies behind the complex lyrical content and musical content of the record!

Hi John, first of all congratulations for your new album. I enjoyed it a lot! Unfortunately, there might be folks out there who have never heard of you before. Could you introduce yourselves to our readers?
Hello, my name is John Cobbett and our band is called Hammers Of Misfortune. We are a band from San Francisco, California, USA. We began as Unholy Cadaver in 1997 and became Hammers of Misfortune in 1999. Our first album came out in 2001. I'm glad you liked our new record!
May you talk us a little bit about the concept that underlines the album?
Each song has its own concept. Some of them tell stories, some of them describe situations, some of them can be taken on several different levels at once. Many of the songs deal with common people dealing with hard times, a few of them deal with the people that created the hard times. There is a thread of lost innocence and disillusionment in the songs, but each one has its own story to tell. I was doing a lot of research about chronic unemployment, foreclosure, student debt, the credit crisis, the bailouts, bankruptcy etc. Not just the facts and allegations but the stories of real people who are going through these things, including myself and several of my friends. It's interesting that the #ows movement (Occupy Wall Street) sprung to life right around the time this album came out. I guess I wasn't alone in my concerns. This is a real crisis with real victims. At the same time, the lyrics could be about any situation of loss, heartbreak, resignation in the face of impossible odds, I could go on. I should reiterate that it's not accurate to put all the lyrics under one thematic umbrella. Some are more specific, some are purposely so vague that they could describe almost any situation.

This cover artwork is quite different from the previous ones. Is it somehow related to the concept?

The photo on the cover is a long exposure shot of us standing on Bernal Heights, overlooking the Mission District of San Francisco, where 5 out of 6 of us live. It's us in our natural environment. I guess if so many metal bands are taking pictures of themselves in the woods behind their house, we could do it too!
Your album is a unique one. It blends many of the genres in heavy metal. How do you incorporate so many influences in the music? Is it programmed or they just flow freely?
We really don't make any effort blend influences. We write songs. It's a very natural process. The key is to ignore influence, genre, trends etc. We simply don't think about it in those terms. It's all about the song.
That's not to say that I'm not influenced by anything. As a songwriter, I'm influenced by songs. Any great song will do. A great song is timeless, it could be the Beatles or Bob Dylan, it could be Discharge, Bowie or Cole Porter. I think most bands decide what genre they want to be before they even play their first note. Why get caught up in the endless parade of trends and genres? We want the songs to be good, and the albums to be good. Whatever tools or ideas we have at our disposal are put toward that goal.
Since we are a female fronted music-themed webzine, would you introduce us the two female members of Hammers of Misfortune? How did you get in touch with them?
I was introduced to Sigrid Sheie at a punk show in 2002. She was originally playing bass with us (she can play almost anything). When we realized that she was a classically trained pianist, we saw the opportunity to add piano and Hammond B3 organ to our sound. I've always loved those instruments. It's been quite a learning experience, writing and arranging with keyboards in a metal band. Sigrid showed up to her first rehearsal with a binder full of sheet music – she had transcribed our songs! We were quite impressed. She is now an adjunct professor of piano at University San Francisco.
Leila Abdul Rauf, along with Sigrid, also plays in a band called Amber Asylum. It was Sigrid who suggested we invite Leila to join the band. We were big fans of Leila's band Saros. We saw them many times and played some gigs with them, so I was already a fan of her guitar playing, and she was already part of the family, so to speak. She's also pretty good on keyboards and a fine singer, but mainly it's her detail-oriented, technical approach to guitar that I'm a fan of. She can also bust out a soulful guitar solo. It's a privilege to work with both of Leila and Sigrid.

You've been in at least three other bands before Hammers of Misfortune, did the experience with them influence the work with HoM in any way?

Hammers has always been my number one. The other bands were much less complex, more of a release for me. Mainly because I didn't have to write any lyrics. It was fun to just sling riffs and play the guitar. You learn something every time you go on tour or make a record, regardless of what band you're with. Hopefully, you learn from your mistakes, especially in the studio. Making an album is a massive undertaking and the lessons learned in the studio are the ones that you bring to the next session. Those experiences and lessons definitely come into play every time you make a new album.
I've read about previous difficulties with labels and such. How's Metal Blade treating you since last year?
We haven't had too much trouble with record labels. There's very little money left in this business, so there's not that much to argue about, haha! So far our dealings with Metal Blade have been very professional and fair. They stayed out of the way when we were making the album and now they have stepped up to help promote it. They've done a great job so far.
Do you have any idea yet on what the future might bring for Hammers of Misfortune? Any thoughts on a tour or a new album?
There will be 4 shows in the Pacific Northwest US in December, then we're playing Roadburn 2012! After that, who knows? The next album is always on my mind but it's just forming right now. Once this new line-up gets our "stage legs", we'll have more chemistry as a group. I'm looking forward to that. Thanks!
Links
John Cobbett : Twitter
Interview by Roberta Ilaria Rossi
After the recent release of the third Nemesea album, Femme Metal crew has the pleasure of exchanging some chats with Manda, that did the honors and that has revealed all the hidden details about "The Quiet Resistance". Here you can find all the details of our chat with this amazing Dutch singer.
Hi Manda and welcome to Femme Metal. How are you doing?
Hi, I'm doing fine!
Recently, you've signed a deal record with Napalm Records to release your third album, "The Quiet Resistance". How was this decision born?
When thinking about doing a 3rd studio album the band wasn't sure about how to release it. We had some contact with NR in the past and at the right time both Nemesea and NR agreed to work with each other on a new Nemesea album.
This last album is such a great masterpiece, that mixes some genres like electro music, trance and some alternative rock. It seems that, compared to previous albums, TQR has taken something from the other two. "Mana" was an album with progressive tendencies, a little gothic, the second one, "In Control", was more symphonic. For this album, you wanted to try something innovative. What causes this decision? Why did you want to create a new experiment, if we can call it like this?
We always try to develop/progress. It's true that the TQR album combines elements of our previous albums and for this album that was the plan from the beginning. With 2 new members on board (Lasse - Keys & Frank – Drums ) a band sound changes as well. Especially Lasse who is also a sound designer had a major influence on the sound this time. We were always looking for someone that had interest in rock as well as electro music. Lasse is the perfect guy for that. The whole band is interested in all kinds of music and especially in rock and electro oriented music. It's normal to us to combine those styles/influences..
What's behind the title of the album? Why have you chosen it?
"The Quiet Resistance" is about that resistance/feeling within you but are afraid of, not allowed to speak of. We came across the intro when going through some older audio material that Lasse had. We had al lot of songs written already at that point and lots of them were about speaking your mind (for example the songs "Say", "Caught in the Middle", "Whenever" ). When we heard this intro lyric we immedialtely knew it had to become the album title.
The artwork shows you, Manda, in a lost location, with you holding a long sword. Could you explain us what's the meaning of it? Who created the artwork?
The artwork was created by Stefan Heilemann, a very talented artist. I'm in a lost/quiet environment (desert like) and the sword represents a quiet resistance as well. You can't hear but can see the resistance.
The opening title track, "The Quiet Resistance", starts with a very male mysterious voice, like a "hard breath" voice. Why did you decided to open the album with this song? Is it just to create a sort of "wonder" in the listener?
To us it's a strong lyric and is a good opener for the album. When making intros like this we always look at it from a live point of view as well.
Taking a listen to the song called "Rush", I've found a similarity with Evanescence's sound. In a first moment, it was seeming to listen to Amy Lee in "The Open Door". Do you agree with this statement?
As much as I like Evanescence and Amy Lee I can't really hear a similarity. We have a different way of arranging and sound design compared to for instance Evanescence. The song was more influenced by Bjork than Evanescence but… when i say that of course Amy Lee is a big fan of Bjork so….
Listening to the album, my attention ran upon the song called "Allein". There is a clear reference to Rammstein influences. Indeed, we find the great vocal by Heli Reissenweber (singer of the Rammstein cover band Stahlzeit). Why have you decided to create a track in Rammstein's style? Had it already been decided previously or have you wanted to create something new for this album?
It started with a electronic pattern Lasse wrote. When HJ started to write a song around it a Rammstein feel occured. At some point we had to decide if we wanted to go for a Rammstein influenced track or to step away from that and go for something else. Since we are all big rammstein fans we decide to go in that direction. We went all the way when asking Heli Reisenweber. We see the song as written by Rammstein & Nemesea together. At least, something like this would come out if we did… we'll keep on dreaming ha ha.
TQR has been mixed and produced by Joost van den Broek, better known for having played in a great Dutch band, After Forever. Nemesea toured with these guys a very long time ago, is there any particular reason about this choice?
Joost is a multi-talented person. He's a great keyboard player but is an equally talented producer, arranger and mixer. We got to know him during the shows we played with AF. HJ had worked with Joost on some other projects as well so it was very logical for us to ask him to work on TQR.
The first single taken from this album is "Afterlife". Why have you chosen this single as the first song to record a video clip as well?
Both band and label agreed this song to be the first single. The song is HJ's favorite so he really wanted to start with that song as well. We believe lots of people like melody, the song and it represents the Nemesea sound in a way.
How did the recording last for TQR? Your last album, "In Control", was released over four years ago. Is there something that has forced you to such a long break? Or did you wanted to take your own time to work on this album?
To be honest, we had a bit of a difficult time after our album "In Control" since nothing really happened with that album. We worked very hard on "In Control" so we were very disappointed when the high expectations didn't follow through. Everybody took some time off and lots of us worked on other musical projects. After a while we started to get inspired again and started writing new stuff.
Some great guests on this album were chosen, as Charlotte Wessels (Delain), Marcus Klavan and Matt Litwin (Bulletproof Messenger) and, as I said before, Heli Reissenweber (Stahlzeit). What were the foundations for these choices?
We know Charlotte personally from some gigs we did with Delain. When HJ wrote the song "High Enough" he immediately thought of asking Charlotte because he thought both voices would match nicely. Marcus and Matt recorded an album through Sellaband as well and they had sort of the same experience as we did. We always had contact through email and we love Bulletproof Messenger. When working on "It's Over" the turntables and voice contribution of both guys seemed to finish the song, great! Heli we didn't know but asked to sing on the song because he was the only one that was able to do it ha ha. His voice is amazing!
If you could describe this album with 3 words, which adjectives would you use?
Best so far!
Where do you find the inspiration for your lyrics?
That differs for every lyric I write. Sometimes it's just a word or sentence, sometimes it's a movie or things that happen to me or people I know.
How much time do you spend to train your voice?
I've taken singing lessons for over 12 years now and I sing every day. I love singing and developing my voice. There's still so much to learn. I still take singing lessons and I started speech therapy also a few months ago. I love working on my voice and technical skills.
Is there any particular singer who could have been a source of inspiration for you and for your professional growth?
There are a few. First of all there's Anneke van Giersbergen. She's the reason I started to sing. Nowadays I listen a lot to Christina Aguilera and Kelly Clarkson. They both have such powerful voices that inspire me to work hard on my voice. Also Jared Leto is someone who inspires me. He has a very unique way of expressing lyrics and their emotions. I love his voice and way of singing.
Nemesea is a Dutch "trademark" and comes from a fact from which many important names have emerged, such as After Forever, Within Temptation, Epica, The Gathering - what do you think of these important bands? Would you love to work with one of them?
All the bands mentioned are great and have their own style and talents. The Gathering and Within Temptation are bands we would prefer to work with because we can relate to their music a bit more.
Having mentioned Charlotte Wessels from Delain before, I'd like to ask you: how was working with her? She is one of the best Dutch singers you can find around and her voice is so magical. Listening to "High Enough", I've found that the duo fits your voices perfectly, you bring the listener to a magic mood, your voices take over the listener's attention.
It was great working with her. She loved the idea of doing a duet with me and work really fast. I'd love to share stage with her one day to sing "High Enough" live. That would be just amazing.
What do you think of Dutch female fronted bands? And what is your personal opinion on all these new bands that necessarily want to have a female voice?
I'm very proud of the fact that such a small country delivers such a unique music style and bands that do very well internationally. The Netherlands has 2 big music export products, Dj's ( Tiesto/ Armin van Buuren, etc ) and Female Fronted rock/metal bands (WT, Epica, The Gathering, Delain)
Now that TQR has been released, are you going to tour within Europe or to tour in general? In my honest opinion, I would like to see Nemesea playing in Europe, at least once…
We are doing a tour with In Extremo this December throughout Germany. We are working on more shows/tours as we speak. Playing live is why we make music, we hope to do it a lot in the future.
If you could tour with some bands, which bands would you like to support?
There are a lot of bands we like to tour with, Rammstein, Metallica, Within Temptation, Lacuna Coil, 30 seconds to Mars etc…
What's new for Nemesea now? Do you have already some new projects or do you want to focus your attention to this album and all that follows?
All the band member or working on several musical projects next to Nemesea. We started to write some new songs for the next album already and we are preparing for live performances..
Ok, thanks so much for this interview you gave to Femme Metal. Is there something you would like to tell to all Nemesea fans out there?
We hope that everybody will check out our new album and hope they like it, let us know what you think on www.nemesea.com.
Credit Photos
Photos by Stefan Heilemann / www.heilemania.de
Links
MySpace * Facebook * Twitter * Site
Latest Multimedia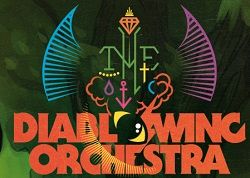 Interview by Miriam C.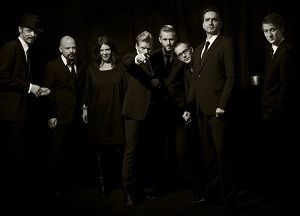 For the second time we give space to one of the most eclectic act of the last years : Diablo Swing Orchestra. This time we have had the pleasure to have a nice SkyPe chat with Daniel Håkansson for unleash more details about the third album "Pandora's Piñata".
Hi Daniel, first of all how are you?Do you mind present your band telling a little about the Diablo Swing Orchestra's history?
Our ancestors performed orchestral works in defiance of the ruling church at the time. The orchestra was forced to go into hiding, performing in secret, with the assistance of oppressed peasants during the era. After years of performing for the pleasure of these peasants, the story claims that the church put a bounty on the performers lives, and that this bounty was so high that the orchestra knew they would soon be captured, and thus chose to play a spectacular final show before becoming martyred to the church. We got letters back in 2003 and did some research to find each other and since that day we perform as Diablo Swing Orchestra.
We are here for speak and introduce "Pandora's Piñata", DSO third album. What you can tell about its genesis? When you have started composing it?
The songs on the new album I started to write for back in 2010 but we didnt start seriously to arrange the songs until 2011.
Ok.. who's like the recording process an a DSO album? I mean you have first the music and after you compose the lyrics or it viceversa?
First normally comes a rytmical idea (beat or riff) and if it's interesting enough I start to try and find a melody that fits. When that is done I normally start to find the "theme" for the song (arrangemets etc) Then me and Pontus (guitar & FX) do demos for the others to take part of to start working on their parts. too.
And when Annlouice comes in?
When the demos are send out. I normally check the key of the songs with her before we finish them so that the intervals are suitable for her voice.
So connecting to this question.. What you reply if I ask to say more about her – I mean her musical background and stuff like that? And how she got involved in this project?
She is a classically trained singer and works full time as an opera singer here in Sweden. She was introduced to the band when we started to look for a singer by the opera house's PR department. She got to hear a demo and she liked it and the rest is history =)
So she sing in the theatres as full time job?
Yes, indeed. We gain a lot for all her experience on stage even if it's a bit different.
Well, I think that something different from the usual singer helps to get more people to like your music and be noticed, I mean people get curious.
Yes, it gives the band a certain flavour also a different flavour that after can attract different people from different musical ambients
At your concerts I bet we can find a metalhead, someone who likes jazz and why not opera… but the metalhead but be really openminded.
Sure, we seem to have a mixed crowd.
And talking aboout crows and live gigs… it sound strange to me that, according to the press release that I have in my hand, it's hard playing gigs in US and Northern Europe. Why? On the contrary, for DSO music it's very easy planning tours in South America. What the differences between the 2 continents? I mean, in my point of view since you're close, should be more easy organize concerts in Europe instead in SA…
Well, we do have a much bigger following there which the promoters have picked up upon. It's starting to get better in Europe and we've signed with an italian booking agency so we will do a full blown tour in italy in the future. Also more gigs in europe will follow. They are just not finalized yet. It's probably the latin vibes in many of the songs that makes it work really well over there.
Now talking a little about the lyrics — I quote the press release about the album's theme – "The theme of "Pandora's Piñata", are the seven cardinal sins that one can imagine falling out of this like-no-other-audio-visual-piñata". Well, you can explain to us the real concept of the album because I haven't really caught the sense, maybe it's my fault but I haven't really understood it and I for this I want to give you free speech and hear directly from the mastermind the truth hahaha….
Yeah, that theme is more in the artwork than lyrics. The lyrics are of a more personal level and based on my own experiences.
Mmh.. interesting so are you gonna unveil more details about it? Because you have really anticipated my next question…
The only differnet one is "Guerilla Laments" which I wrote based upon many email and letters we get saying our music has helped them though tough times.
Nice to know it, for the artist (in these case you) should be like heaven reading those letter and emails…
Well, I'm glad that the music can help them but I'm quite horrified what people have to go though not very nice stuff and most time I don't feel qualified to answer
It's quite common that people tries/finds something to attach on because those words/melodies helps them not to give up I think that no one is qualified for the replies.
True, but I am glad that what we do can help peole. I truly am.
You know, the reality it's so brutal that sometimes we need to get away for it and sounds sweet be embraced by the music.
Yeah, it's one way to have a brief excape from everyday life.
Exactly..turning back to the artwork side.. I know that Peter Bergting for the second time is working with you for all the "Pandora's Piñata" graphics but who's Peter Bergting and can tell us more about him and his work to who don't know him yet?
He's quite well know here in Sweden and thoughout the world in come circels as a illustrator and have done some high profile jobs. He used to be Anders' teacher in university and they have kept in touch since then.
Interesting.. never imagine that, really! Congrats to him and Anders. Watching the site we get a preview of the album artwork with this 2 childrens and the snake. Can talk you more about its visual concept?
We always want to wrap up what the music is a bout in titles and art work. The music has both a playful and an aggressive/dark side to it. The name "Pandora's Piñata" kind of encapsulates it. It kind of shows how someone is tricked into let some malign out that is wrapped out in a pretty package.
Sounds like the reality to me and the everyday society.
Yeah, good point

Well, you know I haven't imagined that I was thinking something more fantastic and unrealistic the meaning of the title..
Yeah, we wanted a title that both wrapped up the album and piqued the listerer's interest.
Well I was talking about the previous album and that's it – If I recall well, your last album that you publish was on 2009 with "Sing Along for the Damned and Delirious" under Ascendance Records. Why took you so long to publish a new platter?
It seems that it takes us about 3 years to write and record an album, it was the same amount of time between the 1st and 2nd record as well (2006-2009-2012) so next time is 2015 then =)
Yes, but this sounds so funny like the three time table haha.
Yeah, I wish we were faster but it seems we dont really control it.Songs are done when they are done.
And "Pandora's Piñata" is your first album under Candlelight Records, finally I'm so happy you, you've reached the ambitious deal with a prestigious label. How was the first approch with them? I mean who contacted who, when happened the first contact?
Actually we first realeased the first record it ourselves and later it picked up by Candlelight and but this time we had the deal with Candlelight figured out form the start and they seem to do some good work with the promotion.
Let me understand before to sign properly with them you have only a distribution deal?
Well, we licened the album to the one year after we released the "Butcher's Ballroom" ourselves.
Reading the 2012 live line up I'm noticed that the only real change is the drummer: why Petter Karlsson is not coming on tour with you?
Petter decided to leave since he wanted to focus on his own music.
Still talking about line ups that are changing, can you talk more about the new members Martin Isaksson and Daniel Hedin? What are their musical background?
They are both classically trained and were brought in as session musicians for "Sing Along for the Damned and Delirious" and we got along really well and they added so much to the band so we decided they should join the band
Any plans for a DVD/live album? It should be an interesting release to buy…
We'll do it as soon as we feel we're good enough and have the money to do it properly .
Daniel, we're at the end. I really thank you for everything!! Thanks so much for the interview!!!!
Thanks for a nice one yourself.
Links
MySpace * ReverbNation * Facebook * Twitter * Site
Latest Multimedia

Interview by Ed MacLaren
Lacuna Coil has made a career of pushing the sonic boundaries of darkness and melody. Growing from an Italian goth rock phenomenon to a truly international success, the quintet have done it without compromising their musical instinct or their artistic commitment. With the new album, "Dark Adrenaline", setting new sales and chart records for the band across the globe, lead singer Cristina Scabbia could be taking time to enjoy the album's success but after two months touring with metal icons Megadeth and Motorhead along with Denmark's Volbeat as part of Gigantour, her focus is ramping up for the band's upcoming Dark Legacy tour.
Forthright and insightful, Cristina spent some time backstage with Femme Metal Webzine hours before Lacuna Coil's final show on Gigantour in Austin, Texas. Despite nagging back pain, we got a change to talking about touring with Megadeth and Motorhead, Lacuna Coil's upcoming tour plans and the secrets to the band's ongoing success. How's your back doing?
It's actually pretty bad. Better than two days ago. But I think I have an inflamed muscle that kind of touches a nerve so every once in a while I kind of jump. And it's so painful for a few seconds then it stops and then it starts again. But I'm going to home in a couple of days so I'm going to rest at least a week!
So you're just going to muscle through it for this show?
Yes! Oh yes. But the only problem is that when I'm on stage I can't really control myself – you have the adrenaline going and the excitement. So every time I'm like, "OK I'm going to take it easy today – I'm not going to move that much". And then I just can't help it and I go for it.
I'm signed up to your Facebook page – that's how I found out about the back issue. I noticed that you do a lot of updates on the things that you're doing and you have a lot of fun doing that and fans really like it.
That's why I'm doing it. It's not that I have a lot of fun doing it but I think that it's cool for whoever doesn't know that much about the backstage and about what's going on with the band. I think it's cool to have a direct update from the band because sometimes the official websites are more like portals that can take you to different sites but they're never a close connection to the fans. And in this case Facebook is really cool because you can get direct feedback from the fans and you can post updates and write when something happens and I think that's cool.
It's the last night of Gigantour. It's been a long couple of months. What are your thoughts and feeling about the tour this time around?
I was just talking a few minutes ago with the wife of Volbeat's singer Michael (Poulsen) and there is always this mixed up feeling of happiness because you're going to be going home but there is also this sadness because it's the end of the cycle and you know that you're going to miss all the people from the bands and crew. And you know that you're going to see each other again because I know that we're going to play some dates together especially with Megadeth for the Megadeth/Rob Zombie tour. We're going to see Volbeat at the Rock on the Range Fest. But there is always this weird feeling and weird day where everyone is wandering around like zombies because you know that it's over but it's not over yet. It's just like a weird feeling.
That's why I appreciate you taking some time to talk to me because I know it's the last day and you're all ready to go home.
Oh, no problem because all I have to do during the day is promo and relax.
Being on Gigantour you get to hang out with two metal icons Dave Mustaine of Megadeth and Lemmy of Motorhead. How is it hanging with those guys for a tour?
Well, I knew Dave already because we did Gigantour together back in 2007 I think it was. The Australian tour I think it was, so we had a chance to hang with Dave and the guys and they're amazing people. They're really nice. I don't care what people say or the rumors that might be around them and the attitude they might have sometimes. Dave has always been amazing with us, very kind, very gentle, very present. I remember one of the first days he sent a couple of bottle of champagne to the dressing room. This is something cool that you appreciate because such an historical band, such an established big name, that you're still surprised about these little things. Again a wonderful experience to tour with them. And with Megadeth I was blown away by the fact that the guys are awesome! You think about very famous musicians and iconic characters like Lemmy as something untouchable and something like oh my god, is he even going to come closer to me? Is he even going to say hi if I pass? And he was the most genuine and nice person I've ever met. Mickey Dee is crazy, super funny. It was amazing. I mean I spent like an hour talking (to Lemmy). He's a collector of stuff from WWII. It's fascinating just to hear him talking about that so (I) was totally amazed, totally spellbound by Lemmy when he was talking about that. And it's so cool; he showed me some custom made jackets that he got. It was just like a surreal moment because we're here talking like we've been knowing each other forever. It's amazing.
Even from a musical standpoint – just to be able to watch these guys perform…
Oh yes! I'm so bummed out because we were talking about me going up on stage at the last gig to do "Kill by Death"! And I was so bummed out that they had to cancel. Mainly because he has laryngitis and it sucks! I know it very well being a singer so it's going to need some rest. But I'm very happy that we met each other.
And anything that you pick up as a musician from just watching these guys perform? They've been around for so long.
More than a musician, I think that what you can get from them is the fact that if you really have a big passion for what you're doing it can go on forever. Sometimes I hear a lot of musicians that are saying, "Oh you never know how long we're going to make this job for. You never know when it will end." And then you see bands like Megadeth and Motorhead and it's like it will never end if you really want to make your life out of it. I know that I want sing and I know that I want to sing forever so I know that I will be here. (Laughs) If I'm going to be alive, I'm going to be here for a lot of years to come. That's what you get from bands like these that are still here after some many years and kicking ass!
It's the last show for this part of the tour. Do you guys have a big end-of-tour blowout planned?
We have three weeks home and then we're going to rest a little bit and I'm going to go on with the charity project – Rezophonic – that I have back home. So I'm going to play some gigs with them around Italy and in three weeks we'll going to be in South America for a few gigs with Lamb of God and Hatebreed. And then we're going to play our headliner tour and we're going to post those dates very soon. They're just locking them up and we're going to have a list in the next few days. We're going to come back to North America for a headliner tour and it's going to be something special. We're going to play a lot of old stuff as well so the fans will be happy. We're going to play a mixture – probably the longest set we've ever had, with an acoustic part in it. We're going to talk more about it as soon as we can release the list of the dates. Then we're going to play summer festivals. We're going to be at Rock on the Range for the first time and this is going to be amazing. We're going to play Welcome to Rockville in Jacksonville, Florida. And the summer festivals in Europe and I think a possible European headliner. But that will happen after September, I guess.
So after doing two months as a support act and then you have to switch gears and go headline and you have the longer sets. Do you have to change anything musically or get your mindset in order?
Your mindset just changes because, of course, you have to play every night a longer set so it's more tiring for your body, for your voice, so you have to be extra careful about your body, your voice, your fingers if you play guitar or your energy if you're a drummer. So definitely we're going to be able to take care of ourselves and our bodies during that tour because I know we're going to push the energy to the limit every night. As I said, even if you tried to take it easy once you're up there, it's impossible. It's just impossible. We give everything we have onstage.
Sacrificing your body for the good of the show?
It's more of a mindset that changes because on this tour we had two off-dates – one in Baltimore and the other one in Des Moines, Iowa. And you can feel it but it's different – you need a sort of a rhythm every night. If you know you're going to have a headliner then you know what you have to do every night. But if you switch from support – half an hour playing – to an hour and a half, it's like,"Uhhhhhhhh!" Sometimes your body feels it! (Laughs)
Absolutely! I guess you have to keep yourself in shape while you're on tour.
Yes it's really hard. It's really hard to eat healthy – in a healthy way. The mattresses on the bus – just living on a bus is tough. It's not easy. Driving around, sleeping while the bus is going. That's probably why my back is kind of messed up! (Laughs)
Are there any benefits to playing more support shows to doing a headline show?
When you play a headliner show you know that the people coming to see you are fans so they know your music already. When you play as a support band you have a chance to grab and to win over new people that in the future will come to your headliner shows. So any support tour is useful to spread the word and let more people know about Lacuna Coil. Actually, this tour really surprised me because we never had problems to fit with any lineup and any band because we have such a special sound ourselves. We have a specific Lacuna Coil thing going on that we pretty much fit with every band we played with from Rob Zombie to Anthrax to Type O Negative to P.O.D. Diverse bands and nobody has ever said anything but on this tour it was more like there's going to be a lot of old school fans. You know, Motorhead and Megadeth, die-hard fans that are going to look at us like "Oh my God, who's this girl on stage? Why do they even have a female singer? Why aren't they doing this?" And the reaction was magnificent! It was amazing! Everybody was rocking out! They loved the show. We would leave the stage every night with hands up in the air and people cheering us and going for it. It was amazing because when you're the opener, you don't really know. It's like you have to warm up the crowd and you never know how they're going to react most of the time – they will be like having a beer somewhere getting interested in the show. And it wasn't like that. We got the attention of pretty much everybody. And that was amazing. It's a big challenge. It's exciting.
Good music transcends everything…
I think despite of the fact that you like the music or not, if you keep the energy up and you let the crowd understand that you're having a great time and you're having fun onstage you will connect no matter what. I'm not saying that they're going to buy the records right away but at least they will go away saying, "You know what? They can kick ass! They seriously rock onstage!" And that's all I want. I want people to have fun at our concerts.
It's cool that you guys are actually touring the States right now. Your album just got released here in the States and its right at the top of the charts. Setting personal records on the charts as far as album and single, so it must be cool to be touring a place like the States with the album coming out.
It's the perfect moment now because we did a pre-tour in October in the UK and some parts of Europe so we presented the new singles because we knew we were going to be here in the States at the precise moment where the album was out. It's more difficult to tour the States because it's such a big territory. When you tour in Europe, you maybe do one gig in Belgium, one in Holland, one in France and then you go to Italy and you play two. And then you go to Germany and play one or two. It's like a few gigs in different places. If you play in America you have at least to tour for a month and a half. If you want to cover the main cities – not even all the cities you would like to play in – it's definitely more difficult and we're trying to keep a balance between Europe and America but it's not always easy.
You're one of the few bands that are able to do that…
To work both ways – I know! (Laughs) But sometimes our fans are complaining but it's not up to us. They're like you never play to Europe and then we go Europe. Why don't you come here to the States? Come on! (Laughs) We can't be in two places at the same time! Just be patient! We'll be there as well!
With the new album – great album by the way – been listening to it non-stop. Do you think that you've been doing anything different with this album than the previous stuff or are you just doing what you do well better?
I think that it came out different but without us thinking about making it sound different because what we always do with every album is that we don't think. We just go with the flow which is let the inspiration go and do everything for us. It's not that we sit around a table and we say OK the last album went this way. Why don't we try to do this? It's not like that – the process is completely different because we collect the ideas and whatever we like, we keep it. We don't care about clichés, we don't think about what people might think about the album because it's a representation of art so it has to describe who we are. It has to be who we are. It doesn't have to be what fans want from us and I personally think that that's why we kept it – for such a long time – interesting to a lot of people. We might have lost some fans but we won over a lot of people. And then maybe the new people didn't like the album after and the old school fans came back. I think it's refreshing. It's refreshing to just evolve and not to get stuck in the same thing over and over. And this album definitely the most obscure, the heaviest one we've ever done but it's not that we thought about it before we started songwritin
It's heavier but you still have the underlying melodies and hooks.
Always! It's still us. I mean it's still us writing the songs so you cannot really change. It's just like a little evolution here and there.
You didn't just take a right turn like The Gathering did.
No, because we still love rock and metal but sometimes there is a rock vibe that can come out more sometimes versus the metal side sometimes that can come out more but it's still us. If you listen to our first EP, it wasn't like heavy metal. Let's say it clear – we've always been a rock hard band.
When you look from the first EP to "Dark Adrenaline" – you were talking about evolution – can you see a common thread that you can see how you've evolved from album to album?
The common thread is that we've always mixed up melody and heaviness in every album. And the fact that we've never really used our voices – Andreas and my voice – in the "beauty and the beast" context. We've always sung the same way – so I wasn't always singing the melodic, nice parts. Sometimes I'm doing the aggressive ones and sometimes he sings clear so there is always this interaction between us that not a lot of bands are using the same way we do. And this is present in every album.

I wanted to ask you about the way you and Andrea do you vocals. You've been doing it for a number of albums now and it always sounds fresh and unexpected – the way that you guys do your arrangements. It doesn't feel like, "OK you sing this part, I'll sing that part".
No, because it doesn't happen this way.

What's the process that you guys do to do that?

It's not a real process. We simply don't sit and decide to split 50% of vocal lines. Sometimes I write parts that he ends up singing because it sounds better. Or vise versa. Or I come up with an idea for lyrics and he likes it because we share the same tastes. It's surprising we never really clashed. We never really said, "Oh no I will never do this or no I don't like it". Because you can feel it if you're honest and you don't let the ego get over you. You realize that it sounds good if it's sung this way or it sounds better if it's sung this way. So we keep it the way we feel more comfortable with.
So it's a real collaboration.

It's total teamwork. Even in the photo sessions we decided to underline it even more that this is a band. This is not Cristina with a bunch of musicians. So even if we got the attention because I was the focal point in the very beginning, now we're starting to be recognized as a band and people see it on stage and off.

I wanted to ask you about your vocals on the album. Tracks like "Intoxicated" it sounds like you're doing some different things with your voice than what you've done before. Do you have an experimental nature that you try to do different things with your vocals on the album?

I can't really tell you about that because what happens is that we come up with a lot of ideas when we're home – when we're separately at home. Because now you can exchange files, you can go with a USB key or your computer and say, "Hey! I found this idea". So the vocal line for "Intoxicated"totally happened – I just listened to the music and I was like (sings melody line) and came up with this melody and was like, "This sounds cool!" and then I recorded it. But it was nothing planned because I didn't take any specific lessons or something that inspired me in this way. It was simply fitting with the music. And I realize that I'm using my voice in a different way but I don't know what happened because I'm definitely learning how to use my voice by myself. I'm not taking any lessons because I want to keep it personal. It might not be perfect, it might not be super technical but it's me and me only. I don't want to change my voice because it has to be sounding like someone else.
You can see in a number of female-fronted bands that are out there – you can almost drop them into certain categories.
And that's what I don't want. And that's why I'm happy when people aren't able to describe our music. That's the biggest success for me. The bands that I admire the most are the bands that never repeated themselves. One of my favorite bands is Faith No More, for example. And how would you describe Faith No More? It's fucking Faith No More! (Laughs) You can't really say they're playing this, they're playing that. It's Faith No More! And they're music is great because it's them.
You're going to be playing the Metal Female Voices Festival this year and you haven't been there in seven or eight years. Are you looking forward to having a few more women around – at least for the weekend?
Absolutely! I really like it when I see a lot of women in the crowd actually – more than the other bands. I'm sure that I'm going to have a great time and it's going to be good to see some friends because I have female friends in the music business. It's going to be great to see a lot of females coming to the shows because as Lacuna Coil we get a lot of female fans and the guys in the crowds are very happy. (Laughs) Because it doesn't really happen a lot – at a metal concert you see a lot of guys not a lot of girls. I just love it – there is always a very cool vibe. I'm definitely excited about it.
You were saying before that Lacuna Coil – even though you're a female in the band – you've really sort of shed that "there's that metal band with the chick singer kind of thing" label. You guys are considered Lacuna Coil and you tour when you want with who you want. It's not like you're being pushed in a certain direction.
At least, that's what we're trying to do. Because, I mean, I can understand that. If someone doesn't know the band you kind of have to tell them they're sounding kind of like this or that. But every time I got somebody – who didn't know the band – that came to the show was like very impressed. Like it wasn't what I was expecting. I listened to them on the radio or just reading the articles. I wasn't expecting them to be rocking out that much. So I get a lot of positive comments from people who saw us for the first time.
Going back to the MFVF… Do you think it's important to have festivals like that, that are focused on the female- fronted bands?
Every festival is important and I think it's interesting because a lot of people listen to music where female singers are in the lineup. Sometimes it's a little overrated to put too much attention on females in the scene because a lot of newcomers might think that this is the secret for the success – which it's not. Some new bands might think, "Ok I'm going to have a female in the lineup and I'm going to be successful right away because we're getting a lot of attention". And it's not like that because there is a lot of hard work behind everything and behind success and most of all there is not a recipe for success. So there is a natural selection in which if you're not talented or if you don't have the right potential, it's not going to work. So a lot of bands are going to disappear in one year or even less.
It's the quality. It doesn't matter what some critics might say. Oh there're there for the look. This is not true because people are not stupid. If it's just for the look, people would buy magazines with posters and hang up the poster on the wall but they wouldn't buy a record because with a record you don't get a look. (Laughs)
Here on VH1 in the States they've had this series on called Metal Evolution. They've been charting the evolution of metal back from Black Sabbath up through all the different sub-genres. Through my work with Female Metal Webzine I take a look at a lot of the female-fronted bands. But thinking of it in that context there's not so much a genre evolution but you can look at yourself and people like Sharon den Adel and Anneke van Giersbergen and singers back in the 90s when there weren't a lot of female singers out there. And it's almost like you're in a first wave of a surge where you guys went out there and did your thing and there wasn't a lot of people doing it.
That's true it was different. It was something special back then.
Do you think that the success of Lacuna Coil has had some kind of an impact on opening doors?
Absolutely yes! Well not only opened a lot of doors for territories that are not exactly metal because we're coming from Italy. We are with an independent label so we were the first ones to be surprised about our success because, wow, we're having the chance to tour Europe. We're having the chance to be signed by Century Media. And this is actually because we were trying to propose something different from what the other bands from Milan were doing back then. It was more the power metal era – a lot of bands were playing power metal style and we were doing something completely different – we were doing this sort of goth rock that nobody else would have done with a female and a male singer. And that immediately grabbed the attention of Century Media and that's why we got signed. But now that other people can see that we made it to a certain level, a lot of other people can be inspired by that and think that if they made it and they are from Italy – which is not the UK and it's not the States which are usually the main places where a success band might come from – then we can make it too if we work hard and we put a lot of passion and a lot of sacrifices in our jobs.
So you can go back to a festival like MFVF and see how things have changed. One of my favorite YouTube videos is an old grainy one of you and The Gathering back in 1998.
Oh my God. "Shrink"! (Laughs)
You can see the short haircut.
Yeah. Green hair back then!
You guys are starting out and you're doing the European circuit and then you fast forward 14 years and where you're at now. Do you ever look back at the success you've had and think how you can keep challenging yourselves? Because back then you had a certain set of goals at that time. And now you're selling millions of albums and touring the world. What do you do now to challenge yourselves?
We challenge ourselves being honest every time with a new album. It's not even that we're challenging ourselves – it's like if you're a painter, you don't make a new painting because you want to make it better than the previous one you did. If you're being creative and you're an artist you just want to push out everything you have inside and you try to translate it with your heart. And that's what happens with us. We have so many influences from our lives. We're living such a hectic and crazy life that there's so much inspiration for a lot of material to come that it's impossible not to keep it fresh. It's impossible to (be) stagnant – with every album we added something, we did something slightly different and that's what keeps it fresh. It's not that we're doing the same cover, the same artwork, the same colors, the same clothes. We just like to keep it alive and change it. As life changes, we are evolving as well with life.
I guess then that you guys wouldn't say that you're not even close to peaking as a band yet.
Ahhh! I hope so! (Laughs)
You still have a long way to go before you run out of ideas.
It's really hard now-a-days because the life of a musician is even harder. Because everyone seems to only see the sparkling side. They see the covers, they see the duets, they see the costumes. And they think that you're a millionaire and have three swimming pools in your house. And that's absolutely not close to reality at all. I live in an apartment that I'm finishing to pay in 30 years. We're regular. We have regular lives. The rock star life doesn't really exist anymore unless you're a super huge band and with the illegal downloads it's kind of killing the bands. It's really hard now-a-days because there's a lot of competition and a lot of new bands. We're lucky because we have a large base of fans. The fact that we've been around for quite a long time makes us an established band and it's probably easier for the fans to look at our albums like,"Oh they have a history. They're not like the material that's going to disappear next year". So it's kind of cool on our side.
Do you think that to have a career as long as you have and that people have responded to your music for such a long time – you'd think there was a certain element of it that hooks people and brings them in.
Really the fun factor and the fact – I'm going to say it again and it might sound boring – but the fact that we're honest. The fact that I can feel that people see Lacuna Coil for what they are. They got closer because they got to know ourselves a little more personally because we're really exposed to our fans. We're constantly trying to find the interaction with them so they look at us as a band who's very genuine but is rocking at the same time. There is this confidence and powerful factor that's coming out of the band that made us grow through the years and made a lot of people come closer to us. This is kind of cool – I love the fact that we've had a career. I would hate it if we would have come out with the first album – super successful, millions of copies sold and then boom, gone. Who are they? I don't know who they are. Because all the artists that I admire, they had a career. They started from zero, they started touring, they started to do promotion. And that's why they got so big because even when they got really big, they still remember how it started. They still remember where they're coming from and this is what's happening to us.
You have a career. You can actually look at your shelf with your CDs on there.
I have so many memories that even if it would finish tomorrow and I certainly hope I'm not finished tomorrow (laughs), I have so memories and so many cool things that I did in my life that a regular person could only dream of. Because I did what I really wanted to do. How many people can say I made a job out of my biggest passion in life?
I appreciate the time. It was a pleasure talking to you!
My pleasure! Sorry for being for being so "papapa"* but I'm Italian! (Miriam) will know!
* papapa in a very familiar way in Italian means that you are so talkative/loquacious
Links
Cristina Scabbia : MySpace * Facebook * Twitter
Lacuna Coil : MySpace * Facebook * Twitter * Site
Latest Multimedia
Audio Interview
6 color styles available:

Style switcher only on this demo version. Theme styles can be changed from Options page.