Browsing articles tagged with " twin"
Interview by Miriam C.
Well, Japan, despite its limited geographical width, is able to offer one of the best and exciting musical scene in the world (excluding the Scandinavian one) like we have disclosed during this months offering you exclusive interviews and reviews both in Japanese and English. So, it's time to introduce you the industrial rock band SoundWitch and their latest release "Romanesque", in order to do such we've asked a couple of question to the singer TWIN. For this interview we really want to thank for the help and effort Mr.Dave Cirone from Resonance Media!
Welcome to Femme Metal Webzine, TWIN – how are you?
Good afternoon! I'm doing great!
For the metal fans that are not familiar with SoundWitch, would you like to introduce yourself and tell us how you joined SoundWitch.
I'm one of the founding members of SoundWitch and I've been part of the band since its inception. Continue reading »
Label : Alfa Matrix
Review by Luisa Mercier
The Greek duo Siva Six is back on the scene after five years of absence. Their latest release was the their second album "Black Will" and now "The Twin Moons" comes to fill the void they had left. What is peculiar about this record is that a real orchestra has been hired, the one directed by Chris Antoniou, who may be already known to our readers because of his work with Septic Flesh and Chaostar. The basic concept revolves around ancient human tribes, destruction of the earth, alien race. Quite apocalyptic, indeed. The music highlights this aspect since it is quite harsh, the beats are restless as Z 'svocals are. There is not much space for moody songs or melody pieces in this record. Continue reading »
Label : SPV/Steamhammer Records
Review by Tony Cannella & Luisa Mercier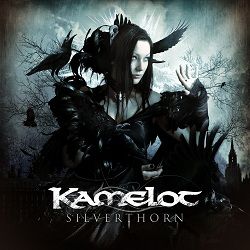 It is finally here. One of the most eagerly anticipated symphonic metal releases this year has to be "Silverthorn" by Florida's Kamelot. Of course it is well documented that the band parted ways with popular longtime vocalist Roy Khan. After utilizing Rhapsody's Fabio Lione to fulfill their remaining tour dates, Kamelot finally settled on a permanent replacement for Mr. Khan… His name is Tommy Karevik from the Swedish band Seventh Wonder. One thing Kamelot has always done is incorporate some of the most talented female vocalists to further enhance their albums and "Silverthorn" is no exception. Elize Ryd from Amaranthe, Alissa White-Gluz from The Agonist and Amanda Somerville has already been on tour with Kamelot and they all turn in tremendous performances when they are called upon. "Silverthorn" is a concept album about "a young girl who dies in the arms of her twin brothers, taking the three siblings' secret to the grave". Kamelot has really outdone themselves in the lyrical department, and the music has that movie soundtrack feel to it to really compliment the lyrics. After the opening intro "Manus Dei", the band goes into "Sacrimony (Angel of Afterlife)". I would say that this is probably my favorite song, which also features some killer vocal performances courtesy of Elize Ryd and Alissa White-Gluz. Alissa adds a more aggressive style. I was surprised to hear that Alissa was on tour with Kamelot and that she sings on this album. She definitely has a more aggressive style to contrast the angelic voice of Elize Ryd. Next is the heavier "Ashes to Ashes". One thing is apparent, Tommy Karevik definitely has Roy Khan thing going with the vocals, I wouldn't say he is a carbon copy sound-alike, but with him at the helm the band loses nothing in the way of vocals and musically this is the most inspired they've sounded in years. "Torn" is next and has an up-tempo style. Next is the ballad "Song for Jolee". Next is "Veritas" which features a huge sounding choir on the chorus. Other highlights include: "Falling Like Fahrenheit" and the closing 9-minute epic "Prodigal Son" which is divided into three parts: "Funerale", "Burden of Guilt (the Branding)" and "The Journey". There are a lot of similarities in both look and style between Tommy and Roy, but for the most part, I like the bands choice of singers, and I don't know if it is a coincidence, but "Silverthorn" is probably my favorite Kamelot album since "The Black Halo".
Rating – 90/100
All of us Kamelot fans were eagerly waiting for this new record. Two years ago, Roy Khan stated that he would have not toured with the band for a while, and after some months he left Kamelot. Since then, I was quite sceptical and curious about his replacement, since Roy voice is unique ine power/symphonic metal and it was the main feature of the band, the one that made Kamelot stand out. It was with relief that I welcomed Tommy Karevik into the band, since he is not the typical power metal singer, but he's quite versatile and really talented. On the other hand, it was the record that partially did not meet my expectations, since it is hit and miss for me. Do not misunderstand me, the balance in the end is good, but it stays quite below legendary records like "The Black Halo" or "Poetry for the Poisoned". There are very good songs and songs that are quite average, not the best melodies, sometimes they are just cheesy and too power for my taste. "Manus Dei" is the usual symphonic intro, nothing new if you love this kind of music: orchestra, piano and choirs that build the climax for guitars and the beginning of "Sacrimony (Angel of Afterlife)", the first single. The song has power/symphonic riffs and Tommy is scarily similar to Roy, so similar that I am almost convinced that it was a conscious choice. In the song, he duets with Elize Ryd from Amaranthe and Alissa White-Gluz that is in charge of harsh vocals. All in all, it is a nice track, nothing oustanding. Another track that did not impress me much is "Song for Jolee", the ballad. Kamelot are masters of ballads, think for example of "Abandoned", but this is way too cliché. Of course there are positive sides and I can name a few. Beside Karevik vocals, I really liked "Torn" that, even though short, has a good variety of styles and tempo changes without relying too much on power. Same for "Veritas" that recalled me the sound of the previous masterpiece "Poetry for the Poisoned": epic, more prog-oriented and Tommy is magnificent. Title-track and "Falling Like Fahreneit" are quite good, but the real highlight is "Prodigal Son" in which Tommy uses several vocal styles and also musically goes from solemn to balladesque to heavy metal, symphonic and epic. I wish the others were the same. Nonetheless, the album is good, not a masterpiece, but the result is positive in the end. So Kamelot fans like me will keep on listening to it.
Rating – 70/100
Tracklist
Manus Dei

Sacrimony (Angel of Afterlife)

Ashes to Ashes

Torn

Song for Jolee

Veritas

My Confession

Silverthorn

Falling Like the Fahrenheit

Solitaire

Prodigal Son

Continuum
Line Up
Tommy Karevik – Vocals

Thomas Youngblood – Guitars

Oliver Palotai – Keyboards

Sean Tibbetts – Bass

Casey Grillo – Drums

Elize Ryd – Guest Vocals
Alissa White-Gluz – Guest Vocals
Amanda Somerville – Guest Vocals
Links
MySpace * Facebook * Twitter * Site

Interview by Roberta Ilaria Rossi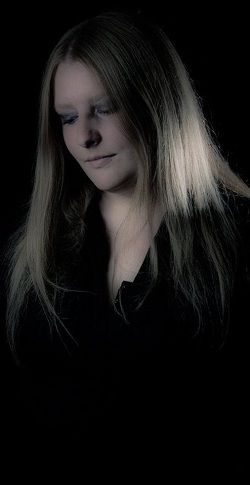 Unsettling. Enigmatic. Spooky. Claustrophobic. These are the proper words to best describe the new album of the French doom funeral project Grey November, here dealing with a crazy work that exceeds the limits of madness. "The Fall of the House of Usher", a concept album based on the short story by Edgar Allan Poe, is presented as a work that results in patches of balance, a work that takes the viewer to live a first-hand experience. In occasion of the official release, FM crew has had the pleasure of analyzing it together with the singer Marieke, who has brought us in a spooky and crazy trip…
Hi Marieke and welcome to Femme Metal.net. First of all, let me thank you for having stopped here and giving us a chance to have a chat with us. How are you doing?
Hello Femme Metal.net! First, we want to thank you for your interest in Grey November. I'm really pleased to answer the interview. I'm doing very well, thank you!
Grey November is a French dark romantic doom band, born in 1998, in France. Would you like to introduce yourself to those people who still don't know you and/or your band?
I think I am not the best person to talk about the origins of Grey November as I am not involved in this project since long. Grey November is a dark romantic doom band created by Cédric in 1998. Cédric discovered the dark romantic doom movement a long time ago and found it really emotionally powerful. He loves also a lot the authors of the Romantic Movement and the music of Grey November grew with the readings of Cédric. The music of Grey November shares the same themes: life, death, beauty.The dark romantic doom enables us to express an ideal of beauty and sadness or melancholy through the sound of the strings. The rhythms and the guitars had power to the feelings given by the melodies. To summarize, the music of Grey November aims at expressing sensitivity and passion with low rhythms and strong melodies.
Recently your album "The Fall of the House of Usher" has been released. The title, obviously, recalls Edgar Allan Poe and his short story that has the same title. The story tells about the loss of a young girl, Lady Madeleine, that is the sister of one of the two protagonists (Roderick Usher) and the story is based on one of the most essential elements of the story: the house! Poe wanted to represent the contrast between science and the occult, reason and superstition, between the human need for certainty and irrational phenomena that we can't explain. How come have you made this choice to "develop" your album?
As I said previously, Cédric has an immoderate love for the writers of the Romantic Movement. "The Fall of the House of Usher" became one of his favorite text a long time ago and the French translation of this text which is by Charles Baudelaire has really captured the essence of Poe's writing. After "D'automne", the previous release of Grey November, Cédric realized that he strongly wanted to work on the "Fall of the House of Usher". He decided to create an album based on this text in order to dive himself and the listener into this powerful short story. In addition, dark romantic doom is the perfect style of music to express such strong feelings as those given at the reading of the "Fall of the House of Usher". I arrived in the project later when Cédric had already decided to put this short story into music. I already knew the story of the "Fall of the House of Usher" and the work of Edgar Allan Poe and I had been really touched by his texts so I decided to get involved in the project when Cédric proposed it to me.
What is your relationship with everything that is decadent, moody? What is your relationship with the decay (the decadent movement)?
The work of Cédric is more linked to the Romantic Movement and romanticism in general: he wants to express himself freely through his music and to pass strong feelings and impressions to the listener. If I don't make mistake, the Decadent Movement appeared in the late 19th century and Charles Baudelaire is one of the writers of this movement. But I don't know enough about it and its links with the Romanticism to speak of the relationship between Grey November and Decadence.
How was it working for this album? I mean: working on the single tracks, the lyrics, the music itself, the arrangements…
Here, I will re-transcript what Cédric said since he is the one who wrote the entire album. "The first step in creating The Fall of the House of Usher was a pure musical approach. It was also the most exciting part for me. The challenge was, first, to compose the musical parts corresponding to the beginning of the story. I had to find the right tone, the rhythm and the atmosphere to fit each of the major themes of the novel. For this first part, I wrote mainly keys parts. Then I developped the musical parts, added arrangements… I concentrated on the coherence of each song's structure.Finally, the writing of the lyrics came with the recording of the instruments. At the very end, we worked on the melody and the phrasing of the lyrics.".
What was the most beautiful part in recording this album?
I'm not sure of what was the most beautiful part in the recording process. I had so much great moments working on the melodies of my parts; immerse myself in Cédric's songs, trying to feel like Lady Madeline while singing… The thing I find really extraordinary is that Cédric and I didn't know each other before starting working on this project. He went on my MySpace page and liked my voice so he sent me an email asking if I would have been interested in working with him. I listened to what he sent me and I liked it a lot, I tried to put some vocals on the first songs and he liked it also. That's how we decided to work together. During the recording process, we worked only by email sending each other ideas, first recordings and so on. So I found someone with, I think, the same sensitivity as me toward the work of Edgar Allan Poe and with whom it was really easy to work since we had the same view. I'm really proud that people seem to feel our emotions through the music of Grey November though we didn't know each other before this project. I'm not sure if I'm really clear…

As I've said, the album is related to Edgar Allan Poe's short story. Was it hard to work and to write the lyrics for the album?
It is true that it was not a little thing to try to write an album based on an Edgar Allan Poe novel. The novel itself is so well written in the typical flamboyant style of Poe. However the lyrics are in French and Cédric wrote them after composing the music, it enabled him to have a certain distance with the original text. Cédric was interested in a thematic and chronological approach of the text so he developed songs in a chronological way speaking first of the House, then of Roderick and after that of Madeline. He wrote on the mourning after Madeline's death and finally on the "Fall of the House of Usher".
Listening to the album, I felt so much drama and expressiveness. How did you decide playing the role of Lady Madeline? I'd like to remember that Madeline is a quite troubling character.
As I already explained, Cédric and I didn't know each other before the beginning of this project. He contacted me via MySpace. Since I really love reading Edgar Allan Poe's novels, when Cédric explained me his project, I was very interested and enthusiast. When I first listened to the music written by Cédric, I was sure I wanted to sing on it! In addition, it was quite a challenge for me to sing so emotional parts; I'm not really used to this kind of music. I've read the novel again several times and I tried to immerse in Madeline's feelings.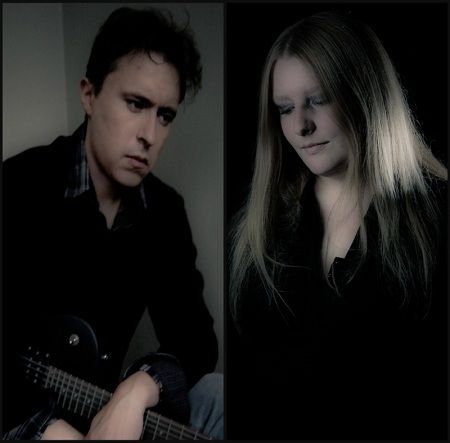 Marieke, I was particularly impressed by your voice, which results very expressive: you can give the songs that sense of drama, and why not, also that sense of melancholy. How do you manage to make all of this? What was your music education and/or the bands/singers that have inspired your musical growth?
It's true that, when people listen to the album, they say that I managed to express the melancholy and sorrow of Lady Madeline with my voice. I'm really proud that people can feel so many emotions while listening to this album. I don't know if I really succeeded or if people are kind with me when they tell me these things but it's true that I tried to put as many emotions as I could in my voice when I recorded the songs to serve the story, the music and the lyrics of Cédric. Concerning my musical education, I learned a little bit of music theory when I was young and began playing clarinet. After that, I tried to play guitar but it was definitely not for me. I began taking singing lessons about 10 years ago. I always sang but not really seriously. I began trying to improve my voice when I was in high school with singers like Alanis Morisette or Beth Gibbons (Portishead). Then, I began to listen to more and more Metal Music and I tried to sing on Lacuna Coil songs or Within Temptation songs. I even tried to sing Metallica with one of my previous bands…
When did you start to sing and to develop your passion for music?
I always had a passion for music. First as a listener, even when I was very young, I always listened to a lot of music (not always to good music…

). I began playing instruments when I was 13 I think. But since I was really shy, it took me a lot of time to have the courage to sing in front of other people. SoI have been in bands as a singer only since 10 years I think. Since 2006, I am part of a band called Heonia (www.heonia.fr) and, in this band, we decided to play only the songs we are writing. When I discovered that I was able to write my proper songs and to sing them, I think it made my passion for music grow even more!
The first song, "Pendant Toute Une Journée D'automne" ("A Dull, Dark, and Soundless Day in the Autumn of the Year"), is a gothic/doom track, that puts the listener in a sort of "atmospheric/dark" mood. It shows what the album is going to be. I'd like to define this album something that comes closest to being Funeral doom genre. Do you agree with this sentence?
From a literal point of view, it is true that Funeral doom could be a genre that corresponds to us. On the other hand, from a cultural point of view, funeral doom makes Cédric think of a cold and harsh British doom, like My Dying Bride. In Grey November, keys have a lot more importance than in the funeral doom genre. That's why the style dark romantic doom is what we think is the most appropriate to describe our music. With the adjective "romantic", it embodies the tragic and sensuous dimension brought by the string ensembles in our music.
In my opinion, the best track of this album is "Lady Usher". It's what I'd define "romantic doom". The songs opens with a instrumental intro, and your soft voice becomes more powerful/whispered, as if you were really Lady Madeline. How was playing this role?
Actually, I was quite tense before the beginning of the recording of this song. I knew it would be a very emotional song. So I tried to enter in this character and feel like her to sing with all her sorrow and languor. It was quite moving for me but I really enjoyed recording this song.
I've noticed that the songs are quite "long". What could you tell about the length of the tracks? Why have you decided to create so long pieces for this album?
The songs were built naturally, following the story and its atmosphere. It's certainly what brought Cédric to write long pieces. The languidness of the novel, the long descriptions of the sceneries, the way the author describes the characters' mood, the characters who are extremely hesitant to act instead of thinking, all of these characteristics of the novel favored the writing of long songs. In addition, Cédric loves to construct languid atmospheres and deeply loves Poe's novel so it is also perhaps an explanation for such long pieces in the album.
I think that it's a good doom album and I think that, if Poe were still alive, he would be pleased about you, your work, what you and Cedric have made this work in music. What's the real meaning of "The Fall of the House of Usher" for you?
I leave here the world to Cédric : "The topics covered in "The Fall of the House of Usher" are extremely numerous; according to us, far away from the academic considerations, the interest of the history does not appear in the opposition between science and the occult, or in dubious oedipal considerations, but in the metaphor of the glance of the main character on its own decline, on its immutable decrepitude and sovereign death. Roderick and Madeline are twins and, through the whole story, Roderick sees himself dying and wasting away when her sister joined the tomb, he feels himself rushing to the end of its own destruction, the collapse ofits family, his condition relentlessly promised to nothingness. This story is for us the story of as a lucid man confronting to the spectacle of his inescapable human condition, of his destiny and his death… Similarly, the house is the epitome of the history of the family, his state of decrepitude is the image of an absurd entelechy, in which the heritage, the family, the offspring can be no outlet, no metaphysical consolation: the end of everything. The story is just an introspection, a minor movement sublimated by the prose of Poe. It is true that there were many reasons to be hung-up by the original text of Poe and his flamboyant style. But our words have been drafted in French, and after the process of composing music, and this could well afford a certain distance. Cedric was interested in an approach in both a thematic and a chronological order of the text, by developing successively songs on the house of usher, on the character of Roderick, on that of Madeline. Over the period of mourning following his death, then the Fall of the House of Usher, finally…".
What is your own opinion about Doom and all its subgenres?
I am absolutely not a specialist of doom music. I really like the way emotions are brought to the audience by this kind of music. I think it's one of the Metal subgenres which is the most emotionally powerful. Apart from that, I don't really have an opinion on this genre which I am not really used to listen to.
Is there something new, now, for Grey November?
Cédric is now working on a new project for Grey November but we can't say more for the moment. Everyone interested can follow the news on our facebook page: https://www.facebook.com/#!/greynovember
Ok, thank you so much Marieke for the nice chat. You have the chance to speak to Femme Metal users and Grey November fans. Is there something you would like to say?
Thank you very much for this interview! I know it took me a lot of time to answer these questions and I apologize for that. What do I have to say to Femme Metal users and Grey November fans? First thank you very much for reading this interview, supporting Grey November and listening to our music!! And finally, keep listening and discovering little bands, they deserve it!
Links
Interview by Erwin Van Dijk
The band Dendura is from Detroit/Grand Rapids, Michigan (USA). Dendura describes themselves as (breath in) Female fronted Egyptian themed prog metal or Egyptian infused prog metal with live belly dancing. Of course, Dendura is not the first band that incorporates Egyptian themes in their music. Examples are Nile (music and texts) and Iron Maiden (artwork see the album Powerslave and the current world tour. Steve Harris, who wrote the music for the song Powerslave never intended it as an Egyptian song. That was the idea of Bruce Dickinson much later in the writing process.) Belly dancing is also something bands use on stage – see DeadCell or the dancers from Rapalje (both from Holland) and singers like Shakira (who has like Dendura's singer Lebanese roots) Other references of the ancient Egypt in our modern culture are TV series like Stargate, Battlestar Galactica, the movie 10,000 BC and cats are everywhere today. In fact, one can write entire books about this subject. So what makes Dendura different from these bands? Let's find out with some questions for Dendura's singer and keyboard player Aziza Poggi.
Can you tell us something about Dendura? Who founded the band and why did you decide to use the ancient Egypt as a theme?
I founded the band and recruited Steve Wethy a month into it. I always wanted the middle eastern and Egyptian influence in our sound as I always was intrigued and felt close to that kind of music. In the beginning, only half of our songs had it. Now, they all do.
The fascination of the western culture for ancient Egypt originates way back in the days of the Roman empire, more than 2,000 years ago. Since you use the ancient Egypt for your music, can you tell us why we in the modern world are so interested in a civilisation that vanished 2,000 years ago?
I think Egypt is one of the most fascinating and mysterious countries in the universe and it does carry on in today's world. So much history and invention comes from Egypt. Makeup, the mummies, architecture, the temples, statues, the kings and queens, deity's, how Egyptians lived and functioned, their beliefs in the afterlife and preparing their dead for mummification. If you watch The History Channel, you're bound to see something about Egypt there. Egypt will continue being a place of discovery as long as mankind is still here. There is so much more out there to be discovered and that fascinates people as it is a place of mystery.
Where does the name Dendura come from? There is a Hathor temple in the village of Dendera. (Hathor was among other things an Egyptian love goddess. She also tried to destroy the human race but that's another story.)
The name came from the Temple of Dendera in Luxor Egypt, Hathor's main temple. I am very fascinated by the Egyptian deities and found Hathor's temple perfect for our band name. She was known as being the goddess of music, dance and poetry. We just changed the spelling.
Who is Aziza Poggi?
I am an artist. I look at our music as colors that need the right textures and elements to paint the song. I look at everything as a journey and the road never ends as long as I don't want it to. I am always learning something new about my voice, discovering new things that intrigue me and I feel deeply connected to my roots.
Tell us about your interesting tattoos.
I have four tattoos total. I have Nephthys, the twin sister to Isis, the goddess of lower Egypt who tricked her sister's husband/brother into sex to have a son of her own who was Anubis, the god of the underworld and guardian of the dead. She was the lesser known of the sisters. I have her son Anubis on my shoulder, a cobra with hieroglyphics wrapping around it and the Eye of Ra as well.
You have Lebanese/Egyptian roots. Does your cultural heritage makes you a different singer compared to other musicians?
I think everyone is different really. This is just what makes me different, but of course there are other middle eastern singers out there. We just all have our own voice and sound.
Is it difficult to combine being the frontwoman and to play on a synthesizer onstage? Personally I think only Anneke van Giersbergen from Agua de Annique and the Gathering can get away with it. With a lot of other bands, like Grimskunk from Canada it simply doesn't work. The synth acts like a barrier between the singer and the audience. What synthesizer do you use?
It's a Korg, IX300.
And how? Like a piano or more for the sound effects?
I use the keyboard more for effects. Like a nice and heavy chamber sound or symphonic sound. In my case, I am not behind the keyboard that much. I play on sections where it fills up the sound. Our newer songs have less keyboards so I wont be back there as much as I have before. I have played it throughout the entire song of "I Have a Gun" and on the song "Symphony" and sometimes I just play sections on the keyboard on those songs that require it. If I were doing fancy keyboard parts, I couldn't sing and play it at the same time (not yet) but because the keyboard parts I do play are simple, I can do that. I guess it depends on the vibe I am feeling with the audience.
Can you tell us something about the other members of Dendura?
Steve Wethy (Guitar) has been with the band since the formation. He also sings backups and writes lyrics. Sometimes, he comes up with vocal melodies which he is great at. He and I have been through a lot together and have always been on the same page musically when we were going through members and changes in our sound. Paul Stein (Guitar) joined about two year ago. I call him the linear thinker. He is very creative and also very technical. He and Steve are always coming up with new guitar lines and feed off each other very well. The guys all act like brothers. Justin Lee Dixon (Drums) is the newest member. He can mix up the metal and Middle Eastern drums really well. He has an incredible ear. He isn't just great at playing drums. He sits in on my singing lessons with me often and gives me feedback and knows when I'm singing my best and when I am not. Each one of us has our own strengths and weaknesses and we all know what they are so we all balance each other out. It's a perfect relationship.
Last time I was checking Dendura's website there was no bass player. For what kind of person are you looking for?
We have been looking for over a year now for the right bassist and we are working with one right now who we think might be the permanent member. We won't be announcing anything final until after our CD is recorded. He fits in perfectly on a musician level and on a personal level. We auditioned several bassists before him and had one other really good candidate. We were looking for someone who musically was right, who would play more low-end bass, no slap (as was before), and who had the right personality. We have had people in the band before whose personalities and styles didn't quite fit our own and, ever since, the band has said that will never happen again no matter how long it takes us to find the right person. We'll use session people until then. Justin was playing as a session drummer for three months before we asked him to join, a bassist filled in for four months and we didn't hire him, and now the bassist we are using has been with us for three months and he is on the verge of being hired. You only can get to know someone's true colors with time and much practice. I compare it to being in a relationship because it really is like that. I wouldn't commit myself to someone if I wasn't with them for a few months. Steve and I just got lucky from the beginning as he was hired right away and sometimes luck plays a big part, and sometimes it doesn't.
Dendura has released one album in 2006 called "New Life" (Killzone Records). Can you tell us something about the songs and the album in general?
"New Life" was self-released before we were on Killzone but they are releasing our new album we are working on right now with a Grammy-winning producer and Killzone has distribution with Century Media. The songs on the album are about a mixture of self-empowerment and Egyptian gods and ancient Egyptian history. For instance: "I Have a Gun" is our first song we wrote as a band and, at the time, I got out of an emotionally and physically abusive relationship. I wrote the song as my own defense weapon. Like my own protection. The gun isn't stating I am going to harm this person, but I am protecting myself in case he comes and harms me again. The gun is more imaginary. "I, Nephthys" and "Isis" are Egyptian goddesses and sisters. They actually lyrically go together if you check out the words. In "I, Nephthys", I am singing the song as if I am her confessing my sins to my sister for tricking Osiris (Isis's husband) into sex to have a son, hence Anubis. In "Isis", the song is still sung as if I am Nephthys and it's about her qualities as a goddess. "Mummified" is about transition in life. I left it a little cryptic so it's open for interpretation. "Rage" is about feeling as if I'm a puppet and releasing myself from others wishes on my life. "Symphony" came from a dream I had actually. I was out cold asleep, dreaming of wolves hunting me down in the woods. The keyboard parts were playing in the background like I was in a film. I have always had a fear of being eaten to death. I woke up, remembered those keyboard parts and started writing "Symphony"."Nemesis" is a self-empowerment song about fighting the machine and way of life others put on us. I remember someone telling me once, we should strip away our Egyptian roots so we are more commercial-friendly and that is what is wrong to me in music. I think creative freedom and control is very important and feeding ideas and thoughts on how to make the song better is completely fine and understanding, but changing someone's roots is wrong to me and we won't do that. "Shadowman" has nothing to do with Egypt or self-empowerment but is about the fictional character Laura Palmer from the Twin Peaks series to be exact. I am a movie buff and sometimes, we'll combine story lines with films we have seen.
And the last question: what are Dendura's plans for the future?
To continue to grow musically and myself vocally.
Links
Aziza Amy Poggi : Facebook * Site
6 color styles available:

Style switcher only on this demo version. Theme styles can be changed from Options page.