Browsing articles tagged with " vocal"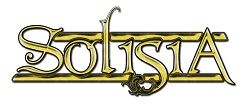 Interview by Matteo Bussotti
After some years of stop due to a line up change, Solisia are back with a masterpiece published on 2012 via Scarlet Records called "UniverSeason". Their third album sees the debut of the new singer, Elie Syrelia and for this reason, we've reached her and asked her some questions about her background, "UniverSeason" and how she got the singer spot in the band. Enjoy!
Hello Elie! We are so glad to have you here on Femme Metal! How is the public reacting to your latest album "UniverSeasons", which came out about 2 months ago?
Hello Matteo, thank you for this interview! Everything seems to be going well and we are very happy with the outcome. Continue reading »
Label : Napalm Records

Review by Tony Cannella
"Spell Eater" is the debut album from the Los Angeles based outfit Huntress. The band is led by front woman Jill Janus, who attracts a lot of attention based on her looks, image and beliefs (she's a pagan), but at the end of the day it is all about the music and that is where Janus and the remaining members of Huntress succeed on "Spell Eater". Imagine a band with the musical intensity of a band like Slayer combined with the vocal ferocity of Jill Janus who reminds me of a cross between Angela Gossow and Leather Leone and you would have Huntress and their debut album "Spell Eater". In addition to their potent brand of power metal, Huntress also exhibits thrash and even death metal tendencies. Jill is definitely a focal point for Huntress, but in addition to her take-no-prisoners aggressive style she is also a classically trained singer and manages to add that ingredient to the mix as well. The aggression fueled title track gets us started and is followed by the equally bombastic "Senicide". The duel guitar parts of Blake Meahl and Ian Alden are reminiscent of some classic metal bands like early Judas Priest and early Iron Maiden. "Eight of Swords" – which became the first video track – is simply crushing. The band mixes some cool melodicism with heavy, crunchy guitar riffs on songs like "Sleep and Death", "Snow Witch" and "Aradia". Lyrically Jill Janus draws inspiration from themes that deal with the occult and paganism. Huntress was already receiving a lot of press before "Spell Eater" even hit the racks, which is very rare. Whatever you think of their image, it doesn't take away from the fact that "Spell Eater" is an excellent debut from a band that has got a great future in front of them.
Rating – 85/100
Tracklist
Spell Eater
Senicide
Sleep and Death
Snow Witch
Eight of Swords
Aradia
Night Rape
Children
Terror
The Tower
The Dark (Bonus Track)
Line Up
Jill Janus – Vocals
Blake Meahl – Lead Guitar
Ian Alden – Rhythm Guitar
Carl Wierzbicky –Drums
Eric Harris – Bass
Links
MySpace * Facebook * Twitter * Site
Interview by Roberta Ilaria Rossi
Symphonic metal is one of the most fashionable among the music metal genres and surely it has got a very special care, becoming the "landmark" for lots of emerging bands. This surely is the case that concerns the Croatian metal band Downcast Art which recently brought its music around Croatia and now is trying to enlarge the boundaries. Here's what the lovely Jelena revealed to us.
Hi Jelena and welcome to Femme Metal.net. Let's start our interview talking about the project Downcast Art. Would you like to introduce some more detail to our readers?
Of course!

We are a symphonic metal band from Croatia and this year we released our first album called "Forbidden Memories". The band consists of five members, Kristijan (guitar and vocals), Davor (bass guitar), Zdravko (keyboards), Lukas (drums) and me (vocals).
Downcast Art is a Croatian band which makes symphonic and opera metal music. How did this band start?
The band was formed by our keyboard player, Zdravko, in 2005. During the first few years, they played covers of the well-known bands of the genre, but with time, they started to develop their own musical expression. I've been in the band since 2011, so I don't know too much about the years before, only some general stuff the guys told me

The band was formed in 2005, the path was long but before releasing the debut album, something happened in the band: there were a lot of lineup changes, you've released an EP, "Downlight", containing 3 songs only and then, you've found a stable line up. How is going on your musical path at the moment?
Well, I'd say. We have live concerts often enough to promote our debut album. Along with live shows, we are working on some new songs and ideas.
Before your entrance in the band, there was another singer, Iva Grdić. How did you get in touch with the band?
We got in touch via a Croatian forum dealing with music, instruments and playing in bands. I wasn't registered there (I did not know the site even existed), but my best friend decided that I needed a band, and made a post on the forum about a certain classical singer searching for a band, preferably symphonic metal

Zdravko saw the post and contacted me, I listened to their music, liked it, and before you know it, I was having rehearsals with them.
Let's talk about your album. It's called "Forbidden Memories". Could you please tell us how was this record born and could you please say something about the album title?
When I came in the band, the music was finished, only the vocal lines had to be completed. All the instruments were already recorded (only a few things had to be fixed in the studio), so I got the lyrics and the music and started working. In five or six rehearsals (lasting 3 to 5 hours each

), I sketched the vocal lines with the help from the guys (sitting on the floor and saying: "Yes, that's it!!!" or "No, could you do it…. somehow different"

). It was recorded and mastered, and after finishing the booklet, the album was complete. Its title refers to the idea which binds all of the songs together: something lost, perhaps living in the past, where all the things are brighter; our memories of that place and everything in the present that connects us to it.
Did the record obtain good reviews and good feedbacks from medias and fans?
It did, we are still extremely proud of the American review in which we received 11 of 10 points, and other reviews, from Canada and Croatia, where the number never went below 8 of 10. The fans are great, they are mainly getting in touch with us and commenting our music on the band Facebook page after the live shows.
I've noticed that there is a lyric in your mother tongue, called "Miris Prošlosti" and the remaining ones are written in English. What about this choice?
Well, so that we could say there is a symphonic metal song in Croatian.

Just kidding, there was the idea of translating the song to English, but it just sounded better in Croatian, I suppose. The other songs are in English so they are understandable to the fans in the world. And our songwriter likes to write in English

In the track "Miris Prošlosti" we can see and read these lines: "Drugi svijet u tišini vremena, sve, sve što sanjam ja, negdje u meni, Čuva tajnu zvijezde daleke". What do they mean?
Literally translated: "Another world in the silence of time, everything I am dreaming of, somewhere in me, keeps the secret of a faraway star". As you can see, it also has a reference to the past and the secrets it keeps.
"Forbidden Memories" is the song that gives a name to the record and it sees a duet. What could you tell us about this song?
As much as I know about the process of making of that song, it was made to be a "catchy" song

Thematically, it deals with memories defining who you are, which defined you as a person, your individuality.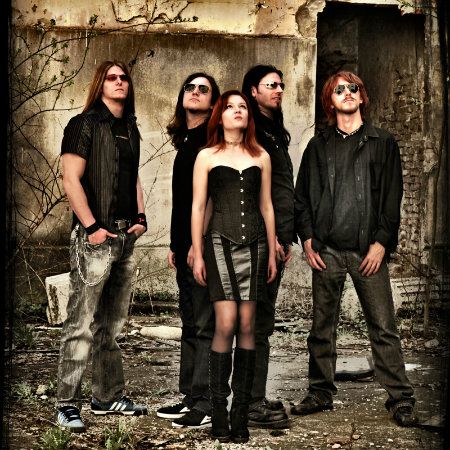 The lyrics of this record are well-written and they show off a very good skill in writing. How does a lyric branded Downcast Art come to life?
The only person writing the lyrics in the band is Zdravko. Since I joined the band after all the lyrics for the first album were written, I can tell you only that, at the moment, we have a great amount of music and ideas for the second album, but the lyrics are kept in secret until the very end.;
If you could pick a song taken from this record to identify the sound of the band at its best, what song would you choose? I would say "Whisper of a Dying Rose"…
Hmm, I'd choose "Home of Silence". It is soft and sad at the beginning, it gives you hope on the chorus and it fully awakes the whole band (and the audience) after the guitar solo.
"Chants from the Deep" is an instrumental track and it fits well on the album. What could you say about this song? Who did compose it?
That song is made to recall the song of the lost captains and sailors of the seabed. A deeper meaning would be that it's a song from the bottom of the heart, pure and untouched by empty words of this world. It was composed by Kristijan and Zdravko.
You mainly are a soprano, what did your adventure in music start?
It started off at the age of 7 at the School of Music in my hometown, where I studied piano and music theory. At the age of 15, I changed my major from piano to classical singing and vocal techniques. After finishing high school and the School of Music, I continued my education on the Faculty of Humanities and Social Sciences in Zagreb, thus completing my formal musical path.
What were your biggest influences?
Classical opera singers had the biggest influence over me and my singing, mainly Maria Callas, Anna Netrebko, Cecilia Bartoli… Their tone and the ability to portray a huge number of completely different characters in the opera inspired me to think, to act and to feel as a protagonist of the songs I'm singing on the stage. It is the most important task of the singer, to be in the song and to pass it on to the audience.
Now that the album has been released, what are your future goals?
In the near future, we would like to perform live as much as possible, especially outside the Croatian border. Also, at the moment, we are trying to improve and fill in our merchandise offer with T-shirts and similar stuff. Later in the future, we are planning to release the next album, of course

What could you say about your fanbase? Are you accepted by the Croatian public?
Pretty much, yes. Croatia is not the country where metal and symphonic metal are popular and well accepted music genres. With that in mind, we are receiving surprisingly positive feedback from many people who aren't even fans of the genre, but still like to listen to our music in the car, or at home relaxing after work, for example

That is a great compliment, if you ask me, to satisfy the needs of the people who aren't used to the sound of metal and operatic voice.
What about the European one?
We still didn't present the material from the album live in Europe, but judging by the reviews and individual feedback we got, the European public might like us

I'm very optimistic.
Will we ever see Downcast Art touring Europe one day?
Oh, I certainly hope so

It will probably be an exhausting and beautiful experience and I can't wait for it to happen!
Ok this was my last question. Thanks for your time Jelena. Do you want to say and share something with our readers and your fans out there?
Thank you for the interview and for your interest in our music! To readers and fans: listen to good music, love and respect each other and visit www.downcastart.com every now and then

Links
MySpace * Facebook * Twitter * Site
Interview by Eetu "Ene" Niskanen

We have reached Kittie singer Morgan Lander for let know to all our readers the latest news about the brand new album "In the Black". Enjoy!
Hello Morgan and thanks for doing our interview!
No problem and thank you for chatting with me

This year you released your new album, "In the Black", how much work did it take to get it done and released?
This album was actually written and recorded over a fairly extended time. Most of the ideas and songs were at least sketched out while we were on tour last summer and fall, but nothing was really set in stone until after we were released from our label and were free agents. We then decided it was time to get down to the business or writing, and then once we felt that we had some great material, we went into the studio for 3 weeks to record. It was a very relaxed, laid back experience. No pressure what so ever!
Do you see any improvement compared to the earlier albums?
Comparing our previous works to "In the Black" is like night and day. We are a totally different band ability-wise and maturity-wise. We have come a long way since our "Spit" days.
Also with this album you changed labels, how was the change and how is the new label?
It was amazing to finally be signed again in Europe through Massacre Records, and through E1 Entertainment in North America. Everyone has been so accomidating and helpful with every aspect of the release. We are proud to be a part of the E1 and Massacre families.
You also have a new bassist, how is it working with her?
Ivy actually joined the band in 2007, and she has been a great addition to the band. She is super talented, driven and really just wants what we all want, which is to make Kittie the best that we can be. We all get along and have such a good time playing together, its nice to have that kind of stability finally!
Was it important to get female bassist to stay as all-female band?
Yes and no. While we were waiting to fill the void left by Trish when she exited the band in mid 2007, we had our friend Jeff Phillips join us for a few tours. He also played with us for a few years early on in our career. We honestly just wanted someone who knew the songs and was good at what they do, so it was never really an issue. When it came time for a permanant replacement, however, we knew that reputation-wise, we should be looking for a female. It's actually not that important to find a woman, but in a way thats what most people expect when they hear the name Kittie.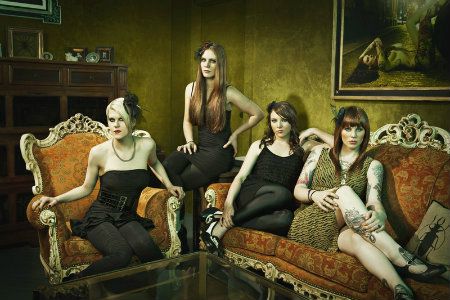 I just did interview with Masha from Arkona so I'll ask you the same question, there are still very little bands with female growler, how did you come up with the idea of extreme vocals performed by you?
Honestly it was something that came naturally to me. It was a way to express how I was feeling and in order to match the dynamic and power of the songs we were writing, I needed to scream. It was never really a very conscious decision, it was all very organic and my style and abilities developed over time.
From the new album, what are your favourite songs and why?
I love songs like "My Plague", "Forgive and Forget" and "Cut Throat" for their speed and intensity, and I especially love "Sorrow I Know" for its dark feel and somber mood. I love the entire album, but these are stand-out tracks for me!
After all these year with Kittie where do you see girls in 5-10 years?
I see us continuing to make music and tour. We are all still young and have so much more to learn and to offer musically. There is no slowing us down!
What kind of music do you listen yourself and how often?
I have quite a diverse set of songs in my iPod that I listen to on a regular basis. I listen to something extreme and heavy just about every day while I am at the gym, and I find that bands like Carcass, Behemoth, At The Gates and Metallica all work really well for high-intensity purposes! I do have alot of more rock based stuff that I listen to often aswell, like Kings of Leon too, for the more chill moments!
Who are your biggest influences?
Personally I don't really have too many idols musically, but I was shaped early on by bands like Van Halen, Heart and Ted Nugent. I respect and admire so many bands though, especially if there is hope or perseverance in their story. Bands like Pantera and Metallica give me hope for the future of the greatness of heavy metal.
In the end, are you working on any quest performances, if not would you like to do?
And by quest do you mean tours abroad? Because we are definitely hitting up Europe and the UK this January in support of "In the Black"!
Links
MySpace * Facebook * Twitter * Site
Latest Multimedia
Interview by Ed MacLaren
Finland's Katra made a big impact in 2007 with its debut album, the folk/symphonic metal hybrid "Beast Within". Originally conceived as a solo effort by the band's namesake, Katra Solopuro, she carved out a fine niche for herself in the metal world. But instead of continuing down that same path on her next album, she expanded Katra to include the band full-time to augment her own considerable songwriting skills. Together they retooled an already unique sound and returned with an even stronger sophomore effort – the aptly titled "Out of the Ashes". Femme Metal got the chance to chat with the lovely Katra on the key changes, musically and personally, that combined to create "Out of the Ashes".
"Out of the Ashes" hits the ground running with the pounding track "Delerium". It's heavy riffing sets the stage for the rest of the album. Were you trying to make a statement right away that you were going a different direction with this album?
Yes. We felt that "Delirium" was one of the best songs to represent this album.
On "Beast Within", you called the shots and now with "Out of the Ashes" you're working as part of a group. Why did you make the decision to change Katra from essentially a solo project to a full band?
Well, during that time we've kind of sealed together as a band. We've been a full band on stage and on tour for a long time now and every one of us wanted to change the settings to be a full band on paper too.
How did you go about selecting each band member? What musical qualities and personality traits were you looking for?
I wanted to gather good guys and musicians that I already knew before Katra. It was important for me that we get along well on the stage and also behind the scenes. Musically, I wanted the guys to have their own sparkle and visions about music overall and, of course, good skills technically.
How would you describe the chemistry between you and the rest of the band?
We co-operate really well, we all know how to have some fun and we enjoy a similar style of humor, which can be quite black sometimes. (Wink)
Did you have any problems getting used to the new dynamic? Was it difficult to relinquish an element of control over the music? Did you run into any problems at first?
I think everything worked out without problems.We've found a good way to co-operate and everyone has their own important role in a band. Democracy rules.
How did your creative process change with the input of the band?
Now the whole band composes and arranges; there's at least one song from everyone on the album. Usually the basic structure and idea of song is made by one of us and then everybody arranges their own parts. I write the vocal melodies and lyrics. Riffs, chord progressions and song ideas are usually done before and then we build it up together.
You can hear new energy in the harder-edged sound of "Out of the Ashes". You toned down the symphonic and folk elements and cranked up the guitars. How has Katra's sound evolved between albums? How would you describe your new musical direction?
"Out of the Ashes" is a more mature and powerful album if you compare it to "Beast Within". We wanted to take our sound in a bit more straightforward direction with less orchestration, but with a more intimate feeling.
Was the change in musical direction a natural outgrowth of the new "collaborative" environment or was it a conscious decision?
I'd say both. Of course, the fact that everyone's taking part in the composing process has a straight effect on our sound, but we also wanted to consciously develop our sound in a more rough and rockish way.
"Beast Within" was an excellent album but after the experience recording of "Out of the Ashes" in a band environment would you have recorded your debut any differently?
Hmm… maybe not. I think it's only natural that things develop and change. Of course, there's always something that we could change, but it's better to keep your eyes on the road and head towards the future.
On "Beast Within" , you favored more operatic vocals drawing out the length of notes. You've expanded your already impressive singing style to include a quicker delivery to match the speed of the music. Was there a lot of experimentation on "Out of the Ashes" working out the vocal parts or did you just go with the flow of the music?
Thank you! For me, the most important thing that influenced my style of singing was when I got in to study theatre music and music drama at the University of Applied Sciences. The main point of singing is now in jazz/rock technique more than classical. So, on this album I made the vocal lines to support more of the technique that I'm studying now.
Tracks like "Vendetta" and "Anthem" are great tracks and add new elements to the Katra sound. What differences do you hear when you listen to "Beast Within" and "Out of the Ashes"?
I hear a lot differences. It's definitely more guitar driven now. We have less piano parts and orchestrations. My voice is different and closer. Lyrics are dealing with heavy issues rather than fairytales. Overall, I feel that the sound is more intimate and represents us more.
You've said that "Out of the Ashes" feels like your first album. Why is that?
Maybe because it's the result of our co-operation and I've put so much feeling and experience into it. I was having a really hard time a few years ago and I kind of feel that making this album was like free therapy for me.
Does the title of "Out of the Ashes" have a personal meaning to you and the band?
Yes, it does. As I said I've experienced really difficult things during last few years.I feel that nothing is easy.You have to always bang your head against the wall until it breaks… or you give up. Almost every song on the album is about the end of something, "After the fire there are only ashes, then it's one's decision, whether to stay or rise out of the ashes and start again". The album title is a statement: refuse to give up.
You had a memorable show opening for Theatre of Tragedy in Mexico City this summer. How would you describe the concert?
I have no words for it… It was absolutely amazing! The atmosphere was unbelievable. There were lots of people sharing the moment with us, singing with us and having fun with us.
Did you take away anything from the experience to use in future shows?
Yes, I did. I always take some pieces and fond memories from the shows and the next time I will try to give something extra from myself to the audience.I love the fact that music is so universal and goes over boundaries. That's something I noticed literally during our gig in Mexico.
Did you road test any of the new songs? How did they come across live?
Yes, we did. We played "Out of the Ashes", "Delirium" and "Hide and Seek" at gigs long before we started composing material for this album. We felt that they worked really well – especially "Delirium".
What are your tour plans for the fall and the new year? Where can we see Katra live?
The booking management is not in our hands, but I hope we can do a tour in Europe at some point.
(Famous) Last words?
You can't experience being alive without realizing that you have to die. But it's just as impossible to realize you have to die without thinking how incredibly amazing it is to be alive.
Latest Multimedia
Photo Credit
All the photos by Peero Lakanen
Links
Katra : MySpace
Katra Solopuro : Facebook
6 color styles available:

Style switcher only on this demo version. Theme styles can be changed from Options page.