Label : Anti Records
Review by Davide Torresan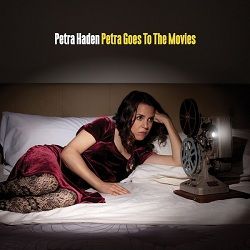 Petra Haden is a renowned violinist and singer. She played her violin for bands like Green Day, Queens of the Stone Age, Foo Fighters and also with Beck. But she's famous also for a particular quality: her voice. Indeed Petra uses it like a real instrument, reproducing the same sounds of classical instruments with her singing style "a capella". Thanks to this ability, she can cover any musical genre: pop, rock, jazz, blues and classical music too.
In August of 2000, during the period of the recording of her debut album, she had a car accident that forced her to a long time of treatments and rest. Beck and Weezer are only a couple of the artists/bands that, with the proceeds of their live performances and CD sales, have raised funds for her medical care. Finally in 2005 the debut album of Petra saw the light. She recorded The Who's album "The Who Sell Out". With this one she reached the success, showing to everyone how far the human voice can go. 8 years after the debut, Petra returns to the scene with her 2nd album. In this "Petra Goes to the Movies" it's the turn of soundtracks and the themes that have made famous films like "Psycho", "Superman" and "8 ½".
The proposal is quite ambitious since not everyone can engage in a similar feat, but Petra won this bet. I was pretty skeptical because the vocal style "a cappella" never attracted me., but recovering the original songs I realized that behind this album there's a huge and meticulous work. The arrangements are performed in a disarming manner, as for example the arcs in "Psycho". On "Superman theme" you'll be barely able to not humming you too, trying to emulate a job that is close to perfection. In "It Might Be You" and "Calling You" Petra, accompanied by an acoustic guitar in the first and by a piano in the second, also shows us a sad soul where her skills as a performer are exalted. So what are you waiting to give a listen to this album?
Rating – 72/100
Tracklist
Rebel Without a Cause Main Title – Rebel Without a Cause
God's Lonely Man – Taxi Driver
Cool Hand Luke Main Title – Cool Hand Luke
Cinema Paradiso – Cinema Paradiso
Fistful of Dollars Theme – A Fistful of Dollars
Psycho Main Title – Psycho
Goldfinger Main Title – Goldfinger
Carlotta's Galop – 8 1/2
It Might Be You – Tootsie
The Planet Krypton – Superman
Superman Theme – Superman
My Bodyguard – My Bodyguard
Pascal's Waltz – Big Night
Calling You – Bagdad Cafe
Hand Covers Bruise – The Social Network
This Is Not America – The Falcon and the Snowman
Line Up
Petra Haden – Vocals
Bill Frisell – Guitar
Brad Mehldau – Piano
Links