Interview by Matteo Bussotti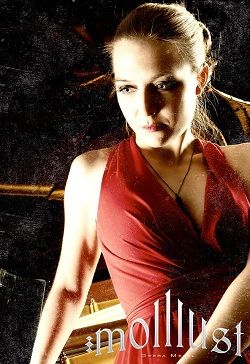 After the release of their first full-length, "Schuld", Molllust are now ready to answer some questions; so we couldn't let escape this chance to ask the newest, most interesting "opera metal" band! Well…there isn't much to say, since Janika explained pretty much all we needed to know (and even more!) in the interview…so…we hope you'll enjoy it as much as we did!
Hi Janika! Welcome to FemmeMetal! How are you feeling now that your first album has been finally released?
Hallo Matteo! My feelings concerning the album are a bit hard to describe. Of course, I was very proud to hold it in my hands – but there is much more. All the memories related to the CD – the time in studio, the rehearsals, the meetings with our designer – the joyful moments, when we had a good take in studio. And also the sorrows, when something didn't work as planned. The fear to send a work full of personal emotions out into the world – and the hope to reach people who feel like me when they listen to the music.
Interview by Alessandra Cognetta
Many of you remember her from Kamelot, but Elize Ryd's career is so rich I don't think I can fit it all in an introduction. A talented artist and a really sweet person, she agreed to answer some questions for us about her latest effort with the unique band Amaranthe (their second album "The Nexus" will be in stores by the end of March, check their website to see when it's out in your country!). You're going to read about music, dancing, Eurovision (?!), bizarre incidents on tour and, well, I'm not gonna spoil anything, see for yourselves, you're in for a truly interesting interview!
Hello and welcome once again to Femme Metal, Elize! It's always a pleasure to have you with us at the 'zine. Amaranthe's new album is about to be released, and the band has a world live premiere planned for March 2nd in Sweden. How's it going with the preparations for the event? What can we expect to see?
Thank you very much, it's a pleasure for me as well! It is going great, on Monday the band are gonna meet in Gothenburg and start to rehears of the new songs. You will see Amaranthe in full and healthy shape, we all have had some time of the scene so it will be extremely fun to gather again and start this what will be an extremely intense and exiting year
Label : Out of Line
Review by Luisa Mercier
Seventh Harmonic is neoclassical, atmospheric combo formed all by girls coming from different countries and other different projects (Narsilion, Arcana, etc, etc…). Their main influence is Dead Can Dance and you can clearly hear it throughout the album. Listen for example to "Dilmun": it is beautiful, evocative, peaceful even though not very original.
I prefer when they lean more on their neoclassical side like in "Mneme" or "Soporanimi", the songs are well layered, vocals are soaring and have a quite interesting dramatic feeling to them, especially the first. "Litha" is another example with its heavenly notes, it is almost intangible like the clouds. As you might notice reading the tracklist, all of the songs are related to the Pagan world and Pagan festivities: "Beltane" is a quite sad intrlude, not reminding of the celebration of the beginning of Summer and its corresponding Fall celebration, "Samhain", is nostalgic, perfectly fitting the time of falling leaves. Continue reading »
Label : Southern Lord
Review by Luisa Mercier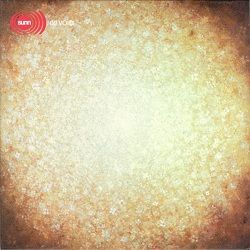 I have to admit that, before listening to this record, I had always heard talking about Sunn O))) as a band with a certain esoteric feeling around, like something mysterious and really hard to grasp. So I never really tried to listen their material until this reissue came to my working desk. I have to say that it took a while to adjust to their work, since it is absolutely beyond all the boundaries of what we usually call "music".
"ØØ Void" is their first full-length release and it was composed around 2000. Now this record has acquired the status of "cult album" and Southern Lord Recordings is re-issueing it with a different and evocative cover artwork. It suits much better the content than the original, in my opinion. At that time the band featured Stephen O'Malley and Greg Anderson, and on this release they were joined by Stuart Dahlquist (Goatsnake, Burning Witch), Petra Haden (violin, vocals) and Pete Stahl. Their tunes are completely deprived of any hint of melody or rhytmn and are built over very long guitar riffs, resembling a series of reverberations. The opener "Richard" was written by Dahquist and it is a 14-minute track based on riffs only. Despite the apparent heavyness and gloominess, the song has an extraordinary calming and alienating effect. It feels like floating, it is almost impossible to think to the material world around us until its end. Quite a dichotomy, to say the least. These are sensations that usually I got with ambient, chill-out music and this is really the opposite of it. Continue reading »
Label : Termo Records
Review by Tony Cannella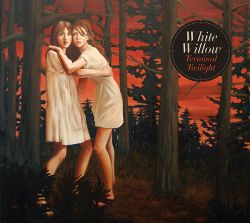 The Norwegian art-rock band White Willow has been around for a long time. This is my first experience with them, so I was surprised to learn that their newest album "Terminal Twilight" is the bands 6th overall, with their debut being released in 1995.
To say that the music contained on "Terminal Twilight" is eclectic would be an understatement. White Willow infuses their music with such different influences as Jazz-fusion, electronica, orchestral, 70s style prog rock and topping it off with a bit of the avant-garde. Their music plods along at a deliberate, sedate pace and the vibe is almost kind of dark. They almost remind me of a cross between the great fellow Norwegian band The 3rd and the Mortal and Pink Floyd. There is plenty of great musicianship on "Terminal Twilight" starting with the 7-minute "Hawks Circle the Mountain". White Willow mixes shorter 4-5 minute songs with longer epic type numbers. The most memorable song for me was the epic "Searise" which clocks in at 13-minutes. The whole thing lasts for about an hour and other songs that are highlights include: "Red Leaves", "Floor 67" and "Natasha of the Burning Woods". Continue reading »
6 color styles available:

Style switcher only on this demo version. Theme styles can be changed from Options page.