Browsing articles tagged with " 1"
Label : Lion Music
Review by Tony Cannella
It doesn't get more progressive or grandiose than Docker's Guild. This project is put together by Douglas R. Docker (Biloxi, Area 51) and bears his name (along with his brother Donald). The first in a five season series is titled "The Mystic Technocracy – Season 1: The Age of Ignorance" and will be followed by four more seasons. An outstanding list of musicians has been assembled for this release which can only be described as epic progressive rock and metal.
With a playing time of almost 80-minutes, "The Mystic Technocracy" is filled to capacity and there is no shortage of epic numbers. Some of the songs definitely recall old school progressive rock (like Yes and older Genesis) combined with more current prog metal and veering off into other territories. Obviously a lot of thought went into writing and crafting the songs to go along with the concept. The conceptual end of things is quite intriguing as it tells a science fiction story and there will be more chapters to come. Among some of the talented musicians who take part in this project, the only female is Amanda Somerville (Trillium). Continue reading »
Label : Season of Mist

Review by Davide Torresan

2012 sees the reappearance of Kylesa in the worldwide metal scene. After the album of 2010 "Spiral Shadow" and many live dates, the masters of stoner metal started to gather together their ideas to give birth to a new work. According to some rumors of the band, it will be out in 2013. In the meantime, between a concert and another, they found the time to pick up the material so far composed and propose it again in a new guise. Indeed there are many bands that lately try to do that. The first that comes in my mind is Anathema with "Hindsight" and the following "Falling Deeper", or My Dying Bride with "Evinta". Kylesa decided to travel a different path, redefining its original sound. They picked up some songs of their past giving them a fresher sound. The production has benefited of this restyling, so songs like "Between Silence And Sound" and "Bottom Line" live a second life. Hard and dry sounds, but sometimes they are enchanting and even soothing. The work on guitars of Phillip and Laura is accurate and well done. Psychedelic and progressive rock are fused in one soul, giving to the listener a sound experience to live at 360 grades. Their vocals are unique, as they switch from an aggressive style to another more melodic. In this album they have also included some previously unreleased songs, so you can pretty much say that this "From The Vaults Vol. I" is a new album. There is a new song too, "End Truth", which has a quiet pace compared to what they've reproposed so far. Kylesa realized also a couple of cover songs. The first is "Drained" of the American sludge metal band Buzzov-en. This song, like the original, has a doom rhythm, really oppressive and heavy. The second is "Set the Controls for the Heart of the Sun" of Pink Floyd. Kylesa proposed the pearl of the masters of English prog-rock in a overwhelming version thanks to the wall of sound of the guitars and the rhythm section. In conclusion, this album is really good for the neophytes of stoner/sludge metal like me, and the band fans. Today I can say to have discovered a new talented group. Give them a chance!
Rating – 77/100
Tracklist
Intro
Inverse
111 Degree Heat Index
Between Silence and Sound II
Paranoid Tempo
End Truth
Bottom Line II
Wavering
Bass Salts
Drained (Buzzov-en)
Set the Controls for the Heart of the Sun
Drum Jam
Line Up
Phillip Cope – Guitar & Vocals
Laura Pleasants – Guitar & Vocals
Eric Hernandez – Bass
Carl McGinley – Drums
Tyler Newberry – Drums
Links
MySpace * Facebook * Twitter * Site
Label : Cooking Vinyl/Edel
Review by Luisa Mercier
"Theatre Is Evil" is the result of how much fans support is worth. Amanda Palmer was able to record the album after raising more than one million dollars on the Kickstarter platform and the fans were also able to decide how the title should have been written. So, together with her, we find The Grand Theft Orchestra (aka Michael McQuilken, Chad Raines e Jherek Bischoff ) that give birth to an electronic, heavy, distorted sound completed by Amanda vocals. "Smile (Pictures or It Didn't Happen)" is an example of this, followed by new single "Killing Type", catchy but angry, harsh song accompanied by a bloody (literally) video. "Do It with a Rockstar" and the first single "Want It Back" represent the rock and funny side of the record, especially the second has distinctive '80s influences, new wave influences that paired with Amanda voice create a perfect hook. Among my favourite there is "Trout Heart Replica", an orchestral piece, fille with piano and atmosphere that could be taken off the previous album of Amanda. Same for "The Bed Song". "Theatre Is Evil" is a release that shows how Amanda can offer a lot to the music scene and I am sure that it is almost impossible that fans will be unhappy with what their money resulted in.
Rating – 80/100
Tracklist
Meow Meow Introduces The Grand Theft Orchestra

.Smile (Pictures or It Didn't Happen)

The Killing Type

Do It with a Rockstar

Want It Back

Grown Man Cry

Trout Heart Replica

A Grand Theft Intermission

Lost

Bottomfeeder

The Bed Song

Massachusetts Avenue

Melody Dean (featuring David J on bass)

Berlin

Olly Olly Oxen Free
Line Up
Amanda Palmer – Vocals, Piano

Chad Raines – Lead Guitar, Banjo, Backing Vocals, Horn Arrangements & Programming

Jherek Bischoff – Bass & Backing Vocals

Chad Raines – Lead Guitar, Banjo, Backing Vocals, Horn Arrangements & Programming

Michael McQuilken – Drums, Ukulele & Backing Vocals
Links
MySpace * Facebook * Twitter * Site
Label : Lion Music
Review by Tony Cannella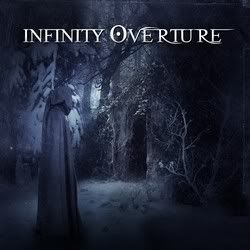 On their 2009 debut album, Denmark's Infinity Overture released a solid debut album that set the template for their melodic, symphonic metal style. Now the band has returned with a cool follow up opus titled, "The Infinite Overture Pt. I". The band has made some key line-up changes and musically has headed into more of a prog-metal direction with an extra emphasis being placed upon the guitar elements that Infinity Overture present. The biggest line-up change comes with the addition of new female vocalist Kimmie Tenna Nielsen. Her voice is perfect for the music that is being played and is a solid addition to Infinity Overture. The 9-song 47-minute disc also features numerous guest appearances, the most prominent being Amanda Somerville who contributes vocals on several different songs and Rhapsody of Fire front man Fabio Lione. The guitar harmonies of the opening track "The Hunger" gets things off to a great start and sets the bar very high. Fabio Lione performs on this track along with female vocalist Kimmie Tenna Nielsen and the duo has great chemistry together. Grunt vocals appear at various points throughout "The Infinite Overture pt. I" and are very well done and don't overwhelm anything, they are placed perfectly. The album builds up plenty of momentum as it progresses and my three favorite songs turned out to be the last three, "Smoke and Mirrors", the 7-minute "The Infinite Overture Part I" and the hauntingly beautiful closing ballad "Darkness of Mind". In addition to those three, there are plenty of other standout performances to be found here, for instance the euphorically melodic "The Stand" featuring a stunning vocal performance courtesy of Kimmie Nielsen. "Angels" starts off as a ballad but quickly evolves into a beautiful mid-tempo number. "Evernight" is one of the heavier, more guitar-driven tracks here and is a perfect showcase for the diversity of the band. "The Infinite Overture Pt. I" is a different kind of animal than their debut album, but no less brilliant. The line-up changes and guest appearances have really helped to shape this album. Fans of the first album and melodic metal in general should really come to appreciate what Infinity Overture has to offer.
Rating – 89/100
Tracklist
The Hunger

The Stand

Angels

Evernight

Secrets

Back from the Past

Smoke and Mirrors

The Infinite Overture Part I

Darkness of Mind
Line Up
Kimmie Tenna Nielsen – Vocals

Niels Vejlyt – Guitar, orchestrations and growl

Jakob Vand – Drums

Bernardo Fesch – Bass
Links
Independent Release
Review by Tony Cannella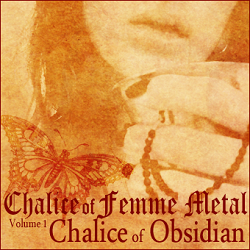 The new compilation from Chalice of Femme Metal is a pretty varied collection of songs from ten bands on the current Femme Metal scene. Among the 10-songs/bands presented here, the quality remains remarkably high throughout the 48-minutes. Things get off to a slower tempo start with "Salvation" by the always excellent Apparition. The orchestral Akoma is up next with "Forgotten Hero". The power metal riffing of Pythia highlights the next song "Tristan". "Shadows on the Tide" by Tainted Grace starts off with a cool, eerie guitar intro before the band joins in all guns blazing. Omega Lithium provides a modern metal sound with "Andromeda". Mask of Judas picks up the heaviness and intensity even more with the machine gun riffing of "To I Your Conscience". Fateless Tears showcases their brand of progressive Goth on "My Endarkened Self". Rhode Island Red brings more of a blazing hard rock slant with their offering "Kerosene". The symphonic Goth of Therion is up next with "Hellequin". A live bootleg recording of "World of Glass" by Tristania from Stuttgart in 2005 with Vibeke Stene on vocals is a great way to bring this compilation to a close. On "Chalice of Obsidian" I was familiar with some bands and others were new to me, which is always the best thing about compilations. With so much music out there and not enough hours in the day to listen to all of it, compilations such as these provides a great service to metal fans.

Rating – 90/100
Tracklist
"Salvation" – Apparition

"Forgotten Hero" – Akoma

"Tristan" – Pythia

"Shadows on the Tide" – Tainted Grace

"Andromeda" – Omega Lithium

"To I Your Conscience" – Mask of Judas

"My Endarkened Self" – Fateless Tears

"Kerosene" – Rhode Island Red

"Hellequin" – Therion

"World of Glass (Live)" – Tristania
6 color styles available:

Style switcher only on this demo version. Theme styles can be changed from Options page.