Browsing articles tagged with " 2007"
Interview by Alessandra Cognetta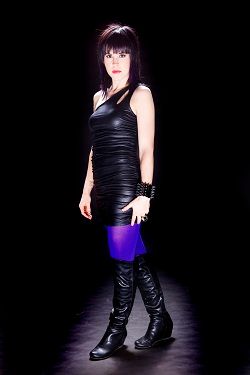 Leslie Hunt is the lead singer of District 97, a prog band from Chicago that is (not so) slowly conquering the American music scene and establishing its own name at home and abroad. Their work is a surprisingly fresh combination of different styles and musical experiences, with two full-length albums released and an ever-growing touring activity. If you want to know more about District 97 (and believe me, you want to), this is the right place to start! 
Hello and welcome to Femme Metal, Leslie! We're really glad to have you here with us. District 97 has just finished their US tour, how would you describe this experience, now that it's over?
I thoroughly enjoyed myself! Each show was a success in its own right, and I absolutely love performing this music. I also love our fans! They are some of the most genuine and appreciative people I have ever met, and I am so honored to be on the receiving end of their loyalty. It was definitely a challenge to play eight nights in a row, especially since my performance style is getting more and more theatrical as our sound evolves, but as soon as we would play the first note, I was able to transport myself to the headspace required to experience the song as if it were my first time.
District 97 has never been featured on our Webzine before, could you introduce the band and its members to our readers?
Sure! I'm Leslie, and I sing, dance and play tambourine sometimes. Jonathan Schang is the drummer, primary composer, bandleader, AND he manages everything that happens behind the scenes, so we all give him serious props. Jim Tashjian plays lead guitar and sings backgrounds. Rob Clearfield plays keyboards and additional guitar. Patrick Mulcahy plays bass. Continue reading »
Label : Massacre Records
Review by Tony Cannella
The excellent double female fronted Symphonic Metal band Coronatus has previously released four full length albums – with their first one being released in 2007. Now they have released a digital only best of album titled, "Best of 2007-2011". Featuring 16-songs and over an hour's worth of music, "Best Of…" serves as a comprehensive overview of Coronatus' career thus far.
The track-listing on "Best Of 2007-2011" features a fair cross section of the bands best material taken from each of their albums. The songs are in reverse chronological order beginning with four songs from Coronatus' latest album "Terra Incognita" which was released in 2011. The two female singers each brings something interesting and unique to the table. The current duo consists of Mareike Makosch who provides more of a rock style and Ada Flechtner who gives us a soprano voice. The melding of the two different styles is one of the best things about Coronatus and gives the songs a huge boost. The bands lyrics are sung in German and English with a touch of Latin as well. The musicianship is also played on a high level and is a perfect complement to the two vocalists and another check in the plus column for Coronatus.
For fans who already own everything that Coronatus has put out, this may not be of much interest, but anyone who would like to sample what this great band has done so far, than "Best of 2007-2011″ is well worth the time. Continue reading »
German Symphonic Gothic metal band CORONATUS today publish the new digital compilation "Best Of 2007-2011″
Starting today, December 21st, you can download your copy for 5€ only here: http://www.amazon.de/dp/B00A21RYME
But don't wait too long, the limited offer ends this Sunday (December 23rd)!
www.coronatus.de | www.facebook.com/CoronatusOfficial
CORONATUS are going to release a digital compilation just in time for Christmas! "Best of 2007-2011″ will feature the best 16 songs out of all of their albums!
The track list looks like this:
Fernes Land

Dead Man's Tale

Saint Slayer

Traumzeit

Wolfstanz

Tantalos

Kristallklares Wasser

Blind

Exitus

Cast My Spell

Mein Herz

Beauty In Black

Silberlicht

Scream of the Butterfly

Ich Atme Zeit

Hot & Cold
The compilation will be available for a special price on iTunes, Amazon MP3, Musicload other digital music stores only!
You can already listen to snippets from CORONATUS' "Best Of 2007-2011″ here: http://massacre.musiclogistics.net/releases/19590?lang=en
The compilation is going to be released on December 21, 2012 via Massacre Records.
www.coronatus.de | www.facebook.com/CoronatusOfficial
Label : AFM Records

Review by Tony Cannella
Originally released in 2007, AFM Records have recently re-issued the debut album "The Curse of Crystal Viper" from Poland's classic metal heroes Crystal Viper. In addition to the full album, this new version also features five rare bonus tracks that have appeared on tribute albums and hard to find material, so while these songs may not be un-released per-se they are still rare and thus valuable to any Crystal Viper fan. What can be said about "The Curse of Crystal Viper"? I remember the first time I heard it and being blown away by its sheer power and ferocity. It also gave me a feeling of when I got into metal in the first place in the early 80s. Crystal Viper really captures that vibe, but musically they go beyond that. Lead vocalist Marta Gabriel has got a great classic metal vocal style. The somewhat Running Wild like intro "…I See Him!" starts things and segues straight into the Iron Maiden style riffs and guitar harmonies of "Night Prowler". Some of Crystal Vipers best songs appear on this album: "Shadows on the Horizon", "Island of the Silver Skull" and "Sleeping Swords" is all considered Crystal Viper classics. Among the 'bonus' tracks, you get a covers of the Manilla Road track "Flaming Metal Systems" and Warlock's "Mr. Gold" as well as alternate versions of "Demons' Dagger", "The Last Axeman" and "Sleeping Swords". This is top-notch classic metal played Crystal Viper style. In Re-visiting their debut, it is easy to see why they have become one of best bands in their genre. Crystal Viper continues to churn out classic metal, but this is where it all began and thus a will always have a special place in my heart.
Rating – 85/100
Tracklist
…I See Him! (Intro)
Night Prowler
Shadows on the Horizon
City of the Damned
The Last Axeman
Island of the Silver Skull
I Am Leather Witch
Demons' Dagger
The Fury (Undead)
Sleeping Swords
Flaming Metal Systems (Manilla Road Cover)
Demon's Dagger (2008 version)
The Last Axeman (Polish version)
Sleeping Swords (2008 version)
Mr. Gold (Warlock Cover)
Line Up
Marta Gabriel – Vocals, Guitar
Andy Wave – Guitars
Tommy Roxx – Bass
Golem – Drums
Links
MySpace * Facebook * Twitter * Site
6 color styles available:

Style switcher only on this demo version. Theme styles can be changed from Options page.