Browsing articles tagged with " 2008"
Label: Great Dane Records/Season of Mist
Review by Luisa Mercier
"Semeïon" dates back to 2008 and it is the second full-length effort by the French band Dylath-Leen. Their music is often described as melodic death metal or atmospheric death metal. I assume that both can be suitable definitions, since they have their foundation in melodic death but their sound involves melodic gitar riffs and symphony.  Dylath-Leen is even more unique in their sound because they have two vocalists; both of them provide growling vocals. This could seem useles, but in the band it works pretty well because one growler is a man (Igor Landorique) and the other is the female vocalist (Kathy Coupez), who also provides some clean vocals, quite ethereal ones I have to say, in some songs (as in "Adoring Wounds"). Continue reading »
Label : Electronic Art Metal
Review by Luisa Mercier
Dol Theeta is another project by Thanasis Lightbridge, who is the leader of another electronic metal band, Dol Ammad. This project is more focused on keyboards and synth that the other one and as the title suggests, the record tells about space landscapes, space stories. Electronica meets metal and the mood is quite the right one as in "Silver Air". The soprano Kortessa is in charge of vocals and her vocal lines are light as air, really beautiful and fitting the whole atmosphere of the album. "Nighttime" has an Eastern feeling, really sensual and feminine. Metal is not that present, but really I do not miss guitars at all since the influences are a lot: from Pink Floyd to gothic to ambient and chill-out music.  Continue reading »
Independent Release
Review by Luisa Mercier
Anti-M is a California electronica band formed by keyboardists John Wardlaw, Ruston, and Mark Rumer (who's no longer with the band). This album is their third full-length release, all self-recorded, produced and released by the band. This album has a nice range of styles within its seventeen tracks spanning from hard edged goth metal tracks to dreamy ethereal interpretations.
The album is opened by the pulsating ethereal "Dreamin in Metaphor" who prepares us for the alternative gothic rock pieces "Let U In". This features Barbara Mosely's melodic vocals over the guitars and sets the stage for other catchy tracks along this style like the title track (more-guitar-oriented), the sweet electronic ballad "Deep" and following the down-tempo, gloomy and sexy but edgy piece "Rage". Later, "Little Things" also deliver itself as a nice example of female-fronted alternative rock style. Continue reading »
Label : Metal Blade Records
Review by Luisa Mercier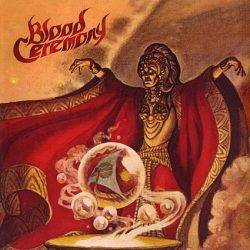 After four years from the first release, Blood Ceremony, Canadian doom band is reissuing their self-titled album. Sometimes happens that some young, new bands decide to pay a tribute to old school masters. Therefore they compose albums that are very reminiscent of the past, adding their own elements and creating something which is old and new at the same time: an original music album.
This is what Blood Ceremony has decided to do, so we can listen to their omage to the old masters Jethro Tull, Black Sabbath, Saint Vitus, Pentagram and also the reknown Italian prog rock school of the seventies. We can also find a certain influence of the horror movies of the same period, both in the lyrics and the visual imaginary that the band has been able to create.While the band we have listed as the main inspiration sources for Blood Ceremony lean more on the doom or the prog side, the two aspects are well balanced in their compositions. "I Am Coming With You" is a good example. Continue reading »
Label : Rock Candy Records
Review by Tony Cannella
Back in the late 80s, it was impossible to pick up a copy of the (then) legendary U.K. magazine Kerrang!, without there being something in there about the British AOR rock outfit Romeo's Daughter, particularly their gorgeous singer Leigh Matty who seemed to be in every issue (or just about). Before ever hearing them, if you were a reader of this magazine you already knew who they were. Their song "Heaven in the Backseat" was included on the soundtrack to the movie "A Nightmare on Elm Street, Part 5″ and later covered by Eddie Money. The band released two albums in the late 80s/early 90s and have just recently re-formed. To commemorate their reformation, their two albums have received the re-issue, re-master treatment and both feature previously unreleased bonus material.
Much of the album is produced by Mutt Lange (along with John Parr) and that much is obvious on the opening track "Heaven in the Backseat". It has that slick "Hysteria" style sound and background vocals that sound like they could have been performed by Def Leppard. Beyond that, Romeo's Daughter's debut is chock full of pop flavored AOR tunes like "Don't Break My Heart", "I Cry Myself to Sleep At Night", "Wild Child" (which was covered by Heart on their "Brigade" album) and "Hymn (Look Through Golden Eyes)". The re-issue includes three bonus live recordings of "Heaven in the Backseat", "Velvet Tongue" and "I Cry Myself to Sleep at Night". Mutt Lange produced so many of the 80s biggest albums that we forget that some bands just didn't go on to global success, and Romeo's Daughter is one of those bands that fell through the cracks, which is a shame, because I think based on the material on their two albums they should have been bigger than they were, but that's only my opinion. Their slick pop AOR sound will not be for everyone, especially die-hard metal heads.
I have always liked Romeo's Daughter and I am psyched that the band has decided to get back together. More importantly it is a great thing that their (small) catalogue has been made available once again. Sure their music may be on the pop side of things, but the songs are just so damn infectious and besides, you can't bang your head all of the time, can you? Supposedly, Romeo's Daughter is working on new material, which is good news for fans of melodic AOR rock. Continue reading »
6 color styles available:

Style switcher only on this demo version. Theme styles can be changed from Options page.