Browsing articles tagged with " 2009"
Label : SPV/Steamhammer
Review by Tony Cannella
The U.K. progressive rock outfit Touchstone's second full-length album "Wintercoast" was originally released in 2009. Now, thanks to SPV it has received the re-issue treatment. Two live bonus tracks complete this 80-minute journey of classy, melodic, progressive rock. This was the second album to feature Kim Seviour and she is fitting in quite nicely at this point and has become firmly entrenched as the female voice of Touchstone. Her style meshes nicely with the David Gilmour/Roger Waters-esque vocals of keyboardist Rob Cottingham.
"Wintercoast" starts with a "Prelude" featuring narration from world renowned actor Jeremy Irons. This is a great starting point and segues into the epic "Wintercoast". It's somewhat of a rarity when the longest song opens an album but this 11-minute track is a great choice. Throughout the album there are plenty of shifts in tempos and atmosphere. From the Van Halen-ish opening guitar riff of "Strange Days" to the moody "Original Sin", there is a little bit of everything. Other highlights include: "Voices", "Solace" (a great, haunting ballad), the symphonic prog of "Line in the Sand" and the two part opus "The Witness Part I and II". "Wintercoast" is concluded with two live songs "Shadow" and "Joker in the Pack" raps things up nicely. Out of all of their albums, I think "Wintercoast" may be their most ambitious and therefore challenging albums to listen to, but once it is allowed to grow, "Wintercoast" fits right in there with the rest of the Touchstone catalog. Continue reading »
Label : Note Volanti Edizioni Musicali
Review by Luisa Mercier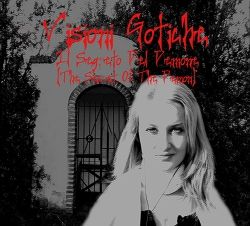 Visioni Gotiche ("Gothic Visions") is an Italian project born in 2007 having as creative aim the composition of dark ambient mixed with electronics and a little bit of gothic metal. In "Il Segreto del Demone" ("The Secret of The Demon"), the music is entwined with a horror short story of the same name, which is contained in the album artwork.
Amazing decadent atmospheres, gothic scenarios and Halloween movies are the main sources of inspiration of this sort of audio-book. In the beginning two CDs should have been released separately, but now they have been released as one double album and some tracks have been rearranged to let Laura's vocals shine throughout it. Claudio Simonetti (composer of most of Dario Argento's movies soundtracks) is at the foundations of their sound and you can hear several different influences: metal, rock, progressive, ambient, horror so it is quite difficult to label it, but the result is very original and female vocals are quite versatile, beautiful and distinctive.  Continue reading »

Interview by Erwin van Dijk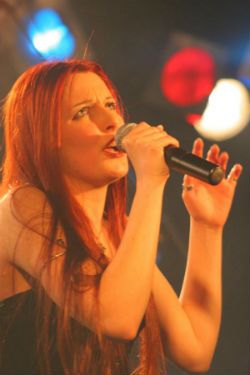 An in-depth chat with Chiara, the soprano singer of the well-promising Italian Gothic Metal band Lust for Oblivion about their debut demo "Black Moon" and their musical future.
Did you always want to become a singer?
I've always loved music and my first experience with it was at the age of nine, when I started playing the piano, but I've always loved singing, too, since when I was a child, so, some years ago, I started taking opera singing lessons.
And to what kind of music do you listen yourself?
I listen to classical music, especially opera and piano compositions and also to metal music.
And who are your favorite bands and musicians?
Bands like Dark Tranquillity, Moonspell, Within Temptation, Lacuna Coil, Tristania are my favorite, but I've surely forgotten some…obviously I adore Tarja Turunen!!!! My favorite classical musicians are W.A.Mozart, F.Chopin and K.Orff.
Interview by Erwin Van Dijk
An interview with Lotus from Sin7sinS, update Summer 2009. Last year I had an interview with Lotus, the singer of Sin7sinS. They have released three new tracks on MySpace so I thought it would be time for an update interview.
Your last two gigs were in March (in the cities of Antwerpen, Belgium and Dordrecht, Holland) What have you and the band done since then? Besides spending a lot of time in the studio 😉
We were after those gigs very busy with writing new material and rehears this (we have a kick ass new set list!) Further as you said we spend a lot of time in recording the new songs. And we have done a new photo shoot…
You have recorded three new songs. Ronald Landa from Delain was responsible for the producing and mixing while Ad Sluyter (of Epica fame) did the mastering. How did you get in touch with these two guys Ronald Landa and Ad Sluyter and how was it to work with them?
Ronald Landa is a friend of Paul and me, we played before Delain and Sin7sinS in the same band. Ronald is very good in producing, so he wanted to help us. Ad Sluyter is a friend of Ronald and he is into the mastering…
And, did they have any influence on the sound of the new songs? This is because Delain and Epica are not exactly in the same genre as Sin7sinS.
Not really, the songs were already written before recording. But of course they did help create the sound which we were looking for.
Song by song: what can you tell us about the new songs? Music & lyrics? ("Dead World", "Eye Want All", "Insult #7")
The new songs are louder and better then our older work. We tried to focus more on the songs as a whole. This implies that vocal work (etc etc…) follows a more natural path. Each song has a different meaning which is best hear able in the lyrics, most songs are inspired by things and events going on in our own lives.
Are these songs much different from your older work?
As an artist you naturally grow, however the songs are still in the same line as our older work. But due the fact that we have grown as a band our music has grown to.
This was not your first time in a studio. What have you done different this time?
We recorded most of it ourselves this time!
And which studio did you use this time?
We used the home studio of Ronald Landa.
Will this stay an online affair or will there be a possibility to legally download it or even a CD version?
The meaning of this promo CD, is to score a record label! We are ready for this next step! So a CD will be there when a record label signs us. The 3 new songs are listenable but you can not download them.
This is maybe a bit of topic but do blondes have more fun? Because you have changed your hairstyle since the last time I saw you on stage (at the Mix, Uithoorn).
Hahaha, no I don't think blondes have more fun. I like a change from time till time… not always the same look! But I still have as much fun as I had when I had black hair. The only good thing about it, is that my bathroom has a chance to become white again (as it was before I started painting my hair black, 2 years ago).
Links
MySpace *Facebook * Twitter * Google Plus * Site

Interview by Ed MacLaren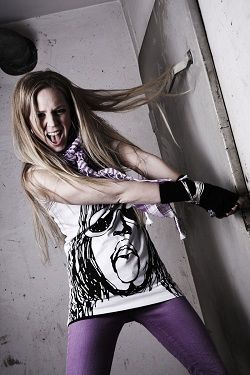 So what do you do when you're in an influential gothic metal band and decide you want to expand your musical horizons? Well, if you're Beseech, you rename yourselves The Mary Major and start again from square one. With the release of "04:13", The Mary Major have redefined themselves with a new high energy hard rock sound featuring crunchy riffs and heavy drums along with a pair of familiar voices. Vocalist Lotta Höglin hooked up with Femme Metal to explain their musical evolution and give us lessons on starting a new band with the one you already have.
After a long and successful career as Beseech you've "broken up" and reimagined yourselves as The Mary Major. You've abandoned your gothic leanings and plunged into a new hard rock direction. Can you give us some insight into the reasons for all the changes?
I guess that we, over the years in Beseech, lost the inspiration and a couple of us felt we had the same idea of what we would really try to create, and that's how it all started with The Mary Major, or as we say; TMM.
These days it's common to see bands breaking up and fighting over who gets to keep the name. Some bands, like Theatre of Tragedy, changed their style while keeping the name into which they invested so much time and energy. It takes a lot of guts and confidence to start over fresh – a new sound and a new name. Was there ever any doubt that you and the band could be just as successful as The Mary Major?
We just felt so deeply inspired and into the new sound with TMM that we really felt the urge to start fresh: to go under a new name and a different look to keep this new energy and not to get stuck in one genre, even though you change direction. For me, it wouldn't have felt like a new start if we kept the name or something else and to be honest I didn't feel any doubt – on the contrary I was, and still am, so sure of this new sound!
You came up with a great name. How did you decide on The Mary Major?
We all wanted there to be a female name in it and we tried some different variations, like Jane Doe and names like that. But then one of the guys checked Jane Doe up on Wikipedia and found different alternatives for the meaning of Jane Doe and there it was: Mary Major. And we all loved it! As you know, Jane Doe is a name the police use when finding a dead unidentified body of a woman and if there's another female body they call her Mary Major.
The Mary Major is definitely moving in a much different musical direction. What new musical ideas are you looking to explore?
You could say we're all into more rock-oriented music. That could be all from In Flames to Foo Fighters. And we wanted up-tempo songs, with a catchy chorus backed up with heavy drums and guitars. What we wanted was to find a "dirtier" sound than the slick one we used in Beseech. A bit more garage sound to it.
With the similar lineups of Beseech and The Mary Major there are going to be the inevitable comparisons. How do you handle the comparisons to a different band even though you're essentially being compared to yourselves?
Well, for sure we're always going to be connected and compared to Beseech but I see it as an advantage. People who knew about Beseech will look TMM up and so on. And as I see it, the music directions are that different that the only comparison one can make is the way me and Erik sound like while singing. And we're still proud of Beseech and all we got from that time so for me it just feels natural with the comparison.
Was it difficult to shift gears after so long towards a different musical direction? How did you approach recording the album? Did you ever have to say, "No, we can't use that. It sounds too much like Beseech"?
Funny you ask that, most of the time the new sound came easily to us but I remember one time during the recordings I said just that, that one part sounded a bit too much like Beseech! But I guess that it's hard not to when we're still the same singers, I mean, our voices are the sound of Beseech in one way.
The music is angrier, heavier and a lot more fun to listen to. How does less gothic and more rock translate into the overall attitude of the band members?
I have always been more into the rock genre, even though I, for sure, like some really good goth music as well. But most of us in TMM are into the rock music I would say. And I also would say that the taste of music changes a bit over the years, so this wasn't anything hard to do.
You and Erik are cutting loose vocally on "04:13" to great effect. How are you changing your singing approach with The Mary Major?
Erik is the one who has developed his singing technique the most. I mean now he's singing a lot more heavily and growling at times. For me, it is more about a tougher attitude and change of energy. But that is what is so inspiring and funny with this new project! To be able to evolve and explore new sides of oneself.
With the massive riffs and high energy of the music, how does the band enjoy playing this music live?
Oh, it is so great playing this music live! You get to go nuts on the stage and to really give it all to match the high energy in the music. I love it the most when we're playing a couple of songs together, without any silence in between, then the beat just goes on and on and on. And it is so easy to get the audience connected and feel the energy like you do up on stage.
Obviously, in a live setting you're focusing on your new music but do you include any favorite Beseech tracks in your set?
No we don't. But we have talked about it a couple of times. But we really want to get TMM and this new sound a chance to make it on by its own. Without having to mix it up with the old sound just because we're the same guys.
Does playing hard rock mean you're touring with different bands now with a similar musical style?
Yes. I think we match a bit better now playing together with other rock-oriented bands, but at some gigs we have played together with goth bands as well.
Such a change in musical direction must get an emotional reaction from the fans. What are the reactions of fans coming to The Mary Major shows?
Actually, the most of them are really happy with TMM and the new sound. It has been most positive feedback. Some for sure wants to hear a Beseech song but as I said before we really want to give TMM a chance on its own.
Are you seeing a lot of new faces when you're performing? Is The Mary Major reaching a wider audience than Beseech ever did?
I would say that we're seeing both new and olds faces at the venues. For sure because of the new direction in the music but also as we're often playing together with other types of bands than before. So you get in contacted with new fans through them. But we also are very keen on keeping our old fans that now are into TMM.
Beseech was an excellent band with a fine history of genre-defining music. Comparisons aside, how do you and the band look at your years in Beseech now?
I know we all are really proud and happy to have lived the experience of Beseech! It was a really great time and we learned a lot and met some wonderful people. But every thing has its own time and now is now, and now all of our focus on The Mary Major and to spread the new sound!
Links
MySpace * ReverbNation * Facebook *  Twitter
Latest Multimedia
6 color styles available:

Style switcher only on this demo version. Theme styles can be changed from Options page.