Browsing articles tagged with " 2011"
Label: Wordlessness Records
Review by Tony Cannella
Hailing from Russia, The Lust plays Gothic Rock/Metal with a definite electronic/industrial edge. They formed in 2004 and that is the same year they released their debut album "Tangled". Since then they have continued to release albums at a productive pace and their newest album "Decomposition Deluxe" is also their fifth, so they have been busy since their formation but one year before the band has released  "One Life Ago" that is a compilation album made up primarily of rare tracks and alternate versions of some of their older songs.
The first six songs on "One Life Ago" are made up of unreleased tracks. The self-titled song starts things and right away I notice that their earlier stuff has more of an electronic/industrial edge to it. Continue reading »
Independent Release
Review by Tony Cannella
Sacred Groove is a melodic hard rock band from Germany. They were formed in 2006 and released their first demo in 2009. In 2011 the band released their debut album entitled, "Needful Things". Sacred Groove offers up a debut of 10-songs and 52-minutes worth of guitar oriented hard rock with vocalist Isabel Willenberg out front with her angelic vocal delivery.
"Needful Things" gets off to a great start with the two best songs. "Angel in the Sky" and "Waking Dream" is both excellent. They are powered by some fantastic guitar work from Dennis Meivogel and he does an excellent job throughout the CD. "Unholy House" keeps things going in a positive direction. Songs like "Nature of the Beast", "She Braves the Storm" and "Needful Things" are well written, produced and performed. Continue reading »
Label: Jyden Music
Review by Tony Cannella
From Sweden, Akribi is a progressive metal band who fuses Dream Theater style song arrangements with heavy riffs and clean vocals courtesy of Jessica Åhman. The band was formed in 2003 and in 2011 released their debut album – this one here – "Black Morning Sun".
"Black Morning Sun" is over an hour long and several of the songs fall in the very prog-ish 6-9 range. Akribi are not afraid to go off the beaten path either as the songs occasionally veer off into tangents, jams and signature time changes. It all manages to keep the listener on their toes and wonder what's coming next. In addition to the longer songs, the band also gives us some shorter more immediate numbers. Continue reading »
Independent Release
Reviews by Tony Cannella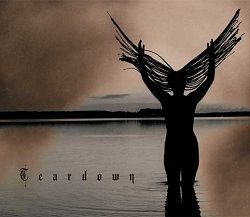 Released in 2004, "Drowned in Your Tears" is the first recorded output from the Finnish band Teardown. Even though this is their first attempt, their sound is rawer and the production is not as good as what came after. Still, for fans of the band it is an interesting look at how Teardown started and has progressed over the years.
"Stolen by Sorrow" opens things on an up-tempo, energetic pace. "Iced Heart" is a bit slower and has a heavy, doomy quality to it. "Dust" is next and opens up acoustically, like a lot of the bands material as the heavy guitars join in. Even though the final track, "Drowned in Your Tears" opens with a slower pace it quickly speeds up and shows what this excellent melodic metal band is capable of. Continue reading »
Independent Release
Review by Tony Cannella
Back in my formative metal years, I "discovered" many a great band because of their album cover art (that's how I first got into Iron Maiden – Derek Riggs ruled) which – back then – was the first impression you would get from a band. Of course cool album cover art means nothing if the music on the album isn't very good (and I've had those experiences as well). This brings me to the Canadian band Unleash the Archers. Their cover artwork immediately piqued my interest; fortunately the music contained on the CD came through big time – and then some, actually they exceeded all of my expectations – this band is a whole lot more than just cool cover art (although their artwork is excellent). On their latest release "Demons of the Astrowaste", Unleash the Archers deliver over an hour's worth of melodic power heavy metal, combined with thrash metal riffs and some intense Mark Janssen from Epica type screams courtesy of Brayden Dyzckowski (he also plays guitar). Continue reading »
6 color styles available:

Style switcher only on this demo version. Theme styles can be changed from Options page.