Browsing articles tagged with " 73"
Label : Angelina Records
Review by Tony Cannella
Some fans may remember Maxine Petrucci from the early 80's metal band Madame X. They had a minor hit on MTV with the anthem "High in High School". Some may also know of her due to her sister, Vixen drummer Roxy Petrucci. She also has a bit of a solo career going and has just released her third album "Back to the Garden". This is a heavy, eclectic and unique mish-mash of metal styles, and to say the least it is also a high energy, guitar driven affair.
"Back to the Garden" may be a polarizing album. Fans are either going to love it or maybe not so much. One of the divisive things about it is bound to be Maxine Petrucci's vocals. Continue reading »
Independent Release
Review by Tony Cannella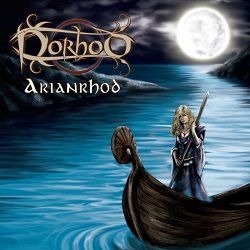 From Italy (a metal band from Italy? What a surprise) comes the conceptual symphonic death metal band Norhod. The band was born in the summer of 2009 with original members: Michele Tolomei (keyboards), Giacomo Casa (growls), Giacomo Vanucci (guitars) and Andrea Stefani (guitars). After solidifying their line-up with a few new members including female vocalist Clara Ceccarelli, Norhod has released their independently released EP "Arianrhod". "Arianrhod" is a concept EP based on the Homonymous Celtic goddess, but at its core the story is about the age old struggle between good and evil. Norhod utilizes beauty and the beast style vocals with Clara's clean, soaring vocals contrasting with Giacoma Casa's growls. The music performed by Norhod does lend itself very well for storytelling – as it does create a special atmosphere throughout the 22-minutes worth of playing time. The intro "Caer Arianrhod" sets the stage for the bombastic opener "Doomed to Ashes". The two vocal styles are split pretty evenly. For the most part, "Arianrhod" combines melancholic metal with folk metal influences and tempo changes; "Last Sundown" is a pretty solid indicator of what is good about the album. The album is completed with the pounding title song "Arianrhod". I can already tell that the vocals will be an acquired taste for many – they will either be loved or hated – especially Clara's high-pitched vocal delivery. The growler Giacoma Casa will definitely appeal to the death metal side of the metal spectrum. Norhod are far from being a mainstream band. The songs on "Arianrhod" are definitely going to appeal to a select audience, but fans who like a little bit of melancholy with their metal, should like what they find from this Italian band.
Rating – 73/100
Tracklist
Caer Arianrhod

Doomed to Oblivion

Lily's Ashes

Last Sundown

Arianrhod
Line Up
Clara Ceccarelli – Vocals

Giacomo Casa – Growls

Giacomo Vanucci – Guitars

Andrea Stefani – Guitars

Michele Tolomei – Keyboards

Matteo Giusti – Bass

Francesco Aytano – Drums
Links
MySpace * BandCamp * Facebook * Twitter
Label: Wormhole Death/Dreamcell 11

Review by Tony Cannella
Levania is a Gothic metal band from Italy. The band formed in 2007 and has previously released three demos, with the first one coming only a year after their creation in 2008. They have just released their debut full-length titled "Parasynthesis". Levania employs three lead singers each of varying styles. First you have the female angelic and semi-operatic vocals of Ligeia. She is joined by guitarist Raven and Keyboardist Still, who supply extreme male vocals (both growly and screaming) and the other one adds clean, male Gothic-y type vocals. "Midnight of Silence" gets us started and straight away, it is one of the better songs. It has a doom-y, melancholic feel at the start, before speeding up. All three vocalists are introduced on this song, which is pretty cool. First you have the female vocalist and extreme vocals singing together, than the extreme and male gothic vocals together. The song includes a number of tempo changes. I would describe the general vibe of "Parasynthesis" as melancholy. The synth opening of the next song "Eroica" reminded me of early Nightwish. The song starts with some narration by the male gothic voice and he is joined by Ligeia. This song reminded me a little of Vintersorg and it actually has an almost progressive feel to it. "Natural Motion" starts with a heavy straight-forward guitar riff accompanied by violin and it moves at a rapid pace. Again, all three vocalists are represented on this track, a tactic that they use throughout "Parasynthesis" and it works quite well. Other highlights includes: "The Narrow Way of Juliette", "Basteth's Kiss" and the "Agharti" trilogy. There is some really good stuff on "Parasynthesis" and I would have no problem recommending Levania to my Gothic metal friends.
Rating – 73/100
Tracklist
Midnight of Silence
Eroica
Natural Motion
The Narrow Way of Juliette
Basteth's Kiss
Agharti I
Agharti II
Agharti III
Cathago Nova
Sybyl of the Dark
Line Up
Ligeia – Vocals
Raven – Guitars & Vocals
Still – Keyboards & Vocals
Fade – Bass
Gianz – Drums
Links
MySpace * Facebook * Twitter * Site
Independent Release
Review by Tony Cannella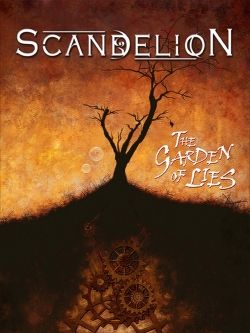 The Gothic/Doom Metal band Scandelion were formed around 2002 in Spain and released their full-length debut "The Pureheart's Breed" in 2008. They then released a 5-song demo in 2009 and now this Spanish band returns with their new full-length "The Garden of Lies". Scandelion features two lead vocalists in their ranks. First, Sonia Hernández provides some beautiful operatic style singing and keyboardist Jorge Afonso is there with his contrasting extreme metal, guttural approach. The vocals are split pretty evenly with perhaps Sonia getting a bit more of the spotlight. The intro "Genesis of Decadence" is a pretty cool way to kick things off and features a choir, as the intro reaches its apex, this leads us into "Fatal Beauty". The band is comfortable playing a doomy style, but there are times when the music speeds up, like on part of "Ghost of Your Soul" and the brutal parts (The parts that Jorge sings) of "The Garden of Lies". For the most part, "The Garden of Lies" doesn't offer much in the way of variety, but it has tons of atmosphere, thanks to some cool orchestration and some top notch keyboard work by Jorge. At about 37-minutes long, "The Garden of Lies" is not a very long album and the songs range in the 3-5 range – which is also different from a lot of doom metal, which usually includes a lot of 7-8 minute epic style tracks. The music is at times melancholic and beautiful. The track that stood out the most for me was beautiful "Angelo Nero" which is sung in Spanish and features a clean male vocalist in a duet with Sonia, as the extreme male vocals join in later in the track. This is just an excellent track as the two vocalists work well together, and then the extreme vocals finishes things with authority. Other highlights include: "Apocalypse Flower", "Butterfly Agony" and "Swan's Lament". Fans who enjoy Gothic/Doom with melody and atmosphere should definitely give this band a shot. With "The Garden of Lies", Scandelion has released an album that I am sure will gain them some well deserved recognition in Gothic and Doom metal circles.
Rating – 73/100
Tracklist
Genesis of Decadence

Fatal Beauty

Apocalypse Flower

Sparkles

Angelo Nero

Butterfly Agony

Swan's Lament

Ghost of Your Soul

The Garden of Lies
Line Up
Sonia Hernández – Voice

Ancor Amador – Guitar

Pedro Burgazzoli – Bass

Jorge Afonso – Keyboards & Backing Vocals

Borja Santana – Drums
Links
MySpace * ReverbNation * Facebook * Google Plus * Twitter * Site
Label : Spider Rock Promotions
Review by Tony Cannella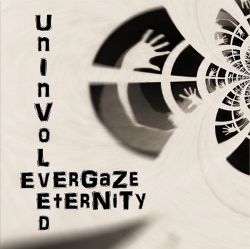 Italy's Symphonic/Gothic metal duo Evergaze Eternity began in 2007. In 2009 they released their "Incompatible Existences" demo. This brings us to 2011 and their full-length debut "Uninvolved". The band is led by two main members. Valeria Salerno on vocals and Giovanni Ferranti on synths comprise the duo that makes up Evergaze Eternity. Some guest musicians were included to help round out the band on "Uninvolved". From the very outset, "Uninvolved" is fueled by heavy guitar riffs and pounding rhythms, with the high-pitched vocals of Valeria Salerno leading the charge. The opening trio of "No Regrets", "Insane" and "Crumbling" starts "Uninvolved" off with a good shot of adrenaline. For "In a Corner", Evergaze Eternity is joined by Eldritch front man Terence Holler. This is one of the highlights and the song has a bit of a "Countdown to Extinction" era Megadeth vibe. Another highlight is a surprising cover of the Madonna song "Live to Tell". As one would expect, this is a totally metalized version of this song that bears little resemblance to the original. The song is hallmarked by some plodding Black Sabbath style guitar riffs and some cool Type O Negative-ish keyboard parts. Evergaze Eternity has totally made this song their own and it blows away the original (in my opinion). Other significant moments include: "In Vain", "Memories" and "Still Waiting". My one complaint – and this is just my opinion – is that perhaps, just maybe the songs are all in a similar vein and there is no real variety throughout. Again, that is just my opinion and fans may love the barrage of heavy riffs contained on "Uninvolved". One thing is for sure, there is no lack of energy and enthusiasm displayed by Evergaze Eternity. This band from Italy I am sure will be heard from in the future and prove they have a lot to offer the metal community.
Rating – 73/100
Tracklist
No Regrets
Insane
Crumbling
In a Corner (feat. Terence Holler of Eldritch)
In Vain
Live to Tell (Madonna cover)
The Hive
Memories
Still Waiting
Uninvolved
Line Up
Valeria Salerno – Lead and Backing Vocals
Giovanni Ferranti – Synths, FX, Programming
Marco Ribecai – All guitars and Bass (except "Memories") & Additional FX and programming (Additional Musician)
Lorenzo Carpita – Bass on "Memories" (Additional Musician)
Dave Simeone – Drums and percussions (Additional Musician)
Links
MySpace * ReverbNation * Facebook * Twitter
6 color styles available:

Style switcher only on this demo version. Theme styles can be changed from Options page.