Browsing articles tagged with " 73"
Label: Woodhouse Records/Feuerbaum Records
Review by Tony Cannella
For anyone who still hangs on to the notion that metal is a limiting art form than I would direct them to the female fronted German trio Via Obscura and their new album "Gedanken". Make no mistake about it, this is not uplifting head banging metal, instead Via Obscura are little bit more on the dark and melancholic side.
The songs on "Gedanken" are ethereal, eclectic and emotional. The band fuses heavy doom-metal like riffs with the wispy melancholic vocals of Anne S. Thinius to create an alternative blend of some unique metal music. The tempo is slower paced for the most part and the vibe is foreboding from the very beginning of the opening track "Moment". The eerie sounding organ intros the next track "Dreck" as some monstrously heavy riffs joins in. Continue reading »
Independent Release
Review by Tony Cannella
The Los Angeles, California based Avant-Garde Progressive metal band Phavian released their debut in 2009, followed by the previously reviewed "Foreword" EP in 2011, now these musical wizards return with their sophomore full-length album "Meridian I". For a prog release the album last only 37-minutes and features 6-songs. I liked the previous EP, maybe a tad more than this one, but "Meridian I" displays some serious musicality and shouldn't be dismissed.
The band is only too eager to show off their musical chops like in the heavy, pounding instrumental opener "Slate". Phavian also plays with various tempos as the next track "Cobalt and Crimson" demonstrates with its slow, heavy and dreamy pacing, and also the introduction the clean vocals of Elizabeth Matson. Continue reading »
Label : Angelina Records
Review by Tony Cannella
Some fans may remember Maxine Petrucci from the early 80's metal band Madame X. They had a minor hit on MTV with the anthem "High in High School". Some may also know of her due to her sister, Vixen drummer Roxy Petrucci. She also has a bit of a solo career going and has just released her third album "Back to the Garden". This is a heavy, eclectic and unique mish-mash of metal styles, and to say the least it is also a high energy, guitar driven affair.
"Back to the Garden" may be a polarizing album. Fans are either going to love it or maybe not so much. One of the divisive things about it is bound to be Maxine Petrucci's vocals. Continue reading »
Independent Release
Review by Tony Cannella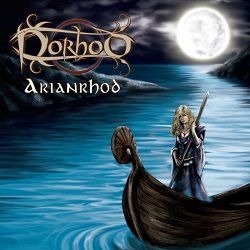 From Italy (a metal band from Italy? What a surprise) comes the conceptual symphonic death metal band Norhod. The band was born in the summer of 2009 with original members: Michele Tolomei (keyboards), Giacomo Casa (growls), Giacomo Vanucci (guitars) and Andrea Stefani (guitars). After solidifying their line-up with a few new members including female vocalist Clara Ceccarelli, Norhod has released their independently released EP "Arianrhod". "Arianrhod" is a concept EP based on the Homonymous Celtic goddess, but at its core the story is about the age old struggle between good and evil. Norhod utilizes beauty and the beast style vocals with Clara's clean, soaring vocals contrasting with Giacoma Casa's growls. The music performed by Norhod does lend itself very well for storytelling – as it does create a special atmosphere throughout the 22-minutes worth of playing time. The intro "Caer Arianrhod" sets the stage for the bombastic opener "Doomed to Ashes". The two vocal styles are split pretty evenly. For the most part, "Arianrhod" combines melancholic metal with folk metal influences and tempo changes; "Last Sundown" is a pretty solid indicator of what is good about the album. The album is completed with the pounding title song "Arianrhod". I can already tell that the vocals will be an acquired taste for many – they will either be loved or hated – especially Clara's high-pitched vocal delivery. The growler Giacoma Casa will definitely appeal to the death metal side of the metal spectrum. Norhod are far from being a mainstream band. The songs on "Arianrhod" are definitely going to appeal to a select audience, but fans who like a little bit of melancholy with their metal, should like what they find from this Italian band.
Rating – 73/100
Tracklist
Caer Arianrhod

Doomed to Oblivion

Lily's Ashes

Last Sundown

Arianrhod
Line Up
Clara Ceccarelli – Vocals

Giacomo Casa – Growls

Giacomo Vanucci – Guitars

Andrea Stefani – Guitars

Michele Tolomei – Keyboards

Matteo Giusti – Bass

Francesco Aytano – Drums
Links
MySpace * BandCamp * Facebook * Twitter
Label: Wormhole Death/Dreamcell 11

Review by Tony Cannella
Levania is a Gothic metal band from Italy. The band formed in 2007 and has previously released three demos, with the first one coming only a year after their creation in 2008. They have just released their debut full-length titled "Parasynthesis". Levania employs three lead singers each of varying styles. First you have the female angelic and semi-operatic vocals of Ligeia. She is joined by guitarist Raven and Keyboardist Still, who supply extreme male vocals (both growly and screaming) and the other one adds clean, male Gothic-y type vocals. "Midnight of Silence" gets us started and straight away, it is one of the better songs. It has a doom-y, melancholic feel at the start, before speeding up. All three vocalists are introduced on this song, which is pretty cool. First you have the female vocalist and extreme vocals singing together, than the extreme and male gothic vocals together. The song includes a number of tempo changes. I would describe the general vibe of "Parasynthesis" as melancholy. The synth opening of the next song "Eroica" reminded me of early Nightwish. The song starts with some narration by the male gothic voice and he is joined by Ligeia. This song reminded me a little of Vintersorg and it actually has an almost progressive feel to it. "Natural Motion" starts with a heavy straight-forward guitar riff accompanied by violin and it moves at a rapid pace. Again, all three vocalists are represented on this track, a tactic that they use throughout "Parasynthesis" and it works quite well. Other highlights includes: "The Narrow Way of Juliette", "Basteth's Kiss" and the "Agharti" trilogy. There is some really good stuff on "Parasynthesis" and I would have no problem recommending Levania to my Gothic metal friends.
Rating – 73/100
Tracklist
Midnight of Silence
Eroica
Natural Motion
The Narrow Way of Juliette
Basteth's Kiss
Agharti I
Agharti II
Agharti III
Cathago Nova
Sybyl of the Dark
Line Up
Ligeia – Vocals
Raven – Guitars & Vocals
Still – Keyboards & Vocals
Fade – Bass
Gianz – Drums
Links
MySpace * Facebook * Twitter * Site
6 color styles available:

Style switcher only on this demo version. Theme styles can be changed from Options page.