Browsing articles tagged with " 80"
Independent Release
Review by Tony Cannella
High Fighter is the new project featuring ex-A Million Miles vocalist Mona Miluski. On their debut EP "The Goat Ritual" Mona is joined by former members of A Million Miles, Buffalo Hump and Pyogenisis to create a heavy as hell stoner/doom metal offering that is sure to please fans who like their metal heavy with a blues influence.
With the opening tune "2Steps Blueskill", High Fighter heads straight for the jugular with a song that starts off heavy but only gets heavier. The next track "Breaking Goat Mountains" has a distinctive riff running through the duration of the song and the band doesn't take the foot off the pedal. From there the band segues into "Black Waters" the best song in my opinion. Continue reading »
Label: Irond
Review by Vard Aman
Anckora formed in Moscow in 2006, initially as a more standard Symphonic Metal band before morphing into the Industrial Metal sound they have now. They released a demo in 2007 and a couple of EPs in 2010 before releasing their debut album "Машина" in 2011. That's pronounced "Mashina", which means "Machine" in the context of this album (rather than "Car", which is its most common use in Russia). They followed this up with their second album "Открой Мне Дверь" in 2013 ("Otkroy Mne Dver", which roughly translates as open the door for me). Now they have a new EP out, "Экстрим" ( "Extreme").
And, yes, it is pretty extreme! Anckora have mastered a harsh and heavy Cyber/Industrial Metal sound, greatly emphasized by Katrin Antares's rasping, snarling vocals; heavy Rammstein-eque guitars; and driving rhythms. Continue reading »
Label: Raging Planet Records
Review by Tony Cannella
The Portuguese atmospheric rock/metal band CineMuerte released their last full-length "Wild Grown" in 2011, prior to that they released "Aurora Core" in 2008, I guess they release new material every three years or so. If they can keep coming up with quality songs like this than every three years is okay with me because this is good stuff.
"DHIST" features 5-songs and almost 30-minutes worth of high quality material with a dark, slightly progressive goth vibe, with modern rock elements as well. "Dog" gets things off to a trippy start and is followed by the alternative flavor of "Heaven's Not Too Far". The final song "The Park" is my favorite and a great way to end things. In between we have quality songs like "I'm Too Much Here Without You" and "Shinning Shadows in the Sand". Continue reading »
Label: Scarlet Records
Review by Tony Cannella
The Italian queen of horror metal Cadaveria returns with her 5th album "Silence" and silent is one thing she is not. Beginning with "Velo (The Other Side of Hate)", "Silence" is off to a wicked start.
Cadaveria is back with her mixture of extreme and clean singing as she alternates between the two. Musically, the band continues with its mix of Black Metal and Gothic Metal to create a dark piece of theater. Overall, "Silence" is a very strong record and songs like "Carnival of Doom", "Free Spirit" and "Existence" are huge highlights. My favorite track however is the brutal "Out Loud".
With "Silence", Cadaveria have released a whirlwind of an album which incorporates different styles but is always mindful to create a dark and sinister vibe. Continue reading »
Label: Napalm Records
Review by Tony Cannella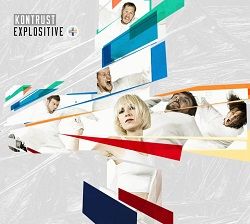 A couple of words I would use to describe the Austrian band Kontrust are: quirky, unique and… fun. OK, that's more than a couple of words but really there are probably a lot more adjectives you could find to describe this band. I'm not even sure how you would categorize them, alternative rock/metal? Dance rock? Reggae metal? Electronica? Polka metal? It certainly is an eclectic mix that Kontrust delivers on their new album, "Explositive" and it is definitely way different than what we would normally hear from Napalm Records.
Songs like "Dance", "Why", "I Freak On", "Bulldozer" and "Play!" highlights Kontrust's unique, fearless attitude. The band has a male and female singer with totally different styles. Continue reading »
6 color styles available:

Style switcher only on this demo version. Theme styles can be changed from Options page.
Archives
Calendar