Browsing articles tagged with " 80"
Label: InVogue Records
Review by Tony Cannella
Courage My Love is a powerhouse pop/punk trio from Kitchener, Ontario, Canada. The band is led by the twin sisters, Mercedes Arn-Horn (Guitar/Vocals) and Phoenix Arn-Horn (drums and vocals). Bassist Brandon Lockwood completes the trio. CML were formed in 2009 and in 2011 released their debut EP "For Now" and since then have released several more EPS including "Becoming" which has been re-released with more material thus making it a full-length for our listening pleasure.
The intro "All We Are" opens the disc and gives way to the excellent "Skin & Bone". This song has a great melodic heavy pop vibe to it and is one the standout tracks on "Becoming". For the next song "Cold Blooded" the band ramps up the power and it becomes an instantly likeable Paramore style rocker. Continue reading »
Label: Warner Music
Review by Tony Cannella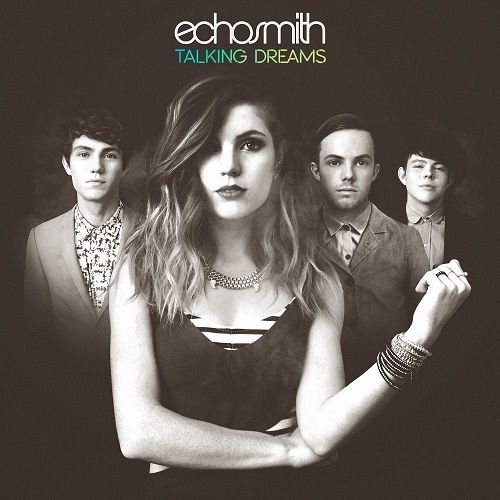 Echosmith is a band comprised of four siblings – ranging in age from 16-21. They released their debut album "Talking Dreams" in 2013  (now re-released in 2014 with a different cover and a couple of bonus track) and the record features an infectious blend of rock, pop and alternative music which is played with a ton of sincerity and besides that it is just good music played by a group of musicians who are talented beyond their years.
"Talking Dreams" is an album of undeniable pop hooks and 17 year old vocalist Sydney Sierota's Hayley Williams style vocals help to make it an enjoyable listen. From the opening track "Come Together" the band sets the mood. "Let's Love" continues things in the same direction as the previous tune. Continue reading »
Label: Inside Out
Review by Tony Cannella
Lonely Robot is the progressive rock project featuring John Mitchell. On the new album "Please Come Home" John Mitchell presents an album with a Marillion meets Peter Gabriel vibe. A number of special guests are enlisted helping to make this a strong record.
Make no mistake about it, Lonely Robot is good old fashioned progressive rock. In addition to vocals, John Mitchell also contributes on guitar, bass and keyboards. Some of the guests who can be found here include: Kim Seviour from Touchstone, Heather Findlay (former Mostly Autumn), Steve Hogarth from Marillion and Nik Kershaw among others. It's a great cast of talent, no doubt about it. Does that translate to a great album? If it's not great, it's certainly very good. Continue reading »
Label: Ipecac Recordings
Review by Alessandra Cognetta
"Cry Is For The Flies" is the second album of the Mexican duo Le Butcherettes. For those who are familiar with Le Butcherettes' first album, "Sin Sin Sin" (2011), this is a worthy successor. New listeners may be surprised by the almost dissonant tunes of the first few minutes, but the unexpected vocal lines keep the opening more enticing than ever.
The energetic combination of rough guitar and bass sounds is a perfect base for Teri's voice to shine through, like in "Demon Stuck In Your Eye", where hard rock and punk come together in a defiant, exciting performance. A different groove can be found in "My Child", a well-placed break after the ruthless energy of the first two tracks. Another example of how Le Butcherettes grew and evolved in the past few years is the bizarre "Boulders Love over Layers of Rock", a clear display of the band's versatility. Continue reading »
Independent Release
Review by Tony Cannella
Evenmore is a melodic symphonic/power metal band from Switzerland. Their debut EP is appropriately titled "The Beginning". "The curse is coming… Run" is the opening line to the fantastic first track "Willow". The song has a mid-paced vibe with lead vocalist Melissa Bonny's voice soaring along with the music. "Winter is Over" is next and pretty much picks up where the previous song left off. The track has a similar feel to "Willow" and features a pretty cool riff along with a great solo from Landry Pernet. "The Black Knight" brings the heaviness up a few notches with a monster opening riff and some mail death metal grows courtesy of Jonathan Pellet. "Sailor" completes the 4-song 18-minute EP with some great, melodic and heavy riffing as the track brings "The Beginning" to a galloping conclusion.  Continue reading »
6 color styles available:

Style switcher only on this demo version. Theme styles can be changed from Options page.