Browsing articles tagged with " 80"
Label: Atlantic Records / [GOOD}CROOK
Review by Luisa Mercier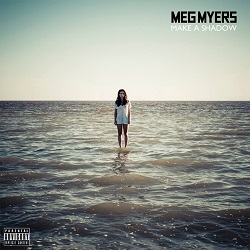 I came to know Meg Myers some months ago when she released "Heart, Heart, Head" and a kind friend pointed her out to me. I was stunned after the first listen and it was love at first sight with the related video. The song, included in this EP, is one of the most passional, felt tracks I ever heard in my life. She literally screams her heart out and the video is the perfect companion of such masterpiece. You must run to YouTube or to I-Tunes to understand what I mean. The rest of the EP is equally good and very varied. Actually another highlight is the opener "Desire" which contains some explicit language that perfectly fits the message of the song. Again, go and take a look at the beautiful video that matches this groovy, guitar tinged anthem laced by her sexy vocals.  Continue reading »
Label: Spider Rock Promotion
Review by Tony Cannella
Italy's Kiara Laetitia was previously the lead singer for the symphonic metal band Skylark from 2003-2011. She sang on five albums with the band before departing. Now she resurfaces with a new 4-song, 20-minute EP entitled, "Fight Now". For this EP Kiara has collaborated with Virgin Steele frontman David Defeis on the writing and production end of things and "Fight Now" is the impressive result.
The opening track "Fight Now" is a great, anthemic track and one that really gets the heart racing and blood pumping. Next is "I'm not God" which is a mid-tempo rock song. "Miss You Again" is a pretty cool moody ballad with a touch of melancholy. The whole thing is completed with an excellent cover of the Virgin Steele song "Victory is Mine". Continue reading »
Label: Pesanta Urfolk
Review by Luisa Mercier
The Sterling Sisters are one of those bands that cannot go unnoticed. I never heard of them before, but as soon as I started listening I was captured. They propose an intruguing mixture of gothic rock and American folk, that I have really learned to appreciate over the last two years. The title track is very representative of the whole record somehow: pounding rhytms, dark mood, male vocals (courtesy of George Cessna) backed by the fascinating female choirs of Scout Paré-Phillips. "Last Run" in entirely entrusted to female vocals and it is a gloomy, mysterious ballad that will bring you straight to one of haunted houses that populate so many stories written two centuries ago. Continue reading »
Label: Nuclear Blast Records
Review by Cristina Gregori
The finnish all female rockers, Indica, are ready to explode with a brand new album. After their 5th album "A Way Away", the first album entirely in English, and a big tour with symphonic metal masters Nightwish in 2009, Indica is ready to shine (again) with the new full length. The album welcomes us with "Mountain Made of Stone", an atmospheric tune. With the second track, "Uncovered", you can feel how Jonsu's vocals improved and I really liked it, then leads us to "A Definite Maybe", the forthcoming single and it simply sounds typically Indica, so very catchy.  The best song is surely "Goodbye to Berlin", is the semiballad that you won't expect: an energetic start that with a coup de théâtre unexpectedly slow down for its finale. "Hush Now Baby" starts with a piano intro, it's pretty symphonic, almost touching and its vocal part is amazing. Continue reading »
Label: Edge Records/Ravenheart Records
Review by Tony Cannella
One thing I have learned is to never judge a band on first listen. A perfect example of this is the Slovakian band Storyum. After the first listen to their 2010 album "Insomnia", I was less than impressed, but after giving it one more listen, then another, then another… well you get the point, I grew to really like this album and my rating kept going up and up with each subsequent listen.
The female vocals on "Insomnia" is performed by Suzy Isis Morovics and Alexandra Oroszova, with some male vocals present as well. Their sound features a mixture of pop, alternative rock and more straight-forward melodic hard rock. The eerie "Intro" segues into the upbeat heavy pop swagger of "Walk the Way", which is followed by the sexy "Fire". "Don't Leave Me Alone" is another song that has a pop style and a melody that is undeniably wicked. Continue reading »
6 color styles available:

Style switcher only on this demo version. Theme styles can be changed from Options page.