Browsing articles tagged with " 80"
Label: Frontiers Records
Review by Warren Mayocchi
Amanda Somerville and Michael Kiske have released a collaboration with a heroic title and similarly themed lyrical content. This is a fun album – combine a couple of great voices with a solid backing band, give them songs of heroism and inspiration, then listen to the powerful output. The music on the album stays with the rock sound displayed in the couple of videos that have been created for "City of Heroes" and "Walk on Water". To my ears, the latter is the best track on the album.
There is variety in the sound of the band with regular musical highlights from all musicians. Mostly the album has an energetic melodic hard rock approach. Continue reading »
Independent Release
Review by Tony Cannella
Selene is a symphonic metal band from Northern Ireland. The band was formed in March of 2013 by guitarist John Connor and vocalist Shonagh Lyons. Shortly after their inception Selene released their debut EP "Among the Frozen", which was well received. After a few single releases, Selene returns with a new 6-song, 27-minute EP entitled "Paradise Over".
Selene carries a big, dramatic symphonic metal style and the operatic vocals of Shonagh Lyons have earned them rave reviews and a comparison to Nightwish. The opening song, "Facing the Mirror" pretty much sets the table and will do nothing to dissuade those Nightwish comparisons. The next track, "Not Enough" starts out reminding me of early Queensryche a bit before settling into a nice mid-tempo groove as Shonagh joins in with her vocals. Continue reading »
Independent Release
Review by Tony Cannella
I first heard of Flowing River by way of their initial single "Poison Rose" back in 2010. At the time the band was located in Portugal, now – I guess – they have relocated to England. Whatever the case, there is not much info on the internet about this band. This is why I really wish bands would include a bio or something when sending in their stuff for review, so if I got any of the background on Flowing River wrong, I apologize, but next time please send a bio. Now, on to their debut EP "Inner Strength". As I mentioned earlier they have only previously released a one song single. With "Inner Strength" the band has released 20-minutes and 5-songs, so I feel this will probably be a better sampling of their style. And what is their style? I would say they band has a sort of dramatic, gothic vibe, not unlike say, Evanescence. Continue reading »
Label: InVogue Records
Review by Tony Cannella
Courage My Love is a powerhouse pop/punk trio from Kitchener, Ontario, Canada. The band is led by the twin sisters, Mercedes Arn-Horn (Guitar/Vocals) and Phoenix Arn-Horn (drums and vocals). Bassist Brandon Lockwood completes the trio. CML were formed in 2009 and in 2011 released their debut EP "For Now" and since then have released several more EPS including "Becoming" which has been re-released with more material thus making it a full-length for our listening pleasure.
The intro "All We Are" opens the disc and gives way to the excellent "Skin & Bone". This song has a great melodic heavy pop vibe to it and is one the standout tracks on "Becoming". For the next song "Cold Blooded" the band ramps up the power and it becomes an instantly likeable Paramore style rocker. Continue reading »
Label: Warner Music
Review by Tony Cannella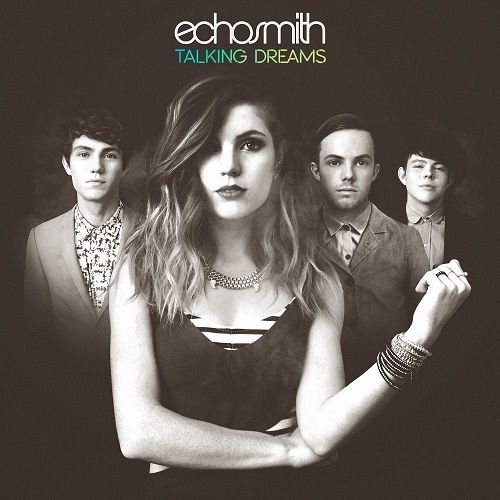 Echosmith is a band comprised of four siblings – ranging in age from 16-21. They released their debut album "Talking Dreams" in 2013  (now re-released in 2014 with a different cover and a couple of bonus track) and the record features an infectious blend of rock, pop and alternative music which is played with a ton of sincerity and besides that it is just good music played by a group of musicians who are talented beyond their years.
"Talking Dreams" is an album of undeniable pop hooks and 17 year old vocalist Sydney Sierota's Hayley Williams style vocals help to make it an enjoyable listen. From the opening track "Come Together" the band sets the mood. "Let's Love" continues things in the same direction as the previous tune. Continue reading »
6 color styles available:

Style switcher only on this demo version. Theme styles can be changed from Options page.