Browsing articles tagged with " 83"
Independent Release
Review by Tony Cannella
It is really hard to get a feel for an artist based on two songs. It's even harder when it is two different versions of the same song. So it goes for the Belgian artist known as Gloria in Excelsis. But you know what? After listening to her new single "Cage", I have to say that I really like what I've heard. Gloria had previously been with band Guren and now sets out on her own under the moniker Gloria in Excelsis and "Cage" is her debut single. The song "Cage" really has a heavy thrashy vibe with plenty of power and blunt force behind it. The pace is hectic and heavy, yet still melodic. The single comes with two versions of the song, one sung in English and the other in Japanese. Either way the song packs a mean wallop. Continue reading »
Label: Warner Music Canada
Review by Tony Cannella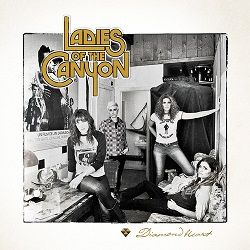 It's time to deviate a little from the norm of what we usually cover here at Femme Metal. The all female band Ladies of the Canyon hails from Canada and they play roots rock with a definite country vibe. If nothing else it shows how vast the female fronted musical genre is and can be. The band released their debut album "Haunted Woman" in 2010 and now without further adieu, lets delve into their sophomore release, "Diamond Heart".
"Diamond Heart" is 49-minutes worth of roots-y rock music with a definite country influence as I mentioned above. The album ebbs and flows flawlessly and there is no doubt that these ladies have mastered their craft to perfection. Overall this is a quality musical output from the opening of the excellent "You and All Your Famous Friends" to the closing number "Alameda, 1947", Ladies of the Canyon brings back a 70s vibe and give it their own current twist. Continue reading »
Label: Massacre Records
Review by Tony Cannella
The German symphonic power metal band Arven first came on the metal radar in 2008 with their self-titled demo – and this hinted at great promise. In 2011 the band pushed it up a notch with their full-length debut "Music of Light". Now the band returns with album number 3, "Black is the Colour".
On "Black is the Colour" Arven continues to combine elements of symphonic power metal and the inclusion of violin on a few songs gives it an added folk element. Getting started… the powerhouse duo of "Believe" and "Don't Look Back" are simply huge – majestically so. "Rainsong" is next and begins as a ballad before evolving into a mid-tempo track featuring some cool orchestration. Lead vocalist Carina Hanselmann provides her soprano style throughout the CD. Continue reading »
Label: Victory Records
Review by Tony Cannella
Originally released in 2003, "Dance of the Wicked" is the debut album from the female fronted Swedish metal band Sister Sin. The album has been re-issued via the fine folks at Victory Records and it's about time too. In addition to the full album you get four bonus tracks to complete this newer version.
"Dance of the Wicked" is Sister Sin at their most raw. From the opener, "Kiss the Sky" to songs like "Fall Into My Dreams", "Love Lies", "Dirty Damn I" and a cover of The Rolling Stones classic "Paint it Black", the band provides material that is melodic, heavy and guitar driven… Not much has changed in that respect. Continue reading »
Independent Release
Review by Tony Cannella
Formed in Brisbane, Australia in 2010, the symphonic metal band Awaken Solace has just released their debut album "In Nightfall's Embrace" and it is one of the more ambitious debut albums I've heard in quite some time. "In Nightfall's Embrace" features 14-songs and over 70-minutes of music with epic, cinematic arrangements and classy metal.
"In Nightfall's Embrace" comes with some cool packaging and two CDs. The first disc is the normal album, while the second disc features symphony versions of the songs. From the packaging to the music, it's all well done and it is obvious that Awaken Solace put a lot of hard work into this. The opener "Moonlight's Wake" begins ominously as the kick-in and transforms this into a bouncy, up-tempo first song. Continue reading »
6 color styles available:

Style switcher only on this demo version. Theme styles can be changed from Options page.