Browsing articles tagged with " 95"
Label: Black Lodge Records
Review by Tony Cannella
The Swedish all Female heavy metal band Hysterica returns with their second album "The Art of Metal". Their debut "Metalwar" was issued in 2009, with their follow-up, Hysterica has grown so much in the three years from between their first album and this new one. As good as "Metalwar" was/is, "The Art of Metal" is a huge leap forward for this excellent band.
One obvious improvement that Hysterica has made with "The Art of Metal" is the song writing end of things. Lyrically and musically the band has come so far in the last three years between albums and it shows. Hysterica has also shown that they could be extremely melodic whilst still being very heavy. Continue reading »
Label: SPV/Steamhammer
Review by Tony Cannella
When rock legend Lita Ford released her album "Living Like a Runaway" on an unsuspecting public, there was really no reason to expect greatness. I mean, she had been out of the limelight for many years and her previous album "Wicked Wonderland" did nothing to elicit any kind of excitement in the metal buying public at large. Then came "Living Like a Runaway" and not only was it the perfect "true" comeback album, but I would put it right up there with all of Lita's classics. So what's the next step? For Lita, it's releasing an equally exciting live album that captures the excitement and energy surrounding Lita's return to form on the "LLAR" tour. "The Bitch is Back… Live" is a continuation of "Living Like a Runaway" with Lita and her killer band in all their live glory. Continue reading »
Label: Endless Winter
Review by Vard Aman
I have waxed lyrical before about well played Doom Metal, but as it's been a while let me remind you. Doom Metal is one of the most extreme forms of music around; slow, powerful, stirring, epic and dark. Doom Metal is usually associated with scenarios of despair, sombreness, emptiness and grief; but when played well, it creates an uplifting release through these scenarios: a blissful oneness with the despair and the emptiness. It opens the darkness up so that you may own it and rule it: the powerful, yet haunting atmospheric and melodic sound of desolation consumes you, and as it does so it lifts you up above it as its master and holds you there for as long as you are willing to be ruler of the darkened depths, instead of a mere overlooked unit in the overcrowded shallows.
"Farewell, your life erases me. Forever fail. Forever die…" Continue reading »
Label: EarMusic
Review by Tony Cannella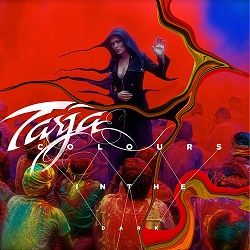 On her 3rd solo album, "Colours in the Dark", Tarja Turunen continues to hit her stride. Make no mistake about it, this is indeed a Tarja album and her vocals are as enchanting as ever. She continues to surround herself with some of the best musicians and collaborators the rock and metal world has to offer, but at the end of the day the major selling point is going to be Tarja's voice and not to be over analytical; Tarja has come through big time with "Colours in the Dark".
The opener "Victim of Ritual" begins with marching drums and quickly evolves into a bombastic track that is classic Tarja. Next we have the excellent "500 Letters". Continue reading »
Label: Metalism Records
Review by Vard Aman
WitchcrafT are one of those bands that you know you can always trust even though you know they're not going produce the same thing twice. Their 2011 album, "Ash", was a Progressive Metal masterpiece; and it wasn't standard Prog Metal fare either, but something much, much darker. In 2012, they released an EP called "Parallel Worlds" (you can read the review here) which moved away from Progressive Metal and more into the realm of Dark Experimental (Gothic) Metal, adding a whole range of new elements to their sound. They also moved away from English lyrics and now sing in their native Russian. This has worked especially well with WitchcrafT's music, because their new sound is generally harsher and the harsher qualities of the Russian language compliment it perfectly (like German works best with Rammstein), and that, as well as their change in style has given their vocalist, Ludmila Angel, a lot more freedom to experiment ("Riot Angggl" – read the previous review). Continue reading »
6 color styles available:

Style switcher only on this demo version. Theme styles can be changed from Options page.