Browsing articles tagged with " afm"
Label: AFM Records
Review by Tony Cannella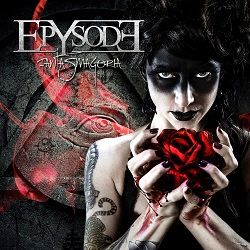 For their second epic album, "Fantasmagoria", Epysode main man Samuel Arkan has assembled another impressive array of metal musicians to complete his vision. When their first album "Obsessions" was released in 2011 it had all the ear marks of another all star metal project, yet it proved to be something more than that. With "Fantasmagoria", Epysode takes it a step further and has crafted an intensely dark, symphonic/progressive metal masterpiece. Rather than each musician recording their parts at their various homes, they all convened at Noise Factory studios in Belgium to record their parts, which is unusual in this day and age and it certainly goes a long way towards giving "Fantasmagoria" a unified band feeling, which according to their bio was their intention.  Continue reading »
Label : AFM Records
Review by Tony Cannella
Is it overstating things when I say that the new album from Romania's Magica is the best album of their career? That's rhetorical of course and to say something is the best is purely subjective. In my opinion the new Magica album "Center of the Great Unknown" is the best of their career which began in 2002 and their debut album "The Scroll of Stone". Following the release of their last album "Dark Diary", Magica replaced their keyboardist with a second guitarist and has begun to shift more towards power metal than symphonic metal.
"Center of the Great Unknown" is pure power metal and the most focused album in Magica's career. Lead singer Ana Mladinovici is sounding great and is one of the best female vocalists in the power metal genre. The spoken intro leads us into the opener "Center of the Great Unknown" as the listener is met with rapid fire riffing, guitar harmonies and Ana's powerful vocals. Continue reading »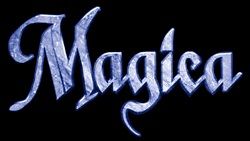 Interview by Vard Aman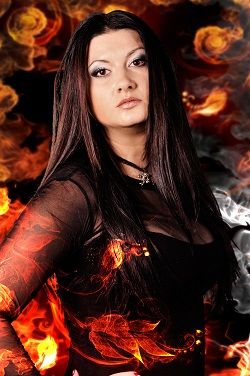 We've already interview Romania's Power Metal band Magica  during the promo of their fifth album "Dark Diary", now it's time for an update and we've asked few questions to the leading lady Ana Mladinovici about the new album "Center of the Great Unknown". What will be this center of the great unknown? Well, let's read it from her words….
Hi Ana, welcome back to Femme Metal Webzine. Robin interviewed you in 2010 about your previous album, "Dark Diary". So, I hope you've been happy and going from strength to strength since…. To start off, did "Dark Diary" do as well as you had hoped?
Hello FMW! It's good to be back! I think that "Dark Diary" was the Magica album that pleased the greatest number of people. All the reviews were great and many fans congratulated us for it. But that's that. We hope that it helped getting Magica noticed around the world.
For those who are new to Magica, and for those who are yet to discover you; how would you describe the Magica sound?
We always think (and tell everyone) that our music is power metal, even though there are a lot of people that call us symphonic, or even gothic as well. The mere fact that we use a lyrical voice is not enough to categorise a genre. Continue reading »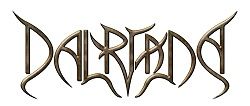 Interview by Ed MacLaren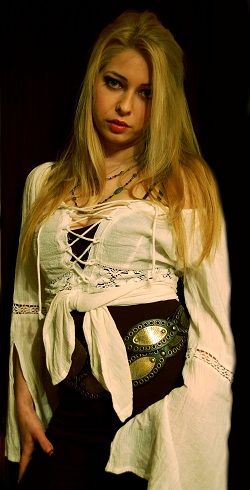 Music has always been an amalgamation of styles and influences and metal is no exception. By channelling folk through the heavy riffs of metal, Hungary's Dalriada have combined the best attributes of both styles with intricate and unique results. With their latest release, "Ígéret", Dalriada prove without a doubt that you can celebrate culture while still bludgeoning the eardrums. Dalriada's vocalist Laura Binder took some time to speak to Femme Metal about the challenge of expressing Hungarian folklore in a metal framework as well as the band's goals for "Ígéret".
The new album "Ígéret" on AFM is an album that really transcends language. You don't have to understand a word of it to feel the energy and passion in the music – and that's no small achievement. Congratulations on another great album!
Thanks a lot on behalf of the whole band! We all put a tremendous amount of work into this album. I tried really hard to add more of myself, ourselves, my style and our combined style to it and to share some of the emotions I felt while writing these songs with the whole band.
You choose to stay true to your folk tradition and write and sing in your native tongue. Many bands adopt English lyrics to reach a wider audience. What are the advantages and disadvantages of singing in Hungarian or is it even an issue with the band?
Not an issue really! We've been writing our lyrics in our native Hungarian since the beginning back in 1998, and that isn't realistically going to change.The Hungarian language in itself sounds quite exotic already to the western European ear and Hungarian folk music isn't very well known in your region either, so I think it gives us something that is totally unique. This is only one of the many things we're able to use to strengthen our work: it's a way of honouring our own culture as well. If you look very closely, you'll probably find more similarities between Swedish, Finnish or German folk metal bands than you'll find comparing us with them.
Technically, folk music isn't really about the type of instrumentation but the common people reflecting the traditional forms of a society. Do you and Dalriada consider yourselves a modern folk band?
Yes, I think we accept that but we also embrace being tagged as a folk metal band too because in terms of a definition of our work, this sounds about right. Having said that, we operate with lots of other musical elements too and we aspire to diversity and variety, whilst adhering to our principles, so I always try to ask people to look below the surface as well!
The music on "Ígéret" feels very 'celebratory'. Is this how Dalriada views its country's history?
Well, our home country's history abounds with severe, tragic events, yet much of it is extremely heroic too, so in a way you're right! Peace was extremely rare. Hungary never went to war to conquer as such – although it had the power to do so – but very often to defend its people from outside foes. Many of our songs tell about our ancestors' bravery and self-sacrifice and therefore their character is quite celebratory and epic; yes!
How do you determine your source material for each album?
It depends; it's very different. In many cases, it's a single folk song, a poem or a good book that starts the process of song writing. But, sometimes we knowingly adapt a specific folk song or melody too – a particular tale or legend. There are some personally very inspiring songs on our new album "Ígéret".
Is Dalriada making an igéret – that's a promise in Hungarian I believe – with this album? Is it to anyone in particular?
Yes, in a way, but it's a pointer as well. This album is for anybody who is open minded and interested in modern metal, combined with eastern European folklore and culture and especially Hungarian folklore and musical traditions alike. We don't expect a sudden flash of brilliance and increase in our popularity abroad; our goal with this album is to put ourselves on stages across Europe (and maybe beyond) and to become a viable part of the world's "metal heartbeat"!
You and Andras Ficzek serve up some excellent vocal performances and harmonies on "Ígéret" – especially on tracks like "Igazi Tuz" and "Leszek A Hold". Did you two have any particular vocal strategies when recording the album?
Thanks a lot! Basically, we are our own producers; when Andris sings his parts at the studio, I regularly give him instructions and feedback and vice versa. We can be quite productive when working together; it's a result of long lasting, constant teamwork, and we compose all the vocal and choir parts this way. We have no specific plan; I, for my part, try to utilise my abilities as best as I can to add something new and extraordinary to the whole, for what the songs require and he's also trying to always give each and every song its own unique note.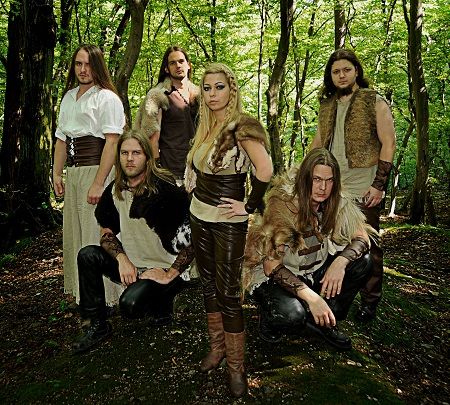 You even did some grunting on your part! How did that go? Had you done this before or did you have to learn how to do it? Hopefully your throat held up well!
Yes, it's not hard… I've actually used this technique on stage for years now and even on our album "Szelek" from 2008 where I had a small screaming part. The new album is truly the first one with longer parts, that's true, but I didn't have to learn or even practice this kind of vocal technique. It just bursts out of me, naturally. In one of our new songs – "Hajdútánc" – I alternate, time and again, between screams and clean vocals, and it drives the crowd crazy! (Laughs)
The traditional "Intro" and "Outro" were very interesting bookends to the album. Were they functioning like a book's prologue and epilogue, setting up and closing the stories in between?
Exactly and that was definitely our goal: to create some kind of frame for the album. The "Intro" – chosen and played by the Fajkusz Band – a traditional Hungarian folk music trio that has constantly backed Dalriada on stage since 2009 – is a fragment of an old poem written by Tinódi Lantos Sebestyén who's a Hungarian soldier/poet from the 16th century. The "Outro" is a part of the song "Leszek A Hold" with shaman drums.
Tracks like "Mennyei Harang" and "Ígéret" incorporate lyrical and melodic elements of older traditional folk songs in your music. How important is it to maintain a connection between the modern and your traditional folklore?
Extremely. When we first started playing back in 1998 in a slightly different band to Dalriada, our primary goal was to mix Hungarian folk melodies and some classical music elements with traditional heavy metal. Of course, this idea wasn't new since there were some outstanding folk metal albums by bands such as Skyclad and especially Amorphis who were writing masterpieces of this genre with their album "Elegy" in 1996. But, although we wanted to create something similar we knew we had to better this and add to it our main idea of expressing our love for Hungarian folk music and folklore. We mustn't forget to mention the Fajkusz Band in this regard too, since they too have helped us a lot in combining these styles in an authentic and real way.
"True Fire" is a tribute to a fallen band mate, Peter Hende. What a great homage to immortalize him and his life in a true folk fashion.Thank you once again.
Yes, Péter Hende was a founding member and the spirit of the line-up back in 1998. He died suddenly and unexpectedly in January 2001. He spent only 3 years in the band and was only 23… This song was written in his memory. Rest in peace!
Dalriada is very prolific as far as metal bands go – six albums in seven years. What's the secret to producing such consistently high-quality music for so long? Isn't it about time for a break?
I hope not! There's no big secret, we just like to work on short deadlines; it seems to inspire us, and it's just the way it goes in this band. Certainly, it's always important to show progress from album to album; the sound and the songs' need to move forward. If, in our opinion, the new stuff will be weaker than the previous ones, we wouldn't publish it and I think that would be the time to stop for a bit. But we'd like to stick to this schedule for now – one album per year approximately. That's, of course, just theory though because you never know how it'll turn out! (Laughs)
"Ígéret" is very danceable, for a metal album – it has a real groove to it. Your concerts must be a real party!
Our Hungarian friends and fans support us in an incredible way; the spirit and the atmosphere of a Dalriada gig is fantastic. I can't even compare it to anything! Without the support of our Hungarian fans, we'd be nowhere!
Do you have any tour plans for the summer? Will you be performing around Europe or maybe North or South America?
We have some confirmed concerts abroad in Europe certainly; in Austria, Germany and Italy, but hopefully, there will be more of them as well. The tour dates will soon be available on our homepage. Feel free to check them out!
(Famous) Last words?
No real quote, sorry!! Just thank you for this opportunity, and I hope to see you at a gig somewhere in Europe soon to show you just what a real Dalriada concert is like!
Links
Latest Multimedia
Label : AFM Records

Review by Tony Cannella
Originally released in 2009, "Metal Nation" is the second full-length album from Poland's Crystal Viper. In my opinion, this is also the album where the band began hit their stride and establishes themselves as one of the lead bands in the traditional metal movement. Like their debut, "Metal Nation" has been re-released by the bands current label AFM with a ton of bonus material. Let's face it, throughout their history Crystal Viper has not strayed too far from what they do best and that is one of the things we love about them, it doesn't mean however that they don't add a new twist or two along the way. "Metal Nation" opens with the intro "Breaking the Curse" and the band dives straight in with the ferocious title track. Yes indeed, classic metal is alive and well and played at a high quality by this band. "Bringer of the Light" is next and is one of my favorite songs the band has ever recorded. "1428″, "Zombie Lust" and "Legions of Truth" are more highlights. The bonus material includes: a cover of the Agent Steel song "Agents of Steel" and a cover of the Running Wild song "Libertalia" – Crystal Viper has always chosen interesting songs to cover and these are no different. Some alternate versions of Crystal Viper songs are also included here. Crystal Viper is one of those bands that have such a strong catalogue of music that everyone who is a fan of the band has a favorite. "Metal Nation" is my favorite, but in the grand scheme of things, how do you choose a favorite from a band whose body of work is this strong? AFM put a lot of care into these re-releases and fans of the band should be pleased with them.
Rating – 88/100
Tracklist
Breaking the Curse
Metal Nation
Bringer of the Light
1428
The Anvil of Hate
Zombie Lust (Flesh Eaters)
Her Crimson Tears
Legions of Truth
Gladiator: Die By the Blade (I-III)
Agents of Steel (Agent Steel Cover)
Axeman's Revenge (Live intro 2008-2011)
Metal Nation (Karaoke Version)
The Banshee (2011 Version)
The Anvil of Hate (Demo Version 2007)
Bringer of the Light (Karaoke Version)
Libertalia (Running Wild Cover)
Line Up
Marta Gabriel – Vocals, Keyboards and Piano
Andy Wave – Guitars
Tom Woryna – Bass
Golem – Drums
Links
MySpace * Facebook * Twitter * Site
6 color styles available:

Style switcher only on this demo version. Theme styles can be changed from Options page.