Browsing articles tagged with " amberian"
Label: Escape Music
Review by Tony Cannella
The Finnish symphonic metal band Amberian Dawn parted ways with their popular longtime singer Heidi Parvainen late last year. Now that her replacement has been found the band continues on, with an odd way to break in the new singer. First of all, her name is Capri and instead of working on new material Amberian Dawn has chosen to introduce her to their fan base via a re-recording of some favorites with Capri on vocals.
The kind of soaring power metal that Amberian Dawn plays deserves a vocalist whose voice soars with the music and with Capri they have found just that. "Re-Evolution" contains 11-song that encompass all of their albums and it would be impossible to say that anyone does them better than Heidi (she was the original, after all), Capri acquits herself quite well and she quickly put my fears to rest. You can hear her take on songs like, "Valkyries", "Incubus", "Lily of the Moon", "Come Now Follow", "River of Tuoni" and my favorite all time AD track "Charnel's Ball". Continue reading »
Interview by Laura Medina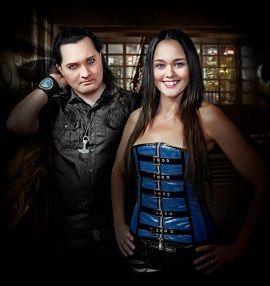 Amberian Dawn, a symphonic metal band from Finland, announced via their official website that they were parting ways with their longtime female vocalist, Heidi Parviainen, in early 2012 soon after their magnifying, superior and outstanding performance at the Metal Female Voices Festival (MFVF) X in Wieze, Belgium. Flash forward to December 2012, it was announced via their official website that the band would release a compilation album consisting of songs from their four previous albums that would be re-recorded featuring their new Finnish female vocalist, Capri!
With the release of "Re-Evolution", their new female vocalist Capri poured out her own mix of classical and rock styles as well as raw emotions into those Amberian Dawn songs. Continue reading »
Video footage of new AMBERIAN DAWN singer, 40-year-old Päivi "Capri" Virkkunen, performing a cover version of SKID ROW's "18 And Life" this past December 31 at Jack The Rooster in Tampere, Finland can be seen below.
AMBERIAN DAWN's new lineup is re-recording the "best" songs from its first four albums — "Circus Black" (2012), "End Of Eden" (2010), "The Clouds Of Northland Thunder" (2009) and "River Of Tuoni" (2008) — for a compilation album, to be released in 2013.
Former AMBERIAN DAWN singer Heidi Parviainen has launched a a new project called DARK SARAH. She plans to release a promotional CD with two songs in early 2013 along with a music video for the song "Save Me".
Says Parviainen: "I used to look at the world with blue eyes, I used to love with an open heart but I was naïve; the world needed to show it to me. I got angry for my weakness and angry with the world. In the darkest swirls of my mind, I got stronger and meaner and started to change. I worked with my fear and I became DARK SARAH. I'm not bitter, I'm just bittersweet."
A teaser for the "Save Me" video can be seen below.
Finnish Symphonic Power Metal band has announced their new vocalist (after the departure of Heidi Parvianen) and the recording of a compilation album, read the following statement from the band and mainmain Tuomas Seppälä :
"Hey all. As announced recently we have spent quite some time with the search for a new singer. A pretty hard task, but we think we managed to find an extraordinarily talented singer. We are very proud to present you
Capri
! She is from Finland and a professional vocalist with a strong background: she has worked for a vast amount of different kinds of studio- and live-projects (musicals, lead and backing vocal recordings, live shows etc).
Capri
has a classical training but is still 100 percent a rock singer. We are sure she will bring
AD
to a new level by interpreting
AD
songs with a different kind of style and emotion."
Here's something more for you eyes and ears. A teaser video of Capri singing some AD songs.
And since we all thought that Capri can sing those "classic" AD songs with new and refreshing style and sound, we decided to re-record a selection of our best songs again with her. Also 75 % of the music stems are going to be re-recorded. Mikko P. Mustonen, who did orchestral arrangements for our previous album ("Circus Black") will add some more colour to those songs with awesome orchestral additions. He's also going to mix this album. Release dates, track listing and cover art are to be announced later.
Songwriter Tuomas Seppälä:
"Founding
Capri
and getting her join
AD
is like a big dream coming true to me.
Capri
shares the same taste in music as I and that's why is obvious that our new partnership is like "match made in heaven". She really makes my compositions to shine like never before and I'm so impressed about her every way. I'm as excited as back then, when I found our original singer
Heidi
. Now my main focus is to make the whole world to hear about
Capri
and start composing new songs for her. But first, we're all concentrating on recording this compilation album with
Capri
and then I'll start working with new material for new studio album "  
For infos check :
6 color styles available:

Style switcher only on this demo version. Theme styles can be changed from Options page.