Browsing articles tagged with " amberian"
Label: Napalm Records
Review by Tony Cannella
Capri, the new lead vocalist for the Finnish symphonic metal band Amberian Dawn was first introduced to us last year via the "Re-Evolution" album which was an album of re-recordings of older AD songs. Now the band returns with an album of brand spankin' new material with Capri on vocals. "Magic Forest" is the name of said new album, which happens to be their 6th.
The opening song "Cherish My Memory" is gloriously melodic and memorable. The next track "Dance of Life" has another great melody and is full-speed ahead. "Magic Forest" is next and has a prog rock/AOR vibe to it. The track "Agonizing Night" has more of an epic, dramatic feel to it and reminded me bit of Nightwish. Continue reading »
Label: Escape Music
Review by Tony Cannella
The Finnish symphonic metal band Amberian Dawn parted ways with their popular longtime singer Heidi Parvainen late last year. Now that her replacement has been found the band continues on, with an odd way to break in the new singer. First of all, her name is Capri and instead of working on new material Amberian Dawn has chosen to introduce her to their fan base via a re-recording of some favorites with Capri on vocals.
The kind of soaring power metal that Amberian Dawn plays deserves a vocalist whose voice soars with the music and with Capri they have found just that. "Re-Evolution" contains 11-song that encompass all of their albums and it would be impossible to say that anyone does them better than Heidi (she was the original, after all), Capri acquits herself quite well and she quickly put my fears to rest. You can hear her take on songs like, "Valkyries", "Incubus", "Lily of the Moon", "Come Now Follow", "River of Tuoni" and my favorite all time AD track "Charnel's Ball". Continue reading »
Interview by Laura Medina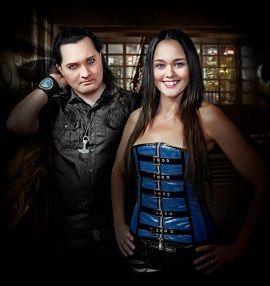 Amberian Dawn, a symphonic metal band from Finland, announced via their official website that they were parting ways with their longtime female vocalist, Heidi Parviainen, in early 2012 soon after their magnifying, superior and outstanding performance at the Metal Female Voices Festival (MFVF) X in Wieze, Belgium. Flash forward to December 2012, it was announced via their official website that the band would release a compilation album consisting of songs from their four previous albums that would be re-recorded featuring their new Finnish female vocalist, Capri!
With the release of "Re-Evolution", their new female vocalist Capri poured out her own mix of classical and rock styles as well as raw emotions into those Amberian Dawn songs. Continue reading »
Video footage of new AMBERIAN DAWN singer, 40-year-old Päivi "Capri" Virkkunen, performing a cover version of SKID ROW's "18 And Life" this past December 31 at Jack The Rooster in Tampere, Finland can be seen below.
AMBERIAN DAWN's new lineup is re-recording the "best" songs from its first four albums — "Circus Black" (2012), "End Of Eden" (2010), "The Clouds Of Northland Thunder" (2009) and "River Of Tuoni" (2008) — for a compilation album, to be released in 2013.
Former AMBERIAN DAWN singer Heidi Parviainen has launched a a new project called DARK SARAH. She plans to release a promotional CD with two songs in early 2013 along with a music video for the song "Save Me".
Says Parviainen: "I used to look at the world with blue eyes, I used to love with an open heart but I was naïve; the world needed to show it to me. I got angry for my weakness and angry with the world. In the darkest swirls of my mind, I got stronger and meaner and started to change. I worked with my fear and I became DARK SARAH. I'm not bitter, I'm just bittersweet."
A teaser for the "Save Me" video can be seen below.
6 color styles available:

Style switcher only on this demo version. Theme styles can be changed from Options page.