Browsing articles tagged with " angeles"
Interview by Tony Cannella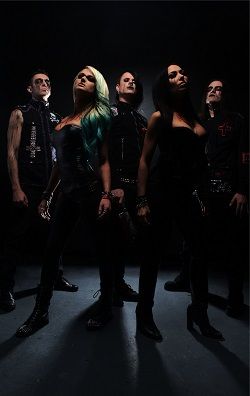 Hailing from Los Angeles, California, Butcher Babies have just released their debut album "Goliath" which promptly landed at number one on the Billboard Magazine Heatseakers chart and now they are a part of the touring Rockstar Energy Drink Mayhem Festival which is blazing a trail across North America. The band – which consists of the duel lead vocals of Heidi Shepherd and Carla Harvey, guitarist Henry Flury, bassist Jason Klein and Chrissy Warner on Drums – have been creating a huge buzz on the tour and have become one of the most anticipated bands on the bill. Following their live performance at the Hartford, Connecticut stop of the Mayhem Festival, co-lead vocalist Heidi Shepherd and guitarist Henry Flury were nice enough to sit down and answer a few questions. Here is what they had to say…
How have things been going on the Mayhem Festival so far?
Heidi: This was better than we expected, especially today in Hartford. Every time we've ever played in this area the kids go crazy, but today was above average. Continue reading »

Tairrie B Murphy of the Los Angeles based hard rock band MY RUIN featuring husband/guitarist Mick Murphy and bassist Luciano Ferrea has posted the following message on the bands website:
———-
Dear Friends,
Today is the one year anniversary of our 7th album 'A Southern Revelation' which we released as a FREE (digital only) DOWNLOAD and gift to fans on December 7th, 2011. To celebrate our special day we would like to thank all those who have taken the time to download a copy and donate to our band this past year continuing to keep the spirit of independence alive through our music and art, by releasing this new version of the song 'Seventh Sacrament' which was recorded live at the Scala in London, England on our Southern Revelation Tour 2012.
SEVENTH † SACRAMENT
http://myruin.bandcamp.com/track/seventh-sacrament-live
Mick, Luciano and I have recently finished mastering our new album which we will be revealing the name, cover art & details for in January 2013. We recorded album #8 a few months back at Soundtrack Black Studio in Knoxville, Tennessee with our good friend and co producer Joel Stooksbury who worked with us on 'A Southern Revelation'. To check out behind the scenes photos from our time in the studio, click the following link:
STUDIO † PHOTOS
http://www.facebook.com/media/set/?set=a.10151175791021416.496160.247462796415&type=3
Thanks to everyone once again for your continued rock love and support of our band and music. Enjoy the live track and share it with your friends. We're looking forward to the New Year and unveiling something sacred.
♥
Mrs M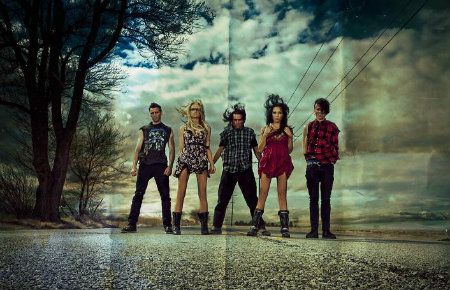 November 18, 2012 – Century Media Records is proud to announce the signing of the BUTCHER BABIES to their worldwide family of artists. Hailing from Los Angeles, the BUTCHER BABIES have emerged as one of the biggest draws on the Sunset Strip, their incendiary blend of heavy metal and horror-inspired theatrics inciting crowds worldwide. Fronted by Carla Harvey and Heidi Shepherd – named two of the year's 'Hottest Women In Rock' by Revolver Magazine – the blood-splattered band left their mark on the United Kingdom in June, appearing on the Download festival and supporting Anthrax in Cardiff. They returned to America as direct support for Otep in fall, and are wrapping up their first headlining tour tonight in front of a hometown crowd at the Roxy on the Sunset Strip. The band – vocalists Harvey and Shepherd, guitarist Henry Flury, bassist Jason Klein and drummer Chris Warner – will be performing with labelmates In This Moment tomorrow night in Las Vegas. "Century Media has been a huge supporter of BUTCHER BABIES for a long time, and it feels natural to join their tight knit family," said the band of their signing. "It's an honor for us to be on a roster amongst many other bands that have inspired us for so long. We couldn't be more excited about the future of this union." The Butcher Babies' track "Axe Wound" is currently in rotation on Sirius XM Liquid Metal, and their short movie/video fo the track "Mr. Slowdeath" can be watched here. The band are currently at work on their full-length debut, which is slated for worldwide release in summer 2013 via Century Media Records. Tour Dates: 11/19/12 – Hollywood, CA @ The Roxy 11/20/12 – Las Vegas, NV @ Vinyl (with In This Moment)
For more information on BUTCHER BABIES, please visit:
www.facebook.com/butcherbabiesmusic
Label : Napalm Records

Review by Tony Cannella
"Spell Eater" is the debut album from the Los Angeles based outfit Huntress. The band is led by front woman Jill Janus, who attracts a lot of attention based on her looks, image and beliefs (she's a pagan), but at the end of the day it is all about the music and that is where Janus and the remaining members of Huntress succeed on "Spell Eater". Imagine a band with the musical intensity of a band like Slayer combined with the vocal ferocity of Jill Janus who reminds me of a cross between Angela Gossow and Leather Leone and you would have Huntress and their debut album "Spell Eater". In addition to their potent brand of power metal, Huntress also exhibits thrash and even death metal tendencies. Jill is definitely a focal point for Huntress, but in addition to her take-no-prisoners aggressive style she is also a classically trained singer and manages to add that ingredient to the mix as well. The aggression fueled title track gets us started and is followed by the equally bombastic "Senicide". The duel guitar parts of Blake Meahl and Ian Alden are reminiscent of some classic metal bands like early Judas Priest and early Iron Maiden. "Eight of Swords" – which became the first video track – is simply crushing. The band mixes some cool melodicism with heavy, crunchy guitar riffs on songs like "Sleep and Death", "Snow Witch" and "Aradia". Lyrically Jill Janus draws inspiration from themes that deal with the occult and paganism. Huntress was already receiving a lot of press before "Spell Eater" even hit the racks, which is very rare. Whatever you think of their image, it doesn't take away from the fact that "Spell Eater" is an excellent debut from a band that has got a great future in front of them.
Rating – 85/100
Tracklist
Spell Eater
Senicide
Sleep and Death
Snow Witch
Eight of Swords
Aradia
Night Rape
Children
Terror
The Tower
The Dark (Bonus Track)
Line Up
Jill Janus – Vocals
Blake Meahl – Lead Guitar
Ian Alden – Rhythm Guitar
Carl Wierzbicky –Drums
Eric Harris – Bass
Links
MySpace * Facebook * Twitter * Site
Independent Release
Review by Tony Cannella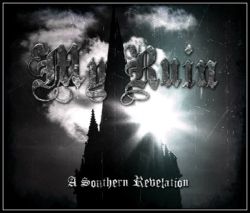 The thing that I have always loved about Tairrie B.Murphy and her previous bands, whether it is Manhole, Tura Satana or her current outfit My Ruin, is that she sings it like she means it. There is no bullshit poser posturing, this is who she is and the same more than holds true on the latest release from My Ruin called "A Southern Revelation" which will be available on their official site as a free download. You can't beat that. I have always loved Tairrie B. as a lyricist and on "A Southern Revelation" there is no shortage of subject matter in which to direct her venom, and the thing is, this is a lot of stuff people can relate to. "A Southern Revelation" is in a word relentless; it doesn't let up for a second and continues to pound at the senses. From the opener of "Tennessee Elegy" into the aptly titled "Highly Explosive", it is full speed ahead. "Highly Explosive" in particular is my absolute favorite song along with the oh, so subtle "Middle Finger". The contributions of Mick Murphy are big. His riffs are huge as he goes from Pantera style groove-laden riffs to a more doomy style. Other highlights include: "Walk of Shame", the intense "Deconsecrated", "Vultures", "Seventh Sacrament" and "Soulless Beast". The album is completed by a blistering cover of the Van Halen classic "Mean Streat" which fits right in with the rest of the intense material within. My Ruin manages to add their own twist to the track, whilst still managing to stay faithful to the original – not an easy thing to do. As great as "Ghost & Good Stories" was, My Ruin has at least equaled – if not surpassed it with "A Southern Reveleation". "A Southern Revelation" is Tairrie B. at her angriest, confrontational, in your face best. Everything she sings is from the heart and there is absolutely no holding back, she only knows one direction and that is full-speed, straight ahead. That attitude has come to describe My Ruin perfectly, and I hope it continues for a long time to come.
Rating – 95/100
Tracklist
Tennessee Elegy

Highly Explosive

Walk of Shame

Deconsecrated

Middle Finger

Vultures

Seventh Sacrament

Reckoning

The Soulless Beast

Mean Street
Line Up
Tairrie B. Murphy – Vocals

Mick Murphy – Guitar, Bass, Drums
Links
MySpace * ReverbNation * BandCamp * Facebook * Twitter * Site
6 color styles available:

Style switcher only on this demo version. Theme styles can be changed from Options page.