Browsing articles tagged with " arch"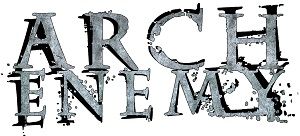 Interview by Tony Cannella
Arch Enemy's popularity continues to grow in the metal stratosphere. When the band released their latest album "War Eternal" in 2014 there was a wait-and-see attitude as there usually is when one of the key members gets replaced. Enter lead vocalist Alissa White-Gluz. She had enormous shoes to fill in replacing the iconic Angela Gossow who stepped away from the band to focus on managing Arch Enemy. Before stepping down she hand-picked Alissa as her replacement and the results have been phenomenal to say the least. Recently, Arch Enemy was out headlining the Summer Slaughter tour throughout North America. It was at the tour's stop in Worcester, Massachusetts where I was able to catch this tour and conduct an interview with Alissa. Here is what she had to say…
Hello Alissa. Thank you for joining us. So, you are currently out on Summer Slaughter tour. How has it been going so far?
Good. It just started. It's always a little chaotic when you have so many bands on one tour. It's pretty uncommon to do tours like this but we're working out the kinks and getting into the rhythm now, so it's going well. Continue reading »
Label: Century Media
Review by Tony Cannella
When lead vocalist Angela Gossow decided to step down from her post fronting the extreme metal legends Arch Enemy it came as a huge shock. Who would fill her sizeable shoes? Well that turned out to be ex-The Agonist front lady Alissa White-Gluz – as it turns out it was a great choice.
The opening intro "Tempore Nihil Sanat (Prelude in F Minor)" opens the album and has a horror movie vibe to it before segueing into the relentless assault of "Never Forgive, Never Forget" and this is how the 10th Arch Enemy album begins. From the start it is obvious that the transition between vocalists is seamless and musically the band continues to mix death metal and thrash with the same technical proficiency that the band has always displayed. Continue reading »
Interview by Connie Bach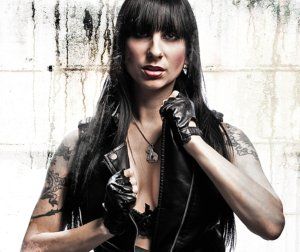 Rock with attitude. This is Sister Sin's personality. The "attitude" aspect is loud, edgy, and melodic. If you are furious with someone this is a great album for the situation. And if you are not in a rage, there is energy for entertainment, and plenty to spare.
Hi, Liv. What's going on with the band right now?
Hi! Right now we are playing lots of shows in Scandinavia and doin' some tours in Europe, we hope to be back in US early next year! The album is just released in Japan too so hopefully we will get the opportunity to do a tour over there next year too. This one's for the whole band. How did each of you get involved in rock music? What's your background?
Liv : Well, I started to get into rock in my early teens when I found Nirvana and Hole, and a Swedish metal band called Drain. Drain had Pantera as their favorite band and that got me into Pantera and the heavier stuff. I so wanted to become a rock star that I forced my to best girlfriends to start a band with me. After a while they got into it too ha, ha… We were called Sisters of Kali and we´re very, very dark and angry on everything. Jimmy : I got into rock music seriously when I was around eleven years old. I loved Metallica and Pantera at that time which friends introduced me with. Then I discovered more extreme music such as Slayer, Sodom, Entombed and later on bands like Morbid Angel, Deicide, Suffocation, Gorefest and also a lot black metal. I played in many bands in those days, mostly death and black metal bands. Then I had a break from playing and one day I heard from a friend that Sister Sin was looking for a new guitarist, knew nothing about who they were. But I gave it a shot since I always had a soft spot for classic hard rock and heavy metal. It turned out to be perfect! Dave : I stole all my brother's heavy metal vinyls after discovering Vanessa Warvick hosting "Headbangers Ball" in the early nineties. After that I got in to a lot of punk, hardcore and eventually black metal as well. Started playing guitar back then but moved on to drums for the usual reason that there weren't any drummers around. And here I am today, piss poor but happy with a Metal Heart, ha ha. It's been a few months since Benton, Sister Sin's bassist, unfortunately had to part ways with the three of you. Liv, how is the search for a new bassist going? What challenges does a change in line-up present, even with the qualifications you have in mind?
It's always very hard to find replacement for someone that you liked and that suited the band so well and we have been thru this before so we are pretty tired of this whole bassplayer thing. That's why this time we really need to find someone that has the passion for music and touring that we do and that could dedicate their life to this band. Even if you do find someone who is technically qualified the most important thing is always the social aspect. When spending so much time as we do in a van you can't have one guy you wanna choke to death every half hour. I think we´ve actually found the right man for job but he´s gonna do at least one tour before we make it official, for both parties sake.
Why does Sister Sin require that the new bassist have studio experience?
Do we? Ha ha… I didn't know that. No, but I guess it´s more of sorting out the serious ones, like we get so many e-mails from people who think that anyone can play bass and let me tell you; just because you can play guitar and get by doesn't mean you can play bass. What are you expecting with the tour with Grave Digger and Grand Magus?
I think that will be a blast! We haven't toured so much in Europe with all the focus that's been on U.S last two years so it´s gonna be cool for sure and we are hitting some very interesting countries as well, so I'm really looking forward to that.
What determines where a tour takes Sister Sin, or any other band? Why?
Since we haven't really sold shitloads of albums around the world we can't exactly pick and choose where and when we wanna tour and whom with. Many people ask why we go on tour with bands like Arch Enemy or OTEP and the reason is just that we got offered those tours and we need to be on the road all the time. Got nothing against any of the bands we´ve toured but yeah, if we could choose we would definitely tour with headliners that are more close to our genre and fan base. We´ve been over totimes and the reason for that is that our label has spent more promotion over there and we need to back that up.

Liv, you are featured as "Miss November" in Revolver's "Hottest Chicks in Metal" calendar. How do you feel about the award? Nice job. The reason I ask is that for some it is a source of pride, whereas some feel it mocks women in metal.
For me it's a pride!! I'm very, very glad to be one of the girls in that calendar, it's an honor. I truly can't believe it really, I'm just a working girl from Sweden and a big American rock magazine wants me in a calendar ? That's so cool! And I don't understand these people that think it's mocking women, if you are a beautiful woman with a talent, show it! Both your talent and your beauty, that calendar is a way to celebrate both in my opinion! "True Sound Of The Underground" did quite well on the charts. What does that mean for the band?
Of course it means a lot to know that people enjoy our work and that we hopefully can inspire others with our music. Not that you have to sell a lot of copies these days to end up on a chart but it´s a nice motivator for us that there is a growing market for the kind of music we play. Do each of you have a personal goal that you are fulfilling through being in Sister Sin?
Jimmy : Yes absolutely. I get to play guitar just they way I dreamed of when I first picked up a guitar and all the countless hours of practice finally pays off with releasing albums and touring, it certainly is a privilege and a dream come true.
Dave : Ever since first got in to heavy metal I always wanted to tour and see the world. And now I get to travel, see new places, new people and be on stage every night doing what I love to do. I've never dreamed of making lots of money (although it would be nice! ) and playing big arenas, I'm just glad that 3 nobodies like ourselves who have been stuck in a rehearsal studio for 5 years never gave up and it´s paying off the way I always wanted it to do. Liv : This is my personal goal, to be able to be in a great band and play live all over the world! One thing that would make it even better would to be able to live from the music one day, that's very much a goal for me. To just live 100% for the band, now I have to share my time with my job as a personal trainer.

Liv, Sweden (especially Gothenburg) has a huge metal scene, with many famous acts. Why does this scene influence Sister Sin?
I really don't think there are any Swedish bands that influences us really. There´s a lot of extreme metal coming out of here which obviously is what Sweden is mostly famous for in metal. A lot of those bands, like In Flames for example definitely inspire in another way though that you can make it if you just hang there, never quit and be true to what you love. Liv, Dave, and Jimmy, thanks a lot for your time. Your musical energy and commitment to Sister Sin is impressive. Hopefully we'll see you in the States again soon.
We will be back 4 sure!
Links
MySpace * Facebook * Twitter * Site
Latest Multimedia
Label : RedRec
Review by Tony Cannella
Metal truly is a worldwide phenomenon. That's no humungous revelation there, but I am always blown away by the number of countries and cultures represented in the metal universe. Another example of this the Turkish all female band Kirmizi who has just released their new debut "Isyan" and it is filled with pounding, in-your-face straight-forward metal. No fooling around with this band, they get straight to the point. Lead vocalist Idil Cagatay may not be the most gifted vocalist on the planet, but she sure packs plenty of power and strength in her voice, as she goes from a more traditional metal style to a screaming her lungs out approach. The songs are sung in their native Turkish language and the while the band is straight forward there are moments of technicality that is quite impressive. The opener "Cekilin Basinden" is a huge sounding introduction. The next track "Uyan" is great as well as it gallops to the finish line. The 3rd song "Isyan" is a grand slice of mid-tempo, melodic metal. "Elveda" keeps up the power and momentum. "Azat Et", "Kimsin Sen" are among the songs that should please metal fans. Kirmizi really impressed me big time with "Isyan". Not much is really known about this band, except for the fact that they played (or will play?) some dates with Arch Enemy. As the CD progressed I also became a huge fan of the lead vocalist. The fact that the lyrics are sung in Turkish should not deter any metal fans. Good music is good music and "Isyan" is beyond a good album.
Rating – 95/100
Tracklist
Cekilin Basindan

Uyan

Isyan

Elveda

Azat Et

Kimsin Sen

Geri (Kaypack)

Vazgecmem Asla
Line Up
Idil Çagatay – Vocals/Guitars/Harp

Saba Arat – Electro Guitar

Ecem Otgucuoglu – Bass Guitar

Asli Polat – Drums
Links
MySpace * ReverbNation * Facebook * Twitter * Site
Interview by Roberta Ilaria Rossi
On the wake of the most famous bands like Arch Enemy, The Agonist, In This Moment, a "newbie" French band is moving its steps in the European metal scene, with one only easy target: spreading the words on the other side of the French boundaries. We're talking about Eths, a new French metal core/nu metal band, already known by many in their native home. Now that a few months have passed from the official release of "III", FM had the pleasure of exchanging a short chat with Candice Clot, that has revealed us something. This is the result of our brief jaw.
Hi Candice. Welcome to our website. How are you doin'?
Fine, thanks!
Let's start our interview. Recently, one of your first records, "Soma", released in 2004, has been issued again by Season of Mist. What's behind the decision of a new reissue?
It seemed to be clear for us to continue the road with SOM, we live in the same town it's easy and we really know each members of the house. We have a great deal with them.
Talking about this new record, I think it's a new and "fresh" one, quite strong. For a moment, please correct me if I'm wrong, my mind associated your sound to the album called "Follow The Leader" by Korn, because of the more robust sounds, which quite remind the thrash of Sepultura or the hardcore of Biohazard, embellished of course by your voice, which is the main point of the sound of the band. Do you agree with this statement?
"Soma" has been released in 2004 so it's quite so long ago.
The first thing clearly noticeable in the listening of Eths music is surely your voice which is quite versatile, because you use a very cutting, sharp growl, showing a first-rate performance, maybe one of the best ever listened in the "female fronted" metal, going through then a use of the clean vocals which result more mellow and persuasive. How do you manage to lead these vocal passages? Do you train your voice a lot or is it a pure and natural talent?
15 years in the metal world breaking my voice but I worked a lot for my clean voice and find a way to mix both voices was with the help of a good breath and a coach. When you have the vocal technique you can afford a lot more things and it's not just talent but only work and experiences.
Step back for a moment: we talked about your voice and maybe some fan has made some comparison with some famous growler vocalist like the German Angela Gossow or the Canadian Alissa White-Gluz. What do you think about these two women? Do you like their music, their vocals?
I know the music of Arch Enemy the singer is a real front woman, she really knows the job but I don't know the other sorry.
Talking about "aggressive" vocalists like the ones I mentioned, is there any other person/female singer you like to listen to the most?
I don't have any references about female voices, but I've always respected the work of Tarrie B from My Ruin.
Eths is a nu metalcore band from France, you are already known and famous there and you're trying to get step by step the way to success all over Europe, but the project was mainly born in 1996 as "What's the Fuck" and right after you changed the name in Melting Point, reaching at the end the final name: Eths. Could you please share something more about the band biography?
We played in Chile Brazil, Russia, England, etc. Done big festivals like Graspop, Szigets, Dour, Wacken etc .So we garnered a lot of good stage memories and saw many big bands, I think we're lucky.
"III" is the latest and newest album, recently released by Season of Mist. The thing that captured my attention in this record was the choice of putting some tracks sang in French and also in English and I've noticed that the same has been done by your "colleagues" and friends Kells. What did cause the choice of putting these tracks in this latest record?
We made 4 songs in English it wasn't easy to rewrite these songs because poetry in French is not the same in English, it's the same subject but not the same words. It was a compromise to record it but the label didn't force us to do it but they let us know it could be a big plus for the band so we made it.
The production of the record has been given to Fredrik Nordström, which has worked in the past with masters like The Haunted, Dark Tranquillity, Dimmu Borgir, Arch Enemy and more and the final result is more than excellent. Why have you chosen to trust this man to work on your material?
Fredrik is a great producer, he's pushing you to your limits to have the best but always let you decide what is the best cause it's your disc, in front of him we could feel his experience in some details, he absolutely don't want to complicate the things, so he was really efficient and we learned to go straight to the point. It was the first time we worked with of a real metal producer and we're really happy with the sound he did, by the way I have to say that Henrik Udd (his acolyte) did also a great job and working with them learned us a lot.
Also the artwork of the record is quite curious. Would you like to talk about it? What is the concept behind it?
This is a post apocalyptic goddess who is the link between our songs. Nicolas Senegas did a real good job we are totally satisfied with the result.
'Till now, your music has been chiefly written using the French language. Will we ever see a record totally sung in English in the future?
No, as far as I write the lyrics I can't write an whole album in English even if it 's only a translation it's a lot of work. Everything has to be changed even sometimes the meaning because of the musical with words. Everything has been simplified for an optimal hearing and I don't like to write like this.
"Tératologie" (2008) was your last album and "III" has been released recently after 4 long years of silence. How come have you decided to wait for so long to release some new material?
After the "Tératologie" tour we were very tired, I've had a kidney infection at the end of the tour and Staif a hand tendinitis so we needed a break. It took a long time to Staif to be in a good shape because he couldn't play guitar anymore. I took time to a have my daughter and time to reconnect to music. Also we realise we needed a break to tell new things, new stories to renew the music and it's very important to create different songs.
Talking about your music career, I know that you've taken part in the track called "La Sphere", by Kells. What could you tell about this cooperation and about your personal friendship with Virginie Goncalves?
I know her from quiet some time, we played on a gig with our bands and one day she asks me if I would sing on a Kells song. Yeah, it's my friend even more today because we've been on tour together and we're mothers, so we share a lot, we understand each other and the simple fact is that we scream, we sing and raise our children that's funny.
Let's talk about lyrics: who is the main person who do write the lyrics in the band? Where does the inspiration for the creation of your music come from?
I write the lyrics and everything could inspire me. Humanity is a great inspiration and I like to shell every part of it. Now "III" reflects a fact of life and a desire for change, a renewal for humanity. We talk a lot about 2012 in general but mostly I'm inspired about the different eras of our earth, the intelligence and the predictions of ancient civilizations disappeared which are necessarily developed the process of "III". The planet has gone through several apocalypses and we are the fruit of it… it helps to ask many questions like birth and death.
Recently you've embarked on a mini-European tour with Kells. What could you tell about this experience?
It's always cool being on tour with friends or other bands now the different thing was that I wasn't the only girl so it was more girly but you know on tour. It's always the same for every band known or unknown. You soundcheck, you wait, you play, you drink, your party and you sleep… with your friends.
What is the most beautiful thing in living on the road?
For sure not the road but to be on stage.
What could you tell, instead, about the relationship you have with the fans?
I'm not a fan of Facebook and I prefer talking after shows than reply to emails it's a better way of communication. I generally do not like fanatics minds and I do not understand them but I owe them respect. We are often associated with young teenagers and I always try to remember when I was 15.
Unfortunately, I've noticed that Eths tours in Belgium and France only. Will you ever embark on a full European tour, setting foot on every single European country and, why not, all over the world?
And we need a good European agent or world agent 😉 it's the only way to see us the band is not so big on Europe so we need someone who believe in the band to bring it abroad.
Any future goal for the band or yourself?
The best for everyone.
Thanks so much for your interest in us and thanks for having allowed us this interview. You have carte blanche in order to speak and say something to our readers and your fans! Thanks so much again!
Thank you all!!!
Credit Photos
Candice Clot Photo by Nicolas Sboub Delpierre
Band Photo by Eric Canto
Links
MySpace * Facebook * Twitter * Site
Latest Multimedia
6 color styles available:

Style switcher only on this demo version. Theme styles can be changed from Options page.