Browsing articles tagged with " artist"
Interview by Miriam Cadoni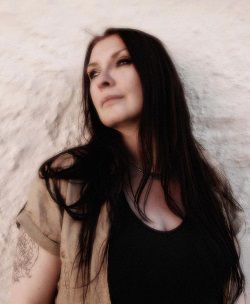 I must thank a dear friend of mind that some years ago introduced me to this particular musical genre [ the neoclassical/ambient genre] and consequently make me adore some of its important acts such Dark Sancuary, Dead Can Dance, Die Verbannten Kinder Evas & Dargaard. Today I've the pleasure to speak about Sweden's Arcana, that along the mentioned bands, represents one of the  most expert ensamble since their long career (their first release is to date is in 1996). In particular, I've contacted Cecilia Bjärgö, one of the singers and Peter's wife [the mastermind behind Arcana], for an interesting interview about their latest album "As Bright as a Thousand Suns" and some updates.
Dear Cecilia, first of all thanks so much for this interview! I hope that everything is ok with your personal life and work…
Hi Miriam=) I am fine, thank you. I am in the middle of changing apartment though, and that takes its time. Dust everywhere, cardboard boxes everywhere, stuff everywhere… and I am having such a hard time throwing away things;) Continue reading »
Independent Release
Review by Luisa Mercier
Phildel is one of those rare artists in whom musical talent is complemented by an imagery of equal beauty. I stumbled upon her by mere chance through Facebook, and loved her since the first listen to "Storm Song" and after watching the captivating, dreamy and classy video that matches the song.
The pastel colours, the evocative, highly symbolic images are expression of a beautiful mind.
The song, at the beginning, reminded me of Enya and goes on, soft and haunting, but catchy and elegant at the same time. Her vocals are thin, airy, perfect in this context. Also the lyrics are very poetic, so can you ask for more? Go, run on YouTube and love it. In this EP there are two more songs, each accompanied by a video. I have guessed that actually all three videos might be connected to each other in some way, also thanks to what seems to me the same location: the sea, the field with red poppies, the mask. All is very meaningful and striking, you can see that she really thought about it. Continue reading »
Interview by Alessandra Cognetta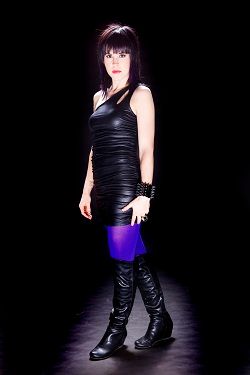 Leslie Hunt is the lead singer of District 97, a prog band from Chicago that is (not so) slowly conquering the American music scene and establishing its own name at home and abroad. Their work is a surprisingly fresh combination of different styles and musical experiences, with two full-length albums released and an ever-growing touring activity. If you want to know more about District 97 (and believe me, you want to), this is the right place to start! 
Hello and welcome to Femme Metal, Leslie! We're really glad to have you here with us. District 97 has just finished their US tour, how would you describe this experience, now that it's over?
I thoroughly enjoyed myself! Each show was a success in its own right, and I absolutely love performing this music. I also love our fans! They are some of the most genuine and appreciative people I have ever met, and I am so honored to be on the receiving end of their loyalty. It was definitely a challenge to play eight nights in a row, especially since my performance style is getting more and more theatrical as our sound evolves, but as soon as we would play the first note, I was able to transport myself to the headspace required to experience the song as if it were my first time.
District 97 has never been featured on our Webzine before, could you introduce the band and its members to our readers?
Sure! I'm Leslie, and I sing, dance and play tambourine sometimes. Jonathan Schang is the drummer, primary composer, bandleader, AND he manages everything that happens behind the scenes, so we all give him serious props. Jim Tashjian plays lead guitar and sings backgrounds. Rob Clearfield plays keyboards and additional guitar. Patrick Mulcahy plays bass. Continue reading »
Label : Prophecy Productions
Review by Andrea "Disgraced"

September and its last thoughts. Fursy Teyssier brings finally to the calm and sweet light of autumn twilight the long awaited and – by its creator – desired debut album. Thank god or whoever in its place he didn't give up since he created the project in 2003! Now let's make a brief prologue for those of you out there who aren't familiar with this particular scene, born some years ago but only now coming to the attention of bigger audiences – relatively speaking, of course. Bigger audiences are always after something not even half close to the art delivered here but… you know, de gustibus. And, just to spam you with another ol' saying, we could say that "every genre has the hero it deserves".

So, lately France has been a fantastic cauldron for these kind of bands, born in the cold and deadly riffing of extreme black metal, who chose to go beyond usual and old stereotypes still typical of many bands (see above: anyone's free to do what he/she/they want) and not just add new elements to their music but, directly blending and mixin it in a promiscuous relationship with (dark but not necessarily) ambient, new wave and shoegaze above all. Recognizing certain soundscapes reminiscent of Joy Division, Cocteau Twins, The Cure (mostly "Disintegration" and "Wish"-era), Slowdive, Jesus and Mary Chain is extremely easy and pleasant. Pleasant for lovers of that kind of music of course but also for those open-minded metalheads (or simply good music-lovers, which should be the only important category) who like to sink in a music full of emotion, deeply heart-moving, that didn't lose any aggressiveness at all but on the opposite just gained in sheer beauty.
Of course we might make a similar speech for other musical genres, even remaining inside of the metal field, that were born in the last 20 years and that bring a big handful of contaminations with them – just think of those dear, I'm sure about that, to the readers of this webzine like gothic metal, symphonic metal, and so on. But here the situation is slightly different: I still have to understand, and leave the matter open to every listener out there, if it's the inner world of the musician(s) which serves well to the designated musical style or… or is it the music a good servant, the perfect means for the artist(s)'s emotions to come out hre into our so-called real world? Or maybe both? I don't have an answer right now.

So let's dive into the music of this album. Here the black metal elements are even more hidden that what did and does his friend Neige in Alcest or Teyssier himself in his other projects; one of the heaviest tracks is the long and epic "Chanson D'Automne" (Autumn Song), always walking on the edge of metal, post-rock and neo-folk. Another heavy song that will make you clap at these musicians for their skills in blending together many styles without losing a clear idea of what they want to do – you know, many would end up just creating a ridiculous mess – is the wonderful "Les Feuilles De L´Olivier" (The Leaves of the Olive). Its central part, let's say from 2:05 on will bring you on the border of a forest together with the two children of the cover artwork (more on this later), with the darkness behind your shoulders in the shape of a soft pillow ready to take you in and the sun keeping its distance on a wasteland in front of you… but still, there's hope. I hope most of you won't be disappointed by the overall lack of female vocals, provided there and then by the good Audrey Hadorn, who anyway contributes with lyrics as well. Teyssier's vocals are very good, though he just chants out with lots of emotion and few technique but who cares?

His vocals don't reach the immense poetry of such untouchable masters like Brendan Perry or Peter Murphy but they flow very well with the music, just like they're expected to do I guess. "Effet De Nuit" (Effect of Night) shows us a very good rythmic section with an increasing tension finding a glimpse of peace only towards the end, where the guitar finally traces space to take a little breath. Final song "Une Matinée D'Hiver" is the tiny but strong, not weak at all, well deserved light but not at the end of the usual gallery, there are no obscure and frightening galleries in this record; that light, granted by the guitars and vocals which climb on each other, is like the smile I imagine the two children of the cover will have in the end, something like, after all we made it to here, we're alive in front a beauty that can be scary and we're aware there's a lot of horror going around. But, we'll keep on going on. Before I finish my review an important note must be done, that is about the artwork and Teyssier's incredible talent in painting and drawing. He actually is a renowned artist also doing cover artworks for other bands but apart from that a great, great painter able to depict sceneries of calmness, innocence and sadness without looking banal or ridiculous but always with that sense of being on the edge of two worlds, and you can't decide if and which one is better than the other. Teyssier possesses a great technique, maybe even greater than the musical one; from the depth of my ignorance, it reminds me of Renoir's warm strokes, not to mention Turner's light and Constable's love for certain landscapes. At this point, just let me tell you there's a limited edition of this album (1000 copies) that consists of CD, DVD (with Fursy Teyssier's award-winning short film "Tir Nan Og") and a stunning 56 pages art book. What are you waiting for?!
Rating – 85/100
Tracklist
L'Envol des Corbeaux
L'Echappée
Les Feuilles de l'Olivier
Song for Mountains
Sur le Quais
Effet de Nuit
Septembre Et Ses Derniéres Pensées
Chanson d'Automne
Svipdagr & Freyja
Une Matinée d'Hiver
Line Up
Fursy Teyssier – Vocals, Guitar, Bass
Audrey Hadorn – Vocals
Winterhalter – Drums
Links
Interview by Luisa Mercier

It was on 2006 that we heard news, for the last time, about Bill Leeb's electronic pop project Delerium. After that nothing. But with 2012, after 6 years of silence, Delirium reappears in the music business with the fourteenth album called "Music Box Opera" and since I have always been a great Delerium fan, so it was a great pleasure to have this exclusive interview from Bill.

It's been a long time since "Nuages du Monde". How does "Music Box Opera" connect with the past and how does it differ from it?
The concept is still the same, we are trying to create ethereal electronic pop music. Having said that, a lot has changed in the world and with all of us so there's definitely a growing scenario going on with all the people involved… More specifically would be that we've come along way in writing, producing and programming and our tastes have changed… We've all matured and we've evolved and we tend to think that it comes out in the music.

There are some new entries among the singers, together with already known voices like Kristy Thirsk. How and why did you choose the new ones?
With every record we try to evolve and bring new flavours into the mix, we usually make a list of potential singers we want to work with. We then reach out to them and through attrition and luck we end up with people we respect and want to contribute to the album. It's definitely a lengthy task cause a lot of people have busy careers and lives so sometimes these things take much longer than anticipated. That's why its also been 6 years been albums, good things take time.

Am I wrong or the sound is more electronic? What audience do you expect to reach in the music business overcrowded by mainstream acts?
No, we've definitely put away all the organic instruments and have gone for a really electronic feel this time. More programming, no acoustic guitars or anything. We thought it was really time to change it up and go down the electronic road, which is kind of where Delerium started from anyways, we like things to be really tweeky now and since technology has so much to offer now we try to expand our horizons.

Have you ever felt so hopeless towards music scene as to want ro give up everything and just go back to a normal kind of life?
No, being an artist is something that picks you, you don'y really pick it. I think all artists are tortured souls, whether they are successful or not because how does one measure success. Is it done through the amount of status you have versus how much wealth you obtain? Or is it just trying to be a pure creative genius who's simply putting forth something you think the world needs to see or hear. It's a never ending journey, you could ask any artist of any genre and they will all tell you pretty much the same thing. No piece of art is ever perfect or complete, you go on forever striving for that perfect song even though in the back of your mind you know it's unreachable, which keeps you going. As far as normal goes, I don't think anybody lives a normal state, the world is a pretty complicated place.

On an happier note, is there still something you have not tried and you would like to do -music related – in the future?
I would definitely like to score a major motion picture with a real budget that is very artistic and off the beat and track. This is something that has always eluded me and kept my curiosity, I keep hoping that this will be the one thing will still come to fruition down the road. We just finished our second video game soundtrack for a game called AirMech with Front Line Assembly so we are interested to see how that will pan out and where it will lead.

Future project? Touring?
Touring has become a very insidious proposition because it seems like it's hard to put the show together that you want, and putting something out there that is less than 100 % of your idea and vision feels like you are not reaching your full potential for your audience to see. Everybody tells you now day to go out, lofi, low cost, literally get in a van and tour but is there really a point to that? Will that actually help sell records these days? This is a question the band always talks and thinks about, so at this point we are pretty undecided what the future of live shows will be at this moment in time. Having said that, if the feedback merits it and there is a real demand we will obvious give it a rethink and possibly hit the road and do some shows.
Links
Latest Multimedia
6 color styles available:

Style switcher only on this demo version. Theme styles can be changed from Options page.