Browsing articles tagged with " artists"
Interview by Matteo Bussotti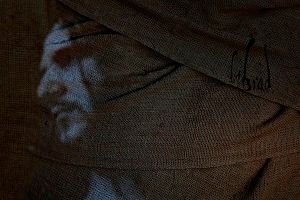 Din Brad is an "extremely" folk band from Romania. With the world "extremely" I mean they're really folk, in such way that they've taken songs directly from Romanian tradition and put them in their album. "Dor" is an album that may not appeal to everyone, but it's undoubtedly interesting and worth listening: it opens a window on Romania's traditions. Negru, their drummer and leader, told us why they chose this musical genre in particular, and what's the story behind this album and every song. Give Din Brad at least one chance. If you're in the right mood for some "ambient/folk" music, you won't forget them easily. And now let's start with the interview!
Hello Negru, and welcome to Femme Metal! It's not an usual thing to have a Romanian band here! First thing is: why this very particular, folkloristic and unusual name for the band?
Well, it was really an effort to come up with this name for our band. It somehow captures the essence of what we explore through it. Din Brad would be in English something like "from the fir tree…". The fir is an omniscient symbol in the local folklore and mythology, with many faces and nuances that we feel closely connected with. It emphasizes the relation with nature and universe and our place in it. It is a simple yet wise understanding that we may still find "alive" in some parts of the Romania.
Can you explain us the main idea behind your band? I think that the purpose of sharing a country's traditions to others is really a beautiful one, but why did you choose this purpose in particular, instead of "simply" making music?
We feel connected to this lands that carved a certain spirituality and we try to capture this natural feeling, without spoiling its inner beauty, parting ways with mainstream folklore, returning to the roots and taking a glimpse at that old traditional way that is fading away, revealing "Dor". It's a personal unique experience of sadness and sorrow when things seem closer to you and yet so far away. Nature, hills and mountains, deep waters, blue skies, hidden forests, home, a spiritual presence, places where the soul feels free, this is the path we choose.
Did you encounter any particular difficulties with this particular music style? Were you used to it, or did it "opened" your mind?
We've been into this kind of music and folklore for a long time, so it was just a natural thing to explore it more directly musically… There was more of a inner pressure to be able to express some parts of the richness and deepness of the local elements. But that's something that we'll always have. This project finds a path of its own, it all developed naturally becoming a unique experience that we want to share with our listeners.
In your opinion, what is the most fascinating thing about Romanian traditions and folklore?
I was always fascinated with the overall local traditional vision… every part of life, being it material, ceremonial or cultural were governed by "rules" passed from generation to generation, in which every aspect had a certain purpose and meaning and all put together made things flow in shapes of prosperity for the community. It was a very simple way of living, but enriched with deep meanings if only we have the right "eyes" to see. Even today traces of this old traditional vision can be seen in some isolated communities.
Did something or someone particularly influenced your songs? And also, are the songs in "Dor" composed by yourself, or did you take them among the Romanian traditional songs?
The album is composed of two distinct parts: on one side there are some traditional Romanian songs, sung by local performers in their original environment and on the other side is our personal musical view on the local folklore. We nourished our inspiration from old unknown folkloric songs but it represents our vision about "Dor". It is something we cannot put in words without losing its meaning, it is a certain atmosphere we try to capture through our music.
In the album, there is a growing complexity in the tracks. The first ones are very "simple", with some drums and vocals and some guitars, while in the last ones we start to hear more sustained rhythms, and also an organ is played. Did you make this on purpose, maybe to create a particular effect in the listener?
It was not a conscious decision… everything just shaped up this way naturally. I was not even aware of this until now… he he.
How do each Din Brad's member contribute to the songs?
We usually start with the overall concept, and from that pass to individual songs. Usually each of us has glimpses of inspirations about a certain song or theme, which we then explore further all together. So we combine individual ideas with team work in order to achieve the kind of atmosphere we fell expresses our vision.
There are many "only-vocal" tracks in "Dor". Apart from Inia, I guess who's singing them? Did you "hire" someone who's external from the band?
We have two female singers in Din Brad, Inia and Alma. So they do both vocals on the instrumental songs. The "vocal only" tracks are all singed by traditional performers, which are all guests on the album. We felt this mixture between personal creations and authentic traditional performances would make a nice balance on the album.
Do you think you'll do this same kind of songs in your next album, or maybe you're open to a bit of a change?
I think for the next album we'll have some more of our personal creations. We already started working on it, and it will be quite different compared with "Dor". We might still have some traditional guests on the album, but it will be something very different, as the whole concept of the album explores other territories.
Is there any Romanian artist with whom you'd like to collaborate?
Yes, there are several Romanian artists we feel we could work with. There's Tudor Gheorghe, a famous singer of the Romanian spirit, or Grigore Lese, a well know researcher and preserver of true local folklore. We have explored such possible collaborations already, and I'm sure we can do it when the time comes and in the proper circumstances.
How did the audience react to your music? Did you receive more attentions and appreciations than those which you were expecting for? Or maybe less?
I think it's still early for us to evaluate this aspect. We are still a young band, and we're aware of this status. So we take things slow, and allow us an evolution as a band, both musical and conceptual. It was a bit surprising though to discover that on the US tour we did earlier this year along Negura Bunget there were people that came to see Din Brad exclusively and even left after our performance.
Did you have the occasion to confront yourself with other nations' folk music scenarios? Is there any band from another country you appreciate the most?
We all listen all kind of international folklore. There are a lot of folklore band we appreciate such: Marga Musik from Lituania or Irfan from Bulgaria and some artists we feel they keep alive the same feeling: Mari Boine from Norway, Chavela Vargas from Mexico, Maritza from Portugal.
Thank you so much for your answer and your very interesting and unique music! We hope to see you soon playing here in Italy!
Thank you too for the support! It would be our pleasure to play in Italy, and to tell you the truth it might happen sooner that we think…
Links
MySpace * ReverbNation * Facebook * Site
Interview by Matteo Bussotti
You've probably heard before of "long-distance relationships". Some of them end well, others…do not. But, have you ever heard about a "long-distance band"? No? Well, I guess you don't know Forward Shapes, then! This band was created in 2005 at first by Andrei Kryssov and Brian Andrews (Guitar and keyboards, respectively), but they needed other musicians in order to have and record the other instruments, too. And so they finally found Marck Buchner (Bass), Ryan Hunter (Bass, Irish Whistle), the acclaimed Marco Minnemann (Drums) and Alison Vance (Lead singer). Their "geographical diversity" led Forward Shapes to record every part of every song of the album on its own. In fact, they've never played live all together, making this project extremely special; and extremely well made. So, we contacted Alison and Andrei to hear what's like to be in "long-distance band"!
Hi Alison! Hi Andrei! Welcome to Femme Metal! My first question for Alison is a very personal one: when they first contacted you for the Forward Shapes project…how did you feel about that? Did you expect to be contacted after you first sent your demo? And, Andrei, what did hit you about Alison's demo in particular?
Alison: Initially I put up a short advertisement for myself as a vocalist on a website that Andrei found me on (I don't even remember the website), and I told him I could do any style. He asked me to send back a demo, which I did, and once he decided to use me I felt like "All right! Let's do this!". I did expect to be contacted after the demo because I made a point to bring great energy that would vibe with Andrei's vision for his project. I thought, "I can do this if he gives me the opportunity".
Andrei: Thanks for having us! When I first heard Alison's demo I knew right away she was the perfect fit. First it was her voice – I loved her tone and delivery! I quickly sensed the passion behind her performance. The song "Mirrors of You" was specifically selected as the audition/demo track because of the technical challenge it presents to a vocalist – and Alison nailed it. Initially I asked her to record just the first verse and chorus, but Alison went way beyond that and recorded the entire song (this was a very strong sign of her commitment to this). I still remember hearing the final chorus that features a full vocal choir of Alison and Ryan Hunter (co-producer & engineer) – I remember hearing that part for the first time and thinking "she's the one". (This demo can be heard on our SoundCloud page here)
Andrei…why Forward Shapes? I mean, I bet some people have called you crazy for having started such a project! At the beginning, did you and Brian think you would have finally made it?
Andrei: I've been studying music composition and guitar ever since my early teenage years. After years of listening to bands like Rush, Dream Theater and Nightwish, I decided that in college I would start a Prog band (with female vocals) for the purpose of creating an album. I didn't want FS to follow a traditional path of recording an EP, playing in clubs, trying to get signed and then release a debut album. The vision was to skip all that and go straight to writing and recording the debut! This was the pitch I gave Brian in the early days and he dug the vision. During the writing stages I had no doubts that we would be able to write enough material – in retrospect writing was the easy part! The biggest challenges came with finding the right musicians and recording. I did have my doubts at times that I would have the energy to persevere until the end – but I believed too much in the songs to give up!
Did you have some particular criteria to choose the other musicians, or you simply "picked up" the ones you liked the most?
Andrei: I did have specific criteria for each musician. For my co-founder I was looking for a classically trained pianist that was into composition. I was very fortunate to have met Brian because he is not only technically and theoretically proficient, but he has an incredible gift of being a very melodic player. The melodies just flow out of him and during our first "jam" session I just knew that he was the guy I wanted to partner with! For vocals it was very open ended, but we were specifically looking for a female vocalist with a rock edge. It was also important to find someone with a fairly original voice – we weren't looking for someone who sounded just like Anette or Tarja. Technicality and professionalism aside, essentially we wanted someone who could just plain sing and sounded good with the music! For Bass I always wanted a guy I knew from the music conservatory at our University to join us. He has perfect pitch (very useful when learning an hour's worth of un-transcribed music) and is a killer bass player! I knew the Drums could make or break the album – and I was looking for someone with a very "tasteful" style (ala Phil Colins, Mike Portnoy and Neil Peart). I had auditioned and turned down nearly 10 drummers before reaching out to Marco Minnemann on a whim. When he agreed I knew I hit the jackpot!! I also didn't feel it was necessary to to audition him

Finally I also want to mention Ryan, my co-producer and Engineer, who I met randomly because he was Alison's recording Engineer. Ryan's Prog and Symphonic influences, classical training and an array of skills made him a perfect fit. He ended up making a lot of random but key contributions that helped shape the final product.
Now, tell me something about you, Alison: how did you start singing? Did your parents support tour decision?
Alison: I think I probably started singing before I started talking. It has always been my passion and my parents have supported me since day one. Once I was old enough (around 7 years old) they encouraged me to perform with a singing and dancing group that trained me and inspired me to continue my training into adulthood.
What's been the hardest part of being part of "long distance" project? After all…you had to record an entire album not living near to each other!
Alison: The hardest part was finding times that worked with both of our schedules to Skype or talk on the phone or respond to emails. We were both working and our schedules were sometimes impossible to coordinate. We did a good job of making it work, but it was definitely a challenge.
Andrei: The time delay in between recordings. Things take a lot longer when everyone has other commitments (work, school, etc) which delay the production. For example if Alison was unsure of my vision for a certain section, she would record several versions and send them to me. I would then process the recordings, give feedback and have her re-record if necessary. This becomes a prolonged back-and-fourth cycle. Had I been in the same room with Alison I could have given instant feedback and things would have moved quicker.
As a drummer, I have to ask you this: how was working with Marco Minnemann? What do you think about his part in this album?
Andrei: It was incredible! He learned and recorded ALL the music in 4 days. It was insane!! I am beyond pleased with how his parts turned out on the album. Just check out the instrumental track "Elusive" (full track) his playing is out of this world! A true professional – I was really happy to have had the opportunity to work with him.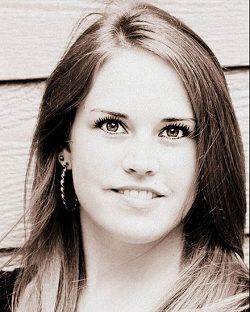 Alison, what do you think about Andrei and Brian? What was your first impression about them? (You can be as mean as you want!)
Alison: I never actually met or really worked with Brian, but I definitely respect and appreciate his arrangements and artistry on the piano. Andrei is very professional and had a true vision for his project. When he first explained his project I thought, "What a cool thing for his family and friends". But to see him elevate it and rise to its true potential is very impressive. Andrei was always very supportive of my creativity and artistic interpretation of his music. He learned how to work with a very intense vocalist and I seriously admire that!
What was your attitude towards your part in this album? Did you have to particularly train your voice for it? Was there a particularly challenging part in it?
Alison: My attitude towards my part in the album was this: my job is to bring the lyrics to life. I wanted the listeners to hear the key words and phrases that really defined the album (per my interpretation). I did have to train my voice because I had never done progressive rock before, but luckily I had Andrei and Ryan (co-producer and sound engineer) to guide me to the right sound. The challenging part was freeing myself to sound like I owned the genre. I ultimately had to decide that I had every right to sing this music.
And…as a singer, what was your favorite part of "Legacy"? I mean, what was your favorite "vocal part"?
Alison: I've auditioned with "Mirrors of You" and it remains my favorite melody to sing. I love the low smoky vocals of "How far will s/he go…" countered by the belting chorus and the "Whoa's." Very fun.

Andrei, when you recorded the album, did you already have all the lyrics written down, or did Alison have the occasion to write something herself?
Andrei: Prior to beginning vocal recording I had written lyrics for three of the seven songs. The remainder was actually written after Alison began recording. The pressure of having the next song's lyrics done prior to Alison finishing recording a song really helped me put pen to paper.
In which ways do you think you can improve yourself, as musicians and as a band? Is there something new you'd like to try in your new songs?
Alison: I think I can always improve my vocal versatility, so I seek opportunities to collaborate with original artists and I work on my own music. It would be an honor to work on any new songs Andrei might have up his sleeve!
Andrei: As a musician I constantly look for new areas of inspiration (musical and non-musical). Whether it is a new band, melody or some random idea – I constantly look for new things to inspire me creatively. As far as new songs my biggest goal would be to improve as a songwriter. After going through the process I truly now understand what an artist means when they say they've become stronger "songwriters". I hope I can share that sentiment in the future!
Now that your album is out, do you have any plans about going on tour, or physically "regroup" the band, and write some more songs, or are you only focused about sharing Legacy with as many people as possible?
Andrei: No immediate plans to go on tour, play live or write new music. Everyone currently lives in different cities across the US so it's hard to do that kind of stuff when you are an "Internet" band. I won't however commit to saying that nothing will happen! It would be awesome to play these songs live so some kind of performance may happen in the future – stay tuned!!
Alison, Andrei, thank you very much for your time and your answers, and…good luck!
Andrei: Thanks again for having us Matteo, hope everyone enjoys the music!!
Links
Facebook * Google Plus * Twitter * Site
Interview by Matteo Bussotti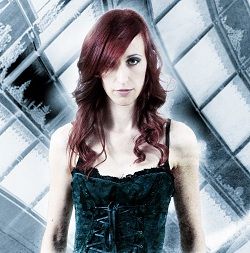 The debut album is of course an extremely difficult task for every band; we must say Siren's Cry completed this task with excellent results. Their first album, "Scattered Horizons", is a powerful example of what prog-metal should sound like. Siren's Cry frontman…I mean, frontWOMAN, Katie Joanne, is a very peculiar character: grown up in a family filled up with classical music, she one day decided to completely change path and follow the "prog-metal way". Reading about her childhood, about her experiences and Siren's Cry's ones was really interesting, and we are here to share them with you. Let's not wait one more second and read what Katie has to say to you!
Hi Katie! We're very proud and honored to have you here at Femme Metal! So, how was having your first album released after so much efforts?
Hi Matteo! Thank you, the pleasure is on my side! I am glad that our debut album is finished and I can leave it now for what it is: the powerful start of a great journey. I'm really excited to continue the journey and sail away to "new horizons".
Do you already have an idea of what's going to be in the next album? Have you already started composing something, or maybe is there any song you composed which wasn't included in "Scattered Horizons" and which we may see in future releases?
Definitely yes! We are already preparing new material. There are many parts and even finished songs we didn't put on "Scattered Horizons" due to lack of space! The album would have gotten too long and we wanted to show as many facets as possible, so that the listeners get a chance to hear and feel what Siren's Cry is all about. Take Sahara Sagas for instance, which is a trilogy. The first part can be found on "Scattered Horizons", while the remaining songs will find a home on future albums, along with other songs that didn't make it so far.
How was growing up in a family filled up with music? We know your grandfather is an awesome violin player and your father was a ballet dancer at the Volskoper. You sure had a lot of pressure on you!
Yes, both my father and my grandfather were really passionate artists. Living in such a family is not much different from others. I would say you just have different interests than other children and this is often a point where you are left alone when you say "No, I don't want to play with dolls, I want to play piano". It often happens that you have to sacrifice something in order to have enough time to practice. However, if you really want to do this and you want to grow as musician it is necessary and if you are aware of this, it's not a big sacrifice in the end.
We know you've had a quite difficult, or "challenging" childhood, musically speaking. You played different instruments, you entered in a music school, although at the beginning you weren't as good as the other students and had to really work hard to keep up the peace. Later, you found out you wanted to be a "prog-metalhead"! How did your father react to this? Can you tell us more about your childhood?
I don't think I have so many stories for you about my childhood, but yes, my dad went bananas as he heard that I decided to be a prog-head, because Vienna is very conservative and it is often a challenge to make your parents and friends understand why you have to do this whole stuff about making your own music. My childhood was not very easy but I'm happy for all lessons life has taught me and I don't get back to those times anymore, because future lies ahead and not behind, so I'm always moving forward with no regrets!
What have you learnt from music school? I mean in terms of "not giving up" etc. As I said before, I guess it was a quite challenging period of time!
I studied music theory, learned playing the piano and started to study opera and classical chant and all other things you need to use as tools for composing… and beside that, I would say I learned a lot about discipline, about the spirit of art and music itself and how to move beyond my limitations.. There is no "I can't", there is only "I will".
How do you feel now that all your efforts have brought you here, with a successful band, a great album (seriously, it's great, I have to say it),and the opportunity to do what you really like?
First of all thank you very much for the compliment, I really appreciate it and am sure that the boys also do! I think we are no superstars now and when the first album is finished, the real work begins. Until the stone keeps rolling by itself it is a very long way. It is a lot of hard work to live your dream, we live a normal life like everyone else, we pay our rent, we go to work, we definitely don't get anything for free, so it's not as easy as it often seems. On the one hand there is all the energy, effort and of course passion and love straight from your heart you put into your work, on the other hand there is support and response that we get from each other and of course from our fans. I think this is the biggest reason for our success and we really appreciate it.
What can you tell us about Siren's Cry members? How's the "group's alchemy"?
The band's alchemy is excellent! We are a great team with aspiring and extraordinarily talented musicians who really appreciate each other! I don't want to seem arrogant, I just want you to understand how happy I am about my instrumentalists and how proud and honored I am to work with them. The vocalist is often put to the front and all eyes are just on him, but I really have to remember that a vocalist without good instrumentalists is nothing! Only emphatic and musically sensual instrumentalists can highlight a voice wherever necessary, so I'm really thankful about my team. I have a lot of space to do what I want as a singer and as a songwriter, but if you want to know more, check out our upcoming "Making of"! People will get the chance to know a lot of things about the way we work! It will be available soon on our website (www.sirenscry.com).
Has there ever been a point when you thought you'd take another direction, trying maybe another musical style or genre (Even if I can't imagine you playing Reggae or Pop, for example!)?
All of us have a lot of projects going on beside the band and also give lessons. Because of our students, we often get in touch with alternative, pop and soul music, some of us have classical projects, or have also a second or a third band. We are open minded and interested in all kinds of music.
I'm a great fan of HP Lovecraft, so, as you can imagine, I kinda got very excited when I read (and listened to) "Elegy of R'lyeh"! So, how did this Lovecraft reference found its place in your album? And so, who are your favorite writers, and how do they influence your lyrics (I mean, how do, if they do, affect you choice of words, your language and the themes of your songs)?
I must say that at first, I didn't want to read Lovecraft because I was a little bit scared. But one day, Michael came up with some story about "R'lyeh", a city under the water, evil gods waiting to rise up. He showed us the piano theme during a rehearsal break and suddenly I was obsessed with this melody. Michael didn't expect such a huge reaction from us, but it was like taking deep breath of fresh air! He showed us the first parts, including the main theme, some little bits and the great chorus! He was not sure what to do with this little bits between the main melody and the chorus, so I just grabbed it and created immediately a verse and a bridge with some little arrangement changes, and there we had the first two minutes of the song! I was hypnotized by the sound and the writing process was so easy going and natural, an excellent feeling! I realized I had to read this book. Writing this song was one of the best moments I had during the making of "Scattered Horizons" and I'm really thankful for this experience! Writers who really inspire me are all the fantasy guys like J.R.R Tolkien, J.K. Rowling, Terry Pratchett, Bernhard Hennen, now of course H.P. Lovecraft and so many others. The influence of classical literature by John Milton and William Shakespeare can't be neglected as well. I would say that every story you read affects your writing in a way. It always depends on what you want to express in your lyrics.
A simple, yet very important question: how was meeting Dream Theater?
I would say like meeting Symphony X: unforgettable! We are all huge fans of their music and extremely inspired by them. Their music has accompanied some of us throughout their whole life and it fills us with strength and hope. To have the chance to meet someone who "guides" you through your life for such a long time is just incredible! The guys are really nice and humble therefore we really enjoyed the time with them and really appreciate those moments!
I was very excited when I found out you played with our best metal band: Rhapsody of Fire. Did you have the chance to have a nice talk with them? Even if Austria and Italy are really close to each other, did you find any differences in your way of playing metal?
Playing together with Rhapsody Of Fire was fantastic. I had the chance to talk to Fabio Lione and Tom Hess, they are the kindest guys on earth! We had a great time after the show and were talking a lot about music and projects and so on. It was really nice and I hope I will have the chance to meet them again very soon. About the difference, oh boy… If I start to tell you about differences between Austria and Italy, you will be forced to sit here for aeons and never come home…(laughs). No, seriously now, what I want to say: There are definitely a lot of differences, but in a positive way for Italy! Italy has a lot more discipline, ambition, the will to try something new and to try to overcome hurdles, great precision and passion and of course much more professionalism and the better musicians! 😉 I love Italy for all that! I think Austria definitely has the prerequisites to arrive at the same level, but the motivation to work on it is often a problem here! Of course we have a few really nice bands like Dragony, Planewalker, Juvaliant, Dignity. But if I think now of what I can list on bands from Italy, there is no comparison. I would start with A like Athena an end with V like Vision Divine, which are all fantastic musicians.
How's being supported, and being friends also, by a lot of famous metal musicians (As I said before, like Dream Theater, or Ross Thompson of Van Canto, as I can read on your Facebook page)? How's the metal industry, the metal scene? Does it creates lots of bonds among musicians, or is it a very competitive musical scene?
This is fantastic indeed. I love Ross! I will never ever forget his support during our gigs in Germany. I love all of them!!! George, Roland, Apollo, Fabio, Tom, Jordan, Mike, Russell, Olaf and so many other great friends and musicians, you can always learn so much of them and I love to exchange experiences with other musicians and I really appreciate this. The whole work we do on our own and we don't want to be friends with someone just because of business. The funny thing is that we never had some kind of friendship bonus like: "My mom knows someone who knows someone who knows someone". I never wanted to be this kind of person; I always wanted to achieve everything with my own hands and my own strength. I can't say much about competition, because I don't want to be part of such nonsense. I'm a musician and I'm here for the music! We always mind our own business, but what I can definitely say, and this is funny indeed: the less known the artist, the more competition. If you get in touch with experienced professional musicians you will soon find out that it actually is all about the music. Music shall not divide people, it shall unite them!
Thank you so much for your time and your replies, it was a real pleasure and an honor to have you here!
Thank you for this nice Interview! I had a great time!
Links
MySpace * ReverbNation * Facebook * Twitter * Site
Label : Femme Metal Records
Review by Tony Cannella
Here we are again. This is the latest compilation album put out by Femme Metal Records and like the ones before it, this is as comprehensive a look into the Femme Metal scene that you are going to find anywhere. "Melody and Malice" features 32-songs and over two hours worth of music spread out over two discs, in short, this compilation is packed to capacity with some great music. The beauty of compilations such as this is that it displays how wide and varied the Femme Metal genre is. All styles are well represented here, from power metal to symphonic metal to goth metal to prog metal to thrash metal, well you get the point. CD 1 begins with the modernized metal warfare of Deadlock with the track "Virus Jones". Exoterik is next with the great track "Revive", another modern metal song with some great moments of melody. Kittie is ferocious as ever with "Cut Throat" and In This Moment are on hand with the ultra melodic "A Star Crossed Wasteland". Mongrel contributes the chugging, marching vibe of "Zombie War". This compilation does a great job in mixing the well known bands such as Kittie, Lacuna Coil and Arch Enemy with some of the more obscure acts like Regardless of Me, Katra and Alerion and it all flows together quite nicely. The first disc is completed by the raucous hard rock of Jaggedy Anne (who also gets my vote for the best band name). It would be difficult to go track-by-track (not to mention long), but suffice it to say there is something for everyone here. Some other highlights that can be found on disc one are: the great classic metal outfit from Poland, Crystal Viper with "Blood of the Heroes", "And Their Eulogies Sang Me to Sleep" by the Canadian metalcore troupe The Agonist and the UK's Sarah Jezebel Deva with "The Corruption of Mercy". Disc 2 begins with the Romanian Power Metal band Magica with "Wait for Me", which is one of their very best songs (in my opinion). With compilations such as this, it is possible to find those gems that otherwise you might not be privy to. One such band for me, would have to be Witchburn from the U.S. I was completely blown away by this band and their down tuned contribution "Bleed the Stone", just excellent. After that, we get the more familiar with Austria's Edenbridge and The Mariana Hollow. Luna Mortis contributes "Ash", sadly this band is no longer with us, but "Ash" is a pretty good representation of what this band from Wisconsin had to offer, which is a lot. Two of my current favorites Triosphere (with "The Anger and the Silent Remorse") and Solsikk ("Relish in Nervous Delights") are two more highlights. Other highlights that can be found on the second disc are: Achilla (another revelation as I had never heard them before), Amberian Dawn, Evil's Desire and Rising Dream. I can't imagine the work that goes into compiling a compilation such as this. It must be a daunting task, but the end result is a resounding success. Like the compilations before it, this is a great place to start if you would like to investigate some great Femme Metal bands.

Rating – 95/100
Tracklist
Disc 1
Deadlock – "Virus Jones"

Exoterik – "Revive"

Regardless of Me – "Until I Die"

Kittie – "Cut Throat"

In This Moment – "A Star Crossed Wasteland"

Mongrel – "Zombies of War"

hAND – "Fate Sewn On"

Decadence – "Vulture"

UnSun – "Whispers"

Katra – "One Wish Away"

Crystal Viper – "Blood of the Heroes"

Winter Storm – "The Embrace"

The Agonist – "And Their Eulogies Sang Me to Sleep"

Alerion – "Turn of Fate"

Sarah Jezebel Deva – "The Corruption of Mercy"

Jaggedy Ann – "Skin of Your Teeth"
Disc 2
Magica – "Wait for Me"

Witchburn – "Bleed the Stone"

Edenbridge – "Higher"

The Mariana Hollow – "Your Halo"

Luna Mortis – "Ash"

Beneath the Stares – "Guilty Bystander"

Achilla – "Mirrors"

Amberian Dawn – "Talisman"

Lacuna Coil – "Spellbound"

Triosphere – "The Anger and the Silent Remorse"

Solsikk – "Relish in Nervous Delights"

Noctis Notus – "Scarlet Storm"

Arch Enemy – "I Will Live Again"

Further From The Truth – "Drifter"

Evil's Desire – "Touched by Insanity"

Rising Dream – "Religion for the Weak"
Independent Release
Review by Tony Cannella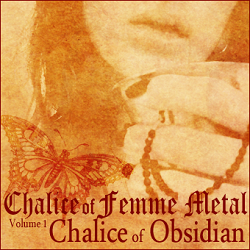 The new compilation from Chalice of Femme Metal is a pretty varied collection of songs from ten bands on the current Femme Metal scene. Among the 10-songs/bands presented here, the quality remains remarkably high throughout the 48-minutes. Things get off to a slower tempo start with "Salvation" by the always excellent Apparition. The orchestral Akoma is up next with "Forgotten Hero". The power metal riffing of Pythia highlights the next song "Tristan". "Shadows on the Tide" by Tainted Grace starts off with a cool, eerie guitar intro before the band joins in all guns blazing. Omega Lithium provides a modern metal sound with "Andromeda". Mask of Judas picks up the heaviness and intensity even more with the machine gun riffing of "To I Your Conscience". Fateless Tears showcases their brand of progressive Goth on "My Endarkened Self". Rhode Island Red brings more of a blazing hard rock slant with their offering "Kerosene". The symphonic Goth of Therion is up next with "Hellequin". A live bootleg recording of "World of Glass" by Tristania from Stuttgart in 2005 with Vibeke Stene on vocals is a great way to bring this compilation to a close. On "Chalice of Obsidian" I was familiar with some bands and others were new to me, which is always the best thing about compilations. With so much music out there and not enough hours in the day to listen to all of it, compilations such as these provides a great service to metal fans.

Rating – 90/100
Tracklist
"Salvation" – Apparition

"Forgotten Hero" – Akoma

"Tristan" – Pythia

"Shadows on the Tide" – Tainted Grace

"Andromeda" – Omega Lithium

"To I Your Conscience" – Mask of Judas

"My Endarkened Self" – Fateless Tears

"Kerosene" – Rhode Island Red

"Hellequin" – Therion

"World of Glass (Live)" – Tristania
6 color styles available:

Style switcher only on this demo version. Theme styles can be changed from Options page.