Browsing articles tagged with " avantgarde"
Label: Adversum
Review by Luisa Mercier
Alexander Nordgaren, already member of the Norwegian black-avant-garde metal band Fleurety, is the mind behind the project I Left the Planet. He has been joined by other Fleurety collaborator : Ayna Beate Johansen on vocals, Per Amund Solberg on bass and Mari Solberg on saxophone. The present release is a 3-track EP which might be compared to the main project Fleurety because the members are always the same, but has its own features of course. There are no black metal hints, nor the electronic which can be found in Fleurety. The avantgarde of I Left the Planet is more leaning on the jazzy/prog side. You can hear it starting from the opener "Diamond. Hazard", a short track with chubby riffs and a long instrumental break enriched by the saxophone played by Mari. It is a nice mix of metal and jazz made even more effective by the weird, but versatile vocals of Ayna. Continue reading »
Independent Release
Review by Davide Torresan
ElupiA is a symphonic metal band coming from Japan. As initial description it could be too much generic, but there are two interesting elements you should know. The first one is the unusual and unexpected presence within the line-up of two keyboardists. By one side this choice contributed to strengthen the rhythmic section, while by the other it has enriched the band sound.
"Wilderness" is their debut (mini) album with which they look out to the renowned metal scene of the Land of the Rising Sun. The second feature of this group through which it stands out from the other clone bands of the European acts like Nightwish, Within Temptation and Epica, is the ability of mixing classical music, rock, electronics, little hints of jazz (listen to "Risky Wine") and, sometimes, techno. Continue reading »
Independent Release
Review by Tony Cannella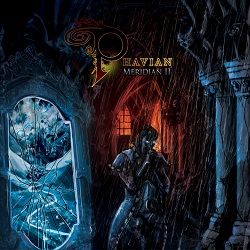 The progressive/avant-garde metal band Phavian returns with their third album "Meridian II". The band first came on the radar in 2009 with their debut "Kiena". After releasing an EP ("Foreword") in 2011, they released the epic "Meridian I" a few months later and have now released the follow-up.
The acoustic, melancholy of "Adam's Ale" begins the 6-song, 39-minute album on a beautiful note. Lead vocalist Elizabeth Matson shows what a diverse singing style she has and fits in perfectly with the music. The opening song clocks in at almost 3-minutes and is followed by two 8-minute tracks. "Purl" is next and is a nice mid-paced song, with tempo changes that goes from heavier, guitar driven and back to the acoustic style of the first song – in fact, it is almost like an extension of the opening number. Continue reading »
Independent Release
Review by Tony Cannella
The Los Angeles, California based Avant-Garde Progressive metal band Phavian released their debut in 2009, followed by the previously reviewed "Foreword" EP in 2011, now these musical wizards return with their sophomore full-length album "Meridian I". For a prog release the album last only 37-minutes and features 6-songs. I liked the previous EP, maybe a tad more than this one, but "Meridian I" displays some serious musicality and shouldn't be dismissed.
The band is only too eager to show off their musical chops like in the heavy, pounding instrumental opener "Slate". Phavian also plays with various tempos as the next track "Cobalt and Crimson" demonstrates with its slow, heavy and dreamy pacing, and also the introduction the clean vocals of Elizabeth Matson. Continue reading »
Label: No Comment Records
Review by Davide Torresan
I really don't like this season. Well, I think I truly hate summer. This heat makes me insane and, to contribute to this coma there is also the 2nd studio album of Stolen Babies, "Naught". I mean, I'm not saying that I didn't like it. The sound of this American trio of musicians composed by Dominique, Rani and Gil is an avantgarde rock/metal with a lot of experimentations. There are so many influences that they stun the listener, leading him into a hypnotic vortex from which it is impossible to escape. For me it is even hard to decide if it is weirder the "Naught"'s cover with its cartoon smiling houses, flowers, the sun and a strange pink sheep or its content. They call it madness, but the risk to do a hotchpotch with too many things was behind the corner. Stolen Babies solved it with some melodic refrains that will be stuck in your head for hours. Continue reading »
6 color styles available:

Style switcher only on this demo version. Theme styles can be changed from Options page.