Browsing articles tagged with " bad"
Interview by Ary R.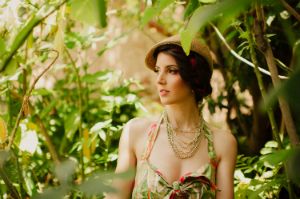 Some of you know this band thanks to Ryan Folden's work, After Midnight, some other got in touch with these guys on the occasion of the Dark Adrenaline tour by Italian act Lacuna Coil. Who are we talking about? The answer is here: American band THIS IS SHE, that in this 2012 enter the music scene with a well-respected EP, "Nobody Is Ok". As soon as the tour came to an end, I had the pleasure to exchange some chats with the sweet Alana Grace, that revealed something about this European tour and about the new goals of the band. This week Femme Metal hosts an interview with This Is She and we have the pleasure to talk with the singer Alana Grace.
Hi Alana, welcome on our website. How are you doing?
I'm doing great! I'm happy to be back from tour and relax into the holiday season. It's my favorite time of the year, and I'll get to see my family soon so it's a good time.
This Is She is an American music reality that slowly tries to introduce itself in Europe in the proper way. Would you like to share something about the band biography or about your musical careeer?
I met Christian and Ryan back in 2009 when I toured with the Vans Warped Tour. They were out with their band After Midnight Project at the time, and we all bonded together throughout the summer. Both bands had their ups and downs and in 2011 I think we were all ready to try something new for a change. I had an idea for an electronic rock band, and I was looking for players right as After Midnight Project decided to take a hiatus. So we hopped in the studio together and wrote for a few months before starting to play live. Finally we released our first EP in July of this year and have been trying to promote it ever since.
You've ended up the European tour recently, This is She was chosen as the support act for the Italian band Lacuna Coil. How would you describe this experience?
It was an incredible experience for us to go on tour with Lacuna Coil. They are so good live it was a little intimidating at first, but they were very nice to us and we became easy friends. I would say the crowds were awesome for us. They have a really dedicated fanbase who generally had checked us out before coming to the shows. It was so much fun to see some people were already familiar with our songs, and it really made us feel at home with their fans.
Interview by Ed MacLaren
Plagued for years by technical issues and internal strife, it didn't look like the debut album from Russian goth metal band t.h.e. Sacrament would ever see the light of day. But good things always come to those who wait – after four years in the making, "The Sobering Cold" has arrived and it was worth every second. An impressive mix of dark melodies and rhythmic crunch, "The Sobering Cold", shows no audible sign of the pains of its creation. Femme Metal talks with vocalist LoraSS about the troubled birth of "The Sobering Cold" and how it brought t.h.e. Sacrament together closer than before. The best thing is that they have four years of material ready to record.
It was a long wait but "The Sobering Cold" is out and it's an awesome album of atmospheric gothic metal. How does it feel to finally get this material out to the fans?
We feel that we did it! Now we can say that we called it a day! We feel that we can start work on our next material which waited on this release for so much time!
It took four years for the band's original vision to come to fruition. What was the genesis of "The Sobering Cold"? What were the delays and why did they happen?
"The Sobering Cold" contains all our first songs, written until 2006. But there were several causes that delayed its release. First, some days before the album presentation the record-studio gave us a completed but very bad quality CD. Everything was damaged: the recording, mixing, mastering and most of all the input material. It meant that we had to start again from the get-go. Second, I left the band when the album was being mastered. While I was absent, t.h.e. Sacrament made its own record-studio and its engineering quality was better than the quality previous to that. That's why when I came back we started the record a third time.
You left t.h.e. Sacrament for a period but returned in time to complete the album. What changed for you and the band during the time you were gone? What brought you back again?
It seemed to me that the mutual respect re-appeared between us. It was chance to start again from the get-go. I think it was a necessary period in our lives; it gave us the possibility to value the importance of each other. I'm sure it is good.
"The Sobering Cold" sounds incredibly mature for a debut album. Did the long gestation period allow you more time to perfect the music? What did you think of the results?
Thank you! I think that it was so, we had more time for the work on our album, and above all, we had the possibility to correct our mistakes, to re-record moments that weren't liked by us. We had time to become more professional musicians so we did a more mature product.
How did the delays in writing and production impact the finished product? Did the album turn out differently in 2010 than if you had finished it back in 2007 or 2008?
Of course, the album turned out in 2010 has differences from the previous variants of that. First, is the quality of the performance, recording, mixing and mastering. Second, it contains our new view of the material, new sounds and details have appeared, I have improved my vocal parts and added backing vocals in many songs. In "The Little Kingdom" we have changed it with an invited vocalist.
How did the band develop its sound? It's a unique blend of atmospherics and aggression.
I think it's different views of our music by the musicians. It seems to me the atmospherics is the female basis in our band – until recently the key board player was Juliett. And the aggression is male.
Musically, "The Sobering Cold" is a seamless unification of atmospheric keyboards, aggressive guitar riffs with a very inventive rhythm section. Do the guys in the band come from different musical backgrounds? If so, is it a challenge to combine all these influences and stylistic differences into such a sophisticated sound?
No, the guys and one lady on keyboards either came from similar or alike musical backgrounds or our band was the first band in their life. Of course, we are all affected by our favorite bands therefore there is this a combining of all these influences and stylistic differences.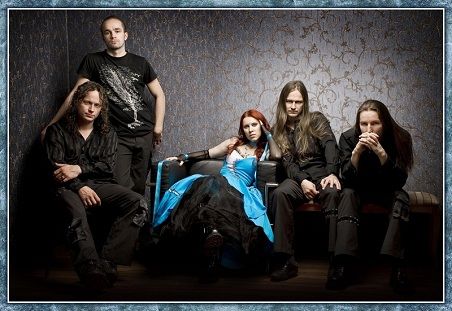 Your vocals on "The Sobering Cold" are wonderful. Your voice is clear and bright with a purity of sound that contrasts with the dark musical atmosphere. It has a sound quality that is unique among female metal vocalists. What were you trying to achieve with vocal contributions on "The Sobering Cold"?
Thank you! The most important thing for me is the emotion. I'm trying to say my thoughts by the intonation and the emotion, even maybe not by the words because there are a lot of people in Russia who don't translate the lyrics. Let it be only feelings such as melancholy, fear, uncertainty, anxiety etc. It's great because it means if I can create the mood, I can touch the soul.
"The Sobering Cold" is a great headphone album. The production is very meticulous. Tracks like the intro piece to "Falling Star" and "I've Got Only One Day" really benefit from the extra attention. How important was it to focus on the little details for this album?
You know, we never thought about it. We didn't try to focus on it is what I think we would say about considering variety, dissimilarity between songs per se. They're just different with their stylistics.
"The Little Kingdom" is a standout track on the album. It's more experimental vocally and is bolder in its arrangements and instrumentation. What were you trying to achieve with that track? Is it a bit of a taste of the direction t.h.e. Sacrament is heading on future releases?
No, it isn't so. It is just one of our songs. If you say that it's more experimental vocally, we simply invited a vocalist with clean vocals (because we haven't a clean male vocalist in our band). He, Roman Rain, is a famous musician in Russia, so it was an experiment of collaboration with a talented and original man. Also we invited Dmitry Rishko (Dominia) as violinist and keyboard player; he has an inimitable style and I think he has an influence upon this song.
The album artwork is beautiful and very striking. How does album title and cover imagery reflect the music on the album?
I tried to show despair, hopelessness, the feeling of time lost, because the majority of the album lyrics contains this subject area. Unfortunately, we often don't value our life, people who surround us – we are selfish and blind. We lose opportunities and regret it. I tried to say that the only cause of our tears is we ourselves, and if you dive into cold water in winter you may reveal that frozen water over you. Our life is in our hands, and we're responsible for our future. The album title and cover imagery is the moment of this truth.
The goth metal scene is very crowded these days. It's very hard for a new band – especially one with a female vocalist – to stand out. In the early days of the band, was there a conscious effort to try to do things differently?
We never think about it. We write music that we like; we don't think and don't know what it will be at the end. And in our early days we did that also. For us it isn't possible to push creation into narrow stylistic boundaries; we think these boundaries will deprive it of the air, the freedom. And if at some time we write a pop-rock song, we will play a pop-rock song, because the most important criterion is that our music must be liked by us!
We're starting to see more and more femme metal bands emerging from Russia. What's the scene like over there for bands like you and other metal bands featuring female vocals? Are there any stigmas or preconceived notions attached to being a female-fronted metal band or is there a lot of support for this type of metal?
I think there isn't a sharp difference between femme metal bands and bands with male vocals. Every band finds their fans, some people like the female voice, some people like the male voice. There must be different types of metal for different tastes. And the most important thing for many people is the quality of the band's material and the performance instead of the kind of vocal.
Are you going to be touring outside of Russia this summer or are you staying close to home? What we really need is a touring package of all Russian female-fronted metal bands. If you could put a tour together for t.h.e. Sacrament, who would be performing with you?
We aren't planning to tour outside or inside of Russia and some gigs this summer. There are two causes: we're working on our new release and summer is the dead season for music bands in Russia. In order to have the tour outside of Russia, we must be known to somebody in another country especially to concert agencies! I think we are only on the way to becoming a famous band and all is in the future for us. But if I'd dream of an outside tour and of the female-fronted metal bands with which we can perform, I think it would be …
(Famous) last words?
I wish for more good music.
Links

Interview by Miriam C.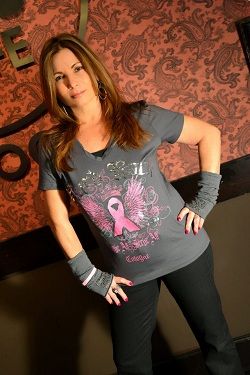 If metal impersonate as a queen the German Doro, instead in the melodic rock/AOR territory the true deal is the US Robin Beck. Known for the uber huge hit single "First Time" in 1988 born from a jingle of a Cola Cola commercial, after 6-years-break from the last album "Livin' on a Dream", Robin do her comeback with her 9th album "The Great Escape" on her own imprint, Her Majesty's Music Room. Want to know more? Continue to read this extensive interview…
Hi Robin, first of all thanks so much for accepting this interview! For me is a real pleasure to host and promote you in my webzine and I thank you for finding time out of your busy schedule to reply this humble questions.
Thank you Miriam I am happy to.
On your official biography, you stated that since you're a little child you wanted to be an artist and when you were 10 yrs old you have written your first lyric. Now, being passed so much time, did still keep it and what you think about it?
This is not a secret lyric. It's a childhood song about love of course… "Key to My Heart" Sort of a country song. I think it was pretty good for a kid.
Despite the fact that you are world famous singer, during your break for raise your daughter Olivia, you have still recorded album as a background singer. From this experience what you have learnt? Any good memory to share with us about that period?
I don't have anything but good memories… and still more coming. My daughter is the light of my life! You do learn from being a mother how to be a parent from your children. If they are happy… then you've done a good job… so I give myself a gold star. I will also say that from having Olivia that I became more conscience of how important school really is… this something I took for granted while I was growing up. I hated school but it's the most important part of our lives to begin with.
Let me get you to the early times of your career, at that time what were your favourite musical acts and are your musical tastes changed now?
Ha… Janis Joplin, Joe Cocker, Aerosmith, Queen, the Beatles, Stevie Nicks, Carol King, Crosby, Stills, Nash, Taylor and Reeves and the Supremes. Just to mention a few.
Your debut top hit single "First Time" in 1988 was a spin off for a Coca Cola commercial, how you got involved in it? Also the video clip was different in EU and in the US, why?
I was chosen to sing "First Time" the jingle… then the song was written and it just flew high by popular demand first in the U.K. – They then did an American Version since Americans don't speak English I guess! LOL It was perfect the way it was first created… then we simply rocked it out for the simple reason that I was noted as rock artist and that's the way they envisioned it for the States.
How was the genesis of your last album "The Great Escape", when you have started to nail down the first lyric?
Hummm… really don't remember specifically. It just came when it came… and out popped the entire album. We worked for about 5 months straight on it.
Your latest studio album was 2006′s "Livin' on a Dream" (now I'm excluding the re-release of "Trouble or Nothing"), why it passed so much time since then?
I was putting together my own label and time was just flying by. I was also managing a band at that time and devoted a lot of attention to them.
How's born the partnership with Tommy Denander and James Christian (that's your husband)?
I met Tommy during a "Radio Active" invite to sing a song… and from there it was a relationship of 3. Me, James and Tommy. We are all very tight. James my husband is in House of Lords. He might be the best producer I've ever worked with. Not just because he's my husband, but because he really gets me and knows better what I can do than even I do sometimes… it's great to have these 2 men by my side.
What's your personal meaning and what do you want to express with the title album "The Great Escape"? Or it's simply related to a lyric present in the album?
For me it's meaning was simply to take a break from life and listen to some great music. But the song is literally about getting away or escaping the trappings of a bad relationship. The title of the album really has nothing to do with the song I'm afraid. I kept it because I just loved the image I had created in my own head. When I'm listening to music that I love… all my cares vanish. That's what I want for my fans.
Two songs that totally hit me are "The One" and "Don't Think He's Ever Coming Home". What are the subject of this lyrics?
You hit the nail on the head with these two songs Ms. Miriam. "The One" is clearly about the love of my life and how to let him in on it. "Don't Think He's Ever Coming Home", is a whole other story… this is an unhappy ending for a girl who tries to keep a man that truly wants to be with his intended. Some girls are just lying to themselves and this song spells it out for them in a most unforgiving light.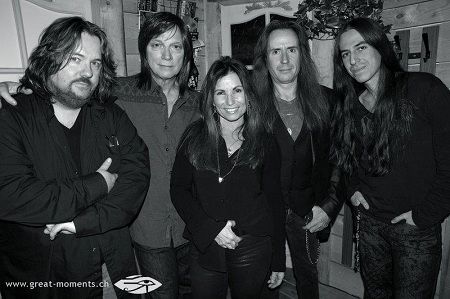 On "That All Depends" you sing with Joe Lynn Turner, how do you feel to realize such a dream? How was standing literally (and singing) beside him?
Ha… that's funny… I've known Joe Lynn Turner and have sung with him for years and years… you'd think I'd be immune'd by now … but he's dreamboat. I've always loved his voice and his way. I can't say enough nice things about Joe Lynn Turner. It was great that he took the time to do this with me. Hopefully we will do another song together in the future.
In February 2009 you founded your label Her Majesty's Music Room, why? I mean you haven't no more faith in the labels?
Yep! That's it in a nutshell. It's a smaller system but much more satisfying. I mean really… working with a label can make you or break you… but working with my own label makes me happy.
The re-recorded release of "Trouble or Nothing" include 4 bonus tracks. If I got it right the songs are original from that session and why at the time weren't included into the album?
No no no…. these songs were not from that time period. They were fresh newly written for the re release of "Trouble or Nothing".
In the 80′s MTV was the leader in broadcasting and promoting AOR bands/singer like you now after 20 years or so we find that internet, with its connections of webzine and sites dedicated to music, is taking the lead. What do you miss of the 80′s from this point of view? And also how much do feel confortable this all this new technology? Have you already notice any pros and cons for your activity?
It's great… no matter what this is how we evolved. For me it's wonderful. I have much more exposure… sometime not the exposure that you want but as they say… all press is good for the artist… good or bad.
Watching your long, stellar career what it is missing is a full concert DVD. Any plans to record it?
Yes… we almost did it at Firefest. But I'm looking to do something that spans my career, not just a rock concert. This takes time but I can assure you not too much longer.
Finally your EU fans have the chance to meet you during your upcoming "Here Comes Trouble Tour" made of 10 dates running thru Germany, UK, Switzerland and Austria. Any project for a full European tour?
I am trying to put that together already. It was only the beginning to start this year after so many years of being missing from the touring circuit. It will take some more time to build up the audience awareness… let's start here. Tell everyone to keep an eye on www.robinbeckrocks.com for coming tour dates in 2013 and Facebook as well.
After this EU tour, what are your next plans and if yes, are you involved in other musical related stuff?
I am in the middle of making a new album right now. We are also discussing new tour for 2013.
Olivia, your daughter is following your artistic footprints, would you mind present her and her songs?
She's amazing and living her dream right now as an actress… but this girl has pipes and she can do anything she wants to. I would be proud to see her live her life and use her talents to make her own dreams a reality.
I've a just a little curiosity to fullfil, you know I'm from Italy and time ago you have recorded a duet with Pupo (that's a real famous songwriter/singer here). Do you mind tell me how's born this collaboration? To me, discovering this was such strange because Pupo doesn't really represent the attitude of a rock star.
Well there's not that much to tell… he reached out to me to do a duet with him and I did. It was fun… and Olivia was only 10 months old at the time so she was in my arms the whole time I was with Pupo singing.
Well, Robin, we're at the end. I really thank you for your time. Please greet your fans and our readers as you like. Really thanks, Miriam.
Please come visit me at my website www.robinbeckrocks.com and on Facebook. I would love to see you there. If I'm in your area please come out and say hello. Watch my website for any details in the coming months. All my love.
Links
Label : Rock'n Growl Records
Review by Disgraced & Luisa Mercier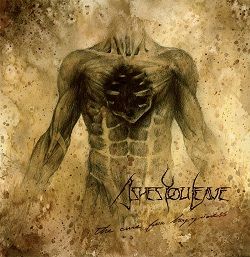 From Croatia with sadness. Ashes You Leave, the historical doom-gothic metal band that started already in 1995, are back with their sixth studio album and a new, hoping solid line-up. Well, I'll immediately say that I'm a long, long time fan of them so many of my judgements might be shadowed by my own liking of the music but two big faults, according to my humble opinion, are present as well and be sure I'll point them out nonetheless. Kicking off with a piece of news most readers of this webzine will be interested in, this is the first record with new female singer Giada (also her first professional record ever), who marks the third woman in a three-records period in the AYL camp and their fourth singer generally speaking. Leaving apart first doomstress Dunja, who marked the mydyingbride-ish sound of their first three albums, and without being rude to Giada's two predecessors (one of whom was an incredibly talented keyboardist as well), it's pretty clear since the opener "Devil in Disguise" that she's the best choice for this band, with a quite distinctive voice which I'll be about again later.
As I just said, "The Cure for Happiness" starts with "Devil in Disguise" which quickly shows you the best the Croatian have to offer; one might say that this album is a bit like "Songs of the Lost" #2, since with their previous album they had abandoned most of the symphonic temptations presented on "Fire" and on the opposite embraced again a slower, more melancholic kind of metal which certainly suits them better. But beware, there are very, very few "nu goth metal" elements here, no Delain or Lacuna Coil-like so to say. A generous solo in the opener track, and the overall heaviness are good examples of that – examples which shold be taken and learnt by many. Of course one of the trademarks of this band, aka miss Batinic's soaring violin melodies are always there but they aren't part of the real own structure of the songs as they did in the past (the firtst three albums reworked the lesson of My Dying Bride's "The Angel and the Dark River" in a quite personal and successful way) although since being Marta together with guitarist/growler Berislav the only two founder members remained - a couple in music and in real life, for gossip's sake – the feeling of a classic sound will be perceived by any old fan, thanks to that subtle red line that separates AYL from most bands in the same genre. Guitarist Berislav Poje, as already mentioned, is also responsible for the male harsh vocals audible hear and there in the most traditional duets à la Theatre of Tragedy with Giada; this marks another big and good return, since it was many years we didn't hear so much manhood in AYL vocals. His growls are deep and powerful, very much death metal alike and very fitting. Second track "Only" Ashes You Leave starts with a beautiful violin-paced movement and seems to be a little less uptempo than the opener; perhaps if Placebo ever decided to play metal they'd deliver something like this – with Molko's already rather feminine vocals it wouldn't be that hard

and let's remember AYL themselves did an incredible rendition of "Every Me Every You" on their previous album. Particularly notable in this song are the guitar riffs again and the groove toward the end of the song born also thanks to the work of the other new bandmember, drummer Sasa Vukosav, who really did a great work with the sticks, and Luka Petrovic's bass skills.
Third track "For the Heart, Soul and Mind" has been released as an online promo single few days ago. Probably that's because it's a faster song with a catchy chorus; strophes are actually the best part in my opinion, with an almost stoner flavour in them and Giada's voice getting a bit acid. In the chorus instead she lets herself be driven by a semi-opera style which comes again in the final vocalizing. Well, this is a point worth of discussion because I think she has a wonderful, warm, natural low voice which makes some tracks simply shine. A bit reminiscent of both Flowing Tears vocalists, past and current, just to give you an idea: they are not the same but that is the what we're speaking about. I think it would be a pity if such a particular singer were influenced by the actual trend in melodic metal and pushed herself to go higher and higher with octaves or to sing operatic-like (although this would help her delivering the "Fire" material) because there are already so many bands with women singing that way while Giada here seems to be quite good at handling lower and more powerful vocals… and there are many examples in the actual "new wave of doom heavy metal with p***y on vocals", just think of Jex Thoth! Add that Etro shares also the same hair colour with Thoth and les jeux sont faits.

Back to our review, what we have next is "The Ever-Changing", a track more difficult to get which proves what the guys are able to do when they let their doom roots grow free in the musical ground. If Giada didn't sing that operatic (she did it perfectly but it's the same as above; think of Mariangela Demurtas singing old Tristania songs, she does it wonderfully but what is unmatchable is her contralto voice, making her resemble a Grace Slick in a metal band) this would be a real 10/10 track! Heavy, melancholic, f**koff guitars, also a bit of evil floating in the background and you have something Draconian would die to write.
Fifth song is "Meant to Stray", which I admit is a song I still have to fully understand, even after dozens of listenings. It's an average midtempo song which simply doesn't impress me like the others, with a certain mainstream rock vibe in it. Following is one of the highlights of the album, smartly chosen as first promo single already back last April. "Summers End", as I commented on YouTube me myself, is an instant classic, without any doubts one of the best songs the band ever created and I would like to speak face to face to both older and newer fans saying it's a bad piece. It's one of those rare songs that immediately grow on you AND even after you listen to it so many times like I did, it's always like the first time. A soft arpeggio introduces Giada who delivers her most passionate interpretation, so full of emotion, in one of the most beautiful vocal lines of the whole album. Lyrics are so meaningful, yet simple and straight, proving that you don't need complicated metaphors to let your inner feelings out: after all, anything you feel is plain and direct inside your heart and mind (and soul, according to track number three!) so why should it become complex and twisted when you give it to the world?
Is this human nature
Are we designed this way
To be unhappy, so uncertain
To live in fear every day
Yet in the affairs of the heart we dwell naïve
So childishly gullible and willing to forgive
And when we're left with nothing but the choking pain
We hope it will be washed away by the autumn rain
Aiming something straight like in this case does not take the magic of the music off, on the contrary it helps you to drown even more in the cloth weaven by the notes. In the middle of the song, before male vocals have their say, we have another beautiful, short guitar solo that comes to life again later on. Also the violin allows to build the whole atmosphere and the initial arpeggio ends the song nicely – one of AYL's flaws is that the end of the songs too often stops sort of abruptly. So we arrive to the seventh track "Reality Sad", a good and heavy stone thrown at you without mercy. Berislav, Matija, Luka and Sasa produced other grinding moments that live will truly smash crowds. Oddly enough, first listenings to this track brought some similarities with Salt Lake City-based band Subrosa to my ears. I should have said "oddly to the maximum", because Subrosa are one of those bands you just cannot describe without sounding too devoted to be objective or anyway, without failing in giving a rightful impression. If you who are reading this love doom metal, both ol' school one and modern styles, if you like stoner/sludge, The Sins of Thy Beloved, '80s darkwave, heavy guitars dissstorted, avantgardness and pure magic in the end, go check them out. Well, fact is that we have doom in both bands, we have violin in both bands, and female vocals too, and above all, the reason why I thought of the comparison, a similarity in the way guitars and vocals speak to each other, the emission of vocals and the sharpness of the axes, maybe it's just me I get this because of the production but hey, that's the impression I had. "The Cure" does not have anything to do with the new wave band but is a beautiful violin interlude; too bad it's so short because it would've been quite original to have it as a full song – and please note that I usually don't like instrumentals. Final track is "…For Happiness" which sadly sounds too anonymous than the rest of the album, definitely not a highlight for me. It isn't a bad song, it also has a good crescendo but as we use to say here in Italy, it's "not meat nor fish". Personally I would have chosen some other ending, maybe with more impact but I'm glad they didn't make any suite or whatsoever because for me it's the same speech as for instrumentals. But hell! We don't have pompous, orchestral metal here luckily! Even though it would be interesting to see a band this kind having their hands into a long, long track that is actually a suite and not a common deathdoomgothic metal llllooong, slllooowww song.
Now, I have already mentioned some major flaws here and there when I met them but now it's time to face the two biggest ones which motivated me to lower my final mark even despite all the love I have for this band (so you see, in the end I succeeded in being impartial!). First one: this is not a doom metal album as the label or the band promoted it and Ashes You Leave are not a tout court doom metal band since ten years. I don't know whose fault is this but if you actually look at promo stuff or statements and you don't know the band you'll easily expect something totally different, like Shape of Despair or Funeral, or even like early Theatre of Tragedy which is without any more words different from what it is and from what the band is nowadays. However, I must also say, especially for newbies, that doom metal is NOT necessarily slowed down to death and does NOT necessarily have to feature all those elements metalheads usually like about the aforementioned bands. Black Sabbath and Pentagram don't use growl vocals, don't have female fairies chanting ethereally, don't have soaring keyboards or orchestral effects and don't have lyrics that deal with shakespearean love. It's a fact that too many young guys think that doom metal is restricted to My Dying Bride or early Anathema and that doom-gothic metal is restricted to Draconian or early Theatre of Tragedy which is completely false. But that is not the full point here; "The Cure for Happiness" depicts usual elements of doom metal, both old and new, but it's simply not SO doom as one might think. It's a different kind of sadness hehe. They're too fast for those who have Unholy's and Thergothon's logos tattoed on their arms and too slow and heavy for most "femalefrontedmetal" (=mellowmainstreamstuff) fans. So if you like or want to explore the middle path or enjoy milestones like Theatre of Tragedy's "Aegis" or "Forever Is the World" or Tristania's "Rubicon" or "Ashes" this album is definitely worth your attention, otherwise you might be disappointed. Second big flow is, for the one who speaks, a mistake they're doing since 2002′s "Fire" album. The production. Everything here is crystalline, polished, well done. Fact is that it's TOO crystalline and polished. It lacks a kind of ravishness which would go along so greatly with the guitar-laden melodies (one of the best points here, don't worry: no keys to build the songs, as it's supposed to be in metal): actually guitars are so sharp and heavy that it's a big pity they don't have so much impact. I say that this was to be detected also on the two previous albums because on the slower first three ones it fitted more, it added to the decadence of the atmosphere, hopelessness and desolation matched by the sound itself. But here it just seems like attacking an army of soldiers with guns and rifles riding a horse and throwing arrows. Moreover, I think vocals are often pushed in front too much and to me (personally) it gives the impression they are not well blended together with the other instruments. Like having your singers doing their job in the kitchen with the rest of the band playing in the living room! So mostly because of this I gave this album the mark you see hereunder but I hope the review says way more than a single number. Plus, it wants to be a kick in the ass for the band to be pushed to do even better next time, so it's because I trust them a lot that I want to force them to improve again more and more, even after all these years.
Rating – 79/100
Ashes You Leave is the most famous Croatian female fronted gothic metal band, founded back in 1995 whent the genre was flourishing thanks to legends like Theatre of Tragedy and Tristania. Their earlier releases are very doom oriented, paying tribute to their main source of inspiration: UK doom band My Dying Bride.With time they developed their sound, mixing it with more atmospheric elements and entering the realm of gothic-doom. In the meanwhile they changed three vocalists and at present an Italian girl fronts the band: Giada Etro.This is their sixth album and compared to the previous one is more guitar oriented even though guitars and violin have not been forgotten as the opener "Devil in Disguise" shows.The song is long, but the vocals are very melodic and make everything more bearable, she has got the classic pop voice and makes everything brighter. Even riffs are more melodic compared to what I have listened of their early releases.First three tracks follow the same formula: long gothic melodic songs with atmospheric inserts of keyboards and violins and growls that appear here and there to contrast Giada angelic voice. In the "The Ever Changing", the song leans more on the doom side with flute and violins, while Giada shows that she can be versatile, using her voice in a darker, semi-operatic way.There is a beautiful atmospheric bridge with violin in the second half of the song. "Meant to Stray" is maybe one of the heaviest on the album due to great presence of growl and guitar riffs matched by violin in background. "Summers End" is more rock oriented than metal, while "Reality Sad" is a shorther song that does not offer much more if compared to the previous songs. "The Cure" is an acoustic break of a minute and a half that will leave you relived after all that metal. Closing track is "For Happiness", classic gothic metal, very guitar oriented. The album is perfect if you are a classic gothic-doom metal lover, if you are nostalgic of the early sound of this kind of music.
Rating – 65/100
Tracklist
Devil in Disguise

Only Ashes You Leave

For The Heart, Soul and Mind

The Ever Changing

Meant to Stray

Summers End

Reality Sad

The Cure

For Happiness
Line Up
Giada Etro – Vocals

Berislav "Bero" Poje – Guitars & Vocals

Matija Rempešić – Guitars

Ana Torić – Keyboards & Flute

Marta Batinic – Violin

Luka Petrovic – Bass & Vocals

Saša Vukosav – Drums
Links
MySpace * ReverbNation * Facebook * Twitter * Site

Interview by Ed MacLaren
Brazilian thrash rockers, Shadowside have spent the last five years defying conventional definitions of a female-fronted band with their searing brand of metal. With their third album, "Inner Monster Out", a hard driving riff-fest fueled equally by hooks and hammers, Shadowside is determine to stand toe-to-toe with the best of 'em. Vocalist Dani Nolden took some time to talk to Femme Metal about drastic changes that resulted in a creative leap forward, the band's work ethic and the dangers of letting her inner monster out.
You've unleashed "Inner Monster Out" upon the world and our ears haven't stopped bleeding – it's a fantastic album. You've really raised the bar on this one.
Thank you! This album was kinda like a "do or die" thing for us. We had to top ourselves, not because the fans said it or the press said, but we felt we needed that. As a band, you have to always search for the very best you have to offer and keep people interested, surprised. The band was in agreement that in order to surprise and impress people we would have to impress ourselves and come up with something even we didn't know we were capable of creating. We had a great time bringing it to life and after we were done, we were absolutely sure this is the best album of our careers so whatever the results and whatever people's opinions about it could be, we were happy as musicians. Fortunately, people love it as much as we do so that tells me to always trust our instincts and do what we enjoy doing! There's always people to listen to what you play if you put your heart into it.
The band sounds like it's firing on all cylinders musically and vocally. It must be a great feeling when you're recording an album and everyone on the team is playing at the top of their game.
It is – no doubt about it. It's easy to perform your best when you don't have to worry about whether your band members will be able to deliver or not, or whether you'll have to fight for the musical direction of the album at the end of the day. I knew they'd do a great job and they did. I could go out during the day sometimes and not have to sit there through the recordings of everything because I had complete trust in them, you know? We didn't have to monitor anything, just like when they didn't feel like watching me record, they didn't have to. Sometimes they'd just go play videogames but not because they didn't care, just because they knew I'd never come up with something they wouldn't like. Raphael recorded lots of guitar solos while everyone else was asleep (laughs). It's amazing to work like that… We were absolutely at ease and every step of the way was extremely fun!
Lyrically, "Inner Monster Out" is pretty intense and the music reflects that intensity. What took Shadowside in such a heavy direction on this album?
Before we even started working on the music, I was already playing with words a little bit… I like starting with titles and topics to write about and go from there and everything was very deep, introspective and personal, sometimes kinda dark as well. I wasn't unhappy at all though, the band was doing well and everything was great, I was just taking a dive inside my own head and into anything that made me think. When we started working on the music, everything came together like magic. My songs were intense, the songs the boys wrote were intense as well and when we started working on them all together, they got angry, heavy, full of life and I thought they were perfect for those topics I had been playing with in my head. The songs got more mature so the lyrics had to follow and thankfully, that was exactly how I wanted to explore my lyrics writing this time. It was like everything was meant to be, you know? Like we were all reading each other's mind and looking at the same direction. We kept it fun and melodic but we wanted it more aggressive. We wanted to capture that intensity that we have on our concerts that makes people and ourselves go crazy and unleash our "inner monsters"!
You changed your recording methods as well for this album didn't you?
Dramatically. Not only the recording methods but the writing methods as well. We used to book a studio and get a producer, then we'd go to the studio in the morning, record for 12 hours a day and then go back home and do the same thing the day after. By the end of the recordings, we were all worn out and sick of the album to the point that we'd let some things slide just to be done with it. That's not ideal but it's what happened. Then after a few months, we'd all sit and talk to each other about all the things we wish we had done differently. This time, we went to Sweden to work with Fredrik Nordström as our producer and he has a studio with all living facilities in it. He has beds, a kitchen, bathroom so the 4 of us lived in the studio during the recording. Literally. Fredrik worked for 8 hours a day but he'd let us use the studio 24 hours a day, 7 days a week. So we could just wake up, go to the studio, play with the songs, experiment with them and just have fun. When we were tired, we'd leave it for a while then go back to it but there was no pressure. When it comes to recording, we just made sure that everybody in the band was happy with the songs at all times. We have very distinct tastes within the band and we figured that if we could create something interesting for the four of us, it would be unique and different with a lot more chances of pleasing people. We also did everything together. No song sounds exactly like the demos each of us brought to the studio. We all arranged everybody's instrument and no one was overly sensitive about it. We'd use whatever good idea, so I wrote some guitar riffs, Raphael and Ricardo wrote some melodies, Fabio directed some of my vocal recordings. We happily worked as a team.
What's your Inner Monster and what does it take to bring her out?
(Laughs) You know what… my Inner Monster ALWAYS comes out at the worst possible moments and it can often cause embarrassment to myself and to others (laughs). The "Angel with Horns" describes my personality well… I'm usually sweet but can be a little evil at times. And it usually happens when I'm actually trying to be nice… a while back I hosted a tattoo event and one of my favorite tattoo artists in Brazil was judging the tattoo contest. He's over twice my age and winked and flirted with me during the whole event but still I didn't want to be mean so I just kept my distance. After the event was over, he came over to talk, gave me a card and I ended up opening my big mouth to pay him a compliment and instead said a "Dude, I'm your fan! I followed your work in surf magazines since I was a little girl!" (Laughs) He got so uncomfortable that he immediately left and I wasn't even trying to be a jerk, I think it's just natural in me (laughs).
The title track features Björn "Speed" Strid, Mikael Stanne and Niklas Isfeldt – a unique cast for a unique song. I guess the boys did alright on this one, didn't they?
Hell yeah, they did great! I expected nothing less than great since they are all amazing singers but they sure did even better than what I originally had in mind. What I like the most about how the song turned out is that all the voices on it are so distinct but they all fit. It was an honour for me to perform alongside those guys. And it was great fun to take them outside their comfort zone and let them bring their own personalities to Shadowside at the same time.
Have you thought about expanding the writing style in "Inner Monster Out" and writing some longer pieces for multiple singers like a sort of "metal opera"?
There are no plans to do that right now but then again, we never make any plans. We just let things happen. Some of our fans asked us why we never had guest musicians before the "Inner Monster Out" album, the truth is that just now we wrote a song that actually needed more people singing, in this case to match the story. So while we won't force the songwriting in the "metal opera" direction, someday it might just happen that we write a long song that we feel multiple singers should lay their vocals on. It's surely something we would do if we all liked the song and felt it has the Shadowside energy.
Shadowside started very strong out of the gate and hasn't looked back since. How were you able to reach this level of popularity in such a short time? Was it the music? The energy? The timing?
All that plus the hard work, I guess. I actually think the timing was horrible for us because Shadowside started when female fronted metal became popular, especially Nightwish. So there were hundreds of bands appearing every day trying to be them and lots of people thought we were just another clone band. That slowed us down a little because lots of potential fans would come across our ads on magazines or interviews or people talking about us and would say "I won't even bother checking out this band because I don't like these Nightwish clone bands" when we were nothing like them. It took time for them to understand we had our own thing going on and it was very different from what everyone else was doing. Many liked the music a lot when we first released a demo and I honestly didn't expect that much. But I think we had such a positive energy on stage, we love what we do a lot and that's usually contagious. We used the Internet a lot. We kept in touch with our fanbase through MySpace, through Orkut, which is very popular in Brazil. The work in this band never ends, there's always something to do either regarding the music or band business, we don't take time off, we don't need vacation. Our holidays are the tours! We play when we're sick, unless we absolutely cannot perform. I sing unless my voice is gone, the boys will play unless they can't move. Fabio played the drums with a broken finger on the European tour with W.A.S.P. And being in a band is what we love the most in our lives and that shows through in the music. Sometimes the music is good but the band isn't fully committed to making it a success or they just record, upload the music to their website and hope things will magically happen. We searched for success and are still searching. In the meantime, we keep trying to improve as no matter how good you are, there's always something to fix and you can always be better. That's the key to success in my opinion… respect your fans and do not stop working.
How do you respond to that kind of early success? It must be tempting not to mess with a formula when it's working but then again where does that leave you to grow?
That's exactly what we think. After we released "Theatre of Shadows", which received high praise in Brazil, we had that discussion for the first time. Should we continue what we did on "Theatre of Shadows" or should we keep exploring? I believe that if you don't surprise your fanbase, they'll eventually get bored and you won't reach new fans either. Then when "Dare to Dream" was really well accepted even though it was a big change from the debut album, we got even less afraid to try new things. We keep the band's roots, of course. The energy is there, the melodies are there, music comes before musicianship, but why not try new things we learned or that are very different than what we grew up listening to? We need to shock people, we need to wow them, otherwise we just give them more of the same and they'll go look for the freshness elsewhere. It's a real challenge to do that while still maintaining Shadowside's identity and I love it, it challenges me as a musician and I think the guys will agree with me on that. That's how we responded to that success… we felt that if we didn't top ourselves, nobody would be impressed either and instead of getting cocky thinking we are the next big thing, we got humble and thought we should work twice as hard to actually deserve all the praise we received.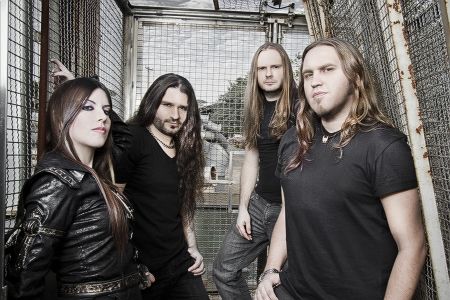 In Brazil, Shadowside is a big deal. What are your goals for expanding that popularity beyond the Brazilian borders?
We just hope to go as far as we can possibly go. We'll tour a lot, keep in touch with our fans online, I think the Internet is a huge tool that many musicians still don't know how to use very well. Now that we have history to show in our own country, we'll try achieving the same things worldwide.
How does Shadowside differentiate itself from its Brazilian metal contemporaries? What do you do to make Shadowside unique?
There's nothing specific that we do, we just don't label ourselves at all. Many people call us a power metal band but we don't so we don't get trapped in the genre. If we wanna play something that sounds more like thrash metal, we can. Why not? So we mix together thrash metal, power metal, hard rock, modern stuff, whatever we like and try to make it flow together naturally. But we don't think, "We HAVE to add all these elements." We just have so many different influences inside the band and we don't necessary try to sound like them. Raphael likes Pantera and Fabio likes Slayer, but they don't wanna play Pantera and Slayer, they wanna play their own thing so when they start playing together, something interesting and unique comes up. I notice most people starting a band look for band mates with the same tastes as theirs. We embraced and used our different ideas, views and tastes. I don't think you'll ever see Shadowside changing the lineup due to musical differences.
Many female power singers look to male singers as influences instead of female ones. Are you the same way?
I am, but that's only because I grew up listening to the guys. When I was a child, I listened to what my parents listened and that was Queen. Then my cousin showed me Guns n' Roses and Skid Row. After that school friends showed me Judas Priest and Iron Maiden. By the time I found out about females in rock and metal music, my voice and musical personality were pretty much formed. Nowadays I like many female singers, a lot. I love Lana Lane's voice for example and if I had heard that woman singing when I was a child and early teenager, she would have definitely been one of my major influences. The Skunk Anansie singer is amazing too. I like unusual, unique voices, male or female.
You sing like a force of nature. Where does all this power come from? Did your voice always sound like that?
It must have been all the screaming I did when I was a baby (laughs). But it did, yes… it was always quite loud and strong, it was way easier for me to learn how to scream and power sing than to sing like a girl (laughs). Until not much long ago, I had trouble singing songs written for female voices or holding back on volume. I only realized it wasn't common for a woman to sound like this when I noticed how much it surprised people. Before that it was just natural, a voice that I hated but it was the only one I had (laughs). So I worked with it.
Even with all that vocal aggression, you can still soften up your voice on tracks like "A.D.D.". It's a beautiful contrast. Have you thought about using that part of your voice more extensively?
Now that I learned how to do it, yes (laughs). Maybe not too much more because what I really love to do is let it all out but it's always important to be able to perform different things. Like you said, that contrast can be interesting. I want to have a range of choices regarding what I can do with my voice so the band's creativity doesn't get limited, you know? People might see more of that soft and beautiful stuff if it fits the music in the future or maybe until then I'll learn how to do something that I never tried before and mix that all together!
Americans can get a little jealous when the top European femme metal bands pass over North America heading to South America. What is it about metal that South Americans respond to so well?
I think it's the passion… metal is such an intense genre. I've seen grown man cry when hearing their favorite song. And not a love ballad, an all-out metal tune and the guy is there, screaming, fists in the air, tears rolling down his face and his kid on his shoulder with a band t-shirt! And South Americans are very passionate people, warm-hearted so it hits us right in the guts. It's purely about the music, because most Latin Americans don't speak English at all. But they know what everyone's singing about, you bet they know… they feel it.
You've made several visits to North America and Europe as well. How do the crowds there differ from those in South America?
Eastern Europeans and Latin Europeans, like Italy and Spain, are very similar to what I've seen here. They go absolutely crazy! In North America and countries like Germany and Finland, I noticed people tend to watch the concert more but once they decided they like you, they start screaming and responding really well when you try to interact with them. When we played in Finland for the first time, they were insanely quiet and we thought they hated us! I was afraid to ask them to scream and throw fists in the air because I thought I'd just look dumb there doing it by myself (laughs). In the middle of the set list, I thought to myself, "To hell with it if I look like a fool, let's have some fun!" (Laughs) To my surprise, they started following me and came to talk to us after the show and said they liked it a lot, so I think it's just a matter of getting used to the local behavior. My experience is that Latins and Eastern Europeans respond to the music faster and in a more intense manner, but North Americans, Germans, Finnish, Estonians, British… they will come talk to you a lot more, buy a CD and tell you personally what they thought of your music. That's not always the rule though… We had some of our loudest crowds in the UK, they were just as intense as the Lithuanian, Spanish, Hungarian, Italian… maybe they like us Brazilian folks (laughs).
What kind of relationship do you have with your fans? How important is that relationship to the success of the band?
I'd say it's key to the success of any band. You have to respect your fans and be good to them. Send a personal message every now and then to those who are more active on your social networking websites. Take some photos with them after the show. If there are too many of them, organize meet-and-greets before the show. Give them something nice and for free when they like you so much to the point of buying your entire discography and a t-shirt on top of it. Don't ever forget the fans put you where you are. That's the relationship we have with them. Musicians want people to understand how hard it is being on the road but we also have to understand that the fan might never have another opportunity to come close to you and take a picture with you. They wait hours in the cold for you sometimes. A little respect and appreciation is always in order.
With the new album out, a tour is a forgone conclusion. The live sound is going to be crushing with these new tracks. What can the fans expect on stage?
A band that's on fire! The mood inside the band has never been better and we wish we could play the whole "Inner Monster Out" album live, along with the best of our old material and that's just what we might do on our headlining shows! We love to play and interact with the crowd, sing for them and with them, the new material is sounding extremely intense and the old stuff is sounding heavier live since we end up playing them the same way as we play the Inner Monster Out tracks. It's a show to head bang and go insane!
Where is the "Inner Monster Unleashed" tour going to take you?
Everywhere we've been so far and beyond, I hope! We'll play everywhere we can, we were waiting for feedback on the album to make plans and it seems the fans and press really approved this material so it's time that we start getting this show on the road. And hey, that's actually a cool title for the tour… can we use it? (Laughs)
(Famous) Last words?
"He who fights monsters should see to it that he himself does not become a monster. And if you gaze for long into an abyss, the abyss gazes also into you." – Friedrich Nietzsche, the very first inspiration for the Inner Monster Out concept. My own… "Dare to dream, it just might come true!"
Links
MySpace * Facebook *Twitter * Site
Latest Multimedia
6 color styles available:

Style switcher only on this demo version. Theme styles can be changed from Options page.