Browsing articles tagged with " beloved"
Label: Crysella Records
Review by Warren Mayocchi
Cinnamun Beloved formed in 2011 and quickly recorded their debut album "The Weirdest Moment". If you look at the history of the band they have been promoting this album for some time. There is a 2012 concert – "The Live Moments" – on the band's YouTube page. It is now 2015 and the album has been released to the worldwide market after the band joined with Crysella Records. Gothic Metal is the musical genre mentioned on the band's Facebook page, though that covers a lot of territory for Cinnamun Beloved.
Argentina is home for Cinnamun Beloved – maybe the diverse range of sound on this album is a result of being created in a non-European location? Personally I love hearing music created by bands from across the world, because the creative boundaries evident in some regions are disregarded elsewhere. Continue reading »

Interview by Arianna G.
In a busy environment which is the current metal scene, SAVN is the revelation band of 2014. Norwegian and dedicated to the gothic and folk melodies and led by the blonde vocalist Carmen Elise Espenæs, Stig Johansen and Anders Thue (ex-The Sins of Thy Beloved), SAVN's debut album gained positive acclaims from all over the world in a very short time. For the occasion, we exchanged a few chats with the singer of this combo and, in this in-depth interview, she tells us something about this new musical experience, without forgetting her "mother-band", Midnattsol, anticipating some juicy news as well.
Savn is a band formed by Stig and Anders. After so many years in which there were so many rumours concerning their band, The Sins of Thy Beloved, they've decided to start a new music project. Would you like to give a short biography of this new band for those people who are still not familiar with you?
Yes, of course! It was actually Stig that started the band, he felt that he needed something new in his life, something new in the music front, because nothing happened with The Sins of Thy Beloved, it was too silent for him, Continue reading »
Label: CDR Records/Intergroove
Review by Tony Cannella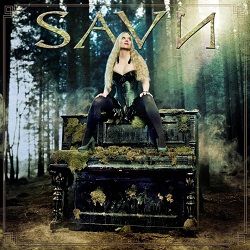 Every so often, I'll think, "Whatever happened to The Sins of Thy Beloved?" They released two albums in the late 90s and early 2000 ("Perpetual Desolation" is such a great record). Well now, two of its former members Stig Johansen and Anders Thue have resurfaced with lead vocalist Carmen Elise Espenæs from Midnattsol in a Gothic metal super group of sorts called SAVN. With that mystery now solved let's get to the matter of their self-titled debut album, shall we?
It remains to be seen if SAVN is just a one off project or will continue to record down the road. Whatever the case, this debut a pretty cool album, with some heavy and emotional moments featured within its 50-minutes of musical playing time. Continue reading »
Independent Release
Review by Tony Cannella
Brazil's dark Symphonic/Gothic Metal band Iluminato came to fruition in 2010. The band is comprised of two full-time members. Female vocalist Liz Demier is joined by the bands founder Pablo Ferreira – who also adds Grunts and Guitars to the mix – on their debut release "Reflections of Humanity". With a playing time of only 37-minutes long "Reflections of Humanity" is a pretty relentless slab of metal that brings forth plenty of aggression combined with healthy doses of melody. The opening track "Helm of Blindness" starts us off with a mournful violin intro before the track kicks into high gear. Female vocalist Liz Demier offers an operatic style which is offset by the guttural screams of Pablo Ferreira. The second track "Hypocrisy" brings the intensity up a notch with its brutal thrash metal style and is a track that I wanted to hear over and over again, this – in my opinion – was the best song on an album filled with such strong material. "Betrayed Soul" slows the tempo down a bit and evolves into a cool, melodic number. "Howard Beale" is next and uses an excerpt from the mid-seventies American film Network. This leads us into the pounding "Imperial Heart". "Aurea" quickly became another favorite and it shows the diversity that Iluminato are capable of with a part ballad/part mid-tempo heavy style, the vocals between Liz and Pablo are really the highlight of the song for me. "Diana Christensen" is another intro track that uses another bit from Network and segues into the next track "Hell". If you think with a title like "Hell" this would be one of the heavier tracks, you would be correct. "Reflections of Humanity" is brought to a beautiful conclusion with the final two songs "The Last Road" and "My Astral Home" which is a striking ballad highlighting the voice of Liz and only lasts for about 2-minutes. Despite its rather short playing time "Reflections of Humanity" definitely goes in for the kill and gets the job done. Iluminato has delivered a fine debut that should please fans of (old) Tristania, The Sins of Thy Beloved and Draconian.
Rating – 86/100
Tracklist
Helm of Blindness

Hypocrisy

Betrayed Soul

Howard Beale

Imperial Heart

Aurea

Diana Christensen

Hell

The Last Road

My Astral Home
Line Up
Liz Demier – Female Vocals

Pablo Ferreira – Grunts, Guitars
Links
MySpace * ReverbNation * Facebook * Twitter * Site
Label : Black Art Productions
Review by Luisa Mercier
Crimson Sky is an Ukrainian band founded in 1998, but they started their real activity only recently. "Rising" is their debut album and I can tell you that it was worth the wait. They play a baroque gothic-doom metal rich in strings which reminds me of the old works of bands like Tristania or Theatre of Tragedy. Mixing their native tongue and English, they deliver a musical performance which is melodic and powerful at the same time. I was impressed by the violin skills of Lyudmyla, who is present in all the songs, maybe more than the keyboards. For this reason Crimson Sky slightly reminded me of The Sins of Thy Beloved. Worth mentioning are also the two vocalists, rather talented Bohdan is able to be dramatic and aggressive at the same time, while Olga fascinates us with her opera style. One of the highlight of "Rising" is doubtless "The Ode" which features all the characteristics previously mentioned, followed by the peaceful instrumental "Apoptsosis". Strongly advised to lovers of old-school gothic metal!
Rating – 80/100
Tracklist
Crimson Sky (Intro)

Примарний Сон – Illusive Dream

Хрест- The Cross

In Eyes of Mine

The Ode

απόπτωσις – Apoptosis

Nord-lys
Line Up
Olga Guziy – Female Vocals

Bohdan Torchylo – Vocals

Sergiy Medvid' – Guitar

Olexiy Omel'chuk – Guitar

Lyudmyla Savchuk – Violin

Anatoliy Kyrilyuk – Keyboards

Ivan Fedorov – Bass

Dima Drum – Drums
Links
6 color styles available:

Style switcher only on this demo version. Theme styles can be changed from Options page.