Browsing articles tagged with " blast"
Label: Nuclear Blast
Review by Tony Cannella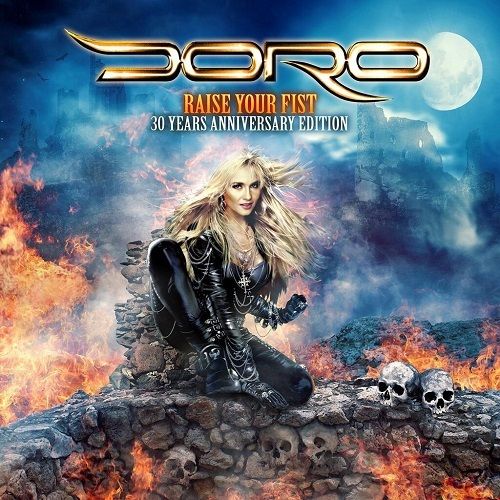 The latest studio album from the reigning metal queen Doro Pesch "Raise Your Fist" was released back in 2012. Time flies… It seems like it was only yesterday when this excellent album was unleashed on the world. To celebrate her 30th anniversary, the album has been re-released with a special bonus CD entitled "Powerful Passionate Favorites" which features rare covers, alternate version of songs and assorted other goodies.
Since the original "Raise Your Fist" album was released in 2012, there is probably no need to go into it at this point. Suffice it to say, it's still pretty damn good, so fans old and new should check it out if you haven't done so already. The bonus CD on this one "Powerful Passionate Favorites" is a pretty cool collection in its own right. Continue reading »
Label: Nuclear Blast
Review by CriX
The Finnish band Battle Beast is back with a brand new album called "Unholy Savior" and if the previous albums ("Steel" and "Battle Beast") helped them forge their path into the metal panorama and get appreciated by the heavy metal audience, this latest release will only confirm that Battle Beast is, nowadays, one of the best bands on the scene.
But without further ado, let's start with the opener "Lionheart", which is a powerful song in where you can listen to the guitar and the keyboards alternate with a steady pace. It's a triumphant beginning that introduces us to the self-titled song and follows with "I Want the World… and Everything In It", where some killer solos take over during the whole song. Continue reading »
Label: Nuclear Blast
Review by Tony Cannella
Devilment was originally formed by guitarist Daniel Finch in 2011. Unable to find a suitable vocalist Daniel turned to longtime friend and Cradle of Filth frontman Dani Filth and soon the band had its lead singer. Devilment has just released their eagerly anticipated debut album "The Great and Secret Show" and the results are quite superb. Throughout 50 plus minutes Devilment takes the listener down a deep dark musical path with plenty of twists and turns along the way.
"The Great and Secret Show" begins with my two favorite songs. The opening duo of "Summer Arteries" and "Even Your Blood Group Rejects Me" are positively lethal. "Girl From Mystery Island" is an excellent track that features Dani screaming over a wall of guitar riffs. "The Stake in My Heart" definitely raises the stakes with a thrash/speed metal vibe. Continue reading »
Label: Nuclear Blast
Review by Tony Cannella
Avatarium is the new project of Leif Edling from Candlemass. In 2013 they released their self-titled debut which – as it turns out – garnered some critical acclaim. Leif Edling is a talented dude and Avatarium is not a clone of his previous bands the aforementioned Candlemass and KRUX. The addition of female singer Jennie-Ann Smith is enough to set them apart right there, but while Avatarium does maintain some aspects of his previous bands it does allow for some experimentation and taking the music down different paths which is just what the band does. What Jennie-Ann Smith brings to the vocals cannot be understated. She provides a passionate, raspy, classic rock feel to the songs which is impressive and compliments the music perfectly. Continue reading »

Interview by Miriam C.
Reading Tom's words what shines through is a pure innocence after being reborn from the ashes of a past life. Probably I read too much sci-fi stuff, that's for sure but WHW is one of the few bands whose spirit is still driven by the real passion for music without any business shenanigans. WHW's music helps to cleanse your soul and can totally help you during your catharsis. So, we contacted Tom Phillips, the mastermind behind this family business, for more updates about their recent album "Suspended at Aphelion".
Hi Tom, first of all welcome back to Femme Metal Webzine! How are you? It's passed a lot of time since the last time we chat together…
Doing well Miriam, thanks for asking! I hope it is the same for you…and that you've resolved your computer issues! (Yes, finally Tom, thanks for being thoughtful!)
Please me indulge us now Tom but WHW doesn't have exactly the tradition to release studio albums in such short periods of time, I refer for example to "Sorrow of the Angels" and "Of Empires Forlorn" 'cause between this 2 album, there is a break of 5 years. Is WHW embracing a new era, a more productive one than ever?
Continue reading »
6 color styles available:

Style switcher only on this demo version. Theme styles can be changed from Options page.