Browsing articles tagged with " blast"
Label : Nuclear Blast Records
Review by Alessandra Mazzarella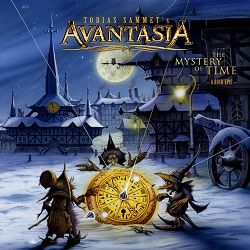 Like it or nope, Tobias Sammet was born to surprise, and he did surprise the audience once again with his Avantasia brand new album "The Mystery of Time". Thanks to an outstanding combo of brand new special guests – Eric Martin (Mr Big), Ronnie Atkins (Pretty Maids), Arjen Lucassen (Ayreon), Joey Lynn Turner (ex-Rainbow, ex-Yngwie Malmsteen, ex-Deep Purple), Biff Byford (Saxon) – and the ever-present ones – Michael Kiske (ex-Helloween, Place Vendome, Unisonic), Bob Catley (Magnum), Cloudy Yang – plus the participation of the Film Orchestra Babelsberg (which already featured Edguy in the "Hellfire Club" album), Avantasia's sound seem to have shapeshifted again without altogether abandoning his origins. In fact, in "The Mystery of Time" you can find the dark atmosphere of "The Wicked Symphony", the dynamic choirs of "Angel Of Babylon" and the multi-level vocals of "The Metal Opera Pt. 1 & 2". The absence of Jorn Lande seems to have forced Tobias Sammet to look for some new vocal mixes. Continue reading »
Label: Nuclear Blast Records
Review by Tony Cannella
When it comes to Folk Metal, it simply doesn't get much better than the Swiss band Eluveitie. The band formed in 2002 and in 2004 they released their first EP "Ven". In 2006 they released their debut full-length "Spirit" and have never looked back. Earlier this year they released their latest album "Helvetios" and now they are back with some newly released versions of old songs.
The first 6-songs that makes up "The Early Years" is a re-recording of their rare "Ven" EP; and next 11-songs is their debut album "Spirit" which has been re-mastered. The re-recordings of the songs from "Ven" (with their current line-up) are a huge highlight, since as I mentioned the EP is a rare and very hard to find these days. The songs on "Spirit" run the gamut of traditional folk-ish influenced numbers to poundingly heavy tracks like "Of Fire, Wind & Wisdom" and the re-mastering gives the songs an added kick. Continue reading »
Con l'intenzione di suonare ancora più epici e sinfonici di sempre, i Rhapsody sono orgogliosi nell'annunciare una collaborazione a lungo termine con il direttore d'orchestra PETR POLOLANIK e la sua orchestra della Repubblica Ceca (CAPELLEN ORCHESTRA & CHOIR). Nominati agli "Hollywood Music in Media Awards" del 2011, Petr e la sua orchestra hanno lavorato per i più famosi compositori (Thomas Bergersen, Trevor Morris, Jo Blankenburg, Henry Lai), le più note compagnie di trailer cinematografici (Two Steps From Hell, Position Music, Audiomachine) e per rivoluzionarie librerie di "samples" (Garritan, Sonokinetic, 8Dio). Le sue registrazioni sono parte di film e videogiochi pluripremiati (Sin City 4, Transformers e molti altri). Continue reading »

Interview by Tony Cannella
As she enters into her 30th year as a recording artist, Doro Pesch shows no signs of slowing down. In fact, she continues to be one of the hardest working and driven musicians in all of rock, yet through it all she remains one of the nicest and down-to-earth people you will ever meet. With her new album "Raise Your Fist" being her most successful in years, Doro is gearing up for a busy 2013 and beyond. That is good enough reason to catch up with the metal queen and get low down on what lies ahead.
You were recently on tour in Europe for about a month before Christmas. How were the shows?
Yeah, we were in Germany, England, France, Czech Republic, Belgium, The Netherlands. Everybody was singing along, getting so excited. I really felt the new songs sounded awesome. The tour was mostly so out. 3 or 4 gigs were 99% full and all the other gigs were sold out. As we went on with the tour, every day we had some new news about shows selling out. It was great, so I think the record did really well and that was one of the reasons why there were so many people at the concerts. The whole tour was, I think the best tour we did in, oh god, I don't know in how many years. Playing packed places that's always so, so great. I hope when we do the American tour people will be just as excited, I'm so looking forward to it. But Yeah, I think the album was totally embraced by the fans and sometimes I saw some comments on the internet saying 'you guys don't play enough of the new album' and I didn't expect that because usually everybody wants to hear all of the classics. We did a set list where we combined all of the best songs from each album, but then sometimes we played more of the new record. In the States it came out a little later than in Europe and it made the billboard charts at number 64. I tell you, it moved me to tears, I was so happy to hear that, because you know how much America means to me, and that was the icing on the cake.  Continue reading »
Label : Nuclear Blast
Review by Davide Torresan
After almost a year of waiting, finally the soundtrack of the movie connected to the last Nightwish's album,"Imaginaerum", is out. After its release the album had a global success, giving reason to the ambitious project of Tuomas Holopainen of creating a film with some new songs written by himself. Riding the wave of enthusiasm, Nightwish decided to leave for a long tour that took them first in Europe and then in North America. In October the waiting for the film's release has been ruined by the premature split with the singer Anette Olzon. It caused the panic within the fanbase of the Swedish singer and an increase of hope to see the return of Tarja Turunen for the nostalgics of the "Old Era". None of this happened. In no time Anette has been replaced with the talentuous Floor Jansen (Revamp, After Forever) to finish the tour in North America. To celebrate the end of the first part of the tour and the end of the works on the film, Nightwish decided to do a final concert at the Hartwall Areena in Helsinki. And the premiere of the film took place immediately after the show.
"Imaginaerum" (The Movie), directed by Stobe Harju, tells the story of Thomas Whitman, an elderly songwriter with an otherworldly imagination. During sleep, the old man fights to find the most important memories of his life and to relive the experiences of his youth. He must also contend with the fact that, due to a serious illness, his life is in danger. Only the dreams are the "sanatorium" to cure his imagination and soul. Continue reading »
6 color styles available:

Style switcher only on this demo version. Theme styles can be changed from Options page.