Browsing articles tagged with " brussels"
Label : Fakto Records
Review by Tony Cannella
Road to Consciousness is the new project from mastermind Bernard Daubresse (ex-Free Launch, Lovelorn). The 13-song, 60-minute CD features a vast array of musicians and contributors from around the metal globe. It is amazing to see how many great musicians have lent their massive talents to this ambitious project. Road to Consciousness is a big melodic, symphonic metal project, that I am sure will appeal to fans of the genre. With around 20 musicians featured on the album, you may think that it would be difficult to find something for all of them to do, but that is not the case, as each musician adds their own unique stamp to the proceedings.There is a common theme running through each of the songs, based on the human condition and problems, thoughts that maybe the listener themselves has experienced. The epic 4 part track "Road to Consciousness" brings the album to a grandiose conclusion as the album just builds and builds up to that point and the four part closer really pushed it over the top for me. But there are many solid moments to be heard lead up to the finale. Songs like "The Middle Path", "Mirror Mirror", "I Am God" and "Jennifer" all display the passion and heart that went into this project. Road to Consciousness is everything that the symphonic metal fan should love. One has to wonder if this is only a one off, I certainly hope not because it would be cool to see where Road to Consciousness go from here.
Rating – 93/100
Tracklist
Renunciation

The Middle Path

Mirror Mirror

I Am God

The Wait

Jennifer

Starchild

In A War With My Best Friend

The Naked Ape

Road To Consciousness Part I – Even a Rose

Road To Consciousness Part II – The Limbo

Road To Consciousness Part III – The Choice

Road To Consciousness Part IV – Consciousness
Line Up
Vocalists
Kristell Lowagie (ex Skeptical Minds, Lovelorn, Joliet)

Marja Supponen (Rhinestone Lives)

Jamie-Lee Smit (Azylya)

Justine Daaé (Ellyose)

Lauryn Gaet (ex Aedden, classical solo artist)

Laura Crowet (ex Before Silence)

Dr Benja (Taboo for Tatoo, Captain Oats)

Pascal " Wan" Vanhoren (La Poupée Sanglante)

Serge Vandepoel (Crime 7)

Leny Andrieux (Scarin Myself)

Krys Denhez (Jarell)

Ville Laaksonen (singer and arranger)
Musicians
Bernard Daubresse (ex Free Launch, Lovelorn) – Songwriting, Guitar, Bass & Keyboards

Valery Granson (15 Reasons) – Solo Guitar

Eric Renwart (Pixelrace) – Solo Guitar

Nico Claus (Scarin Myself) – Solo Guitar

Olivier Van Houte aka Bronson Cuvelier (The Temple, The Moonshine Playboys) -Hammond Organ

Yves Huts (Epica) – Orchestral arrangements

Manu De Ros (The Temple) – Bass

Kris De Bie (Patriarch) – Drums
Links
MySpace * ReverbNation * Facebook * Site
Label : Nuclear Blast Records
Review by Tony Cannella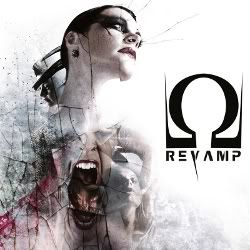 Many were absolutely blind-sided when it was announced that the legendary, long running Dutch band After Forever had decided to call it a day, especially because their self-titled final album saw the band at the top of their game. Now, AF fans can rejoice, because singer Floor Jansen is back with her new project, ReVamp. This new musical endeavor sees Floor picking right up where her previous outfit left off, while adding new and different elements to keep things progressing at a steady pace. ReVamp has many of the same bombastically, symphonic vibes that After Forever had. Floor sings better than ever and on this debut she is joined by three different male vocals to add their talents. The CD begin on a seriously ferocious note from the opening riff of "Here's My Hell". This is just a heavy, go-for-the-throat opener that sees ex-Orphanage grunter George Oosthoek adding some vocals to the track. This song also features a huge After Forever like chorus. If there were any doubts concerning Floor's post AF career, they were quickly erased after hearing this stormer of an opening track. The next track, "Head Up High" slows the tempo a bit whilst not sacrificing any bombast or melody. The third track, "Sweet Curse" is a duet with Floor and Symphony X frontman, Russel Allen. This is a beautiful duet with the two great vocalists and one of the highlights, for sure. There is plenty of variety to be found on ReVamp, which is a huge strength for the CD. Other highlights include: the melodic, "Million", "Disdain" (featuring Bjorn Strid from Soilwork on vocals), "The Trial of Monsters", "Under My Skin" and "I Lost Myself". But honestly, it's all pretty solid. I am a little bit biased, because quite simply Floor Jansen is one of my favorite singers, and the debut album by ReVamp does not disappoint, not for a minute. ReVamp is an inspired release from start-to-finish. A great album that fans of After Forever and symphonic power metal should love. Welcome back Floor!
Rating – 95/100
Tracklist
Here's My Hell
Head Up High
Sweet Curse
Million
In Sickness – 'Till Death Do Us Part: All Goodbyes Are Said
Break
In Sickness – 'Till Death Do Us Part: Disdain
In Sickness – 'Till Death Do Us Part: Disgraced
Kill Me With Silence
Fast Forward
The Trial of Monsters
Under My Skin
I Lost Myself

Line Up
Floor Jansen – Vocals

Jord Otto – Guitar

Arjan Rijnen – Guitar

Ruben Wijga – Keyboards

Jaap Melman – Bass

Matthias Landes – Drums
Links
Independent Release
Review by Tony Cannella
The female fronted Progressive Metal band Earthlight was founded in Brussels, Belgium in 2007. Three short years later Earthlight has issued their first recorded material, a 3-song EP called "Gleams of Dawn". I have to say that when one hears the phrase Progressive Rock or Metal bandied about, you usually expect songs with ultra-intricate, sweeping and epic arrangements. Earthlight manages to incorporate Progressive elements, set to a heavy guitar dominated back drop. "The Call" begins the 3-song set with just a massive guitar riff that pretty much takes over this powerful opener. "Virtual World" is more of a mid-tempo song, which showcases the forceful vocal style of Valerie Frogneux.Once again this song is highlighted by the cool guitar riff and some stellar drumming courtesy of Joao Felipe Penna. "Awake" brings us to the end of this too short release. This sound has a pounding rhythm galloping through the track similar to early Iron Maiden and Valerie really does a heck of a job on this one – she does on the whole EP – but on "Awake" especially, she really spreads her vocal wings. "Gleams of Dawn" is an excellent first effort from Earthlight. Fans who love progressive metal like Dream Theater combined with relentlessly heavy guitar-driven music should give this band a shot.
Rating – 75/100
Tracklist
The Call
Virtual World
Awake
Line Up
Valerie Frogneux – Vocals
Bruno Leroux – Guitars
Julien de Hollogne – Keyboards
Emmanuel Delettrez – Bass
Joao Felipe Penna – Drums
Links
6 color styles available:

Style switcher only on this demo version. Theme styles can be changed from Options page.