Browsing articles tagged with " byford"
Label : Nuclear Blast Records
Review by Alessandra Mazzarella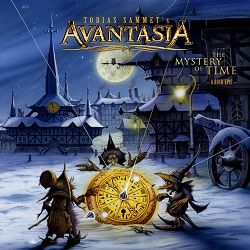 Like it or nope, Tobias Sammet was born to surprise, and he did surprise the audience once again with his Avantasia brand new album "The Mystery of Time". Thanks to an outstanding combo of brand new special guests – Eric Martin (Mr Big), Ronnie Atkins (Pretty Maids), Arjen Lucassen (Ayreon), Joey Lynn Turner (ex-Rainbow, ex-Yngwie Malmsteen, ex-Deep Purple), Biff Byford (Saxon) – and the ever-present ones – Michael Kiske (ex-Helloween, Place Vendome, Unisonic), Bob Catley (Magnum), Cloudy Yang – plus the participation of the Film Orchestra Babelsberg (which already featured Edguy in the "Hellfire Club" album), Avantasia's sound seem to have shapeshifted again without altogether abandoning his origins. In fact, in "The Mystery of Time" you can find the dark atmosphere of "The Wicked Symphony", the dynamic choirs of "Angel Of Babylon" and the multi-level vocals of "The Metal Opera Pt. 1 & 2". The absence of Jorn Lande seems to have forced Tobias Sammet to look for some new vocal mixes. Continue reading »
AYREON mastermind Arjen Lucassen (also ex-BODINE, VENGEANCE) has been confirmed as one of the guest musicians who will appear on "The Mystery Of Time", the new album from EDGUY frontman Tobias Sammet's AVANTASIA project. Also scheduled to make appearances on the CD are Michael Kiske (UNISONIC, HELLOWEEN), SAXON frontman Biff Byford, former KISS guitarist Bruce Kulick and drummer Russell Gilbrook of URIAH HEEP.
Commented Sammet: "To me, he used to be what John D. Rockerduck is to Scrooge McDuck: an adamant longtime rival; in our case, when it comes to producing rock operas. Well, if you can't beat your enemy, make him your ally! And so I opened the door and literally invited pestilence into my world, ha!
"Seriously, the truth is that the 'pestilence' I'm talking about is really one of the nicest, coolest and loveliest plagues I've ever come to know, an ambitious artist through and through and a real great guitar player. So, having just come back from a shopping tour in 2912 — where apparently he found himself a brand new pair of bad-ass pants and boots — he went into the studio to record some additional lead guitar for the forthcoming AVANTASIA album, 'The Mystery Of Time': AYREON mastermind Arjen Anthony Lucassen!"
Label : Kicking and Screaming Music
Review by Tony Cannella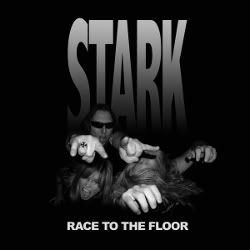 New York City's Stark are a three piece band that play high energy, straight-forward, hard rock music with a bit of punk edge to them. Their newly released third album is titled "Race to the Floor" and it features 9-songs and 31-minutes worth of music that is completely and utterly dripping with attitude and swagger. It is all pretty much your basic rock and roll, yet it all feels new, thanks in large part to this trio's enthusiasm and energy that is quite evident on each and every song. The high adrenalin opener, "On the Edge" kicks things off in a huge, energetic way. "Get It" is next and is one the best the CD has to offer. Just a fast paced, catchy number that features a pretty cool groove running throughout the whole song. These songs rock hard as can be heard on: "Getting Along", "Wasting Air", "Drunkaholic", "What It Is" and "Nightmares". The closing number, "Puttin' Out Your Fire" ends things on a high note and leaves the listener wanting more. "Race to the Floor" is chock full of powerful riffs, cool solos and the underrated vocals of Lani Ford. Just great and passionate performances all the way around from this power trio. "Race to the Floor" is a gritty, riff-heavy rock record that never gives the listener a chance to come up for air until the last note is played. A very good effort from this NYC based band and a CD that comes highly recommended. It can be ordered via CD Baby.
Rating – 85/100
Tracklist
On the Edge

Get It

Getting Along

Wasting Air

Drunkaholic

What It Is

Nightmares

End of the Line

Puttin' Out Your Fire
Line Up
Lani Ford – Lead Vocals & Bass

Joe Hogan – Guitar & Backing Vocals

Eric Robel – Drums
Links
MySpace * ReverbNation * Facebook * Twitter * Site
Label: AFM Records
It's hard to believe that Doro celebrated her 25th year in music business last December. She has definitely been a model of perseverance and dedication throughout her career and that has continued to show on her most recent releases. With her latest output "Fear No Evil", the German metal queen shows no signs of slowing down.The opening track "The Night of the Warlock" gets things off to a rousing start, with a demonic sounding vocal intro as the track begins. Obviously, the title is a bit of a nod to her past. The song is a nice fierce way to open things and a great tempo-setter. Next is "Running from the Devil". This song has a great live feel to it and I'm sure it will go down great in a live setting. It features a great, heavy riff and a steady beat. The next track is the one that has gotten a lot of the attention. "Celebrate" features a who's who of metal legends. Floor Janssen (After Forever), Angela Gossow (Arch Enemy), the girls from Girlschool, Biff Byford (Saxon) and Liv Kristine (Leaves' Eyes) – to name but a few – all lend their immense talents to the song on the chorus. This song is indeed a celebration of the power of metal. There is no better group of people to bring that sentiment home. "Caught in a Battle" is just a pure metal track that has a truly ferocious guitar riff and just hammers through with machine gun-like precision. This is one of my favorites. After this song your going to need to catch your breath, so the next track "Herzblut" is a welcomed change of pace. It is another beautiful ballad sung in German, and it fits in their quite well with classics such as "Für Immer" and "Alles Ist Gut". "On The Run" is next and it is another powerfully heavy track that is sure to get some heads banging. Next has got be one of the most anticipated metal collaborations in quite some time. "Walking with the Angels" is a duet with Doro and Tarja Turunen and man is this just awesome. Two very different vocal styles come together to create a stirring masterpiece. The lyrics convey a positive and inspirational message. This is one of the absolute highlights. "I Lay My Head upon My Sword" has a cool vibe to it and is another favorite. "It Kills Me" and "25 Years" are two of the most different songs that Doro has ever recorded, showing that 25-years on and she is still not afraid to take chances. Fear not though, these songs are quite good and fit in well with the rest of her immense catalog of songs. The limited edition features the bonus tracks "Wildfire" and "You Won My Love" making it essential for any self respecting DORO fan. Also, the CD packaging deserves special mention. Great artwork by Geoffry Gillespie, beautiful photos and a glossy gatefold sleave makes this the complete package. As always Doro is joined by a great array of musicians: Nick Douglas (bass), Johnny Dee (drums), Joe Taylor (guitars), Oliver Palotai (guitar/keyboards) and Luca Princiotta (guitars/keyboards) all put in excellent performances. With 25 years in the books, Doro continues to make great metal music that comes from the heart. There is nothing pretencious and fake about it, she does what comes natural, as she has throughout her career. "Fear No Evil" is as solid a record as she has made in years.
Rating – 90/100
Tracklist
The Night of the Warlock

Running from the Devil
Celebrate
Caught in a Battle
Herzblut
On the Run
Walking with the Angels
I Lay My Head upon My Sword
It Kills Me
Long Lost for Love
25 Years
Wild Fire (Limited Edition Bonus Track)
You Won My Love (Limited Edition Bonus Track)
Line Up
Doro Pesch – Vocals

Joe Taylor – Guitar
Oliver Palotai – Guitar, Keyboards
Luca Princiotta – Guitar, Keyboards
Nick Douglas – Bass
Johnny Dee – Drums
Links
Label: AFM Records
Review by Tony Cannella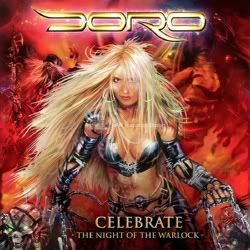 On December 2008, Doro has celebrated her 25th anniversary as a performer. Man, how time flies. The German metal queen has released a 5-song EP, appropriately titled "Celebrate – The Night of the Warlock". This is a very special release that fans of Doro and fans of metal in general should eat up. This EP contains three distinctively different versions of the title song. The first is just Doro on lead vocals with some help from her fan club on background vocals on the chorus. This gives the song a totally live and energetic feeling. You can envision an arena full of Doro -maniacs singing along. The next version of the song features special guest vocals by one Mr. Biff Byford of one the most legendary bands of all time (in my book anyway) Saxon. It is always a pleasure to hear Biff's vocals and he and Doro have tremendous chemistry together. The third and final version of the song features an all star line-up of female metal stars. It really is a whose who. Just some of the singers represented are: Floor from After Forever, Sabina from Holy Moses, Liv from Leaves' Eyes, Veronica from Benedictum, Angela from Arch Enemy and the girls from Girlschool – just to name a few. The song itself is truly a great song, that is indeed a celebration for anyone who loves rock and especially metal. "The Night of Warlock" is next and it begins with an eerie intro featuring a demonic male voice, but quickly turns into a rousing rocker. With the title DORO once again gives a little nod and a wink to her past but the song itself fits right into her current catalog. The final song "Rescue Me", is a beautiful heart-felt ballad. Something that Doro has become known for over the years and this will not disappoint. The final verdict is this: "Celebrate – The Night of the Warlock" contain 5-songs and 23-minutes worth of music that is more than just a celebration of 25 years of performing on a stage. It is also a celebration for those of us who have been along for such an incredible journey – a journey that will continue for a long time to come. Get it!
No Rating
Tracklist
Celebrate

Celebrate (feat.Biff Byford)

Celebrate (Full Metal Version)


The Night of the Warlock
Line Up
Doro Pesch – Vocals

Joe Taylor – Guitars

Oliver Palotai – Keyboards,Guitar


Luca Princiotta – Guitars,Keyboards

Nick Mitchell – Bass

Johnny Dee – Drums
Links
6 color styles available:

Style switcher only on this demo version. Theme styles can be changed from Options page.