Browsing articles tagged with " cannella"
Independent Release
Review by Tony Cannella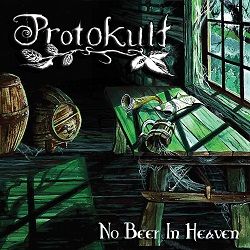 From Canada, Protokult is a folk/death/thrash/polka metal band. At least they sound something like a mix of those genres. With their debut album "No Beer in Heaven" the band looks to bring their eclectic brand of metal to the masses.
"Get Me a Beer!" is a hearty and raucous opener and one that will get heads bobbing (and banging) no doubt. The band gets more serious on the grinding "Heaven Cast Me Out". This turned out to be one of the better songs and it has a pretty cool melody. From there we have the thumping "My Father's Word". Other highlights include: "Sol Intention", "Edge of Time" and "Summer's Ode". Continue reading »
Label: Despotz Records
Review by Tony Cannella
The thing about Sweden's Crucified Barbara is that you always know what you are going to get. Sometimes familiarity is good and that holds true on their new album, "In the Red".
The Motorhead style rocker, "I Sell My Kids for Rock N' Roll" starts things off and provides a thumping, powerhouse of an opener. "In the Red" features 11-songs and 40-minutes worth of powerful music that is wonderfully, unapologetically classic Crucified Barbara. The band is on quite a roll with the last few albums and that continues with "In the Red". Songs like, "To Kill a Man", "Electric Sky" and "Lunatic #1″ are sure to please the fan base, whilst also gathering new followers. Continue reading »
Label: Century Media
Review by Tony Cannella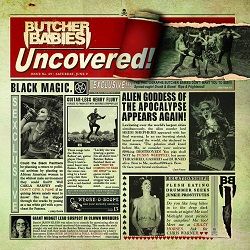 The Los Angeles based groove metal band released their sophomore album "Goliath" last year to a huge amount of fanfare. The album proved to be a success and now the band returns with the covers EP "Uncovered". This 5-song EP shows how varied the bands influences are. The songs that the band to chose to cover are eclectic to say the least; the one common denominator is the raw aggression put forth by Butcher Babies on each and every song. The set opens with a hellraisin' cover of the ZZ Top classic, "Beer Drinkers and Hell Raisers". I wonder if this is what ZZ Top had in mind when they wrote it. This is a devastating opener, I love ZZ Top and I love Butcher Babies version of this classic tune. Next we have an unsettling cover of "They're Coming to Take Me Away" by Napolean XIV. Continue reading »
Interview by Tony Cannella
The Dutch band Delain have been on tour with Sonata Arctica and Xandria supporting their killer new album "The Human Contradiction". I recently had a chance to sit down with vocalist Charlotte Wessels. She went in depth with the new album, tour and lyrics among other things. One thing I came away with after our conversation is that Charlotte is not only super talented but she is extremely intelligent. Read on…
Thank you for taking the time to talk to us again. How have things been going so far with the tour with Sonata Arctica and Xandria?
It's been going great. This is the 4th date of the tour, so we're really getting into it. It's a really cool package, so I'm very happy so far. Continue reading »
Label: Chiral Records
Review by Tony Cannella
Ganglion is an all female hard rock band from Japan. Their style is an eclectic mix of genres, but mostly focuses on hard rock and alternative which can be heard on the second mini album "Rising".
The track "Rise" opens things and this is a pretty much straight-forward hard rock tune with a rumbling guitar riff. The next song is where the band delves into experimentation a bit. "Beyond the Screen" offers a bit of an electronic flavor at the beginning and has a funky bass line, but it also has its bombastic moments. The next track "Loser" has a punkish vibe to it and the following track "Wonderland" is a beautifully played instrumental with a techno/alternative sound. The EP is concluded with the hard rock and pop flavored "Tonight". Continue reading »
6 color styles available:

Style switcher only on this demo version. Theme styles can be changed from Options page.
Archives