Browsing articles tagged with " cannella"
Label: Inside Out Music
Review by Tony Cannella
Arjen Anthony Lucassen is never one to stay silent for long. The guy has so much music in him that he has carved out an iconic career for himself. From Ayreon to Star One, Stream of Passion and beyond. Each project is different from the last and he has never repeated himself. His latest musical endeavor finds him paired up with vocalist Anneke van Giersbergen for a band called The Gentle Storm. Their debut is titled "The Diary" and is another masterpiece from this talented Dutch multi-instrumentalist.
"The Diary" comes as a two disc set featuring two different versions the album. The first disc is a more laid-back (or Gentle) version the album whilst the second disc is the Storm version which features heavier more up-tempo renditions of the songs. Continue reading »
Label: Nuclear Blast Records
Review by Tony Cannella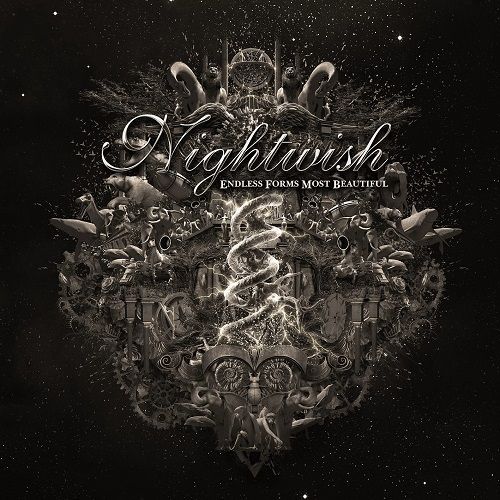 "Endless Forms Most Beautiful" is the long, eagerly awaited return of the Finnish/Dutch symphonic metal legends Nightwish, and their return is mostly triumphant. "EFMB" marks the studio recording debut of vocalist Floor Jansen and that in and of itself is a big deal. Beyond that, Nightwish has released an album that maintains what the band has been about since their inception all those years ago.
"Endless Forms Most Beautiful" features 11-songs and 80-minutes worth of solid material. After a brief spoken word intro to the opening track, "Shudder Before the Beautiful" kicks in and is classic Nightwish. This is a song with equal bits of crunchy heaviness combined with the bands symphonic metal arrangements, choirs, and… then there is Floor Jansen's amazing vocals. She is simply one of the best singers on the planet, in my opinion. Continue reading »
Independent Release
Review by Tony Cannella
Hailing from Sweden, Nocean is a melodic hard rock/metal band that plays, well… melodic hard rock and/or metal. Their debut EP is out now. "Based on a Lie" is the title and it is a fairly potent 16-minutes of straight-forward, in-your-face metal-ness.
The fist pumping opener "Promise" gets us off to a rocking start. "Counting the Hours" is slower in tempo but has a great riff running through it. "Causing Chaos" opens with a classic metal power riff before settling into a steady groove with a heavy-as-hell bass-line. "Based on a Lie" is completed by the commanding "Intervene". Like the opener, this is a great way to close the record. Continue reading »
Label: Iron Shield Records
Review by Tony Cannella
From Greece, the Doom Metal band Sorrows Path's history began way back in 1994. Their early career never amounted to more than a few demos before the band when hiatus. Flash forward to 2010 and the band's debut album "The Rough Path of Nihilism". Now Sorrows Path returns with their 2nd album "Doom Philosophy". Sorrows Path are not a female fronted band but they do include some female vocals on "Doom Philosophy" and besides that, they're pretty damn cool.
According to their bio, Sorrows Path are influenced by such legendary bands as Candlemass, Solitude Aeternus, Memento Mori and Fates Warning. Musically the band is not all doom, they also bring progressive metal, ala early Fates Warning into the mix. Maybe progressive doom would be an apt description. Continue reading »
Label: O.R.A. Music
Review by Tony Cannella
After listening to the debut album "Black Moon" from the Finnish hard rock band The Electric Lady, I have to say that I was pleasantly surprised. This is a band that has managed to fly under the radar, but with "Black Moon" The Electric Lady are about to make some noise.
The intro "Prelude" is followed by two songs that put their melodic hard rock sound on full display. "A Man of That Kind" and especially "Secret Love" really caught my attention with their melodic choruses and overall likeability. "Your Heart is 100 Times Bigger Than Mine" has a pretty cool bluesy sound and a slower tempo. Minna Ora's vocals are quite effective and perfect for this band. "Let it Rain", "You Can't", "Through Ice and Snow", "Black Moon" and the closing number "That's the Way" were all very impressive as well. Continue reading »
6 color styles available:

Style switcher only on this demo version. Theme styles can be changed from Options page.