Browsing articles tagged with " classen"
Interview by Miriam C.
People, we're in front of a legend. Or better a metal LEGEND. If think about thrash metal, the first band you'll gonna refer to, at least in the European musical panorama, is German's Holy Moses. Why? The reason is really really  simply 'cause without Sabine Classen, there'll be no Angela Gossow, Alissa White-Gluz and Runhild Gammelsæter singing in any whatsoever extreme metal band. Holy Moses's first demo release date back in 1980 but it's the third demo, published in 1982, "Satan's Angel" that marks Sabina's debut behind as a band vocalist until their break-up in 1994. Right now, after 30 years of activity, it's really natural that a band undergoes a lot of lineup changes but with their new album "Redefined Mayhem", Holy Moses seems to have found a stable line-up and vocalist Sabina Classen, guitarist Peter Geltat and bassist Thomas Neitsch took some time to speak about it. Thrash on! Continue reading »
Label: SPV/Steamhammer
Review by Tony Cannella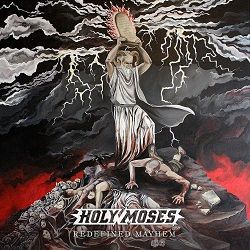 It is very rare to find a female in metal music – especially extreme metal – that has had the career that Sabina Classen has had. She is a true metal legend, role model and icon and it's hard to imagine the metal world without her. Now she returns with a new Holy Moses album entitled "Redefined Mayhem". I believe this is their 11th album and Sabina and the band show no signs of slowing down or mellowing out.
All the elements that fans have come to love about Holy Moses are well represented on "Redefined Mayhem", and then there is Sabina Classen's voice which still has the ability to portray aggression and ferocity. Continue reading »
Review & Photos by Erwin Van Dijk
Mario's Metal Meeting is a festival organized by the Mario's Metal Mania webzine. This edition is the third festival and the first I've attended. The reason why? Holy Moses of course! Holy Moses does not need an introduction. You thought Arch Enemy was brutal? Think again! Holy Moses started in the Eighties as the first female fronted thrash metal band. And, more important, in an era where women were supposed to be Eye Candy in glam rock video's or groupies back stage Sabina Classen sounded more brutal than a lot of other thrash bands from the eighties. With Girlschool and Warlock (Doro´s first band) Holy Moses was one of the very few bands with women in the line up that sounded like the boy bands and not as a gimmick or boy fantasy. Because Mario's Metal Mania is oriented at the brutal underground stuff this Sunday evening is all about Thrash. Yep, it is Thrash time! Many things from the eighties have become popular again the last few years, including the Next wave of Eighties Thrash Metal. The first two are the girl less younglings from this decennium while Acrostichon and Holy Moses are veterans from the last millennium. Hyades is a band apart with more experience than Hatchery and Sanity's Rage. Acrostichon is a female fronted thrash band from Tilburg (Killburg). They broke up a long time ago and this is a reunion gig. You can compare Corinne a bit with Marloes from Izegrim who is also responsible for the grunts and bass. Another thing: patches are mandatory! This was the second largest concentration of Denim jackets with lots of heavy metal patches I've seen this year (although I think the Heavy Metal Maniacs Festival will break the record) Sabina is the queen of denim with patches by the way but she left hers home today. (like me – the cats had used it as a mattress) I missed first band due to hangover the size of the Andromeda galaxy. The second band was rather boring and I did not like the style of the singer. I did not waste space on my memory cards either for this band. Hyades did a lot better. The name Hyades is derived from the Greek Mythology (Ὑάδες) and means "The rainy ones". They are a sisterhood of nymphs that bring rain in the autumn. Well, we did not see any chicks on stage nor it was raining outside. What we got was a band from Italy who clearly had much more experience than Sanity's Rage. The music itself is maybe not that special but like bands such as Municipal Waste it works live. To satisfy al the wearers of denim with patches Hyades did a nice version of the Beastie Boys "(You Gotta) Fight for Your Right (to Party!)" The Beastie Boys haven't done this song live since 1987 so this it the closest you can get! (and Holy Moses has covered this song ages ago).
Acrostichon – Singer Corinne Van Den Brand here on the left- was founded some twenty years ago and disbanded 10 years ago. I've never seen them live during the nineties. Back in those days Acrostichon was the first female fronted death metal band from the Netherlands. Today Acrostichon has returned for a single reunion gig (although I suspect the lady and gentlemen of Acrostichon simply have missed being onstage). Suddenly the floor was filled with family, fans in faded Acrostichon shirts and small kids. One of them was very good in crushing plastic beer cups like the way my hero Dirk Jan crushes gnomes in the Dirk Jan Comic. Compared to the thrash of Hyades Acrostichon's death metal was slow and sluggish. No music for a moshpit but a vast wall of sound. Like many death metal bands the musicians were doing their thing without much show. Singer Corinne was clearly enjoying herself. A good gig but maybe a bit outdated qua music and presentation. This is the second Holy Moses – Singer Sabine Classen pictured here on right – gig at the 013 in two years. Last year (2008) this band was the opener for Obituary at the main hall of this venue and now they are the headliner in the small hall. Is this bad? Not really. It is better to rule in hell than to serve in heaven. Take Lacuna Coil. In 2006 this band was the headliner on the main stage of this venue and last year they were the opener for some crappy band named Bullet for my Valentine. How low can you go? And Sabina still has a large ring binder for all the song texts. And it took (traditionally a while) to build the drum kit. The current gigs are still based upon the album "Agony of Death" from 2008, which is one of my favourites of that year. And what can I say about the gig? For starters, my hangover did not bother me the moment the band started. As usual Holy Moses did a great gig. Sabina also gave some young kids at the front row some extra attention (must be her mother instinct I suppose) Unlike many other musicians on stage you always get the feeling that Sabina is one with the fans instead of a performer at work. I like that.
Links
Holy Moses : MySpace * Facebook * Site
Interview by Tony Cannella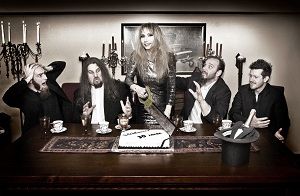 In the past 30-years trends have come and gone in the fickle music industry, yet German thrash metal legends Holy Moses remain. They may not be the biggest band in the world or have achieved a huge worldwide fan base, but for over 30-years they have remained true to themselves and their core audience, and whatever you think of the band, they deserve respect. Recently Holy Moses issued a 2-disc compilation to commemorate the 30th anniversary of the band. Lead vocalist Sabina Classen and bass player Olli Jaath were kind enough to talk to us about it and other things involving Holy Moses.
First of all, congratulations on 30 years in existence for Holy Moses. Please tell us about the recently released 2-disc compilation.
Olli : Many thanks. We sat together in the Absurd Studio in Hamburg and listened to all records except the latest one ("Agony of Death"). We looked for the songs which the fans want to hear and those which are great but not so common. Additionally we checked our fan club network. I think we found a good balance. It´s great to have the old tracks now in a great sound robe. All of them sound much heavier and better than on the old records.
Are you doing anything else to commemorate such a milestone?
Olli: Well. Not really. We are looking forward to playing our next shows. We already started the songwriting for the next studio record. So we are busy to do our next step.
How do you feel about the 30th anniversary? Do you ever get a chance to reflect on the past 30 years?
Sabina : I feel wonderful with the 30th anniversary. I am reflecting a lot of times about the past 30 years. Especially when we recorded the album, a lot of memories came back into my mind. I remembered names and situations with the band and I was laughing a lot of the time to myself because we did so many things without knowing anything about promotion, marketing and management. I did the things like I was feeling, sometimes really naïve. But I think this keeps us still working on. I think this is the wonderful thing with Holy Moses; we only do what we love to do.
How did you both come to join Holy Moses?
Sabina : It is a real true and funny story. My boyfriend Andy was playing in our school band Holy Moses – Andy Classen – and I was sitting in the rehearsal room and listening to them. One day, bandleader and boss Ramon Bruessler (bass) fired the singer and so Ramon said to me – "Hey Sabina, you are sitting here, doing nothing, go to the microphone and sing". I answered to him "I can't sing", but he gave to me the microphone and I had no other choice and I did a deep growl, I was wondering to myself what came out of me, and I thought, now they know, Sabina can't sing. Ramon got a big smile on his face and responds to me – "do it again", I did it again, and he said "Sabina, you are the new singer of Holy Moses". I thought, this guy is kidding me, but it was true. It was the date, 3rd December 1981, and since this date I am the singer of Holy Moses.
Olli : Sabina and I have known each other since 2000 and I joined Holy Moses in 2006. Sabina asked me to help them out for some gigs as a bass player. Normally I play guitar. Besides Holy Moses I play the guitar for my other band Reckless Tide. After Thomas entered the band I switched from bass to guitar.
How do you feel Holy Moses has changed and evolved in the last 30 years?
Sabina : I think we did always what we were feeling. I have many sides in myself, and the most important fact is I am not thinking about it, I just do what I like to do and feel.
Olli: Holy Moses went through many musical changes. Heavy Metal, thrash metal, death metal, Punk, Hardcore but the thrash factor was always the dominant part. Nowadays I would say that Holy Moses stands for a more complex kind of thrash metal with a heavier weighting on hook lines and melodies.
Can we expect new material from Holy Moses soon?
Sabina : My guys in the band are working already on new material, and I am always writing lyrics. So I can work on my daily impressions about life.
Olli: Yes, we are already collecting ideas and riffs for the next record coming out 2013. So don't worry.
When Holy Moses first got together, who would you site as your influences?
Sabina : I really don't know. At the time I just loved Black Sabbath, AC/DC. I did not have so many albums, and I was not listening so much to music. I think my life influenced me always, and this is still going on, all that I am doing is coming deep from my soul.
For you, what has been the highlight so far?
Sabina : My highlight is that I am doing Holy Moses since 30 fucking years, so my highlight is really to do all these years. I was able to visit so many countries and getting in contact with so many people around nearly the whole world. I think getting in contact with so many cultures is the biggest highlight you can get in your life.
Olli: My personal highlight was our tour through Japan in 2009. It was our first time and it was very great to meet all the people, discover the country and play all the shows over there. I hope we can come back very soon.
Any low points?
Sabina : Yes, like life can be, but each low point lets me get more energy and experience for my life. I think everything in your life is something you have to do, to get into the next level of your life..
Olli: Yep, our tour with Benediction in 2008. This tour, thanks to our former booking agency MAD, was horrible and done without any organization. The tour bus broke several times including a fire, venues didn´t know that we are coming, no advertising, etc. Everything bad you could imagine happened. The cool thing was the great relationship between the guys from Benediction and us.
Sabina, You were one of the – if not the – first women in extreme metal. Do you feel like an influence or inspiration to others who have followed?
Sabina: Yes, I really know now, that I was the very first growling and extreme music woman in metal. And I think this is also a milestone and something real special. I feel great with it, if anybody – male or female – got from my music and my strength power and energy to do also steps in his life, to be happy.
Sabina, I read somewhere that you are also involved in managing bands. Can you please tell us how you got into that and are there any bands we should be on the lookout for?
Sabina : I did some years, a kind of helping hand for some younger bands. But I stopped with it, because I love to have my music as a kind of hobby, to work on myself. In my other life, I am working as a natural humanistic psychotherapist and this is what I love to do for my profession.
Which do you prefer, the management or performance end of things?
Sabina : The only thing is to perform on stage in metal – and doing management is nothing for me anymore. I am not a really good manager, because I do not like to be in stressful situations with people, so I do not like to make hard business decisions.
You also joined Doro on stage for her 25th anniversary. What was that experience like?
Sabina: Yes, I joined Doro on stage – often times – she is a really good friend of mine since the 80s, and every time when we have the chance to sing together, we always do. To be on stage with her on her 25th anniversary was a really great moment, Doro is a great woman.
Obviously the music industry has changed since Holy Moses first began. What do you feel has been the biggest difference and most positive development in music over the past 30 years?
Sabina : Ha ha ha, yes so many things have changed, but not Holy Moses – and one thing of the wonderful new world is the internet, so I can be in contact with our friends all the time. About the bad things I do not want to think about it, I take the development like it is and a try to always make the most positive out of it.
Who are some current bands that you like?
Sabina : I still love all the stuff like Ozzy Osbourne, but also I like my mates from Kreator, Destruction, Sodom, Tankard and Doro, Slayer, Tom Gabriel Warrior and still Venom and Possessed – but I am listening mostly in my silent moments to world music.
Olli : I am still a fan of the bay area thrash metal. Bands like Exodus, Testament and Anthrax influenced my play. I still like the last outputs of these bands. To mention newer bands I can say Havoc and Warbringer.
Sabina, in the mid to late 90s you also fronted a band called Temple of the Absurd and released two albums. What is your opinion of those albums today and do you think they might ever get re-issued?
Sabina : It was a great time with Temple of the Absurd and I learned a lot of things for my life. It was really a time of a Rock'n'Roll life, and I think I will have this always in my soul and mind. I do not know yet, if we will re-issue these albums.
At that point, why did you opt to form a new band and put Holy Moses on hold?
Sabina : At that point, some things changed in my life in private ways and so I had to do a new step in my life and I was feeling that I had to have some experiences, and like my motto – Just do what you feel.
What can we expect from Holy Moses in the future?
Sabina : Holy Moses
Olli : A new record and hopefully many live shows.
Thank you Sabina and Olli for taking the time to answer these questions and congratulations on 30 years, here's to 30 more. In conclusion, is there anything you would like to add to this interview or say to the fans?
Sabina : So many thanks for supporting us over all these years – and being behind us, and giving us the chance to go on with something we love to do.
Olli : Many thanks for all the support over all these years. We will see you on tour. Thrash on!!
Links
MySpace * ReverbNation * Facebook * Site
Label : Steamhammer Records/SPV
Review by Tony Cannella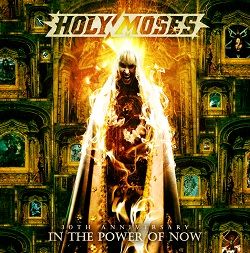 To commemorate their milestone of reaching 30 years, German thrash legends Holy Moses recently went into the studio to re-record 20 classic songs from their history, as well as two brand new tracks. The whole collection is titled "30th Anniversary: In the Power of Now" and not only is it a reminder how long this band has been in existence but also the strength that their material has maintained over the years. Sabina Classen is the mainstay in Holy Moses and I believe she is one of the first females to utilize the extreme vocals technique and 30 years later, she's still got it. This compilation includes 20-songs re-recorded with the current Holy Moses line-up, spread out over two discs and features over an hour's worth of unrelenting, uncompromising music. In addition, two new songs were recorded, "Borderland" and "Entering the Now" which fit right In with the rest of the intensity of the material. Some of the songs that have been re-recorded are "Clash My Soul", "Jungle of Lies", "Finished With the Dogs", "Reborn Dogs". "Defcon II" and even more recent songs like "Disorder of the Order" and "Master of Disaster". It all makes for a thrashing good time. A lot of times when a band re-records older songs, it means they have run out of ideas or it is a cash grab. I don't believe that to be the case with this Holy Moses compilation. It is good to hear some of these songs get updated with the proper production. Besides, with all of these different sub-genres: opera metal, symphonic metal, etc. (which are all great), it is good to hear good old thrash music again and Holy Moses are one of the best ever at their craft.
Rating – 85/100
Tracklist
Disc 1
Clash My Soul
Jungle of Lies

Finished With the Dogs

Symbol of Spirit

World Chaos

SSP

Borderland

Lost in the Mace

Walpurgisnacht

Welcome to the Real World

Near Dark
Disc 2
Reborn Dogs

Defcon II

I Feel Sick

Nothing for My Mum

Disorder of the Order

Corroded Dreams

Entering the Now

Creation of Violation

Panic

Decapitated Minds

Master of Disaster
Line Up
Sabina Classen – Vocals

Michael Hankel – Lead Guitar

Oliver Jaath – Rhythm Guitars & Backing Vocals

Thomas Nietsch – Bass

Gerd Lucking – Drums
Links
MySpace * ReverbNation * Facebook * Site
6 color styles available:

Style switcher only on this demo version. Theme styles can be changed from Options page.