Browsing articles tagged with " compilation"
Interview by Miriam Cadoni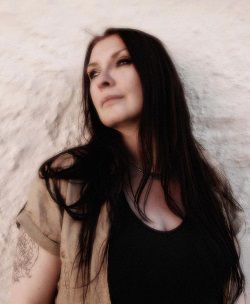 I must thank a dear friend of mind that some years ago introduced me to this particular musical genre [ the neoclassical/ambient genre] and consequently make me adore some of its important acts such Dark Sancuary, Dead Can Dance, Die Verbannten Kinder Evas & Dargaard. Today I've the pleasure to speak about Sweden's Arcana, that along the mentioned bands, represents one of the  most expert ensamble since their long career (their first release is to date is in 1996). In particular, I've contacted Cecilia Bjärgö, one of the singers and Peter's wife [the mastermind behind Arcana], for an interesting interview about their latest album "As Bright as a Thousand Suns" and some updates.
Dear Cecilia, first of all thanks so much for this interview! I hope that everything is ok with your personal life and work…
Hi Miriam=) I am fine, thank you. I am in the middle of changing apartment though, and that takes its time. Dust everywhere, cardboard boxes everywhere, stuff everywhere… and I am having such a hard time throwing away things;) Continue reading »
Label : Massacre Records
Review by Tony Cannella
The excellent double female fronted Symphonic Metal band Coronatus has previously released four full length albums – with their first one being released in 2007. Now they have released a digital only best of album titled, "Best of 2007-2011". Featuring 16-songs and over an hour's worth of music, "Best Of…" serves as a comprehensive overview of Coronatus' career thus far.
The track-listing on "Best Of 2007-2011" features a fair cross section of the bands best material taken from each of their albums. The songs are in reverse chronological order beginning with four songs from Coronatus' latest album "Terra Incognita" which was released in 2011. The two female singers each brings something interesting and unique to the table. The current duo consists of Mareike Makosch who provides more of a rock style and Ada Flechtner who gives us a soprano voice. The melding of the two different styles is one of the best things about Coronatus and gives the songs a huge boost. The bands lyrics are sung in German and English with a touch of Latin as well. The musicianship is also played on a high level and is a perfect complement to the two vocalists and another check in the plus column for Coronatus.
For fans who already own everything that Coronatus has put out, this may not be of much interest, but anyone who would like to sample what this great band has done so far, than "Best of 2007-2011″ is well worth the time. Continue reading »
Interview by Si Smith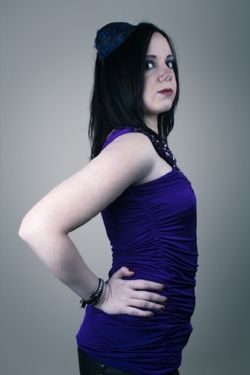 Flying the flag for Belgian metal are dedicated rockers Lovelorn, fronted by the attractively named Ladyhell (Kristell Lowagie). Melodic and passionate, they are determined to put Belgium in the centre of the map for quality metal. Links to groups such as Eve's Apple (formed by Lisa Middlehauve) only serve to solidify their rock and metal credentials. Femme Metal cornered singer Ladyhell to probe deeper….
First thanks for talking to us, and welcome from all at Femme Metal. It seems that are a lady with many faces, as you are also active in other ventures. I believe you and Corpus Christi met for "The Road to Consciousness" project in 2009. Could you tell us a little about this?
Corpus Christi had composed all the tracks of his concept album "The Road to Consciousness" and he was in search for male and female voices. He contacted me, I listened to the songs, and I said yes, I thought the tracks were great ! Later on, we met at the studio to record the songs, and we had lots of fun. We had the same view and ideas about music, we both had no band at that time and we decided to start Lovelorn.
You are also an active member in the Eve's Apple community. For those who are not yet aware, how does Eve's Apple work, and what role do you play in it?
Eve's Apple is a community founded by Lisa Middelhauve. The goal is to join together professional female singers, so they can communicate, but also to help newcomers. We also write articles, express our ideas, give some hints, interact with fans. We don't have a specific role, but we are all working in areas that we like or know better. For example, I'm better at promotion, so I'm trying to help as much as I can in that field.
Your singing career has taken many turns too, from Skeptical Minds to Valkyre to guest vocals for Psy'Aviah. Have you come to a place where you know for sure what your voice is and how it should sound for Lovelorn?
I learned that I cannot sing the songs composed by others. I really need to sing my own songs. Because I wrote it, they perfectly fit to my voice. I have a voice that fits rock, gothic rock, but certainly not symphonic metal ! Yes, I think I know exactly how it should sound.  In Lovelorn, I just make it sound like me, myself and I, and no one else !
Put simply Lovelorn tells stories about love; what is it about love that makes it great material for such a wide variety of songs do you think?
Love rules the world ! It's a subject that everybody can experience, you can tell 1000 different stories about love ! Love is not only about passion between a man and a woman, it can also be love for a god, for your family, for your friends, for nature…. anything is possible.
A track of yours was included on the World of Glass Compilation. Do you think these compilations are important in these days of downloading? Do you feel it gained you any publicity?
Yes I think it helped us, I'm sure some people who listened to the compilation discovered Lovelorn. There are still some people curious about new bands, new projects and who are not brainwashed by commercial radios and TV stations. As a band, we also made friends with other bands on the compilation, yes that compilation was not made for nothing !
I love your definition of your genre on your Facebook page – "alternative, rock, metal, electro, ambient" – well, that suitably walks over such a wide range of genres, how on earth do you decide what to record for any particular track when it comes to composing?
I can't find a good definition for our music style, that's why I've put so many !! ah ah !! If you have any opinion about which style we actually make, be my guest ! We don't decide, it just comes naturally. I couldn't really explain the composing process. Corpus Christi is coming with ideas, I put my voice on top then, we make adjustements. Sometimes we decide we want to put some electronic. It's usually because I want to give a mysterious « atmosphere ».
Why is it important to you that the band members have pseudonyms – the other two being "Hindi Rose" and "Gabriel Arkangel"?
It's not important ! It's just for the fun !! Playing music, going on stage … it's another part of you, another side of your everyday life, … so why not have other names ?

So the EP "An Intense Feeling of Attraction" is now out. The first track is "Save Me". There are a number of songs (even in the female-fronted genre) called "Save Me" or "Save Us". What do you think your song has to separate it from all the others?
I can't remember any other song called "Save Me" but I'm sure it exists, you're right. Everything has been done and said in music, it's kinda difficult to not repeat it, and find something new. This song "Save Me" could be different because of the voice, of the atmosphere, and the nice melody…
Track two is a more laid back affair with minimal backing at certain points. What is the story behind the title "Sagarmatha"?
It sounds different, because I came with the vocal line first, and Christi had to adapt behind it. I also composed all the electronic parts, to make it sound a bit oriental like the title of the song. "Sagarmatha" is sanskrit for "mother of the Earth". This song is about the damages we've done to the Earth and the end of the world.
"Cold" has quite a distinctive choral line. Where do all the ideas come from for a Lovelorn song – the musical and the lyrical ones? Do the ideas come from any specific band member or does everybody contribute?
It depends, it comes from me or from Corpus. We take what's best ! "Cold" is coming from me. I had that whole singing line since years in my head and I already tried to make it sound nice, but it was not possible, but Corpus made it possible! Thank you !!! During rehearsals, the other members become active for the live parts; they also suggest bass lines, drums, we are very open, the purpose is not our ego, but to make the best song possible.
The electronic side comes out more in the drumbeat to "Something Wrong".Was it difficult to agree on how this song should sound, or do all band members have a clear vision of where the band is going at any one time?
We are a new band; so I would lie if I'd say we have a clear vision of where we're going. We are new so we try things, if it works, that's great, if it doesn't we leave it behind. We are composing a lot and we are getting more and more certain about what we want to hear and what we don't, so that's good. "Something Wrong" has many fans, it's touching a broader audience and it still fits the EP, so we are more than happy with the result !
By contrast your final song "Little Princess Euphoria" has a more guitar driven basis, and sounds like it would be great live. Have you had many live performances of your material yet?
Live performances is the next step. We had some and we are still working on getting more. We are lucky and we have booking agencies that are helping us in the process. "Little Princess Euphoria" is great live, we experienced it on stage and every week at rehearsals, we have loads of fun with it !
Flight of the Valkyries festival is upcoming in the US for this year and I believe you have a chance to play there. How can readers vote for you if they would like to? What would it mean for Lovelorn to be a part of such a festival?
Yes, we were surprised to be on the list of the nominees, it was unexpected, so we are doing our best to get more chances to go there. People can vote for us here . It would be nice to be part of that fest, i don't know how big it is, but we will play if we are invited to !
Finally, thanks so much for talking to us. Have you any final words of wisdom for us? Anything from your heart?
No wise words, just enjoy life !
Links
German Symphonic Gothic metal band CORONATUS today publish the new digital compilation "Best Of 2007-2011″
Starting today, December 21st, you can download your copy for 5€ only here: http://www.amazon.de/dp/B00A21RYME
But don't wait too long, the limited offer ends this Sunday (December 23rd)!
www.coronatus.de | www.facebook.com/CoronatusOfficial
Finnish Symphonic Power Metal band has announced their new vocalist (after the departure of Heidi Parvianen) and the recording of a compilation album, read the following statement from the band and mainmain Tuomas Seppälä :
"Hey all. As announced recently we have spent quite some time with the search for a new singer. A pretty hard task, but we think we managed to find an extraordinarily talented singer. We are very proud to present you
Capri
! She is from Finland and a professional vocalist with a strong background: she has worked for a vast amount of different kinds of studio- and live-projects (musicals, lead and backing vocal recordings, live shows etc).
Capri
has a classical training but is still 100 percent a rock singer. We are sure she will bring
AD
to a new level by interpreting
AD
songs with a different kind of style and emotion."
Here's something more for you eyes and ears. A teaser video of Capri singing some AD songs.
And since we all thought that Capri can sing those "classic" AD songs with new and refreshing style and sound, we decided to re-record a selection of our best songs again with her. Also 75 % of the music stems are going to be re-recorded. Mikko P. Mustonen, who did orchestral arrangements for our previous album ("Circus Black") will add some more colour to those songs with awesome orchestral additions. He's also going to mix this album. Release dates, track listing and cover art are to be announced later.
Songwriter Tuomas Seppälä:
"Founding
Capri
and getting her join
AD
is like a big dream coming true to me.
Capri
shares the same taste in music as I and that's why is obvious that our new partnership is like "match made in heaven". She really makes my compositions to shine like never before and I'm so impressed about her every way. I'm as excited as back then, when I found our original singer
Heidi
. Now my main focus is to make the whole world to hear about
Capri
and start composing new songs for her. But first, we're all concentrating on recording this compilation album with
Capri
and then I'll start working with new material for new studio album "  
For infos check :
6 color styles available:

Style switcher only on this demo version. Theme styles can be changed from Options page.