Browsing articles tagged with " compilation"
Label: Spinefarm Records
Review by CriX
"Legacy 1998-2014" is the swansong of the Finnish band Lullacry. For me it's still hard to think that this band ended its career, they had an important role in the female-fronted heavy metal and the fans will never forget them.
This 2-CD compilation was released back on May 2014 via Spinefarm Records and the set include lots of special material like previously unreleased tracks and live recording. In this article we have only reviewed the first CD, although the review can result somewhat partial we've tried with all the efforts to offer you a nice point of view of what this release can be. So after this clarification, let's  start with the single "Hell on High Heels", a catchy track with true heavy metal riffs. "Don't Touch the Flames" is probably one of Lullacry's most famous songs , great guitar lines, captivating voice and everything else work just perfectly. Continue reading »
Label: Lifeforce Records
Review by Tony Cannella
Ladies and gentlemen, Deadlock has re-arrived! On their latest output, "The Re-Arrival", the German melodic death/thrash metal band Deadlock brings the listener a melding of the old and the new – and here's the kicker – it all sounds fresh and vital in today's metal landscape.
With "The Re-Arrival" Deadlock present us with 15-songs and over an hour's worth of material, some re-recorded versions of older favorites and three brand new songs. The first new song is the opening track. "An Ocean's Monument" which happens to be a ferocious opener – this song gets the listener pumped right away. The band is fronted by the clean female vocalist Sabine Scherer and screamer extraordinaire John Gahlert. The two of them make an awesome combination. Continue reading »
Label: Lava/Universal Republic
Review by Tony Cannella
As the holiday season approaches, Trans-Siberian Orchestra gets ready to embark on their annual Christmas tour/extravaganza. In conjunction with the bands holiday dates they have released a compilation album from all of the bands rock operas.
The cool thing about TSO has always been their wide-ranging appeal, from kids to parents to grandparents and of course metal fans. With "Tales of Winter" all six of their releases are represented in one neat 74-minute package. The band has included a long list of musicians/writers from founder Paul O'Neill, Jon Oliva, Al Pitrelli and Chris Caffrey among others. They have also utilized numerous female singers throughout the years on their albums and tours since their inception in 1993. Continue reading »
Interview by Laura Medina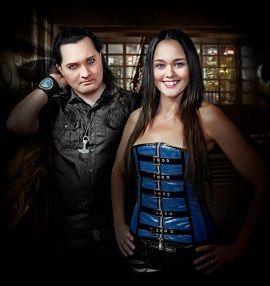 Amberian Dawn, a symphonic metal band from Finland, announced via their official website that they were parting ways with their longtime female vocalist, Heidi Parviainen, in early 2012 soon after their magnifying, superior and outstanding performance at the Metal Female Voices Festival (MFVF) X in Wieze, Belgium. Flash forward to December 2012, it was announced via their official website that the band would release a compilation album consisting of songs from their four previous albums that would be re-recorded featuring their new Finnish female vocalist, Capri!
With the release of "Re-Evolution", their new female vocalist Capri poured out her own mix of classical and rock styles as well as raw emotions into those Amberian Dawn songs. Continue reading »
Interview by Miriam Cadoni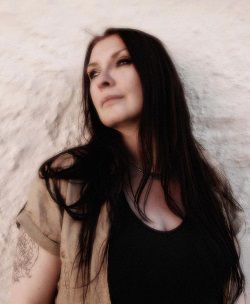 I must thank a dear friend of mind that some years ago introduced me to this particular musical genre [ the neoclassical/ambient genre] and consequently make me adore some of its important acts such Dark Sancuary, Dead Can Dance, Die Verbannten Kinder Evas & Dargaard. Today I've the pleasure to speak about Sweden's Arcana, that along the mentioned bands, represents one of the  most expert ensamble since their long career (their first release is to date is in 1996). In particular, I've contacted Cecilia Bjärgö, one of the singers and Peter's wife [the mastermind behind Arcana], for an interesting interview about their latest album "As Bright as a Thousand Suns" and some updates.
Dear Cecilia, first of all thanks so much for this interview! I hope that everything is ok with your personal life and work…
Hi Miriam=) I am fine, thank you. I am in the middle of changing apartment though, and that takes its time. Dust everywhere, cardboard boxes everywhere, stuff everywhere… and I am having such a hard time throwing away things;) Continue reading »
6 color styles available:

Style switcher only on this demo version. Theme styles can be changed from Options page.