Browsing articles tagged with " consortium"

Interview by Marcy Bell
A new band from Denmark is carrying new good symphonic Power Metal waves. That's Infinity Overture with their new album "Kingdom Of Utopia". We have the pleasure to talk with guitarist Niels and vocalist Ian about the band and about this new project.
What does your name, "Infinity Overture", mean?
Niels: Hi Marcy, The name is inspired of the classical approach to the music, but roughly it just means infinity introduction to a piece of music.
Can we consider "Kingdom of Utopia" a concept album?
Niels: Yes, Ian came up with the story for the lyrics.
Where did you get the inspiration to write the songs? What is the message inside it?
Niels: I get inspiration to write music from listening to other bands, and art and films. The message in the music is mainly to express drama, romanticism and mood.
What is your "Kingdom of Utopia"? Where is it? Do you find in nowadays life a Kingdom of Utopia?
Niels: I think that question is maybe better for Ian, since he wrote the lyrics.
How did you make Infinity Overture project alive?
Niels: When I started the recordings for the album, it was a project to get great musicians play my music, but now I have gathered a fantastic band who plays live, it has been a long journey, and we are only just at beginning.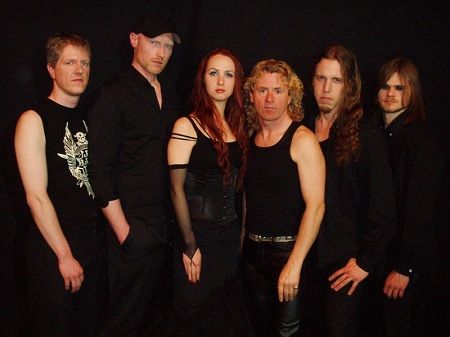 Do you think in Northern Europe there is a special interest about the so called metal-symphonic and power-metal wave? I mean, there are a lot of good groups coming from there… What do you think about the scenario?
Niels: To me it seems that a lot of power metal bands are from South Europe, whereas Symphonic metal is also from Northern Europe. I like a lot of progressive bands from Sweden and Norway, and of course USA, and also Death and Black metal from Sweden and Eastern Europe. In general I think there is a lot of great metal in all the sub genres.
How did you get involved in Infinity Overture's project?
Ian: Back in 2005 Niels contacted me via MySpace and asked if I would be interested to work on lyrics and vocal melodies and then record lead and harmony vocals for his new songs. I loved the melodic style he'd composed and then came up the idea of writing a concept story, which I could base my lyrics around.
Besides singing as male lead vocals what was it you contributed in the band?
Ian: I sent Niels my lyrical concept story which he thought was cool and so I would record vocals at my studio at home, send an MP3 file. Once Niels confirmed he really liked the vocal melodies I would move onto the next song and that is how we did this debut Infinity Overture album.
Did you write any songs, didn't you?
Ian: Only the lyrics, vocal melodies and the concept story for the album. Niels wrote all the music.
Can you still combine your other projects along with Infinity Overture?
Ian: Working this way was easy to combine my other projects like Consortium which I was working on at the time. Actually having working with Niels on Infinity Overture I then asked him to perform live with Consortium Project.
Who entered in the band after you? How much important is having a female front girl in a band like yours?
Ian: Later Niels brought Lene Petersen into IO which in my opinion was a great move and her voice works perfect with my heavy approach and we seem to compliment each other.
Links
Label : GB Sounds
Review by Tony Cannella
Mallory Switch is the oddly named band out of Italy. Their new debut full-length release is simply titled, "Mallory" and among the 10-tracks and 46-minutes worth of music featured, the band display their style of electronic beats and sounds, some rap and industrialized hard rock music, all coming together under the banner Mallory Switch. The opening track "Business Television" brings the listener into Mallory Switch's electro-world. That is followed by the bouncy, straight-forward song with the blunt title, "You Made My Shitlist" (this is my new favorite song title, ever!). The song alternates between being aggressive and techno influenced and is one of the more memorable tracks included here. "Dirt" keeps the momentum going, with an aggressive marching riff that just pounds away all the way through. Next track, "The Last Man on Earth" really stands out, thanks to the beat that is kept. This song also features a contribution from New York City based rap artist Beans (from the group Antipop Consortium). It is an interesting collaboration and one that works great. Audrey Lynch is the vocalist and guitarist for this trio and her vocal style has an infectious charm to it that goes along great with the music that is being performed. Other favorites include: "No Evil", "Brand New World", "Flow" and the final track "Mother Earth", which is followed by 3-minutes of silence and then the dreaded unnamed, surprise bonus track. While not your typical metal release, "Mallory" still features some pretty memorable moments and Mallory Switch are a band that brings something a little bit different to the table. "Mallory" is a CD that mixes different influences, styles and ingredients. It's all a pretty potent combination. I will admit that this is not what I would normally listen to on a regular basis but the songs on "Mallory" had me interested all the way through and it is just another example of how metal can expand horizons.
Rating – 80/100
Tracklist
Business Television

You Made My Shitlist

Dirt

The Last Man on Earth

No Evil

Brand New World

Flow

Evolution Machine

Mumbling My Time

Mother Earth
Line Up
Audrey Lynch – Vocals and Guitars
Zach Maier – Bass, Synth, Piano

Kid Lynch – Drums, Samples, Programming, Background Vocals
Links
6 color styles available:

Style switcher only on this demo version. Theme styles can be changed from Options page.