Browsing articles tagged with " creation"

Interview by Ed MacLaren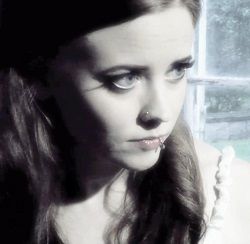 Portugal's Factory of Dreams is not a band to rest on its laurels. After releasing three consecutive prog-metal classics, producer/multi-instrumentalist Hugo Flores and vocalist Jessica Lehto may have surpassed them all with the sublime and sonic grandeur of "Some Kind of Poetic Destruction". An epic concept album of the highest caliber, "Some Kind of Poetic Destruction" weaves effortlessly between soaring melodies and savage riffs, tearing at the fabric of its musical universe with searing solos and breathtaking vocals. Hugo and Jessica took some time to talk to Femme Metal Webzine about the remarkable concept and development of "Some Kind of Poetic Destruction", how to out-epic an epic album and the strange and fascinating impact of lip piercings.
With the success of "Melotronical", expectations surrounding "Some Kind of Poetic Destruction" were understandably high but the new album has delivered another essential sonic experience and then some. Epic is becoming almost an understatement.
Jessica: I'm thrilled that you think so! Hugo has written such excellent music for this album. Of course that goes for all albums, but this is my favourite release so far. Every single track on "Some Kind of Poetic Destruction" has that special something, a nice atmosphere, lovely instrumentation and an interesting story to tell. Continue reading »
Label : WormholeDeath/Dreamcell11
Review by Davide Torresan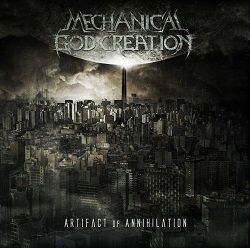 Born in 2006, the Italian band Mechanical God Creation has changed many members of its line-up, even during the months of the mastering of their first album "Cell XII". The same thing happened for their second work "Artifact of Annihilation", but after a careful research they've been able to find the missing members forming the current line-up. Furthermore, the band's live performances are really remarkable since they reached the level of some of the giants of extreme metal. "Artifact of Annihilation" continues the path taken with the debut album giving us almost an hour of furious and violent death metal. As the album artwork suggests us and from some quotes of Nietzsche, the theme of the CD focuses on the mechanization and the progressive replacement of man's work with the one of the machines. The extreme vocals of Lucy continue to attack without mercy the ears of the unaware listener. Continue reading »
Interview by Connie Bach
Translated by Disgraced
Released on Wormholedeath, Mechanical God Creation's album "Cell XIII" is all finely-tuned fury. There is nothing but steelyaggression in MGC's brand of well-crafted death metal.
Hello, Lucy.
HI!!!
How did you come up with the dark topics "Cell XIII" discusses?
The album was born from the wish to express our inner, undeclared and huge anger. We have thought about how our society denies us the possibility to free and vent our inner rage, if not only in determinated occasions, as a matter of fact we're all chained to this concrete armchair, as was Prometheus to the mountain. From this analysis we've decided that it was time to let our voice be heard and represent this huge and inner force.
Would you say, that the combination of powerful lyrics and powerful instruments creates a kind of chemistry? Is it something that feeds itself, and you, on a deeper level?
 We tried to make music and lyrics fit together in order that no one of them abandoned each other. It was like we have tried to weave a well-stichted and tight texture that oozed all this aggressivness: the more the music was getting violent, the more my voice and my vocal lines were becoming aggressive and violent!
How did "Cell XIII" build on the foundations the band already had? How does it reflect where Mechanical God Creation wants to go?
"Cell XIII" helped us to find the perfect way to develop a composing process, a musical alchemy that sadly has been lost later on, since some members left the band. Of course the work done didn't lose its value: it's been the ground for a great, personal growth that will surely be useful for the nex record and that will help me going on on my musical road. Neither me nor the other MGC will stop, on the opposite we'll get better and better with the new line-up!
Specifically, what does the name "Cell XIII" refer to?
As I told you before, we started exploring the world of repressed anger where the body acts like a cage: the word "cell" comes from here and also the artwork leads to that concept, actually there's a person chained up in a cell. "XIII" has an esoteric and symbolic meaning, according to a worldwide tradition: it's an ambiguous number open to a myriad of interpratations and it represents the human duality, our inner and outer self.
Lucy, from your personal point of view, how does Mechanical God Creation differ from earlier projects you have worked on? Is there one thing you would bring from the past experience? If so, what?
MCG is a more personal project, I feel it mine more than the others because I created them out of nothing; I founded this band to try and create something new, something that was only mine in the world of extreme music. This is my band and not a band that I simply joined! The past lives on as a legacy in terms of songwriting and live experiences, professionality and a huge care for those details both musical and non-musical that gravitate around the band. Moreover, past experiences obviously help you to deal more easily with some situations and people and so they allow you to better understand what's going on. What nowadays is often denied is basic, without any doubt, to build an important project!
This question is for each member of MGC to offer input on. If each of you had one artist who influenced you the most, who would he/she be? Why would you choose them? Each of you probably has a different, individual answer.
Lucy: The first artist who inspired me the most was Cadaveria: I liked her vocal style a lot, very aggressive but with a feminine touch nevertheless.
Veon: There are surely three artists who had a big influence on me, which are Jaco Pastorius, Steve Di Giorgio and Jeroen Paul Thesseling. They have been in bands that I always loved. Another aspect that influenced me a lot stylistically and melodically has been the one of bringing bass-playing to a new level: not only a rythmic one but something inbetween rythmic melody and soloist parts.
If you all agreed upon a dream venue (even if it is one that does not exist yet), could you describe that ideal show, line-up, concert venue, etc.? This is sort of meant for those interested to get a sense of how you all can put this image together, by working with each other, the same way you do with a song.
Well, playing Wacken is always a dream. I've been there as a fan and I can say it's a very cool festival, so many people and interesting bands. But there are of course a lot of other places where we'd like to play. Our biggest love, so to say, are big open air festivals. Now I won't list here all the bands we'd like to share the stage with… way too many!
Another one for all of you to contribute to. What goes through your head the moment you finish a gig?
When the concert is over and you go downstage many emotions always linger on: in front of you there was someone who was there to listen to you, who was searching for something in you, who wanted to find a strong emotion in your music and therefore you hope you managed to communicate all that. You hope you played a great show, something unique because after all every gig is unique and unrepeatable and so wonderful! I take the chance to thank everyone who follows us and all those who support us in what we do!
What kind of people seem to connect with MGC's music the most? Why do you think it happens?
I think that MGC's music can appeal to several kinds of listeners: of course lovers of classic extreme metal as well as modern one and in general to whoever craves for a surge of adrenalin and wants to hear something fresh and new for some aspects. Last but not least, why not?, I think we might be appreciated also by those who want to rediscover the Italian death metal that in these last years gave us lots of nice surprises!
I have one final question, for each of you to answer, or work together on; its up to you. What is the fundamental purpose of music with darker themes?
It's surely a stylistical and harmonic research that at first is aimed to create confusion in the listener but then wants to give a sensation of rage, safety and personality to the songs, both lyrics-, musical- and vocal-wise. Nowadays being out of trends using darker themes isn't easy but there are some unxplored points of view that grant a new personality to his kind of music. It's impossible to say how through words, you have to communicate and feel it with music's own language.
Thanks to you, Lucy, and to everyone from Mechanical God Creation. I deeply appreciate everyone's contribution.
Thanks to you for this chance and for the nice and challenging questions! Hope to hear you again soon!
Links
Interview by Miriam C.
For the second time in this webzine we give space to the Italian progressive power metal band Lunocode promoting their latest work "Celestial Harmonies". This time the questions have been replied by drummer Perseo Mazzoni and singer Daphne Romano. Just a curious info – this interview was scheduled to be face to face but 'cause of the bad weather our editor Alessandra didn't make to be at the location by the way at the end it come out a real nice, as always.
Hi Perseo and Daphne, welcome to Femme Metal Webzine and how are you??
Perseo: Fine thanks, a bit tired but happy. The last two weeks have been great with two concerts, the first in acoustic, at Teatro di Anghiari with the show "C'è Vita intelligente sulla Terra?" (Is there intelligent life on Earth?) togheter with Francesco Cecconi and the last, just two days ago, in Rome, with Ivory Moon and Blind Horizon. We discovered that our acoustic side works very well and playing in a theater is something very special, something magic.
Daphne: Yes, two different and exciting gigs. The acoustic set in particular: I have to admit that it's been really thrilling.
Well, first of all, do you mind give us more insights about your biography?
Perseo: Lunocode formed in 2004 under the name "Anima". We played mainly cover for about 2 years and had another singer. Then we started writing new material and in 2006 we released the demo "Birth". The demo went well and we continued writing new material. At the end of 2010 we gained a contract with Spider Rock Promotion and in January 2011 we released the EP "Last Day of the Earth" that also went very very well. At the end of 2010 our previous singer left the band and we found Daphne. After releasing "Last Day" we continued writing and in January 2012 we released our debut album, titled "Celestial Harmonies". And here we are.
According the site, the band's name "lunocode" is a wordplay between Lunokhod and the english word Code. From where did you get it?
Perseo: I was watching a documentary about this Russian rover sent on the moon. It's been the first radio controlled rover to be sent on another planet. I thought it was very interesting and I proposed this name to the band. Giordano came out with the wordplay and everybody liked it so we took it as the new band name.
In your discography we can count the demo "Birth", the "Last Day of the Earth" EP and your debut "Celestial Harmonies". As I remember "Last Day of the Earth" EP was a stand-alone piece of concept. This time with "Celestial Harmonies", as your label states "It's a moving journey thru the Cosmos with the purpuose to search the origins and life's origins" although you declare that the album is not a proper concept. Can you tell us more about the album's lyrics?
Perseo: "Celestial Harmonies" is not a concept in the sense that we're not telling a single story that starts on a song and continues through the other songs of the album like a concept album usually do. "Celestial Harmonies" has a fil rouge, a loose connection between every song, but it's not a concept. Every song tells something about humankind, the cosmos, life or nature and things like that so, in a sense, is a trip through cosmos, a voyage by which we can explore the meaning of life, the universe, the pain and the joy of being alive.
"The Origins of Matter and Life" is a suite long almost 30 minutes. What insight can give us about it and also are the suite's lyrics a concept ?
Perseo: "The Origins of Matter and Life" is actually a story which develops through the songs "On Matter and Mind", "High", "The Cosmic Architect", "Tree of Life", "Crossing the Line" and "Albert II". Is a fictional story about a character (at the very end his identity will be revealed) who starts thinking and, by this act, gives birth to a universe in which he finds himself in. He then starts exploring this new world and he asks himself questions about what's happening all around him and even to himself. Following this questioning the story of this suite unfolds till the end when a dramatic turn of events occur. I prefer not to explain all the details of this story, as I think everyone, if interested, has to discover the message by himself.
For what I get the album was mastered by Ronan Chris Murphy, that has worked with legends like King Crimson, Steve Morse and Ulver. When and how you have contacted him and why work specifically with him?
Perseo: I followed him on internet, on his YouTube channel, on his Facebook and as I think he is a great engineer and producer, I asked him if he was interested in working with us. This was happening in 2010, during the "Last Day of the Earth" mixing sessions. He said yes and I sent him all the audio bounces. As I find myself very confortable working with him, I contacted him again in 2011 and asked him to master "Celestial Harmonies". Again, he said yes and I sent all the material. He made a great work and he was surprised about the songs quality and the big step forward we made in songwriting during the last year. Working with him has been so great!
"Celestial Harmonies"'s cover transmit a feeling of peace. Do you mind explain the meaning's cover building into your personal opinion about it?
Perseo: I too think so and this sense of peace was one of the goals I wanted to achieve with this cover I developed. The airplane you can see on the cover has a particular meaning to me, as actually is a wheater vane my grandfather has built. The cover is in fact a photo and not a computer generated image.
What are the band's influences?
Perseo: I think we are working hard to find and extract our real self so for sure there are influences but I think they are becoming more unconscious day after day. If I had to name just one band, I would name Anathema.
What difference you can see between the debut EP "Last Day of the Earth" and "Celestial Harmonies" in matter of musical style and lyrics? Do you feel more mature?
Perseo: There are big differences but, at the same time, the differences are not so big. In both albums the writing style of the lyrics remains the same, maybe in "Celestial Harmonies" our acoustic side is more prominent, but even in "Last Day of the Earth" there is a completely acoustic song called "Invisible Tears". Maybe in "Last Day of the Earth" the songs sounded more heavy but even in "Celestial Harmonies" we have heavier songs, like "The Cosmic Architect" or "Sin Cara". I think "Celestial Harmonies" is a more mature work, and a natural evolution from "Last Day of the Earth".
Daphne, what are is your musical background? Did you ever do any vocal training?
Daphne: I like different kinds of music like rock, metal and electronic. About my influences, I can say Freddie Mercury, Anneke van Giersbergen and Lisa Gerrard have always been a great inspiration for me. Today I found with Lunocode some new colours in my voice and in my soul that I've never suspected to have. I think I'm evolving…but, who doesn't? I studied opera singing for 1 year, years ago. Now I'm studying modern singing with a great Italian singer. I think singing is a vast world where you can always discover something new: I'm curious, I have a thirst for knowledge and I think exploring the voice potentialities is one of the most stimulating and satisfying elements of singing.
What we can expect next? I read in the website an East European tour with Theatres des Vampires…
Perseo: Yes, we've been on tour with TDV and JTR Sickert and it's been a great adventure and a great experience for the whole band. They are smart and nice people and we enjoyed very much visiting East Europe and Turkey! Then, two weeks ago, as I already said, a dream came true for me, to play with Lunocode in a real theater, in acoustic. We played 10 songs in Teatro di Anghiari (Tuscany, Italy) for about an hour of show. We re-arranged some songs from "Celestial Harmonies" and "Last Day of the Earth" in acoustic and we even played "The Origins of Matter and Life" from start to end! The show has been recorded so maybe we will use those recordings in the future! Other plans for the future? We have some ideas to record a new album, you will hear from us soon!
Daphne: Yes it's been amazing and crazy sometimes! Cool musicians and stuff, great audience, life on the road and foreign countries.
Well, Perseo and Daphne, I really thank you for this interview, I hope you like it! Please greet our readers (and your fans) freely! Thanks again!
Perseo: Thank you for your time, hope to see you at our shows! If you want, you can buy our cds at www.lunocode.com or follow us at www.facebook.com/LunocodeFan
Daphne: Thanks to you and all the readers of Femme Metal Webzine! See you soon!
Links
MySpace * ReverbNation * Facebook * Google Plus * Twitter * Site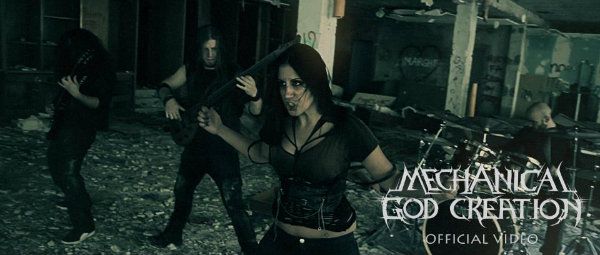 Technical deathsters Mechanical God Creation launched the first video for their upcoming album "Artifact of Annihilation". The Clip for the song "Terror in the Air" has been directed by Stefano Pasotti and can be viewed here:
Support the band, like their page:
https://www.facebook.com/pages/Mechanical-God- Creation/178845978792633?fref=ts
6 color styles available:

Style switcher only on this demo version. Theme styles can be changed from Options page.