Browsing articles tagged with " dawn"
Independent Release
Review by Tony Cannella
My head is spinning. There is so much killer music coming out these days, particularly in the Femme Metal genre that sometimes it is hard to stay on top of everything. Not that I'm complaining, mind you. I love doing this so much and I love finding about new bands that I would never get to hear otherwise. It doesn't suck… One of the latest bands to come my way is the Symphonic metal band Beyond God from the Netherlands.
"Destination Darkness" is the opening track and begins with some pretty cool, melancholic orchestration and the soprano vocals of Cynthia Knoch come in and helps turn this song into a solid opener. The mid-tempo and melodic "Memories" is quite… um, memorable. Continue reading »
Label: Escape Music
Review by Tony Cannella
The Finnish symphonic metal band Amberian Dawn parted ways with their popular longtime singer Heidi Parvainen late last year. Now that her replacement has been found the band continues on, with an odd way to break in the new singer. First of all, her name is Capri and instead of working on new material Amberian Dawn has chosen to introduce her to their fan base via a re-recording of some favorites with Capri on vocals.
The kind of soaring power metal that Amberian Dawn plays deserves a vocalist whose voice soars with the music and with Capri they have found just that. "Re-Evolution" contains 11-song that encompass all of their albums and it would be impossible to say that anyone does them better than Heidi (she was the original, after all), Capri acquits herself quite well and she quickly put my fears to rest. You can hear her take on songs like, "Valkyries", "Incubus", "Lily of the Moon", "Come Now Follow", "River of Tuoni" and my favorite all time AD track "Charnel's Ball". Continue reading »
Interview by Laura Medina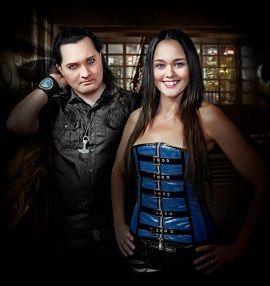 Amberian Dawn, a symphonic metal band from Finland, announced via their official website that they were parting ways with their longtime female vocalist, Heidi Parviainen, in early 2012 soon after their magnifying, superior and outstanding performance at the Metal Female Voices Festival (MFVF) X in Wieze, Belgium. Flash forward to December 2012, it was announced via their official website that the band would release a compilation album consisting of songs from their four previous albums that would be re-recorded featuring their new Finnish female vocalist, Capri!
With the release of "Re-Evolution", their new female vocalist Capri poured out her own mix of classical and rock styles as well as raw emotions into those Amberian Dawn songs. Continue reading »
Label: Dreamcell 11/Wormholedeath/Aural Music
Review by Tony Cannella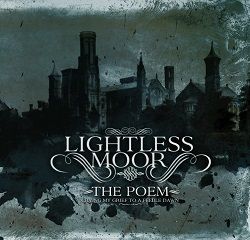 From Italy, the Gothic Doom Metal band Lightless Moor formed in 2001. After their initial EP "Renewal" was released in 2006, they recently signed to the up-and-coming label WormHoleDeath and it is through that label that they have released their long awaited epic debut, "The Poem – Crying My Grief to a Feeble Dawn". With a name like Lightless Moor and judging by some of the song titles, it is easy to see that lyrically they explore the darker side of life and the music provides the perfect soundtrack.
The ominously eerie intro segues into the heavy doom-laden opening track "The Lyrics of the Journey". Lightless Moor utilizes two lead vocalists. Continue reading »
Label : Lion Music
Review by Tony Cannella
From France, the melodic metal band Venturia released their debut album "The New Kingdom" in 2006. After a few line-up changes Venturia are now back to mark the "Dawn of a New Era" – that is actually the title of their 3rd and newest album, but it could also refer to a fresh start for the band due to their line-up changes.
As the heavy guitar riff for opener "Devil in Disguise" kicks in, it is clear that Venturia have a strong sense of melody with some great vocals provided by Lydie Lazulli. The next song "Secret Dream" has an infectious melody that just stays with you long after you've heard it for the first time. The shredding opening guitar riff kick-starts "A New Dawn Rising" – this is also the first we hear from the male vocalist Charly Sahona who took over following the departure of Mark Ferreira, Charly also contributes guitars and keyboards. Continue reading »
6 color styles available:

Style switcher only on this demo version. Theme styles can be changed from Options page.