Browsing articles tagged with " deep"
Label : Nuclear Blast Records
Review by Tony Cannella
The Norwegian Symphonic metal band Sirenia returns with their 6th album, "Perils of the Deep Blue" and what you get here is 11-songs and over an hour's worth of music that doesn't stray too far from what Sirenia does best, and that is definitely not a bad thing. Sirenia's growing fan base has come to expect a certain style and sound and happily that is exactly what Sirenia gives us. That is not to say that Sirenia doesn't do some tweaking along the way. And therein lies their strength as a band that they still manage to make each album a unique experience and that continues on "Perils of the Deep Blue".
"Perils of the Deep Blue" begins with an atmospheric intro called "Ducere Me In Lucem" which gives way to the bombastic "Seven Widows Weep". Continue reading »
Label : Nuclear Blast
Review by Tony Cannella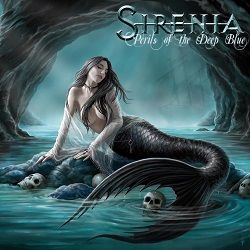 The Norwegian Symphonic metal band Sirenia returns with their 6th album, "Perils of the Deep Blue" and what you get here is 11-songs and over an hour's worth of music that doesn't stray too far from what Sirenia does best, and that is definitely not a bad thing. Sirenia's growing fan base has come to expect a certain style and sound and happily that is exactly what Sirenia gives us. That is not to say that Sirenia doesn't do some tweaking along the way. And therein lies their strength as a band that they still manage to make each album a unique experience and that continues on "Perils of the Deep Blue".
"Perils of the Deep Blue" begins with an atmospheric intro called "Ducere Me In Lucem" which gives way to the bombastic "Seven Widows Weep". Continue reading »
Label : Curved Air Records
Review by Matteo Bussotti
Curved Air's foundation goes back to 70s, and many people remember them as one of the most important band in prog/folk rock at those times. So…do Curved Air have the right to come back now, in this time full of commercial, "easy listening", electronic and computer music? Yes, they sure have. "Live Atmosphere" is a CD from old rockers for old rock lovers (like me, for example); if you hate 70s prog-rock, you'll surely not enjoy much this album, I can tell you, and you can stop reading this review here. If you haven't stop reading…well done! I can assure you that "Live Atmosphere" is worth at least a chance, but let me say that you're not going to listen to it only one time. If you love the genre, you'll love this album. Curved Air's song are perfect in their "old style", they truly are beautiful. From "Marie Antoinette" to "It Happened Today" you can feel every musician's experience in his own field, you can hear how every one of them contributes to create the perfect melody, harmony and sound in every song, with beautiful solos for every instrument, played with a grace only found after years of practicing, on and off stage. You'll get caught up in every song's melody, with Sonja as your guide with her beautiful, deep and very powerful voice; it's amazing how se hasn't got any worse since her younger days, instead she's more confident with her voice, and she holds all the audience in her hands like a puppeteer with his puppets. Every member of the group is special in his way, and not mentioning every one of them would be a crime. As I said before, Sonja simply shines with her beautiful voice. Kit Morgan is capable of creating the perfect solos with just the right notes: he'll leave you amazed not for his speed, but for his style, which is even a more important thing for me. Florian's drumming is always as it should be: powerful when it's needed, softer when you just need to create atmosphere. Chris Harris's bass pumps up the tempo, defining all the variations and all the various rhythms; needless to say, Chris and Florian work perfectly together. Paul Sax gives us some really astounding violin melodies, giving that gracefully powerful imprint to all the songs, contributing to make Curved Air's sound even more beautiful and complex. Finally, Robert Norton's keyboards…well, you may not notice him all the time, but if you listen carefully to all the songs, you'll notice he's always there, keeping all the pieces together, and believe me, without him, none of the songs would be the same. So…what do we have to say about this album? It's a rare masterpiece. Apart from the songs, its beauty resides in the capability to bring back to glory 70s prog rock, which so many people around the world love so much. I was very pleased, while listening to this album, to discover that we have also nowadays bands such as Curved Air. They are there for every one of us, to let us not forget from where real music comes from, and that old music (and musicians) still has got A LOT to teach us.
Rating – 85/100
Tracklist
Atmospheric Overture (Intro)

Marie Antoinette

Propositions

Easy

Hide And Seek

Screw

Phantasmagoria

Melinda

Everdance

Back Street Luv

Stretch

It Happened Today

Atmospheric Overture (outro)
Line Up
Sonja Kristina – Vocals

Kit Morgan – Guitar

Chris Harris – Bass & Backing Vocals

Robert Norton – Keyboards

Paul Sax – Violin

Florian Pilkington- Miksa – Drums
Links

Interview by Ed MacLaren
Brazilian thrash rockers, Shadowside have spent the last five years defying conventional definitions of a female-fronted band with their searing brand of metal. With their third album, "Inner Monster Out", a hard driving riff-fest fueled equally by hooks and hammers, Shadowside is determine to stand toe-to-toe with the best of 'em. Vocalist Dani Nolden took some time to talk to Femme Metal about drastic changes that resulted in a creative leap forward, the band's work ethic and the dangers of letting her inner monster out.
You've unleashed "Inner Monster Out" upon the world and our ears haven't stopped bleeding – it's a fantastic album. You've really raised the bar on this one.
Thank you! This album was kinda like a "do or die" thing for us. We had to top ourselves, not because the fans said it or the press said, but we felt we needed that. As a band, you have to always search for the very best you have to offer and keep people interested, surprised. The band was in agreement that in order to surprise and impress people we would have to impress ourselves and come up with something even we didn't know we were capable of creating. We had a great time bringing it to life and after we were done, we were absolutely sure this is the best album of our careers so whatever the results and whatever people's opinions about it could be, we were happy as musicians. Fortunately, people love it as much as we do so that tells me to always trust our instincts and do what we enjoy doing! There's always people to listen to what you play if you put your heart into it.
The band sounds like it's firing on all cylinders musically and vocally. It must be a great feeling when you're recording an album and everyone on the team is playing at the top of their game.
It is – no doubt about it. It's easy to perform your best when you don't have to worry about whether your band members will be able to deliver or not, or whether you'll have to fight for the musical direction of the album at the end of the day. I knew they'd do a great job and they did. I could go out during the day sometimes and not have to sit there through the recordings of everything because I had complete trust in them, you know? We didn't have to monitor anything, just like when they didn't feel like watching me record, they didn't have to. Sometimes they'd just go play videogames but not because they didn't care, just because they knew I'd never come up with something they wouldn't like. Raphael recorded lots of guitar solos while everyone else was asleep (laughs). It's amazing to work like that… We were absolutely at ease and every step of the way was extremely fun!
Lyrically, "Inner Monster Out" is pretty intense and the music reflects that intensity. What took Shadowside in such a heavy direction on this album?
Before we even started working on the music, I was already playing with words a little bit… I like starting with titles and topics to write about and go from there and everything was very deep, introspective and personal, sometimes kinda dark as well. I wasn't unhappy at all though, the band was doing well and everything was great, I was just taking a dive inside my own head and into anything that made me think. When we started working on the music, everything came together like magic. My songs were intense, the songs the boys wrote were intense as well and when we started working on them all together, they got angry, heavy, full of life and I thought they were perfect for those topics I had been playing with in my head. The songs got more mature so the lyrics had to follow and thankfully, that was exactly how I wanted to explore my lyrics writing this time. It was like everything was meant to be, you know? Like we were all reading each other's mind and looking at the same direction. We kept it fun and melodic but we wanted it more aggressive. We wanted to capture that intensity that we have on our concerts that makes people and ourselves go crazy and unleash our "inner monsters"!
You changed your recording methods as well for this album didn't you?
Dramatically. Not only the recording methods but the writing methods as well. We used to book a studio and get a producer, then we'd go to the studio in the morning, record for 12 hours a day and then go back home and do the same thing the day after. By the end of the recordings, we were all worn out and sick of the album to the point that we'd let some things slide just to be done with it. That's not ideal but it's what happened. Then after a few months, we'd all sit and talk to each other about all the things we wish we had done differently. This time, we went to Sweden to work with Fredrik Nordström as our producer and he has a studio with all living facilities in it. He has beds, a kitchen, bathroom so the 4 of us lived in the studio during the recording. Literally. Fredrik worked for 8 hours a day but he'd let us use the studio 24 hours a day, 7 days a week. So we could just wake up, go to the studio, play with the songs, experiment with them and just have fun. When we were tired, we'd leave it for a while then go back to it but there was no pressure. When it comes to recording, we just made sure that everybody in the band was happy with the songs at all times. We have very distinct tastes within the band and we figured that if we could create something interesting for the four of us, it would be unique and different with a lot more chances of pleasing people. We also did everything together. No song sounds exactly like the demos each of us brought to the studio. We all arranged everybody's instrument and no one was overly sensitive about it. We'd use whatever good idea, so I wrote some guitar riffs, Raphael and Ricardo wrote some melodies, Fabio directed some of my vocal recordings. We happily worked as a team.
What's your Inner Monster and what does it take to bring her out?
(Laughs) You know what… my Inner Monster ALWAYS comes out at the worst possible moments and it can often cause embarrassment to myself and to others (laughs). The "Angel with Horns" describes my personality well… I'm usually sweet but can be a little evil at times. And it usually happens when I'm actually trying to be nice… a while back I hosted a tattoo event and one of my favorite tattoo artists in Brazil was judging the tattoo contest. He's over twice my age and winked and flirted with me during the whole event but still I didn't want to be mean so I just kept my distance. After the event was over, he came over to talk, gave me a card and I ended up opening my big mouth to pay him a compliment and instead said a "Dude, I'm your fan! I followed your work in surf magazines since I was a little girl!" (Laughs) He got so uncomfortable that he immediately left and I wasn't even trying to be a jerk, I think it's just natural in me (laughs).
The title track features Björn "Speed" Strid, Mikael Stanne and Niklas Isfeldt – a unique cast for a unique song. I guess the boys did alright on this one, didn't they?
Hell yeah, they did great! I expected nothing less than great since they are all amazing singers but they sure did even better than what I originally had in mind. What I like the most about how the song turned out is that all the voices on it are so distinct but they all fit. It was an honour for me to perform alongside those guys. And it was great fun to take them outside their comfort zone and let them bring their own personalities to Shadowside at the same time.
Have you thought about expanding the writing style in "Inner Monster Out" and writing some longer pieces for multiple singers like a sort of "metal opera"?
There are no plans to do that right now but then again, we never make any plans. We just let things happen. Some of our fans asked us why we never had guest musicians before the "Inner Monster Out" album, the truth is that just now we wrote a song that actually needed more people singing, in this case to match the story. So while we won't force the songwriting in the "metal opera" direction, someday it might just happen that we write a long song that we feel multiple singers should lay their vocals on. It's surely something we would do if we all liked the song and felt it has the Shadowside energy.
Shadowside started very strong out of the gate and hasn't looked back since. How were you able to reach this level of popularity in such a short time? Was it the music? The energy? The timing?
All that plus the hard work, I guess. I actually think the timing was horrible for us because Shadowside started when female fronted metal became popular, especially Nightwish. So there were hundreds of bands appearing every day trying to be them and lots of people thought we were just another clone band. That slowed us down a little because lots of potential fans would come across our ads on magazines or interviews or people talking about us and would say "I won't even bother checking out this band because I don't like these Nightwish clone bands" when we were nothing like them. It took time for them to understand we had our own thing going on and it was very different from what everyone else was doing. Many liked the music a lot when we first released a demo and I honestly didn't expect that much. But I think we had such a positive energy on stage, we love what we do a lot and that's usually contagious. We used the Internet a lot. We kept in touch with our fanbase through MySpace, through Orkut, which is very popular in Brazil. The work in this band never ends, there's always something to do either regarding the music or band business, we don't take time off, we don't need vacation. Our holidays are the tours! We play when we're sick, unless we absolutely cannot perform. I sing unless my voice is gone, the boys will play unless they can't move. Fabio played the drums with a broken finger on the European tour with W.A.S.P. And being in a band is what we love the most in our lives and that shows through in the music. Sometimes the music is good but the band isn't fully committed to making it a success or they just record, upload the music to their website and hope things will magically happen. We searched for success and are still searching. In the meantime, we keep trying to improve as no matter how good you are, there's always something to fix and you can always be better. That's the key to success in my opinion… respect your fans and do not stop working.
How do you respond to that kind of early success? It must be tempting not to mess with a formula when it's working but then again where does that leave you to grow?
That's exactly what we think. After we released "Theatre of Shadows", which received high praise in Brazil, we had that discussion for the first time. Should we continue what we did on "Theatre of Shadows" or should we keep exploring? I believe that if you don't surprise your fanbase, they'll eventually get bored and you won't reach new fans either. Then when "Dare to Dream" was really well accepted even though it was a big change from the debut album, we got even less afraid to try new things. We keep the band's roots, of course. The energy is there, the melodies are there, music comes before musicianship, but why not try new things we learned or that are very different than what we grew up listening to? We need to shock people, we need to wow them, otherwise we just give them more of the same and they'll go look for the freshness elsewhere. It's a real challenge to do that while still maintaining Shadowside's identity and I love it, it challenges me as a musician and I think the guys will agree with me on that. That's how we responded to that success… we felt that if we didn't top ourselves, nobody would be impressed either and instead of getting cocky thinking we are the next big thing, we got humble and thought we should work twice as hard to actually deserve all the praise we received.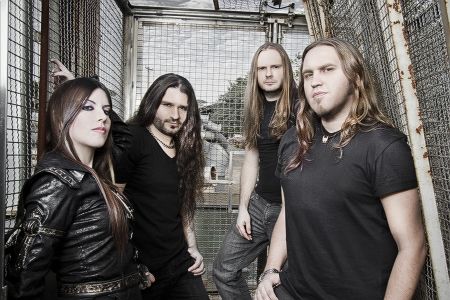 In Brazil, Shadowside is a big deal. What are your goals for expanding that popularity beyond the Brazilian borders?
We just hope to go as far as we can possibly go. We'll tour a lot, keep in touch with our fans online, I think the Internet is a huge tool that many musicians still don't know how to use very well. Now that we have history to show in our own country, we'll try achieving the same things worldwide.
How does Shadowside differentiate itself from its Brazilian metal contemporaries? What do you do to make Shadowside unique?
There's nothing specific that we do, we just don't label ourselves at all. Many people call us a power metal band but we don't so we don't get trapped in the genre. If we wanna play something that sounds more like thrash metal, we can. Why not? So we mix together thrash metal, power metal, hard rock, modern stuff, whatever we like and try to make it flow together naturally. But we don't think, "We HAVE to add all these elements." We just have so many different influences inside the band and we don't necessary try to sound like them. Raphael likes Pantera and Fabio likes Slayer, but they don't wanna play Pantera and Slayer, they wanna play their own thing so when they start playing together, something interesting and unique comes up. I notice most people starting a band look for band mates with the same tastes as theirs. We embraced and used our different ideas, views and tastes. I don't think you'll ever see Shadowside changing the lineup due to musical differences.
Many female power singers look to male singers as influences instead of female ones. Are you the same way?
I am, but that's only because I grew up listening to the guys. When I was a child, I listened to what my parents listened and that was Queen. Then my cousin showed me Guns n' Roses and Skid Row. After that school friends showed me Judas Priest and Iron Maiden. By the time I found out about females in rock and metal music, my voice and musical personality were pretty much formed. Nowadays I like many female singers, a lot. I love Lana Lane's voice for example and if I had heard that woman singing when I was a child and early teenager, she would have definitely been one of my major influences. The Skunk Anansie singer is amazing too. I like unusual, unique voices, male or female.
You sing like a force of nature. Where does all this power come from? Did your voice always sound like that?
It must have been all the screaming I did when I was a baby (laughs). But it did, yes… it was always quite loud and strong, it was way easier for me to learn how to scream and power sing than to sing like a girl (laughs). Until not much long ago, I had trouble singing songs written for female voices or holding back on volume. I only realized it wasn't common for a woman to sound like this when I noticed how much it surprised people. Before that it was just natural, a voice that I hated but it was the only one I had (laughs). So I worked with it.
Even with all that vocal aggression, you can still soften up your voice on tracks like "A.D.D.". It's a beautiful contrast. Have you thought about using that part of your voice more extensively?
Now that I learned how to do it, yes (laughs). Maybe not too much more because what I really love to do is let it all out but it's always important to be able to perform different things. Like you said, that contrast can be interesting. I want to have a range of choices regarding what I can do with my voice so the band's creativity doesn't get limited, you know? People might see more of that soft and beautiful stuff if it fits the music in the future or maybe until then I'll learn how to do something that I never tried before and mix that all together!
Americans can get a little jealous when the top European femme metal bands pass over North America heading to South America. What is it about metal that South Americans respond to so well?
I think it's the passion… metal is such an intense genre. I've seen grown man cry when hearing their favorite song. And not a love ballad, an all-out metal tune and the guy is there, screaming, fists in the air, tears rolling down his face and his kid on his shoulder with a band t-shirt! And South Americans are very passionate people, warm-hearted so it hits us right in the guts. It's purely about the music, because most Latin Americans don't speak English at all. But they know what everyone's singing about, you bet they know… they feel it.
You've made several visits to North America and Europe as well. How do the crowds there differ from those in South America?
Eastern Europeans and Latin Europeans, like Italy and Spain, are very similar to what I've seen here. They go absolutely crazy! In North America and countries like Germany and Finland, I noticed people tend to watch the concert more but once they decided they like you, they start screaming and responding really well when you try to interact with them. When we played in Finland for the first time, they were insanely quiet and we thought they hated us! I was afraid to ask them to scream and throw fists in the air because I thought I'd just look dumb there doing it by myself (laughs). In the middle of the set list, I thought to myself, "To hell with it if I look like a fool, let's have some fun!" (Laughs) To my surprise, they started following me and came to talk to us after the show and said they liked it a lot, so I think it's just a matter of getting used to the local behavior. My experience is that Latins and Eastern Europeans respond to the music faster and in a more intense manner, but North Americans, Germans, Finnish, Estonians, British… they will come talk to you a lot more, buy a CD and tell you personally what they thought of your music. That's not always the rule though… We had some of our loudest crowds in the UK, they were just as intense as the Lithuanian, Spanish, Hungarian, Italian… maybe they like us Brazilian folks (laughs).
What kind of relationship do you have with your fans? How important is that relationship to the success of the band?
I'd say it's key to the success of any band. You have to respect your fans and be good to them. Send a personal message every now and then to those who are more active on your social networking websites. Take some photos with them after the show. If there are too many of them, organize meet-and-greets before the show. Give them something nice and for free when they like you so much to the point of buying your entire discography and a t-shirt on top of it. Don't ever forget the fans put you where you are. That's the relationship we have with them. Musicians want people to understand how hard it is being on the road but we also have to understand that the fan might never have another opportunity to come close to you and take a picture with you. They wait hours in the cold for you sometimes. A little respect and appreciation is always in order.
With the new album out, a tour is a forgone conclusion. The live sound is going to be crushing with these new tracks. What can the fans expect on stage?
A band that's on fire! The mood inside the band has never been better and we wish we could play the whole "Inner Monster Out" album live, along with the best of our old material and that's just what we might do on our headlining shows! We love to play and interact with the crowd, sing for them and with them, the new material is sounding extremely intense and the old stuff is sounding heavier live since we end up playing them the same way as we play the Inner Monster Out tracks. It's a show to head bang and go insane!
Where is the "Inner Monster Unleashed" tour going to take you?
Everywhere we've been so far and beyond, I hope! We'll play everywhere we can, we were waiting for feedback on the album to make plans and it seems the fans and press really approved this material so it's time that we start getting this show on the road. And hey, that's actually a cool title for the tour… can we use it? (Laughs)
(Famous) Last words?
"He who fights monsters should see to it that he himself does not become a monster. And if you gaze for long into an abyss, the abyss gazes also into you." – Friedrich Nietzsche, the very first inspiration for the Inner Monster Out concept. My own… "Dare to dream, it just might come true!"
Links
MySpace * Facebook *Twitter * Site
Latest Multimedia
Interview by Erwin van Dijk

On June 1st the compilation double cd "Demonic and Divine" is released by Femme Metal Records. The cd is to support the Macmillan Cancer support and Cancer research UK. Godyva appears with the song "My Inner" on this album. Godyva is a Gothic Metal band from Bari, Italy. The band was formed in the year 2000 and has released two albums and a demo cd. Godyva's latest album was released last year and this album also includes the song "My Inner" that also will be featured on the "Demonic and Divine" album. Lady Godyva was a noble woman from England who lived a thousand years ago (c. 997 – 1067) in the city of Coventry. She is most notable for riding naked through the streets of Coventry. By doing this she gained a tax remission from the high taxation imposed by her husband Leofric, the earl of Mercia. And with success. "Godiva" or "Godgyfu" means "God Gift" in Old English. This interview is with Lady Godyva, the singer of Godyva.
For starters: what is your real name?
My real name is Cristina Argese, my surname sounds like the river Arges where Dracula's wife died, this is what the legend of Dracula tells. His wife killed herself throwing in the waters of the river Arges and subsequently the river was called the Princess River. Cool!
Did you always wanted to become a singer?
Yes! When I was a child I always dreamed to sing with David Bowie or Freddie Mercury! I wished to be their chorist on tour, hehe!
Who are your favourite singers and musicians?
My favourite singers and musicians of my childhood were the White Duke and Mr. Mercury and his band Queen as I said before; when I was a girl I loved Maria Callas, Dead Can Dance and Lisa Gerrard, Peter Murphy, The 3rd and The Mortal, Katatonia, Sarah Brightman, Sade, Kate Bush, Tori Amos, Paradise Lost, Metallica, Korn, Slayer, Queensryche and more but now in this moment of my life I'm really in love with the voice of Nevermore, Warrel Dane (his last solist album is fantastic), I like Porcupine Tree too, Avantasia, Scar Symmetry, Soilwork, In Flames, Entwine, Samael… But Paradise Lost and the voice of Nick Holmes will be forever my favourite.
And to what kind of music do you listen yourself?
Death, Thrash, Metal and Gothic Metal very often but sometimes I like to listen to ambient or new age music to relax myself.
Did you sing in any other bands before Godyva and do you any other bands right now?
Before Godyva I sang with a band called Aragon. The line-up included two singers, male and female and I used to sing like the Opera. Now I would like to dedicate myself only to my band Godyva, but maybe in the future it could be possible.
Speaking of side projects: you have recorded a song with the Thrash Metal band Methedras (also from Italy) for their latest album "Katarsis". This song is called "Nightmare". How did you got in touch with this band and what have you learned from this experience?
Methedras are friends for me. They asked me to sing on their latest album after their listening to the song I sang with Necrodeath, on their "Draculea" album. They stayed impressed and so they asked me to sing the song "Nightmare" on their new album. A link to the band.

Why did you choose Godyva as the name for the band?
I was a young girl when I decided to choose this name for my project and I remember that I was reading the story of Lady Godiva during a reading of an old book of my grandmother. I was spellbound of this heroin so brave that used her naked body to win against her unfair husband. She was the first feminist! She was a woman with no shame! She embodied Eva before the original sin. I would like to be naked all time, especially in this warm period (sometimes I really hate dresses and all accessories I must wear!) but I cannot do it, what a pity! hehehe!
How would you describe Godyva's music? Because a lot of people will assume you will sound like Lacuna Coil because Godyva is Gothic oriented with female vocals.
I think that Godyva are similar to Lacuna Coil because the female voice but there are a lot of bands in the world with a front woman that could be similar too. I like Lacuna Coil, they are a great band and I'm really happy for their worldwide success and fame, but we are different, we use to play and to compose in a personal way in my opinion. It's easy to say "You are like Lacuna Coil!" because we play metal with a front woman and we are Italian but we don't want to be a copy of an other band, we want to be Godyva and "nothing else matters"!
And what makes Godyva different compared to all the other female fronted bands in the world?
I think every voice is personal and unique in the world, also your voice is unique! It is scientifically shown that the voice is as unique as the iride of the eye and the digital imprints. And every voice has its own ability to transmit emotions, so the ear of the listener decides what it is or it is not pleasant. Also the personality of a singer and of a musician makes the difference, but i don't like to compare myself or my band to the others.
Who are the other members of Godyva?
Botyz Beezart – keyboards
Botys is the principal composer of the band, he mixes melodies of the keyboards to all guitar's riffs really in a particular and special way. Maybe it's his work the real difference in our band.
Anto – guitars
Anto is the aggressive characteristic of Godyva, he is the guitar that I have always desired to mix aggressiveness with romanticism.
Nick Barrah – bass
For a long time he does his beautiful job for this band. He is an essential musician with a great personality.
Enyo – drums
A drummer precise and progressive from years he is the rock of hour sound.
Why did Godyva choose the song "My Inner" for the "Demonic and Divine" album?
We have chosen this song because in that period we released the video of "My Inner" and we wanted to promote this song one more time in a compilation but we are sure "My Inner" is a song that younger fans appreciate and we believe in them.
And how did you (the band) got in touch with Femme Metal?
Femme Metal is a fantastic store managed by serious people that sell our cds, and so they asked me to take part to this compilation and i said "Why not?". I really hope this compilation could help this cancer research in UK.
Is song writing teamwork in Godyva or is there a mastermind behind the music?
As I said before Botys is the principal composer, so I can say that he is the mastermind about the music but also with all our help. In our latest album Anto has composed with him some songs among which "My Inner" and I have written with him "On the Floor of Ice" and "Mary in Blood". All vocals and lyrics are only my work.
Can you tell us something about the songs on "Planetarium" ?
"W.A.I.H.T.L.I.H" is the intro and it's the same music of the outro but you can listen to this intro in the opposite verse with the sound of tears that fall. Because of this you read the title like an image in the mirror. "The Ark" is The first song we have composed for this album and so we chosen it for the opening track. Instead "Innocent" is one of the two songs that sees the collaboration with Mike Tarantino (Natron). Here you can ear how the new guitarist Anto makes the difference with his style and his composition support. "Mary in Blood" is a romantic song that speaks about Maria Magdalena and her love. "Deep Inside" can be deceitful because it seems an happy song instead it speaks about one love that wants to last up to the end, together, both in the same grave. "Planetarium", it's simply the title track; we adore this song. It's the second one composed for this album and we think it is a complete and refined song. "My Inner" :I like it, I like it, I like it. The most powerful song of the album and the most appreciated by the metal kids. We released the video of this song. You can watch it on our MySpace page, YouTube official page, official website and on Rock Tv. "Black Door" also is one of the most difficult song to sing on this album. The ninth song is "On the Floor of Ice" I like to call this one "the liquid song", because it speaks of water (our life), deep blue sea (I love swimming) and ice. "No Fault" sees again for the second time Mike Tarantino as special guest! I like so much this song for that style typical of the Eighties, and we feel nostalgic for these years. Back to romaticism with "God Is Fallen" that speaks about our own fallen idol. And here we're at the end with "H.I.L.T.H.I.A.W." (outro) : a yearning and suggestive closing recited. This is an outro, but we use it as the intro for all our shows. As a treat for our fans we've decided to include a special version of "Innocence" as an acoustic version like happened the last time in "In Good & Evil".
And what is your favourite song on this album?
My favourite song on "Planetarium"? The title track! In reality I have two or three favourite songs on this album: "Planetarium", "Innocent" and "My Inner".
And what are the differences between "Planetarium" and "In Good and Evil" ?
The difference is the guitarist and obviously all guitars you can listen to. Our ex guitarist Frahn left the band some months before the recording of "Planetarium" so we chosen Anto as our new guitarist and we were sure that he would have done a good work in the studio giving more aggressive sounds to the songs of Planetarium. The other difference is that we are grown now as musicians and composers so we can offer an album more mature and enjoyable than "In Good and Evil".
What are Godyva's plans for the future?
We want to play music all over the world, there is a booking agency in USA that wants Godyva there, so I hope it could be happen very very soon. But at the same time we love our country so we will continue to show in Italy. We will be in Czech Republic on the 11th July to play on the stage of Prestenice Open Air Music Fest and the headliner of the event will be The Rasmus. We are working on new songs now but we don't want to say more about a new album now. We have to still promote "Planetarium" now.
And the last question: Is there anything the reader should know that I have not asked?
I think you have done all good questions. Thank you for this funny interview and I hope to see you again. Cheers

Links
Latest Multimedia
6 color styles available:

Style switcher only on this demo version. Theme styles can be changed from Options page.