Browsing articles tagged with " eleventh"
Label : BlueFreya
Review by Tony Cannella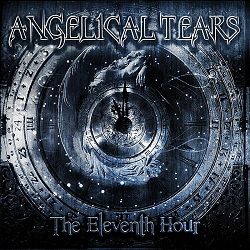 When one thinks of good symphonic power metal bands, the United States of America is not a country that first leaps to mind. Europe seems to be the birthplace of many a good symphonic power metal band these days. The States can boast a few good bands in that genre of metal and one of them is Oklahoma's Angelical Tears. The band formed in October 2006 and released their very good debut EP in 2010. Since that EP, the band went from being a six piece to a four piece band. Gone are the second guitarist and keyboardist. Now the new look Angelical Tears returns with their full-length debut, "The Eleventh Hour" and this is a band that has really started to come into their own. The EP was good, but this far surpasses it in quality and style, in my opinion.
On their Facebook page Angelical Tears describes themselves as Angelic vocals, demonic guitars, and thundering drums! That about sums it up, but there is so much more, like great songs, well written and performed and strong musicianship. I really like the Angelic vocals of Julia Flansburg, her style certainly fits the songs. The opening intro "Inceptum Fini" is pretty eerie and an atmospheric opening. The classy "Pool of Sorrow" follows the intro with a wall of solid riffs, a killer melody and some great vocals from Julia. Angelical Tears follows that up with the equally excellent "Queen of Hearts". Next is the melancholic ballad "Ballad" (which has a "My Immortal" feel to it). This an emotional song that is sure to induce chills in its passion. Also included here is a cover of the great Journey song "Separate Ways (Worlds Apart)". Anybody that covers Journey is OK in my book and Angelical Tears does a good job and even add their own twist to this classic song. Angelical Tears also include two songs ("Hate" and "Alone") which have the lyrics song in Russian. Other highlights include: "Another Day", "Sunrise at Sunset" and "With the Shadows".
For some reason after listening to "The Eleventh Hour" I have the feeling that Angelical Tears would be a great live band – the songs just exude that feeling. Hopefully those outside of Oklahoma will get to experience Angelical Tears live, but until then we can revel in the awesomeness that is "The Eleventh Hour". Continue reading »
Label : Hall of Sermon

Review by Luisa Mercier

Eleventh record for the legendary Lacrimosa, a true foundation for gothic lovers. Over the years they went from darkwave to a heavier sound and this album may be their heaviest til now, also because it features the frontman of Kreator Mille Petrozza and Stefan Schwarzmann, Accept drummer. "Revolution" is a mix of styles with a metal edge: we find complex and elegant piano and keyboards arrangements with some electro hints, a solid drumming department and a guitar that is quite raw.The melody has to be found also in Anne and Tilo vocals. Her voice is ethereal, warm with a Celtic flavor sometimes ("As the World Stood Still for a Day"). Tilo's vocals (supportrd by Mille at times) are more like a knife, colder, solemn like in a play. Despite the stylistic melting-pot ("Verloren" is an example), the record is very enjoyable, there are no dull moments or tracks that are not good, even the long "Rote Sinfonie" does not invite you to skip it. Another thing I would like to point out is the production: it was good for piano, keyboards and vocals; really crystal clear, while guitars, bass and drums are a bit confused. Nonetheless the record will be appreciated by Lacrimosa fans (maybe the less extremist ones) and by people that are trying to approach their music coming from a metal background.
Rating – 70/100
Tracklist
Irgendein Arsch Ist Immer Unterwegs
If The World Stood Still A Day
Verloren
This Is The Night
Interlude – Feuerzeug (Part 1)
Feuerzeug (Part 2)
Refugium
Weil Du Hilfe Brauchst
Rote Sinfonie
Revolution
Line Up
Tilo Wolff – Vocals & keyboards
Anne Nurmi – Vocals & keyboards
Mille Petrozza – Vocals
Henrik Flyman – Guitars
Jens "Yenz Leonhardt" Arnsted – Bass
Stefan Schwarzmann – Drums
Links
MySpace * Facebook * Twitter * Site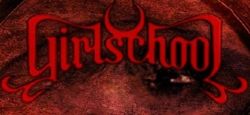 Interview by Tony Cannella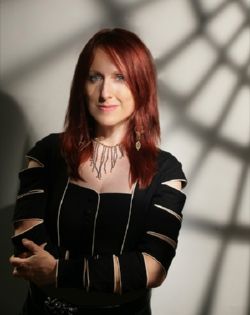 For over 30-years Girlschool has been one of the more iconic and influential bands to emerge from the legendary New Wave of British Heavy Metal (or NWOBHM, as it is affectionately known) movement that began in England in the late 70s and early 80s, but pretty soon engulfed the world and helped revitalize Heavy Metal worldwide. Throughout the past 30-years Girlschool has had their share of ups-and-downs but have continued persevere and continue to record some truly solid material to this day (just check out 2008's "Legacy". Now, on the 30th anniversary of "Hit and Run", which is quite possibly their most legendary work the band has decided to re-record this classic for a new generation of fans. Recently, bassist Enid Williams was kind enough to answer our questions in an interview conducted via email.

First question, why did you decide to re-record the classic "Hit and Run" album in 2011 and are you happy with the results?

It's the 30th anniversary of our most popular album. We wanted to capture the spirit of the old album and we feel we achieved that.
I must say that I think "Hit and Run"
(2011) is great! What has the feedback been like from the media and especially die-hard fans?


Thank you! We've had a very positive response from everyone.
How do you feel it differs from the original version?
Well, I sang most of the original album and of course we're without Kelly, so I'm doing the vocals on "Hit and Run" and Kim's singing her other songs. Our voices have changed over the years as well. I'm now playing a 5 string and although the bass parts have the same feel, the runs are different and some lines are in a different octave. The solos are similar but with variations.
Any chance of playing
"Hit and Run"
live in its entirety?
Only if enough people ask the band! We keep getting requests for "Watch Your Step" but we'll have to see!
You included a bonus version of the song
"Hit and Run"
featuring Doro Pesch. How did this collaboration come about, and what was it like working with her?
We've known Doro for a while now and she asked us to sing on one of her tracks, so it was great to be able to return the compliment.
You had the opportunity to work with Ronnie James Dio on the "Legacy" album. What was that experience like?
Ronnie was one of our heroes and such a great man as well. It's a real honour when someone you admire respects your work.
Actually, the "Legacy" album featured a number of guests. What was that whole experience like? Brilliant! We were recording in Wales and the guests recorded their parts in LA and New York and then sent them over. It was incredibly exciting hearing their contributions for the first time.

Are you currently working on new material and can you give us a preview of what the next Girlschool album will sound like?
No! We're touring this album next year and working on a DVD
.
What inspires the band when writing new material?
Hearing great tracks and wanting to come up with something as good.
What is your opinion of the current crop of female singers and bands?

There are many good ones, but very few greats!


Do you feel like you helped pave the way for women in rock and metal?

For many years we had a male following but since music on the internet took off we've had lots of women say we've been an influence. The world still has a long way to go though before women have the same opportunities as men.
Over 30 years and Girlschool is still going strong. What do you attribute the bands longevity to?
Passion and stubbornness.

Girlschool has released so many albums. Do you have any particular favorites?
"Demolition" and "Legacy".
Is it gratifying to realize that Girlschool has made an impact and influence on the metal scene?
Yes, it's always good to feel you've made a difference to someone.

What are your immediate plans for the future?
Sorting through DVD footage.
Thank you for taking the time to answer these questions. Is there anything you would like to add? The final words are yours.

Thank you to all our friends and fans for their support over the years. As long as you're there for us, we'll be there for you!
Links
Label : Auerbach Tonträger/Prophecy Productions
Review by Luisa Mercier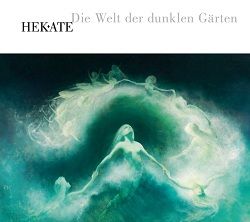 Hekate is a German ensemble which delivers us a quite eerie Folk, Neoclassical sound mixing it with lyrics that draw from history, myths and legends. Some of them are inspired by nineteenth century (Romanticism and so on), others by the events that took place in the Middle Ages. The present album is inspired mostly by Romantic poetry as the reference in the title "Byronic Hero" might suggest and it is sung in three languages: English, German and French, even though the first two have a main role. The music can only be defined as sweeping, dreamy, thin and the effect is obtained through the use of several instruments: gongs, kettledrums, drums, percussive devices, hurdy-gurdy, guitars, glockenspiel together with keyboards. The vocals, courtesy of Axel and Susanne, are sometimes recited ("Byronic Hero", "Jardin d'Anais") and sometimes sung. This, combined with very effective duets ("In My Garden"), gives a further contribution to the journey that their music can create. They work really well together. Susanne's vocals are delicate, sweet, Axel ones are slightly harsher and sometimes gloomier and create an hypnotizing effect. "Sanctus" is a beautiful hymn and shows the mystical side of the band. The Latin and the part spoken in Italian give to the whole composition a solemn atmosphere. Really epic. Another epic moment is "Per Aspera Ad Astra", a beautiful symphonic instrumental which really sums up the idea of "Sturm und Drag", the storm and the torment is really well portrayed in the composition. The more modern sounding is perhaps "Die blaue Blume" with an ethereal, electronic background pointed by keyboards while Susanne sings in German. It is quite different from the rest of the album and it is one of the highlight of the record, in my opinion."Die Welt der dunklen Garten" is a really varied (and very well produced) album that cannot be fully grasped with only one listen; it is multifaceted since it contains folk, atmospheric, sometimes a more modern sound. Let it accompany you in your most relaxing moments after a tiresome day.
Rating – 75/100
Tracklist
Byronic Hero

Jardin d' Anaïs

In my Garden

Seelenreise

Sanctus

Die dunkle Wolke

Per aspera ad astra

Idilia Dubb

Oh du Welt der dunklen Gärten

Opportunity of Time

The Present Day

Die blaue Blume

House of God
Line Up
Susanne Grosche – Vocals
Axel Menz – Vocals & Percussions
Achim Weiler – Keyboards
Jörg Schickerath – Percussions

Dirk Diederich – Drums

Jörg Schickerath – Percussions
Links
MySpace * ReverbNation * Facebook * Twitter * Site
Label : Out of Line
Review by Luisa Mercier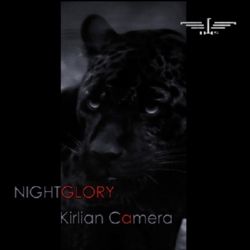 The Italian industrial combo Kirlian Camera is a cult throughout Europe and now is back with another beautiful release. "Nightglory" is maybe their most atmospheric and melodic release since their powerful electronic structures have been made softer through the addition of piano and symphonic arrangements. As soon as "I'm Not Sorry" starts, you know you are listening to a great record. Piano notes open the track and slowly acquires rhythm and strength; towards the ending a choir of evil kids makes everything creepier. The title-track was already released in the single "Ghlòir ar an Oìche", and it is a catchy, anthemic song thanks to the magnificent vocal performance by Elena Alice Fossi. "Hymn" is a cover of the Ultravox song dating back to 1982 and Kirlian Camera rendition is beautiful, even more majestc than the original. The short "Save Me Lord" is a sweet, delicate ballad with symphonic and acoustic guitar arrangements. "Winged Child" follows and we go back to darker territories. Distorted guitars mix with industrial beats. Definitely more up-tempo than the previous ones with even a slight danceable feeling. The fascinating and short "I Killed Judas" is an intro to "Immortal": sensual in the verse and powerful in the chorus. Elena Alice is very aggressive and expressive in this track, I would say almost angry. "I Gave You Wings" is an ethereal track with a clear ambient influence and Elena shows once again other aspects of her amazing, sexy voice. Instrumental with a soundtrack atmosphere is "Black Tiger Rising" while the closing track is another cover song. "Gethsemane" from "Jesus Christ Superstar" musical. Kirlian Camera rendition is epic and dark. Really a classy release which draws from symphonic, pop, electronic and acoustic music;we can say that Kirlian Camera created another masterpiece!
Rating – 90/100
Tracklist
I'm Not Sorry

Nightglory

Hymn

Save Me Lord

Winged Child

I Killed Jesus

Immortal

I Gave You Wings – I Gave You Death

Black Tiger Rising


Gethsemane
Line Up
Elena Alice Fossi – Lead and backing vocals, electronics, programming, treatments, keyboards, piano, additional bass guitar, studio sound engineering
Angelo Bergamini – Electronics, additional programming and keyboards, male voice inputs


Kyoo Nam Rossi – Electric, acoustic & bass guitar
Links
6 color styles available:

Style switcher only on this demo version. Theme styles can be changed from Options page.