Browsing articles tagged with " elisa"
Label : Revalve Records
Review by Tony Cannella
Dhune is an alterna-metal band from Italy. They were formed in 1997 and released their debut album "Medusa" in 2007. Their second album is called "Silence of Sound" and it is chock full of chunky, heavy riffs and the duel male/female lead vocals of Elisa Paganelli and Davide Belfiglio (who also plays guitar).
I was impressed with the melodicism of the songs whilst still managing to be heavy. The Pantera like riff opens the album on the song "Addicted", this is a good song, me thinks but there is better to come – right from the start you get a taste of the two vocals and it is quite apparent that they have great chemistry together. She has a clean voice and his is more of a metal (but not grunting, growling or screaming) voice. The next song "Fears You Claim" turned out to be one of my favorites. The vocals are handled mostly by the male Davide who at times sounds a bit like James Hetfield on this one. Continue reading »
Independent Release
Review by Tony Cannella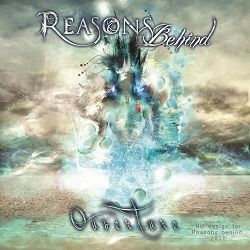 So is it fair to say that Italy is the center of the female fronted symphonic metal universe? I think Spain, Russia and France might have something to say about that but the fact remains that there continues to be an influx of top-shelf talent coming from Italy and with their debut EP "Ouverture", Reasons Behind are here to stake their claim. "Ouverture" is around 26-minutes worth of Nightwish inspired operatic metal. The songs feature heavy doses of orchestration at times like on the fantastic opener "The End of Our Chapter". Lead vocalist Ely gives the band a super operatic presence. "My Last Act" is just a heavy straight-forward track that races to its conclusion. The final three songs "1000 Fading Lives", "Choices" and "The Last Night of Illion" are not much of a departure from the opening two, but they are still pretty potent songs. "Ouverture" is a mighty fine debut in the realm of Symphonic Metal. Reasons Behind may not really offer anything new to the genre, but "Ouverture" has its moments of sheer virtuosity.
Rating – 77/100
Tracklist
The End of Our Chapter

My Last Act

1000 Fading Lives

Choices

The Last Night of Illion
Line Up
Elisa Bonafé – Vocals
Gabriele Sapori – Guitars
Dario Trentini – Keyboards & Piano
Massimiliano Tebaldi – Bass
Francesco Aloisi – Drums
Links
Independent Release
Review by Tony Cannella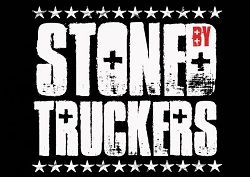 From Barcelona, Spain, Stoned by Truckers brings rock n' roll back to basics on their debut 2-song single. Make no mistake about it, this is not epic, dramatic metal, this is just straight-forward, to-the-gut rock n' roll. Stoned By Truckers, lists as some of their influences, Guns N' Roses, AC/DC, The Ramones among others, so that should day a lot about where they are coming from musically. The first of the two songs provided here is the track "Pussy N Gasoline". The song has an AC/DC vibe to it led by a strong Angus Young style, simplistic riff. The second track "The Color and the Shape" is the band going all out, playing with reckless punk-like abandon and energy. Sure the single only clocks in at about 9-minutes, but still it gives you an idea of what Stoned By Truckers is all about.
Rating – 75/100
Tracklist
Pussy N Gasoline

The Color and the Shape
Line Up
Elisa – Vocals

Germán – Lead Guitar

Jahdry – Rhythm Guitar

Judith – Bass Guitar

Toni – Drums
Links
Interview by Erwin Van Dijk
Forget all those Cristina Scabbia & Lacuna Coil look-alikes from Italy. If you want to hear some old sckool metal from that country that would make Doro or Sabina Classen proud you should give the band White Skull a try. No soprano vocals or sweet elven maidens onstage with this band. I saw White Skull a few years ago at the Metal Female Voices Fest and they were one of the highlights today (the others were Girlschool and Izegrim).
Did you always wanted to become a singer?
Well, from what I can remember, when I started listening to heavy metal music I was about 16 years and I imagined myself running on a stage like Bruce Dickinson, hehe! That's probably the dream of many young metal heads. Btw, then I started learning guitar and I found my own style on vocals just many years later.
Did you have any other bands before White Skull?
Yes, but as I said before, I was playing guitar. I played in some underground bands of my town, sometimes on guitar, later on vocals, and sometimes both on guitar and voice. Everything is good to make experience!
Who are your favourite singers?
Bruce Dickinson, Bobby Blitz and Ronny James Dio.
And to what kind of music do you listen yourself?
I love and listen mostly to thrash metal ('80s Bay Area bands) and classic heavy metal like Iron Maiden and Scorpions.
What are your other passions besides music?
I love reading books and watching horror films. I like being scared!
And is it difficult to combine White Skull with your personal life?
No, luckily my job gives me the chance to plan my time in an independent way.
Besides White Skull you are also busy with your mail-order shop (see www.over-zone.com). What made you decide to start your own mail order shop specialized in old school metal stuff from the eighties?
Thanks for the question about it. I'm into the '80s style since I was young and I also worked with a business partner in a rock-metal shop for several years. After making enough experience in it, I was in need of independence and I also found out that she wasn't the right person to share my work with. So I opened my own on-line shop and finally I could put my own style in it! It's been a great satisfaction and I hope to support the old school style as long as possible, also for the young generations.
Do you think that metal as genre and life style was better in the eighties than today?
Surely it was better in the eighties. Everything was new, and you had to make sacrifices for your passion in Metal. Now everything is much more simple, you can find everything on-line, Mp3, information, shops… So it's also less strong than before. And then, today many pubs and clubs are closing or just stopping to let bands play. It's very sad!!
Unlike most female singers today (who try to be the next Sharon den Adel or Cristina Scabbia) the way you sing is more in the style of Sabina Classen from Holy Moses. Since this is not the most gentle way to tread your vocal cords, what do you do to keep your voice in top condition?
Yes it's not a gentle way at all, haha. I'll be honest I'm doing very few things for it: just concentrating in the right breathing and rehearsing at home to find the best position of the sound in my mouth or head, or nose.. I'm sorry, I haven't got time for vocal lessons at the moment.
How did you became a member of White Skull?
Oh, totally by accident! I wasn't following the band in the last times, so I didn't know that they were searching for a new vocalist. One night I met Danilo in a pub and he just asked me what I was making in music now. He only knew that I was playing guitar in some local bands but he didn't know that I was singing too. So he simply asked me to make the proof with them.. I did it one week later and here I am.
And since you are not White Skull's first singer, was it necessary to adapt the songs to your voice?
Of course it always happens, when one vocalist comes after another (or two!!) and he has to perform songs that he hasn't composed. That's a old story! I've tried to do my best, but it's natural that I prefer singing my own songs, I haven't got problems in telling it.
What are the most memorable moments for you with White Skull?
We are a band and a family as well, so every time we go out and play, we have very good time together, in total harmony and fun. I can remember when we played at the MFVF in Belgium. We arrived to the place the day before playing, so we had all the day and night to relax and touring around Bruxelles. It was like a little holiday and we really had fun (especially with food and beers!!)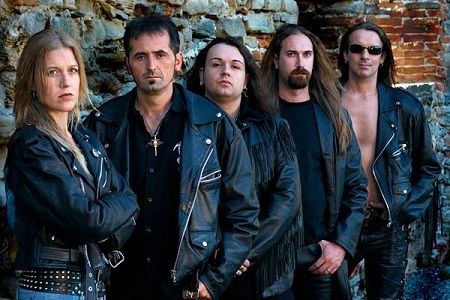 I have seen White Skull only once, at the Metal Female Voices Fest of 2008. How do you look back at that festival?
Oh, I didn't read this question when I told you about it in the previous one!
No problem

As I told you, we really enjoyed that little tour and also the organisation of the Festival has been good and kind with us. I only have to say that we were the only True Metal band, that day. The other bands played mostly gothic or doom or some new metal, that's not my genre. It seems difficult to find female metal bands in classic heavy metal! Luckily at the end came the Girlschool with their funny and old school rock'n roll, hehe.
Can you introduce us to the other members of White Skull?
Tony Mad (Rhythm Guitar) and Alex (Drums) are the founder members of the band. Later, after other mambers, came Danilo Bar on the solo guitar and me on voice and finally Jo on bass. During the story of the band there have been several line up changes. For example, Alessio Lucatti (Keyboards) has just left the band due to employment purposes. It's not easy to find the right people to play with, sometime for personal reasons, other times for a different style in composing ad taste in music, or simply for problems in the job. Now we hope to last many and many years like this!
Who is responsible for the music and lyrics in White Skull?
The music is composed by all of us, sometimes all together, other times working on one's idea or riff. When each song is ready I write the lyrics and the melody for the voice.
And were do you and the band get the inspiration for the songs?
We all listen to metal since years and years, so I think that our inspiration comes in a natural way from all the bands we love. Though, 'cause we have different taste in music (I'm mostly into thrash metal, for example), at the end everything mixes together and that's the way how the White Skull current style was born.
"Forever Fight" is White Skull's latest album. Is "Forever Fight" a concept album or are it thirteen individual songs?
I'd better say that they are 13 different songs, linked together by the same historical period (the end of the Roman Empire of Occident). Some of the songs tell about the same story (for example, "Boudicca's Speech" is the prologue of "A Mother's Revenge" and other songs talk about Attle and the Huns). But in the end it's not a real concept album.
How did the press and the fans received the album?
Well, I can honestly say in a good way. I'm happy about the result. Of course there will always be who prefers the old WS style or members, but it's natural and it's not a problem. Everyone has his own taste in music and you can't say anything, everybody is right. The important thing is that fans come to our shows and at the end they are really happy and come to talk with us with much excitement. And this is the biggest satisfaction for us!
Since "Forever Fight" was released in 2009, are you already working on a new album?
We've been busy with the live shows since now, so we're planning to start the new album around this summer but with no hurry. There's nothing worst for a musician than being late and having to write songs as quick as possible. We also live in different and also far cities, so it's not easy to meet each others and play together, so the times are a little longer than normally.
If you look back at "Forever Fight", are there things on the album you would have done different now?
This is my first album with WS and I'm much attached to it. So, even if nothing is always "perfect" and you could always improve it, now I wouldn't change a single note in it.
And what are White Skull plans for the future?
Going on with the live shows and starting the composition of the new songs as well.
And the last question: is there anything the reader should know that I have not asked?
Oh you've already asked a lot, hehehe!

One can never ask enough questions

I can only add that WS is a band with a strong passion for the true heavy metal and we do nothing if we don't like it in that moment. We've done sacrifices like many other Italian bands to have the chance to play around, in a bad period for heavy metal music. Our only interest is passion and not business! Keep the Metal alive, guys.
Links
MySpace * ReverbNation * Facebook * Site
Latest Multimedia
Label : Dragonheart Records/SPV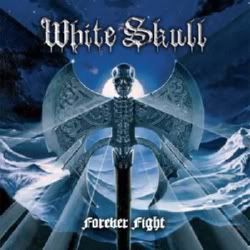 Italy's White Skull have already been around for a number of years. Their debut CD "I Won't Burn Alone" was released in 1995 and since that time they have just managed to fly under the radar, all-the-while releasing strong traditional power metal albums. After their original female singer Federica De Boni left the band in 2001, White Skull chose a male vocalist in Gustavo Gabarro from Argentina as her replacement. The band recorded 3 more albums with Mr. Gabarro before he left in 2007. All of that now bring us to the present as White Skull have once again chosen a female singer as his replacement. The newest members name is Elisa "Over" De Palma. The rest of the band line up is completed by: Tony "Mad" Fontò (rhythm guitar), Danilo Bar (lead guitar), Alessio Lucatti (keyboards), Jo Raddi (bass) and Alex Mantiero (drums). Okay, enough of the history lesson. The band have just issued a new CD with this new line-up called "Forever Fight". The CD opens up with the classical tinged intro, the appropriately titled "We Are Coming". From there it segues into the energetic opening track "Escape". This is about as metal as it gets. The band are firing on all cylinders and the choice of Elisa "Over" as the new vocalist appears to be a good one. The band definitely seem to be revitalized. This song features a great guitar solo as well and some cool interplay between guitars and keyboards, giving it almost a 70′s progressive/arena rock feel. But the heart of this band is still rooted in the metal genre in 2009. "Feel My Rage" is next and judging by the title one might expect a rip-your-face-off metal number, but after starting off slow it settles nicely into a great mid-tempo track. This song is just fantastic and one of the best that this CD has to offer. Once again there is some great guitar work on display here, as it can be heard all throughout the 13-songs and 58-minutes worth of great material on "Forever Fight". Next is "Spy" and it does nothing to slow things down. It keeps things going at a nice pace with a gritty, heavy guitar riff. "Attle and Bleda" is next and is another strong track. This has a nice catchy chorus that you can sing along to and this track should go down great live. The title track "Forever Fight" is just a take-no-prisoners headbanging metal track. This is another cut that really stands out. "Boudicca's Speech" offers a bit of a change of pace with a pretty piano intro accompanied by Elisa's vocals. On the whole it is a nice ballad that really shows that this band can do more than just head bang. Other highlights include: "A Mother's Revenge", "Heavy Metal Axes" and "Visions". "Forever Fight" is definitely a return to the original mission statement of White Skull. The albums White Skull did with their previous male singer were very good as well, but it is nice to see them get back to how they originally started. They are a band who are proud to fly the flag for true metal and that is one of the most endearing traits of this band. Their music is straight-forward and definitely from the heart. With "Forever Fight" the band continues to forge a strong career that hopefully will not go unnoticed for long.
Rating – 85/100
Tracklist
We Are Coming

Escape

Feel My Rage

Spy

Attle and Bleda

Forever Fight

Boudicca's Speech

A Mother's Revenge

Heavy Metal Axes

Etzel

Visions

Beer, Cheers
Line Up
Elisa "Over" De Palma – Vocals

Tony "Mad" Fontò – Rhythm Guitar

Danilo Bar – Lead Guitar

Alessio Lucatti – Keyboards

Jo Raddi – Bass

Alex Mantiero – Drums
Links
MySpace * ReverbNation * Facebook * Twitter * Site
6 color styles available:

Style switcher only on this demo version. Theme styles can be changed from Options page.