Browsing articles tagged with " fire"
Label: Limb Music
Review by Tony Cannella
In the realm of symphonic metal there are very few bands that are more epic and grandiose than Italy's Ancient Bards. Not many that I can think of at the top of my head, anyway. With their 3rd album "A New Dawn Ending", Ancient Bards brings the epic-ness to a whole new level and the results are majestic.
After a brief narrative intro that sets up the latest concept, the band launch into the powerful up-tempo, 8-minute track "A Greater Purpose". Lead vocalist Sara Squadrani is simply awesome and the rest of the band is amazing as well. All of the elements are there, symphonic parts and choirs to add depth and texture to the songs. Continue reading »
Independent Release
Review by Vard Aman
Metalheads who only listen to Metal and refuse to even give anything else a chance need not bother reading beyond this full stop. < That one there if you've accidentally overshot it. For those whose tastes are more varied, or who wish to experiment a bit, or who just have an open mind when it comes to music and will listen to anything as long as it's good, then this album is something you might seriously want to give a listen.
Anna Beliva (aka Anna Belaeva) is the former vocalist of a Russian Symphonic Metal band called Lanewin. (You can read a review of their last album here and an interview with Anna conducted when she was still in Lanewin here). Now Lanewin is no more and Anna is pursuing a solo career making a very different kind of music. Beliva is an obvious twist on her surname, combining her childhood nickname Iva to make it sound like "believer" (if I may paraphrase from Captain Obvious). This is apt because the one thing that has not changed from Lanewin is that her subject matter is largely about being positive and believing in oneself, but like it was with Lanewin, it's more of an attitude that comes across rather than being the equivalent of a lyrical self help book put to music. Continue reading »
Label: Lion Music
Review by Tony Cannella
I would be willing to bet that the new album by the Italian power metal band MasterCastle is one of the first concept albums dealing with "Metals". As you can tell by the song titles that makes up their newest outing "On Fire", that is exactly what they have done. When you think about it though, how much more metal can you get than doing a concept album based around well… metal. "On Fire" also happens to be the best album of MasterCastle's career. For this album the line-up has been completed by John Macaluso (formerly of Yngwie, Ark, etc. etc.) and he is a huge addition to the band. Also, there is no shortage of flashy, lightning quick guitar playing courtesy of Pier Gonella, you add in soaring lead vocals from Giorgia Gueglio and it all adds up to powerful album. Continue reading »
Label: Rapid Fire Entertainment
Review by Tony Cannella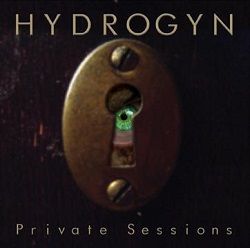 The Kentucky based melodic hard rock band Hydrogyn first burst onto the scene in 2004 "Best Served With Volume" and followed that up two years later with "Bombshell". Now, eight years into their career the band has just released their fifth and perhaps best album, "Private Sessions". I have to admit, that I have always liked Hydrogyn. They have a definite 80s vibe to them – which is always cool – but beyond that they just have good, memorable, classy songs. No opera, death grunts, soaring power metal vocal gymnastics, Hydrogyn is an anomaly in today's metal scene.
"Private Sessions" opens with a bang, thanks to the huge classic metal opening riff that begins the glorious frenzy of "Something to Say". Continue reading »
Label : Nightmare Records
Review by Tony Cannella
This is one that I have been looking forward to. The Florida based Power Metal band were impressive as hell on their self-titled 2nd album, which came out in 2010. That album marked the debut with the band of Sabrina Valentine. Now they return with an even meaner, heavier more aggressive new album entitled, "The Fire Is Mine".
The intro "Beyond the Wall" sets the stage for the hard driving "After the Fall" and we are off and running. This is a particularly bombastic track that would make a great set opener. The song is accentuated with killer guitar harmonies and the soaring voice of Sabrina Valentine. Seven Kingdoms have always been great at fusing their songs with melody, whilst playing at a breakneck speed – and "The Fire is Mine" is no different. "Forever Brave" continues where "After the Fall" left off. The ballad "Kardia" offers a change of pace gives the listener a chance to catch their breath. Sabrina Valentine is joined by Theocracy frontman Matt Smith on this song.
The next two tracks "Fragile Minds Collapse" and "In the Twisted Twilight" are strong as well. "The Fire is Mine" is brought to an epic conclusion with the intro "A Debt Paid in Steel" which leads us into the almost 8-minute "The King in the North". Heavy riffs abound throughout the 53-minute album and guitar work by Camden Cruz and Kevin Byrd is excellent. Lest anyone think that their previous album was a fluke, I would enthusiastically point them in the direction of "The Fire is Mine". Seven Kingdoms have taken a massive step forward and have released – in my opinion – the power metal album of the year. This band is so good, it's scary. Continue reading »
6 color styles available:

Style switcher only on this demo version. Theme styles can be changed from Options page.