Browsing articles tagged with " florence"
Label : Polydor
Review by Luisa Mercier
I loved and still love Ellie Goulding debut "Lights" and really welcomed with open arms this second official release. From samples, you could already say that she had raised the bar of quality, and after listening to the album, I can say I was right. Most impressive thing are of course her vocals: so childish, yet powerful, full of feeling and sweetness. Listen to "Hanging On", cover of Active Child (check him out too, if you haven't), she will blow you out with her groovy voice and the atmospheric track enriched with harp. Love at first listen. Other highlights of the album are "My Blood", with its ethnic percussions, the paced beat and the pathos til the catchy chorus, and "Explosions" with its operatic-tinged vocals in the background and the orchestral sound. Very nice is the single>"Anything Could Happen" accompanied by a melancholic video and the sweet ballad "I Know You Care", included as soundtrack in a movie. Really different is "I Need Your Love", featuring dj Calvin Harris (already with Florence Welch). The song is tipycally dance, on the mainstream side, but enjoyable all the same. Another song with a different style is "Figure 8", that is clearly influenced by dubstep, the trademark of her boyfriend Skrillex. The overall feeling is less festive than in the debut, more melancholic, but maybe I prefer "Halcyon" for this reason. Absolutely recommended.
Rating – 85/100
Tracklist
Don't Say a Word

My Blood

Anything Could Happen

Only You

Halcyon

Figure 8

Joy

Hangin On

Explosions

I Know You Care

Atlantis

Dead in the Water

I Need Your Love (feat. Calvin Harris)

Lights (Single Version)
Line Up
Ellie Goulding – vocals, songwriting
Links
MySpace * Facebook * Google Plus * Twitter * Site
Label : Mute Records
Review by Luisa Mercier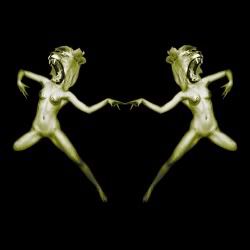 Beth Jeans Houghton is a 22 years old girl from Newcastle, who is now releasing her debut album with the monicker of Beth Jeans Houghton & The Hooves of Destiny. "Yours Truly, Cellophane Nose" is a very nice record that mixes rock, art pop, folk orchestral sounds and other influences, resulting in something that vaguely recalls Florence + The Machine but with much more attention and care as far as arrangements are concerned. The album starts with "Sweet Tooth Bird" : choirs, very nice orchestrations, vocals that only on the surface may seem raw, but that are able to reach interesting emotional heights. It was also shot a video for this track, sort of weird mini-movie; you can watch it on Mute channel on YouTube. "Humble Digs" is indie pop enriched by folk music, I'd say the influence of country music is quite evident, but does not annoy. It is very nice, indeed. The other single is "Dodecahedtron" which is slightly melancholic and baroque. I got a My Brightest Diamond feeling while listening to it. I especially loved the vocal work that shows how Beth has a certain versatility in switching from a range to the other. "Atlas" has a structure similar to the other songs in the record: choirs, orchestra, percussions and a progressive attitude that makes Beth really different from the other girls in the indie scene. "The Barely Skinny Bone Tree" and "Liliputt" are maybe the most effective songs on "Yours Truly, Cellophane Nose". The first one starts off quite slow, melancholic and gradually builds up til the final explosion, while the second starts with a delicate harp followed by strings, percussions and vocal lines which are really ethereal. "Veins" is the one closest to Florence Welch but with its own identity, "Franklin Benedict" has a nice string section and the closing track "Carousel", as the title says, is full of violin solos. This debut is really fascinating and a must for all indie lovers!
Rating – 70/100
Tracklist
Sweet Tooth Bird

Humble Digs

Dodecahedron

Atlas

Nightswimmer

The Barely Skinny Bone Tree

Liliputt

Veins

Franklin Benedict

Carousel
Line Up
Beth Jeans Houghton – Vocals, Guitar, Keyboard, Banjo, Loop Pedal

Dav Shiel – Drums, Cajon, Keyboard, Vocals, Steel Pan

Rory Gibson – Bass, Vocals

Findlay Macaskill – Violin, Vocals, Eyebrows

Blazey Blazey – Trumpet, Vocals, Guitar, Drums
Links
Label : My Funeral Records
Review by Tony Cannella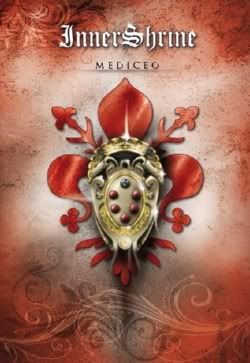 Italy's Inner Shrine have a history that begins in 1995. Even though they are in their fifteenth year of existance, information on them on the Internet is scarce. The two main members of Inner Shrine are Luca Liotti and Leonardo Moretti. For their just released fourth full-length release, "Mediceo" they have been joined by the operatic vocals of Cecilia Boninsegni. Musically, Inner Shrine play a mix of Gothic, Renaissance, Classical, Opera and Metal to create a unique blend that can be heard on "Mediceo". "Mediceo" is a concept album based on the history of the city of Florence and the power of the Mediceo family that ruled the city for centuries. All the lyrics are written in ancient Latin and the songs contain big sounding chanting and choir-like choruses. Cecilia Boninsegni's soprano vocals are quite powerful and definitely helps to bring the music and songs to life. The music veers off into different directions and avenues, as the listener is swept away into the music and story that is being told. Even though "Mediceo" features only 8-songs and 34-minutes worth of music, there is a lot to digest here. Inner Shrine are quite an interesting and adventurous band to listen to and are sure to be an acquired taste, but there is no denying the talent and ability of this Italian band. Inner Shrine are a difficult band to describe, but they are one of the more interesting band's I have encountered in quite some time.
Rating – 75/100
Tracklist
Fatum Johanni
Confutatis
L'Elettrice Palatina
Cum Gloria
The Green Room
Il Magnifico
Enea
Odissea
Line Up
Luca Liotti – Vocals, Guitar, Synth, Programming, Samples

Cecilia Boninsegni – Soprano

Leonardo Moretti- Bass
Viames Marino – Drums
Links
6 color styles available:

Style switcher only on this demo version. Theme styles can be changed from Options page.