Browsing articles tagged with " francesca"
Independent Release
Review by Tony Cannella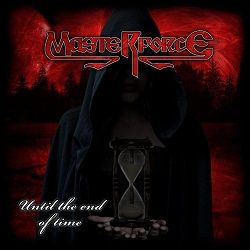 Hailing from (Where else?) Italy comes the 6 person power metal band Masterforce. This band also employs a full time violinist which perhaps sets them apart from a lot of power metal, since violins are usually associated with folk metal. Masterforce is fronted by the vocals of Francesca Bidut. Their debut demo goes by the title of "Until the End of Time", so let's delve into it a bit.
There are four songs that make up "Until the End of Time" and to me the best part of the demo is the guitar playing and power metal and classic metal riffs the infuse every song, and that's taking nothing away from the other musicians particularly vocalist Francesca. Continue reading »
Independent Release
Review by Tony Cannella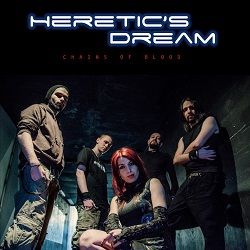 The Italian – now based in the UK – Gothic/prog metal band Heretic's Dream released their debut album "The Unexpected Move" last year and it proved to be an unexpected surprise (positively so). Now the band returns with some new material. Actually, just one new song, entitled "Chains of Blood".
Happily Heretic's Dream's Gothic/progressive metal sound remains happily intact, but what this 6-minute track represents is a progression in the right direction. The guitar riffs are rumbling throughout the track and lead vocalist Francesca Di Ventura's angelic vocals are just as assured and self confident as they are on the debut. Continue reading »
Label : Videoradio Edizioni Musicali
Review by Tony Cannella
Heretic's Dream is an Italian Gothic/Progressive metal outfit currently based in the U.K. Their debut album – which was released in 2012 – showcases the experimental nature of the band. Heretic's Dream is fronted by the talented vocals of Francesca Di Ventura.
"Forgiveness" begins things and starts off slow before a nice, up-tempo riff and a galloping rhythm joins in. The guitar riff is prevalent throughout the entire track and along with the angelic vocals of Francesca Di Ventura; it all combines for a solid opener. "She Said" is the next track and features a slower tempo than the previous one – still, this turned out to be another highlight. Other highlights include: "A Kiss From the Sun", "Golden Cage" and "A Question of Coincidences". The whole thing is brought to an interesting conclusion with the instrumental, "Hollow". Continue reading »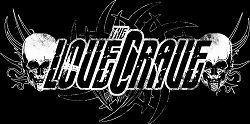 Interview by Ed MacLaren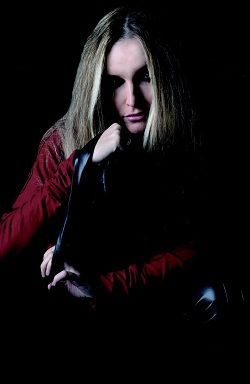 With "Soul Saliva", The LoveCrave welcomes you, once again, into their mysterious musical world living deep within the grey shadows lurking between light and darkness. The Italian quartet's unique hybrid of gothic, hard rock, and electronic sensibilities combined with strong melodies and heavy riffing continue to improve on this sophomore release. New mom and vocalist Francesca Chiara took some time to talk to Femme Metal about the new album, the importance of a good mascot, and how pregnancy improves vocal skills.
"Soul Saliva" is out and it's a fantastic album of dark modern rock. Are you pleased with the results?
Wow! Dark modern rock is a great description of what we do…can I use that? Hahaha! So far, we are really happy of the results; it seems that our hard work is appreciated basically by everyone. Let's see what the reaction of the audience will be now.
It's been a good four years since your debut "The Angel and the Rain". They say you have your whole life to create your first album. The real work comes when preparing for your second. How has The LoveCrave evolved musically since your first album?
The second album is always the hardest to do, you feel changed in the years but you can't step too far away from your first release so it gets hard to keep the balance. We definitely grew a lot since our first album. We got open to new collaborations and tried our best to create in the studio the special sound that our band has. As in the first release we paid a lot of attention to the songwriting which is the most important thing for us. We don't want to hear not even one bad song in our albums!
What was your mindset when you started writing "Soul Saliva"? What goals did you set out to achieve?
We wanted to sound original, write great songs and offer a high-level production.
"The Angel and the Rain" was considered a concept album of sorts. Is "Soul Saliva" written in a similar vein?
"Soul Saliva" was written out of a story as well but it is not included in the packaging because it is too long. Once I find the time I will try to put it online…I actually have to translate it to English first!
"Outsider" is the standout of many great songs on "Soul Saliva". It's the definitive combination of all the musical and vocal elements that make The LoveCrave plus an awesome guitar solo. What are your favorite tracks and what makes them so?
You just said it…"Outsider" is my favorite song! Of course I like many songs in the album but "Outsider" has something more, a growing energy that really catches me. Plus I think that it's the song that I sang best on the whole album.
You have a great rock/punk vocal style which contrasts well with the sophisticated electronics of The LoveCrave's music. How have your vocals evolved since you started singing publicly?
Well, I don't consider myself a real singer; as you said I am more a punk rock singer who does not sing real punk music… In this last work though I think I did a really good job and believe me, I never say that when it's about me! I can't hide that I'm really proud about my vocals in this album. Maybe they sound good because I was pregnant and I sang with a big belly! Hahaha!
In addition to being a singer you're a writer and an artist. How does your creativity in those areas infuse your music?
I write because sometimes I need to turn off the light, close myself in a room and just put down on the paper everything that I feel. When I turn the light on again I am a new person. Music is different; it's a way to open my heart, to explode, to recharge myself until all the energy bursts out all in once. A little less introspective but much more involving.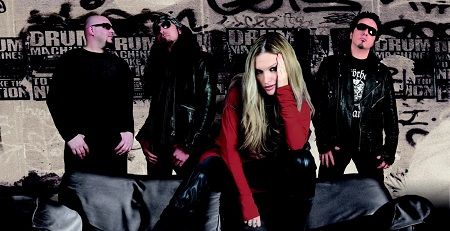 You've been making music since your early teens. Is The LoveCrave the culmination of your musical aspirations? Do you see yourself anywhere else other than with the band?
Well I put so much energy into the band in these years – all my work and all my heart – so that at the moment I can't think about singing in another project.
You draw inspiration from very diverse bands like Iron Maiden and Depeche Mode – two bands that in their 80s heyday wouldn't be caught in the same room together. What is it about these bands that complement each other and fit into The LoveCrave's style of music?
Hahaha! You are right, this is the fun thing, mixing really different music styles, trying to find in each style the elements that could fit together in your own sound. It's exactly what we do. Iron Maiden has great rhythmic ideas and the use of guitars is really original, Depeche Mode play with electronic sounds, they search there more than any other band. There are many other styles mixed in our music but we grab just a few elements of each style.
What is the story behind The LoveCrave "mascot" seen on the album cover? Is there an evolution to the character in the same vein as Iron Maiden's Eddie?
Rain – that's her name – is just a mascot as you say and we would love to use her just like the Maidens use Eddie. We would love to film a video with her, bring her on stage with us, maybe in a megascreen behind us, produce some dolls with her looks…but as you can imagine we are too small to even think about these expensive solutions…
Your cover of "Thriller" is killer! It's much more sinister and stripped of the dated 80s pop conventions. What gave you the idea to cover this and what was your approach to make it your own?
I just heard the song on TV about a year ago and started to sing along. I thought it was cool so I proposed it to Tank Palamara who found the riff right away and in a couple of days it was arranged and done. We worked overnight but everything came out naturally, we did not think too much, we just produced it as we do with all the other songs, this is why it sounds like a song of ours.
You also covered Duran Duran's "The Chauffeur" on "The Angel and the Rain". How do you choose a cover song for an album?
Well we don't give so much importance to the covers on our albums, we just treat them like another song, that is the way to make it sound original. The choice comes from a few elements: first of all I need to be comfortable when I sing it, it has to have a melody that I would write so I can find my way to sing it. In the second place, we like to redo songs that belong to the past, our past. They need to give us special vibrations and it's more fun if they belong to a completely different style.
The 1980s seem to be creative inspiration for The LoveCrave. What is it about that decade that keeps the attention of bands like The LoveCrave and others like The Birthday Massacre?
What was good in the 80s was the songwriting. It was impossible to release a song if it was a badly written song. Now, kids care more about other stuff like the sound, how aggressive the song is, or if you can dance to it and so on… We still believe that the songwriting of a track is the first main thing. We throw away so many songs just because they are not good enough, in our opinion.
The energy on "Soul Saliva" must translate well to the stage. What can fans expect from you on the road? What are your tour plans for the summer?
We just got back from a tour and we are thinking of doing some festivals before leaving for a tour again. This summer we will film a video and we started working on an EP that will be released at the end of September.
(Famous) last words?
Thank you so much for this interview and for those who will listen to the "Soul Saliva" album…let us know what you think, we do care of your opinion! Thanks again and rock on!
Links
MySpace * ReverbNation * Facebook * Google Plus * Twitter * Site
Latest Multimedia
Interview by Robin Stryker
Good things come to those who wait. In this case, a thirteen-year wait has brought the metal scene a lovely slab of eclectic tunes from Italian speed/progressive metal band, Darksky. Femme Metal chatted with Alis Bos to learn what happens when musicians with interests in classical, power, progressive, thrash, rock and pop come together.
Hello Alis, and congratulations on Darksky's full-length debut album "Where Angels Hide"! Is the album everything you hoped it would be?
Hello Robin, first of all I want to thank you for the opportunity of giving this interview. Concerning "Where Angels Hide" I can say I'm really satisfied … Even if it's already time for us to think about our next release!
Why did Darksky choose "Where Angels Hide" for the album's title?
We have chosen this title because it well reflects the concepts we talk about in our lyrics. These ideas are also emphasized by the cover of the album. The lyrics deal with important themes like sin, salvation, decadence and love. We liked the idea that even the purest being (an angel) could be attracted to human weaknesses, escaping from Heaven in order to hide in an unknown place. The listener should find this secret place!
The album includes a lot of different musical styles — progressive metal, speed metal, symphonic metal, gothic rock, and even a bit of electronica. What three words do you think best describe Darksky's sound?
Innovative, dynamic and… romantic!
What were the challenges of self-releasing an album like, "Where Angels Hide"?
Well, working on an album is not so easy and we made a lot of efforts (for executive production too!). Before the release, you can't even know if the people would appreciate it!
I can listen to "The Last Rose" again and again without ever getting tired of it. Which song means the most to you, and why? Do you have a favourite song to perform live?
The song which is nearest to my personality is "The Colour of Dreams" because at the beginning it is sweet like a ballad then there is a "strange" break and finally it explodes with a Metal ending. And I am like that!! My favourite song to perform on stage is "Lightstorm"!
The band was formed in 1997 by brothers, Francesco (guitar) and Max Diblasio (keyboards), as a male-fronted band. How did you become the vocalist for Darksky?
I have been part of Darksky since 2001, after the ending of my collaboration with Thy Sirma. I felt like doing something new, but always related with the Metal sphere. I liked Darksky's new compositions ("Crimson Butterfly") very much because they combined the power of Metal with melodic parts. We made some rehearsals and… here I am!
Did you always know you wanted to be a singer, or did you consider other paths for your life?
I would like to be a professional singer but… no strings pulled! (laugh) I think that my voice is my best quality; I was born with music in my own blood and I have always been quite in tune. But I started studying music late, at age sixteen.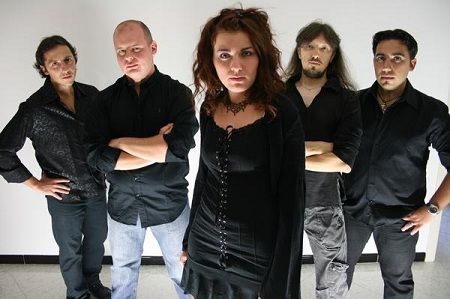 Would you please tell us a bit about your musical background and the backgrounds of the other band members?
My greatest luck was to meet a very special singing teacher: Carola Caruso. She built my voice, my own personality, and I want to thank her for this. I am still studying with Carola! The Diblasio brothers (Guitars and Keyboards) have a Classical/Power/Progressive Metal background. Davide Martinelli (Drums) comes from Thrash and Progressive Metal and our bass player Paolo Sciaresa loves Pop, Rock, and Metal in general.
Comparing the versions of "Lux Aeterna" on the mini-CD "Crimson Butterfly" (2005) and on "Where Angels Hide", the two versions sound quite different, particularly with the growling male vocals on the earlier version. Why did Darksky pick this song to re-record for the new album?
"Lux Aeterna" was the "Crimson Butterfly" song that obtained the best success. In the meantime, our line-up changed and musical evolution brought us to release it again in a lighter and more particular version.
In what ways did Darksky's music evolve between "Crimson Butterfly" and "Where Angels Hide"?
I think there is a big difference between the two works. "Where Angels Hide" is surely the result of a work done with higher maturity and consciousness. "Crimson Butterfly" is a "sharper" work in which we all were in the quest of our personality. In the new album we added some electronics and more catchy melodies. Moreover, the instrumental parts have been designed expressly for my voice.
When Alessandro Bertagna left the band, did Darksky consider getting another male growler?
In the beginning, we thought about it, but then, we understood that my voice was enough!
Having been in a couple of bands (S.K.A. and Thy Sirma) and provided vocals on Monumentum's "Ad Nauseam" album, how has your experience with Darksky compared?
They are all different experiences, but Darksky is the most gratifying one! In my past bands, I have always felt myself like a performer of somebody else's ideas … With Darksky, I can sing what my soul wants to express; so I can show how I really am and, in my opinion, this is the best union!
Andrea Stefanelli is a guest vocalist on the song "A Way Out for the Sinner". Did you know him from when you both recorded vocals for "Ad Nauseam" or some other way?
Andrea and me, we are old friends. We have known each other before the duet on Monumentum's "Ad Nauseam" album. I think our voices are on a pretty wavelength, so I like to sing with him very much. I hope we will have other common projects in the future!
You have been part of Italy's music scene for more than 15 years now. What are the biggest changes you have noticed during that time, whether good or bad?
There were not big changes in Italian scene… here in our country, you always have to fight. Abroad, the "Metal woman" role has had a big success in these years, so I hope we will get positive feedback and success in another country, sooner or later. In other countries, like England or the U.S.A., people are more into going to live shows, even if a band is not that famous. Sometimes, here in Italy you have to pay if you want to play live, and nobody cares about new and promising bands, overall if they come from Italy. There is a sort of xenophilia.
What are your goals for the future of Darksky?
We are already composing new tracks for the next album that will be a concept about man's multiple personality. The new thing is that, for the first time, I will write all the lyrics. And I am really excited!
Thank you for talking with us today, Alis! Do you have any parting words for your fans at Femme Metal?
I want to thank everyone who supports Darksky and listens to our music. I want them to know this is really important for me and the band. And thanks to Femme Metal for this opportunity and for the nice interview!
Links
MySpace * ReverbNation * Facebook * Twitter * Site
6 color styles available:

Style switcher only on this demo version. Theme styles can be changed from Options page.