Browsing articles tagged with " funeral"
Label : Solitude Productions
Review by Vard Aman
When I first came across Amily (from Rivne, Ukraine), they were marketing themselves as Funeral Doom – slower and bleaker than traditional Death Doom / Gothic Doom, (but not quite as slow as Drone Doom – a kind of Doom Metal where the drummer has time to leave the stage, go to the bathroom, buy a beer at the bar, drink it, chat to a few friends, update his Facebook status, return to the stage and still be 10 minutes early for the next drum beat…. so he goes off again to buy another drink, has a few shooters while he's at the bar, gets drunk, forgets the time and ends up missing the next drum beat altogether totally messing up the timing of the song and throwing the rest of the band completely out on sync… pffffft… drummers! Well, OK, perhaps a bit of an exaggeration there…) Anyway, the first two songs I heard from Amily were the demo versions of the title track to their then upcoming album, the bleak and heavy "To All in Graves", and the immense and beautifully crafted "Fading Image of My Own": both songs that made Amily a name to keep a very close eye on in the future. So the release of their album when it came was cause for some excitement.

Interview by Si Smith
First-time viewers of the new album by Dotma will be presented with a fantastic vista of colour and imagery – but what are the forces at work behind the image, behind the polished artwork and powerful musicality? Not ones to be pigeon-holed or typecasted, Dotma tread the line between gothic and power metal with the skill and dexterity of players well-established in the world of female-fronted metal. Yet this is only their first full-length. To understand how this remarkable feat has been achieved, I spoke to singer and lyrical crafter Johanna Lesonen….
Biographies of Dotma seem to start as many band bios do, with guitarist and keyboardist Harri deciding to form a band surrounding a particular theme or genre. Johanna, how did you join up with these guys at the very beginning?
Well I had just started to take classical singing lessons, and I was very excited about singing. I wanted to try singing in a band and my friends had just founded one. I was the one who asked if I could sing in their band. They weren't sure if they wanted a male singer, so they hesitated a little. But since there were no other singers around, I got the job! And it seems that it was a good decision! =)
Dotma has a strong image, both musically and artistically. This image seems to draw the listener/viewer into the heart of the band experience. What were your expectations of the band from the start? Did you know in which direction the band would be going from the time of the first demo?
At the beginning I really hadn't any specific expectations for this band, I just wanted to sing. We started with power metal and after the first demo we came to the conclusion that we wanted to develop our style. We weren't sure in what direction. We thought it will come naturally, if it's meant to come. And so it did.
A second demo entitled "Dances With the Shadows" was released in 2009. How had the music progressed by this time? Were you happy with the end result?
We were much happier with the result than we were with the first demo. We had grown as musicians and the songs had developed into this style which felt more like ours. It was still power metal but there were these symphonic and atmospheric elements already to be heard. But still, the process continued till the recordings of the full-length album.
It seems that all lyrics are written by yourself at this time: how do you go about choosing themes for songs? Could you take us through your creative process for writing and/or perfecting your song lyrics?
Actually I have written most of the lyrics, except "Kingdom of the Sky" and "Memory Worth Dying For" which are written by Harri. My writing process starts when I hear the song. The song gives me a certain feeling and I start to imagine things in my head. I tend to think quite visually. When I hear music, pictures appear in my head and finally a story. There are few songs in which lyrics I have used old poems of mine. For example "The Cave" and "Reborn" are such songs that I had already written most of the lyrics and suddenly I realized that there were these poems that fit perfectly in the theme. After this I finished the lyrics automatically. "Indian Fall" is a ballad and when I listened the song, the lyrics came at once. "Whispering" didn't get its final form until the vocal recordings! So it really depends on the song how the lyrics are being born.
In December 2009 you started to prepare to record your first full-length debut album involving Rockstar Productions (Finland) and Cutting Room Studios (Sweden). Was it difficult involving people from outside the band at this point? How did you communicate to them your own hopes and ideas for the finished product, to ensure that the album turned out how you wanted it?
Of course it's always challenging to find the right people to work with this kind of project. It's not possible to read other people minds, so I think the most important thing is to speak up. We negotiated a lot about the sound, arrangements and so on. We also were along in the whole process, including mixing and the mastering.
Coming to the debut album "Sleep Paralyses", it is a remarkable epic journey through a series of emotional landscapes. Would you say there is a uniting theme or feeling to the album?
The uniting themes are probably the instability of human mind and the beauty and the ugliness of this surrounding world. Dreams and nightmares rules through the whole album and the main feelings are loneliness, fear and hope.
The fantasy image is still strong surrounding the band, yet the band is so much more than just the traditional fantasy and medieval themes. How has the music now developed beyond the "typical" Gothic and Power metal imagery and become something unique in the genre?
This is a difficult question for me because I cannot look objectively our music. I cannot define why the music is now unique because we just do what our heart tells and if that's something new that differs our band from the others, we have done something right. If we talk about the concrete music, there is a big change from the early days; tempo. We have slowed down the songs and given more space to the atmosphere. I have also used my voice as versatile as it's possible with my classical technique. We have done everything with a great passion.
The construction of this epic masterpiece included vocal and guitar contributions from members of other bands such as Thaurorod and Embassy of Silence. How did they fit into the overall vision of the band? Are there plans to use more guest musicians in the future?
They fitted perfectly because first of all they are all great musicians and their way of doing music is very passionate. We gave all the guest musicians free hands and we trusted them. And they did an amazing job!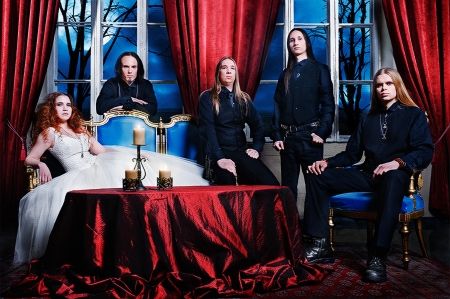 The song "Reborn" blasts out triumphantly, almost as a decree that the band is itself is reborn with power and self-belief on this new release. Also your band's logo has developed into a far more intricate and beautiful creation since the previous two albums. How are you going to keep up this newfound impetus and vigour? When things become stale or routine, how do you as a band keep yourselves fresh and enthusiastic?
I think we will be worrying about it when it happens. You cannot think and plan all the things beforehand. We live in the moment, and what happens in the future, we live along with it. We all love music and we will always do it some way or another. When things become stale or routine, we just wait until it will pass, and maybe concentrate on something else for a while, until the inspiration returns.
All the music for this album has been credited to Harri Koskela. Is this completely his own work, or do other members of the band have contributions and musical ideas as well? If so, how does this work? If not, wow! That is a big load on Harri's shoulders!! He surely is a master of his work! Does he present these musical pieces to you ready-made, or are they constantly-evolving works in progress?
That is a big load on Harri's shoulders yes, because he does all the composing. We all are involved when the songs are being arranged, but before that Harri composes the songs from the beginning to the end. The songs get their final form in the studio where new visions wake up.There in the studio we all work with the songs, especially the vocal parts.
"Kingdom of The Sky" has been described as the masterpiece of the album. Could you tell us more about it, its meaning and also the other voices and ideas involved?
It's a song that Harri composed as a dedication to his dear cousin who passed away. It's a very personal song to him, so he did also the lyrics. Concerning the music, it's quite an unusual composition. There are many different parts which describe the periods of life. The last choir part is in Finnish and it tells about the funeral. It's a very intense and beautiful song.
As the date of the album's release draws nearer, it seems that you have a number of live dates already set up for April/May 2011, many involving fellow Finns Beyond the Dream. How do you find the different stresses of performing live? Is there anything special we can expect from your live performances this year?
You can expect great interpretation of our songs and pretty costumes of mine! =D Heh well seriously, we love performing and giving the music to the people and we just hope it shows. We try to give people a musical experience that they feel alive. About the stress when performing live, it's part of this job and we have learned to handle it, so it's mainly positive anxiety and adrenaline flow.
You played in Russia towards the end of last year – that must have been quite an experience! How was the Russian audience?Were many already familiar with the band?
That was a great experience,they were so hospitable,all the arrangements worked perfectly and I just fell love with the audience.They were truly listening our music and I felt the connection with them.I want definitely to go back some day!
Finally, as you look forward beyond the new album into the future, are there any plans to extend the bands' influence beyond Finland? If so, what are your plans for world domination??
I think the big market will be outside of Finland, so we hope to get a lot of gigs outside of Finland. About the world domination, it comes along with good shows. =) It only leaves to say thank you for this interview, I hope it has given people a chance to get to know the characters behind the image, the minds behind the lyrical soundscapes
Links
Label : SL Productions
Review by Luisa Mercier
Inspired by the E. A. Poe short novel of the same name, Grey November deliver us a monument devoted to the memory of funeral doom, nuanced with a romantic, decadent atmosphere that the writer himself would have liked. The opener "A Dull, Dark, and Soundless Day in the Autumn of the Year" is a synth-based track while the rain slowly set the mood for a grey autumn landscape. Then Marieke ethereal vocals kicks in gracing everything with a ghostly aura, while drums and guitars play their doomed dance. Spoken words from both male and female counterparts give an even more creepy vibe to the song. French language enhances the already inner elegance of the whole record, which is also partially sung in English. "Roderick Usher" has the typical doom pace, while Marieke and Cédric entwine their voices until the melancholic acoustic break, rain beaten and cold bitten. The silhouette of the Ushers haunted house is perfectly painted in the mind of the listener, completely covered in fog and gloominess. Thick guitars pave the ending of the song and their reverberating sound fills the air with mysteries. The following "Lady Usher" is the second longest track on the album. The first half is synth-driven, completely hopeless and sad, while the second leaves the listener aghast through whispers, spoken words, the rain and the wind. The outro is doom metal again and Marieke showcases her magnificent vocals. The fourth track is a short piece, full of sounds from a surrounding environment: the wind, an old door opening, steps on the stairs, drops falling from the ceiling. "Requiem" is a neoclassical instrumental only broken by a French spoken part and it works as intro for the title-track. Sixteen minutes long, it builds heavier and heavier, even some growl appear through the thunders and the ending has a sudden, obsessive black metal twist. Something you did not expect after a whole record so slowly paced. "Epilogue" closes the album; the first part is quite weird, full of electronic beats, it resembles an industrial song. Then it becomes neoclassical again, strangely peaceful with a slight restless feeling. Spoken parts and Marieke's singing creates a romantic atmosphere. The final minutes are completely made up of sounds taken from the surrounding of the house. Chaos and then the rain beating over the abandoned mansion. Not an easy-listening for sure, but if you love this kind of atmospehere you will love "The Fall of the House of Usher".
Rating – 80/100
Tracklist
A Dull, Dark, and Soundless Day in the Autumn of the Year

Roderick Usher

Lady Usher

Requiem

The Fall of the House of Usher


Epilogue
Line Up
Marieke Delanghe – Vocals


Cédric Seyssiecq – Music, vocals, lyrics, concept, artwork
Links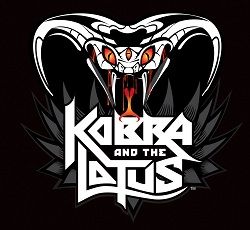 Interview by Miriam C.
Sometimes promote a band means sacrifice half the night spent on Skype, I'm not complaining on the contrary. Well, it was on one of this long, sleepless, summer nights that I've have had the honor to chat with Kobra Paige, leader of the last newcomers of the Canadian classic heavy metal Kobra and the Lotus. Let's see what she has to tell about the deal with Simmons Records (yes, that Simmons!), the new debut album and gigging. Keep the flame on!
First of all do you mind present a little the band with some biography?
It all started when I wanted to find some musicians to jam some Iron Maiden with but by the first practice we started writing our own tunes instead. In 2008 I founded Kobra and the Lotus with drummer Griffin Kissack. We then toured extensively, trying to figure out what our true sound would be and the direction we would take in the creation of this next debut album coming out. It was last summer after hearing that album, we recieved a call from Gene Simmons saying he and Universal Records wanted the band. Right now we are in a new chapter for Kobra and the Lotus as we are no longer indie.
About the deal : On August 6th Simmons Records will publish your debut album, that's a huge, congrats! Would like to share when you have had your first contact with your label? Did you meet Mr. Gene Simmons in person?
Thank you, we are very excited! Yes, I have met him in person several times! It is crazy to think that we work with him. When I first met him it was at Heavy Montreal Festival in Canada. Kiss was headlining and he wanted me to come down so I could watch them play and later hear his label proposal with Randy Lennox from Universal. When I got there he was fully dressed in his gear. He walked over to me without saying anthing and put his arm around my neck pretending to shake me. It was fuckin' awesome!
Hahahahahaha Simmons is a freaking genious I mean he has the sense of business…
Yes, he's a very clever man and a marketing maniac. He also is very passionate about keeping metal alive.
If you count that he had created the Kiss coffin too…
Even Dimebag Darrel was burried in one!
What you tell us about the genesis of your self titled album? When have you started to nail down the first lyric?
This is an interesting beginning because we had initially began writing the album 2 years ago and it was fully mixed and mastered for last April 2011. After the band signed, we went back into the studio in January to replace the slower, ballad songs with new up beat ones. These songs are the first 4 on the album and we wrote them this last fall. Our single "Forever One" was created from start to finish inside the studio.
Sorry for the delicate question : why replace the first 4 songs, in what you weren't satisfied of?
It was not a case of unsatisfaction but a change to fulfill the purpose of the album better. The songs we replaced were ballads. Because it is a debut album and introduction for Kobra and the Lotus to a lot of the world, we decided it needed to be a very high energy, to the point project. We count on putting the unused ballads on the next album.
Let's say it was a well-calculated strategy, right?
Yes, absolutely.
So, in some ways "Welcome to My Funeral" launched and introduced your selftitled album and now it's time for "Forever One" and seems that KATL jumped out straight from the golden age of the 80′s heavy metal although you're very young. How came this huge passion for the 80′s?
I guess for many of us in the band, the rock/metal of the 80′s was the first initial big impression that music made on us. It's the appeal of musicians needing to know how to actually play their instruments, the rawness of the craft, the energy and feeling the music gives people and most importantly the unity it brings to metal culture by not exactly being a niche genre of metal. Now the roots of our influences are well cemented but we have moved on a long time ago to enjoying all kinds of music. We don't sound 80′s influenced intentionaly now, it just comes into our writing without even realizing it.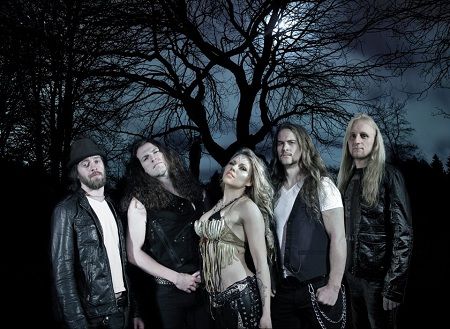 Incredible, I really don't believe that this 80′s sound come out so naturally… again congrats. Would you mind explain a little the band music influences and your personal too?
Hmm, if you were to have an iPod of music right now from our band it would contain anything from Beethoven to Devin Townsend. In our band you will be guaranteed to find someone influenced by any kind of diversion of rock/metal you can find. Technical to simple, progressive to more classic structured, all areas. I think a lot of us believe every kind of music has something to learn from even if it's not a sound we are crazy about. It can be as easy as recognizing a song format we want to use.
So your created this mix of old and new sound thanks to your tastes quite openminded and it's a bombastic blend of everything… but what Mr. Simmons liked of you and your band to get such an istant deal?
He liked that we were a touring band, which meant it's not just about the music but a great deal about the live show as well. He also liked that we were classic metal with a female front.
And connecting about this (I mean the fact that you're a female front) – the thing that hits me about your vocals are that for have such a different background (you studied at the The Royal Music Conservatory classical music) are straightforward, let me ask how these classical studies are helping you in the band and what originate the choice to found a real heavy metal band?
The moment that made me want to do heavy metal was a Judas Priest concert I went to when I was 15. I couldn't believe my eyes and after seeing them, I couldn't look back. The most important things I have taken from my previous training are knowing proper breath support and being able to read music. That being said, some of these stages are huge now and I run out of breath from running around so much. I thought I was going to pass out after Gods of Metal in Milan haha!
Really? I know that a huge stage also if I wasn't never been there unfortunatly – how the gig was, what were/are you impressions?
It was amazing! We thought Italy was incredible because the people were very passionate and energized. It was inspiring to see such a great crowd on such a blisteringly hot day to stand in the sun.
I like very much the "Welcome to My Funeral" videoclip. What is the topic treated in the videoclip and is it related to the lyric?
Yes, the video is very related to the message. The song talks about self-sabotage. Many times it is easy to let fear stop people from doing something or to let a negative feeling consume them. I call this digging your own grave. In the video I am conducting my own funeral and it is the "monster" form of me that is behaving crazy.
Now a curiosity : I found also that on 2010 under Sonic Unyon you published "Out in the Pit", can you tell us more about it and the curious fact that I would like to know why you consider this upcoming album your official debut album?
That is our first official Kobra and the Lotus album. We independently released it and toured it in the UK and Canada. It is the very first time I ever co-wrote music with anyone! It has been very confusing to some fans why it has stopped distribution and is scarcely recognized. The reason all comes down to major label politics. When we signed, they requested this upcoming album be recognized as our"debut" since it is the first to come out of Universal/Simmons Records. It's all been very interesting.
Another little curiosity : Since I really like the band's name, can you tell me more infos about? I mean, who choose it and how come out?
Thanks! Kobra and the Lotus is derived from two different band names that ended up coming together through comedic events. We were first called Lotus because I was very intrigued by the purity of the flower growing from mud. I thought it seemed very similar to metal which is sometimes judged to be harsh but can actually be very beautiful and melodic. The guys I was currently playing with thought it was too feminine and so Kobra became the new name. Cobras have always been seen as fierce protectors and creatures that do not bow down to cowardly ways. In the end it was the concept of fierce beauty that inspired Kobra and the Lotus.
So Kobra, we're at end I really hope that you liked the interview (I hope also that I covered everything) before we say goodbye and greet our readers/fans, what's are you next projects?
We are actually filming a new music video in a couple weeks and that will be for another track coming off the album! Hopefully it will be ready in time for our CD release. Otherwise we are already working on the next album in the time between touring! Thanks very much for staying up late, I hope you get to sleep in tomorrow!
Credit Photos
Kobra Single Photo by Tim Tronckoe
Links
MySpace * Facebook * Twitter * Site
Latest Multimedia
Label : Solitude Productions
Review by Si Smith
Norway's death/doomers Funeral have been around for a while now, although we haven't heard from them since 2008′s "As Light Does the Shadow". The album's opener "Hunger" begins with a gentle melody accompanied by the trademark harmony vocals – harmony that is Frode's eventually branching off into doleful lead vocals. Female vocals have always been a part of Funeral's repertoire and for this album they are saved for the album's end. Accompaniment is in the form of picked single notes and low-end chords that deftly creates their sound which is almost constant throughout the CD. Second track "God" is of a similar slow pace to track one, and occupies more or less the same acoustic territory. Some growling riffs punctuate the general funereal terrain of the song. Not as deathly slow as some bands of the genre, the lyrics are elucidated clearly enough to retain the listener's interest. Again the focus is on harmonies, carrying us forward on a wave of solemnity. "Your Pain Is Mine" begins at the same pace once again, although slower interludes allow us to open our eyes to see wider vistas alongside the track's main meandering. With "The Poison" acoustic soundscapes and an initially terser vocal style grant us new visions, after which the traditional soundscape returns and the pace quickens slightly, only to return us to the former once again. The lyrical content of the clean vocals again manages to lift the track above the dark depths we see below, until "Dancing in a Liquid Veil" introduces us to broader keyboard backing and synth backdrops. Grinding low guitar solo lines mix with the keyboards to usher in the remainder of this nine and a half minute epic. "How Death May Linger" once again mixes guitar and keyboard to create another nine and a half minute extravaganza. At this point to some listeners individual tracks may not appear overly distinguishable from others, but this is an album of completeness. The whole experience is neccessary to understand the album, even if at moments we forget quite where we are in the general scheme of things. "Father" somehow appears more orchestral, whilst "Blood from the soil" has some memorable moments. Final track "Wrapped All in Woe" is joined by the female vocals also, as choral backdrop and as ethereal main vocals. This appears to inject new life into the formula, offering a broader listening experience as male spoken vocals also intersperse between female melodies. In short, this album does what it says on the tin. It is slow paced doom metal, varying very little in pace but within that framework every nuance is made as beautiful as possible in its simplicity, whether it be male harmonies or female chorals. An album enjoyed more by listening to the whole than by analysing every track, I think. Just as a symphony is complete across its moevments, this can be seen as a doom symphony across nine movements. Don't overthink it or you might lose the enjoyment of the entireity. A doom masterpiece of our times.
Rating – 80/100
Tracklist
Hunger

God?

Your Pain Is Mine The Rest

The Poison

Dancing in a Liquid Veil

How Death May Linger

Father

Blood from the Soil

Wrapped All in Woe
Line Up
Sarah Eick – Vocals on Track 9
Frode Frosmo – Vocals on Tracks 1,2,3,4
Øystein Rustad – Vocals on Tracks 5,6,7,8
Thomas Angell – Guitars
Christian Loos – Guitars

Kjetil Ottersen

- Keyboards

Einar Andre Fredriksen – Bass

Anders Eek

– Drums
Links
6 color styles available:

Style switcher only on this demo version. Theme styles can be changed from Options page.