Browsing articles tagged with " gluz"
Label: Century Media
Review by Tony Cannella
When lead vocalist Angela Gossow decided to step down from her post fronting the extreme metal legends Arch Enemy it came as a huge shock. Who would fill her sizeable shoes? Well that turned out to be ex-The Agonist front lady Alissa White-Gluz – as it turns out it was a great choice.
The opening intro "Tempore Nihil Sanat (Prelude in F Minor)" opens the album and has a horror movie vibe to it before segueing into the relentless assault of "Never Forgive, Never Forget" and this is how the 10th Arch Enemy album begins. From the start it is obvious that the transition between vocalists is seamless and musically the band continues to mix death metal and thrash with the same technical proficiency that the band has always displayed. Continue reading »
Interview by Ary R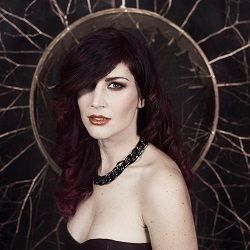 Considered as one of the leading figures of the metal music panorama nowadays, Delain has gained a huge fame that a few female fronted bands has got in these latest years. After a really bad episode that has affected the band in the past, this quintet from the Netherlands is going to introduce the audience the brand new record called "The Human Contradiction". In order to present this baby creature, we had the chance to talk to the singer of the band, the beautiful Charlotte Wessels, who has spoke to us about this brand new album.
Delain this year comes back on the music scene with a brand new album. Let's talk about the album title which is a very curious one. Would you mind explaining us the meaning of the title itself? If I'm not mistaken you love reading, and this album somehow is related to Octavia Butler.
Continue reading »
Label: Napalm Records
Review by Tony Cannella
The Dutch Symphonic metal band Delain returns with their fourth full-length album "The Human Contradiction". This is the follow up to their excellent "We Are the Others". After that album, it was interesting to see how they would follow what many consider to be their best album. Would they be up to the task? Well, the answer is a resounding yes.
The opening track, "Here Come the Vultures" is a wonderful way to start. It begins with a haunting intro before transforming into a bombastic metal track and Charlotte Wessels is fast becoming one of my favorite singers. "Your Body Is a Battleground" is even more awesome than the previous song. Continue reading »

Interview by Tony Cannella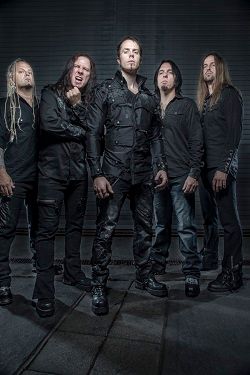 Line-up changes are all too common in the music business for various reasons, not only in metal but all genres. It's often hardest to change a lead vocalist which is what the Florida based metal band Kamelot were faced with when popular singer Roy Khan left the band and was replaced by Swedish vocalist Tommy Karevik of the band Seventh Wonder. Well with the Release of "Silverthorn" (featuring the debut of Karevik) and relentless touring even the fears of the most die-hard fan should be put to rest. Tommy Karevik fits Kamelot like the proverbial glove and the band are better than ever – as I witnessed when they played the Palladium in Worcester, Mass on their current North American tour. The entire band were on fire and just plain awesome throughout their entire set; a set that featured a good mix of new songs with older favorites. Following their sound check I had the huge pleasure to sit down with Kamelot's guitarist Thomas Youngblood to talk about a variety of subjects. Here are the highlights of our conversation…
Continue reading »
Interview by Alessandra Cognetta
Many of you remember her from Kamelot, but Elize Ryd's career is so rich I don't think I can fit it all in an introduction. A talented artist and a really sweet person, she agreed to answer some questions for us about her latest effort with the unique band Amaranthe (their second album "The Nexus" will be in stores by the end of March, check their website to see when it's out in your country!). You're going to read about music, dancing, Eurovision (?!), bizarre incidents on tour and, well, I'm not gonna spoil anything, see for yourselves, you're in for a truly interesting interview!
Hello and welcome once again to Femme Metal, Elize! It's always a pleasure to have you with us at the 'zine. Amaranthe's new album is about to be released, and the band has a world live premiere planned for March 2nd in Sweden. How's it going with the preparations for the event? What can we expect to see?
Thank you very much, it's a pleasure for me as well! It is going great, on Monday the band are gonna meet in Gothenburg and start to rehears of the new songs. You will see Amaranthe in full and healthy shape, we all have had some time of the scene so it will be extremely fun to gather again and start this what will be an extremely intense and exiting year
6 color styles available:

Style switcher only on this demo version. Theme styles can be changed from Options page.
Archives