Browsing articles tagged with " gluz"
Label: Napalm Records
Review by Tony Cannella
The Dutch Symphonic metal band Delain returns with their fourth full-length album "The Human Contradiction". This is the follow up to their excellent "We Are the Others". After that album, it was interesting to see how they would follow what many consider to be their best album. Would they be up to the task? Well, the answer is a resounding yes.
The opening track, "Here Come the Vultures" is a wonderful way to start. It begins with a haunting intro before transforming into a bombastic metal track and Charlotte Wessels is fast becoming one of my favorite singers. "Your Body Is a Battleground" is even more awesome than the previous song. Continue reading »

Interview by Tony Cannella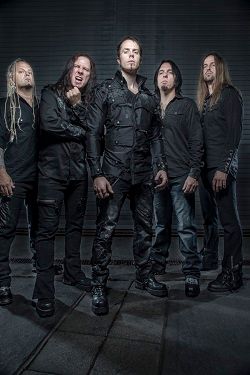 Line-up changes are all too common in the music business for various reasons, not only in metal but all genres. It's often hardest to change a lead vocalist which is what the Florida based metal band Kamelot were faced with when popular singer Roy Khan left the band and was replaced by Swedish vocalist Tommy Karevik of the band Seventh Wonder. Well with the Release of "Silverthorn" (featuring the debut of Karevik) and relentless touring even the fears of the most die-hard fan should be put to rest. Tommy Karevik fits Kamelot like the proverbial glove and the band are better than ever – as I witnessed when they played the Palladium in Worcester, Mass on their current North American tour. The entire band were on fire and just plain awesome throughout their entire set; a set that featured a good mix of new songs with older favorites. Following their sound check I had the huge pleasure to sit down with Kamelot's guitarist Thomas Youngblood to talk about a variety of subjects. Here are the highlights of our conversation…
Continue reading »
Interview by Alessandra Cognetta
Many of you remember her from Kamelot, but Elize Ryd's career is so rich I don't think I can fit it all in an introduction. A talented artist and a really sweet person, she agreed to answer some questions for us about her latest effort with the unique band Amaranthe (their second album "The Nexus" will be in stores by the end of March, check their website to see when it's out in your country!). You're going to read about music, dancing, Eurovision (?!), bizarre incidents on tour and, well, I'm not gonna spoil anything, see for yourselves, you're in for a truly interesting interview!
Hello and welcome once again to Femme Metal, Elize! It's always a pleasure to have you with us at the 'zine. Amaranthe's new album is about to be released, and the band has a world live premiere planned for March 2nd in Sweden. How's it going with the preparations for the event? What can we expect to see?
Thank you very much, it's a pleasure for me as well! It is going great, on Monday the band are gonna meet in Gothenburg and start to rehears of the new songs. You will see Amaranthe in full and healthy shape, we all have had some time of the scene so it will be extremely fun to gather again and start this what will be an extremely intense and exiting year
Label : SPV/Steamhammer Records
Review by Tony Cannella & Luisa Mercier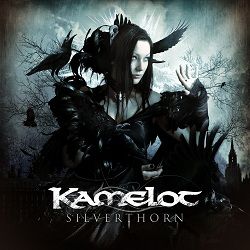 It is finally here. One of the most eagerly anticipated symphonic metal releases this year has to be "Silverthorn" by Florida's Kamelot. Of course it is well documented that the band parted ways with popular longtime vocalist Roy Khan. After utilizing Rhapsody's Fabio Lione to fulfill their remaining tour dates, Kamelot finally settled on a permanent replacement for Mr. Khan… His name is Tommy Karevik from the Swedish band Seventh Wonder. One thing Kamelot has always done is incorporate some of the most talented female vocalists to further enhance their albums and "Silverthorn" is no exception. Elize Ryd from Amaranthe, Alissa White-Gluz from The Agonist and Amanda Somerville has already been on tour with Kamelot and they all turn in tremendous performances when they are called upon. "Silverthorn" is a concept album about "a young girl who dies in the arms of her twin brothers, taking the three siblings' secret to the grave". Kamelot has really outdone themselves in the lyrical department, and the music has that movie soundtrack feel to it to really compliment the lyrics. After the opening intro "Manus Dei", the band goes into "Sacrimony (Angel of Afterlife)". I would say that this is probably my favorite song, which also features some killer vocal performances courtesy of Elize Ryd and Alissa White-Gluz. Alissa adds a more aggressive style. I was surprised to hear that Alissa was on tour with Kamelot and that she sings on this album. She definitely has a more aggressive style to contrast the angelic voice of Elize Ryd. Next is the heavier "Ashes to Ashes". One thing is apparent, Tommy Karevik definitely has Roy Khan thing going with the vocals, I wouldn't say he is a carbon copy sound-alike, but with him at the helm the band loses nothing in the way of vocals and musically this is the most inspired they've sounded in years. "Torn" is next and has an up-tempo style. Next is the ballad "Song for Jolee". Next is "Veritas" which features a huge sounding choir on the chorus. Other highlights include: "Falling Like Fahrenheit" and the closing 9-minute epic "Prodigal Son" which is divided into three parts: "Funerale", "Burden of Guilt (the Branding)" and "The Journey". There are a lot of similarities in both look and style between Tommy and Roy, but for the most part, I like the bands choice of singers, and I don't know if it is a coincidence, but "Silverthorn" is probably my favorite Kamelot album since "The Black Halo".
Rating – 90/100
All of us Kamelot fans were eagerly waiting for this new record. Two years ago, Roy Khan stated that he would have not toured with the band for a while, and after some months he left Kamelot. Since then, I was quite sceptical and curious about his replacement, since Roy voice is unique ine power/symphonic metal and it was the main feature of the band, the one that made Kamelot stand out. It was with relief that I welcomed Tommy Karevik into the band, since he is not the typical power metal singer, but he's quite versatile and really talented. On the other hand, it was the record that partially did not meet my expectations, since it is hit and miss for me. Do not misunderstand me, the balance in the end is good, but it stays quite below legendary records like "The Black Halo" or "Poetry for the Poisoned". There are very good songs and songs that are quite average, not the best melodies, sometimes they are just cheesy and too power for my taste. "Manus Dei" is the usual symphonic intro, nothing new if you love this kind of music: orchestra, piano and choirs that build the climax for guitars and the beginning of "Sacrimony (Angel of Afterlife)", the first single. The song has power/symphonic riffs and Tommy is scarily similar to Roy, so similar that I am almost convinced that it was a conscious choice. In the song, he duets with Elize Ryd from Amaranthe and Alissa White-Gluz that is in charge of harsh vocals. All in all, it is a nice track, nothing oustanding. Another track that did not impress me much is "Song for Jolee", the ballad. Kamelot are masters of ballads, think for example of "Abandoned", but this is way too cliché. Of course there are positive sides and I can name a few. Beside Karevik vocals, I really liked "Torn" that, even though short, has a good variety of styles and tempo changes without relying too much on power. Same for "Veritas" that recalled me the sound of the previous masterpiece "Poetry for the Poisoned": epic, more prog-oriented and Tommy is magnificent. Title-track and "Falling Like Fahreneit" are quite good, but the real highlight is "Prodigal Son" in which Tommy uses several vocal styles and also musically goes from solemn to balladesque to heavy metal, symphonic and epic. I wish the others were the same. Nonetheless, the album is good, not a masterpiece, but the result is positive in the end. So Kamelot fans like me will keep on listening to it.
Rating – 70/100
Tracklist
Manus Dei

Sacrimony (Angel of Afterlife)

Ashes to Ashes

Torn

Song for Jolee

Veritas

My Confession

Silverthorn

Falling Like the Fahrenheit

Solitaire

Prodigal Son

Continuum
Line Up
Tommy Karevik – Vocals

Thomas Youngblood – Guitars

Oliver Palotai – Keyboards

Sean Tibbetts – Bass

Casey Grillo – Drums

Elize Ryd – Guest Vocals
Alissa White-Gluz – Guest Vocals
Amanda Somerville - Guest Vocals
Links
MySpace * Facebook * Twitter * Site
Interview by Erwin Van Dijk
An interview with Alissa White-Gluz from The Agonist.
No, I didn't. Its just something I started doing and excelling at.
Did you always want to become a singer?
I have never taken singing lessons, and I try to keep my whole body in healthy shape to keep my vocal cords healthy too.
You use both clean vocals and metal growls for The Agonist. Which style do you prefer?
I need a bit of both, I would be bored with just one style.

And to what kind of music do you listen yourself?
Everything but country!
And who are your favourite bands and musicians?
Devin Townsend, Gwen Stefani, Muse, Arch Enemy, etc.
Did you have any other bands before The Agonist & Tempest and/or are you active in any other bands now besides The Agonist?
I had 2 other bands besides this one, but right now this is my only priority musically.
Is it easy to combine your personal life with The Agonist?
Not at all! I'm sure most musicians will agree.
Besides your work with The Agonist we could also see you in other media the last years: You were featured as one of Revolver's Hottest Chicks in Metal in 2007. As a photographer I'm the last one to complain about good looking women onstage but you will never hear of James Hetfield being chosen as "Hottest hunk in metal" Are you not afraid that this will set the place of women in metal back to where it was during the eighties: eye candy for glam rock videos and a fresh xxx backstage*?
Hahaha well to be honest, in the 80′s I was 5 years old, but it seems that the men were just as eye-candy-ish as the women! I think it's debatable, but strong women allowing themselves to be feminine and sexy sends a STRONGER message than one who thinks she has to be masculine to be strong. We are having our cake and eating it too.
Why did you change the name of the band into The Agonist and what is the idea behind the name of the band?
We switched the name to avoid confusions with other bands called Tempest. An agonist is a drug used to enduce feeling in patients, like the opposite of an anesthetic, and is also the name for the character torn between good and evil in the literary sense.
A lot of bands today describes themselves as metalcore. How would you describe your music?
Weird metal -go listen.
Is song writing teamwork in The Agonist or is there one mastermind who writes the lyrics and music?
The song writing is split between Danny and I. I write all the vocal patterns, harmonies, rhythms, lyrics, and Danny writes the instrumental.
And where do you and the band get the inspiration for the songs and lyrics?
Anywhere and everywhere.
"Lullabies for The Dormant Mind" is your second album. What have you done different with this album compared to "Once Only Imagined"?
We are all very different people and musicians and we simply ended up, as a result, creating different music.
The album is out for some time now. How did the media and the fans receive the album?
Very well, we are happy!
And can you tell us something about the songs on the album?
They were all struggles and successes in my mind.
"Monochromatic Stains" is a Dark Tranquility cover. Why did you choose this song as a cover and is there any change it will appear on another album than the Japanese release?
We actually recorded that song for a CM compilation… just for fun.
Was is difficult to do "Swan Lake"?
Yes, but very rewarding.
What are your favourite songs on the album?
"Thank You, Pain", "…and Their Eulogies Sang Me to Sleep", "The Tempest", "Birds Elope With the Sun", "Martyr Art"… all of them!
Are there any plans for a tour in Europe and what else can we expect from The Agonist in the future?
We are DYING to come to Europe… so please help us get there!
And the last question: is there anything the reader should know that I have not asked?
Buy our albums and request us everywhere you go so we can come to Europe…please! Thanks

Links
6 color styles available:

Style switcher only on this demo version. Theme styles can be changed from Options page.