Browsing articles tagged with " grace"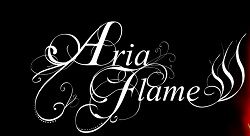 Interview by Jack Williams
Aria Flame was created in the spring of 2011 by dramatic mezzo soprano singer and composer, Aziza Poggi and percussionist, Erik Sales. Before putting a live unit together, Aziza started composing melodies and writing lyrics on her piano. Guitarist Dan Cruzan and bassist & producer Greg Cloon and later joined in as full time members. They are described as a neo classical dark hard rock outfit with a circus like flare, which was created out of the ashes of progressive Egyptian themed metal band Dendura. Whom which was heard on Comedy Central Network, featured in national magazines such as Metal Hammer and Vocals, and also opening for several international acts such as Epica, Unexpect, Scar Symmetry, Edguy, Doro Pesch and The Agonist. Continue reading »
Independent Release
Review by Tony Cannella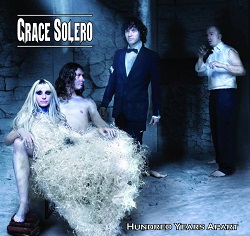 Following up her impressive debut album "New Moon", the UK songstress Grace Solero returns with an equally impressive sophomore outing, "Hundred Years Apart". The band has certainly grown and progressed and the songs on "Hundred Years Apart" are better rounded and sounds like a hungrier animal.
Grace Solero continues to walk the line between alternative, metal, electronic sounds and catchier, accessible hard rock. The songs do have a bit on an edge to them. "St. Ives" is a great example of a song that could get Grace Solero some mainstream attention as well as the haunting track "Once Again". On the other hand there are songs like "Riptide" and "Electro" that should please fans of the heavier stuff. Continue reading »
Label: Total Treble Music
Review by Alessandra Cognetta
The American punk rock band Against Me! is back with a new album. After their "White Crosses" (2010), the band went through a tour cancellation, a change in their line-up, the creation of their own label and, in 2012, Laura Jane Grace's coming out as a transgender woman.  "Transgender Dysphoria Blues" follows, musically, the path forged by their previous works, especially the earlier ones. It is, nevertheless, a chance for discovery and (self) introspection unlike anything I have ever listened to.
Most of the songs deal, obviously, with gender dysphoria, but this is not an autobiographic album. It is the vocal and lyrical expression of someone's feelings, and a very powerful (and rough, at times) expression at that. Continue reading »
Label: Wohone Records
Review by Tony Cannella
Grace Solero is a talented singer and in 2010 has released her debut album, "New Moon". Musically her style falls somewhere between classic hard rock and alternative. I was really surprised when I heard this since it is not at all what I am used to reviewing, but once the initial shock wore off I found myself head bobbing and thinking, "hey, this is pretty cool."
"Apartheid" is the strong opener and is followed by "I Don't". Vocally, Grace's style falls in the similar to Alanis Morissette category with a touch of Anouk thrown in there as well and musically the songs have that same kind of vibe. "Troops" is a laid back rocker with a trippy atmospheric style. The album veers off in different directions but still maintains a hard rocking base on songs such as, "Diary", "Star" and "If U Feel". Continue reading »

Interview by Grace Méridian, Kassandra Novell & Lindsay Schoolcraft
Video by Mary Zimmer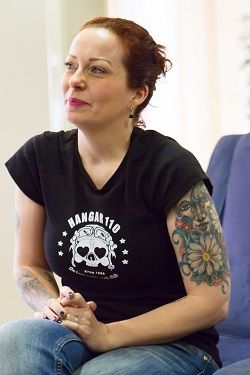 Here what we present you is a special interview done by the Eve's Apple (Don't you know what is? Just take a peek

here

!) members Grace Méridan (

Lifeaftergod

), Kassandra Novell, 

Lindsay Schoolcraft

 & Mary Zimmer (

Luna Mortis

). First of all I thank the girls for this awesome interview and if you wanna enjoy the video experience, please check out

here

but we must warn we that there's a little mistake that we cannot fix, we hope you like it the same.
Then we come to the special guest – we're talking about Anneke Van Giersbergen. The fantastic Dutch singer, after her departure from The Gathering, has slowly built a solo career with her 5 albums. The girls interviewed Anneke during her short trip in US, on March in Chicago. Beside the girls, I want to personally thank Mr.Rob Snijders for helping us setting this interview up. Well, after this short intro it's time to read the interview, so enjoy it!
Grace: I'm Grace Meridan and we're here interview Anneke van Giersbergen for Femme Metal and Eve's Apple. So, Hi Anneke, pleased to meet you. Continue reading »
6 color styles available:

Style switcher only on this demo version. Theme styles can be changed from Options page.