Browsing articles tagged with " heavy"
Label: Nuclear Blast
Review by Tony Cannella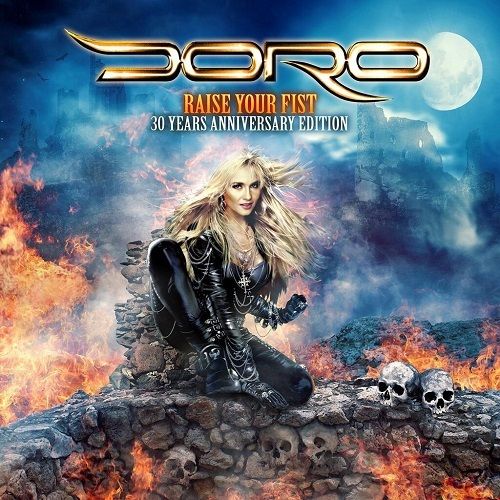 The latest studio album from the reigning metal queen Doro Pesch "Raise Your Fist" was released back in 2012. Time flies… It seems like it was only yesterday when this excellent album was unleashed on the world. To celebrate her 30th anniversary, the album has been re-released with a special bonus CD entitled "Powerful Passionate Favorites" which features rare covers, alternate version of songs and assorted other goodies.
Since the original "Raise Your Fist" album was released in 2012, there is probably no need to go into it at this point. Suffice it to say, it's still pretty damn good, so fans old and new should check it out if you haven't done so already. The bonus CD on this one "Powerful Passionate Favorites" is a pretty cool collection in its own right. Continue reading »
Label: Rise Above Records
Review by Alessandra Cognetta
Death Penalty was founded in late 2013 by Gaz Jennings, after the split of Cathedral. Death Penalty released an EP, "Sign of Times" in 2014 and a self- titled album later that year. "Death Penalty" is a mix of doom and heavy metal, of Gaz Jenning's riffs and Michelle Nocon's sharp, energetic voice, offering a fresh take on both genres.
There is good balance in the album, but Death Penalty also knows how to showcase a guitar solo or a particularly daring vocal line with well-timed transitions. There is great coordination among the instruments, for example in "Eyes of the Heretic", to achieve a classic sound that could have otherwise easily felt empty. While the album kicks off in medias res, it also takes time to focus on groovier, darker tunes, such as in "Golden Tides", one of Michelle's best performances. Continue reading »
Label: Nuclear Blast
Review by CriX
The Finnish band Battle Beast is back with a brand new album called "Unholy Savior" and if the previous albums ("Steel" and "Battle Beast") helped them forge their path into the metal panorama and get appreciated by the heavy metal audience, this latest release will only confirm that Battle Beast is, nowadays, one of the best bands on the scene.
But without further ado, let's start with the opener "Lionheart", which is a powerful song in where you can listen to the guitar and the keyboards alternate with a steady pace. It's a triumphant beginning that introduces us to the self-titled song and follows with "I Want the World… and Everything In It", where some killer solos take over during the whole song. Continue reading »
Label: Metal Maple Records
Review by Tony Cannella
Hailing from Quebec, Canada, the melodic metal band Merkabah was formed in 2002. The band released their debut EP "Elliptic Thoughts" that same year and followed that up with their debut full-length "Shadows Never Forget" in 2005. In 2007 they released their sophomore effort "The Realm of All Secrets" before going silent for a number of years. Finally the band returns with their 3rd full-length album entitled "Ubiquity".
The power house opener "Mythomania" gets us off to a fantastically dramatic start. The usage of keyboards gives the song a progressive metal vibe. From there comes the galloping Maiden-esq "Divine Sparks". "Red Letter Days" is a great mid-tempo number. Lead vocalist Jacinthe Poulin certain has a powerful voice which fits in nicely with the music. Continue reading »
Label: Rise Above Records
Review by Tony Cannella
Since the release of their self-titled debut, the female duo The Oath has called it quits. Too bad too, because "The Oath" has some pretty cool songs running through it.
The rumbling guitar riffs intro the first tune "All Must Die" which has a doomy Black Sabbath vibe. The next track "Silk Road" continues in the vein of the previous song. "Night Child" picks up the tempo with some greater, heavy riffing and an infectious melody and just flat out rocks.
The Oath has a definite Ozzy-era Black Sabbath vibe going for them – which can never be a bad thing. Other highlights include: "Leaving Together" (which has a dark and sinister feel to it), "Black Rainbow" and the 7-minute closer "Psalm 7". Continue reading »
6 color styles available:

Style switcher only on this demo version. Theme styles can be changed from Options page.