Browsing articles tagged with " heavy"

For the first time ever many of the biggest and emerging artists of the NL Heavy Music Scene have collaborated to record and release a track to help raising funds for the Red Cross, in occasion of 3FM's Serious Request 2014, a massive dutch charity event that is organised every year by one of Netherland's biggest radio stations. From December 8th 2014, on www.thepoweroflove.nl, fans will be able to give a donation and download a heavy cover of "The Power of Love", originally performed by Frankie Goes to Hollywood. Continue reading »
Label: Spinefarm Records
Review by CriX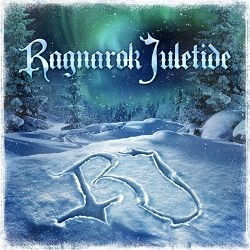 Raskasta Joulua is a Finnish project that was born 10 years ago and its main inspiration leads to USA's  Trans-Siberian Orchestra. They propose traditional Christmas songs obviosly with a metal flovour which sees the partecipation (among others) of Marco Hietala from Nightwish, Tony Kakko from Sonata Arctica, Elize Ryd  from Amaranthe, Jarkko Ahola previously with Teräsbetoni,  Voice of Finland 2013's winner Antti Railio and many more.
For celebrate the 10th anniversary of this project, the new album "Ragnarok Juletide" will be released by Spinfarm Records on November 11, and it is going to be different from the previous albums  because all the featured songs are sung in English. "Ragnarok Juletide"  starts with the bang because, aside being one of the most popular Christmas songs, "We Celebrate at Christmastime" is an infectious and joyful cover!  Continue reading »
Label: Ravenheart Records
Review by Tony Cannella
From Brazil, Amazon returns with their 3rd album "RISE!". This album is appropriately titled because it continues to bands upward ascent. It may be easy to become jaded with the many symphonic metal bands out there, but Amazon have proven to be one of the better ones – and criminally underrated – bands out there.
"RISE!" is an album that is just steady from beginning to end. Starting with "Ball of Vanities", the bands writing, musicianship and presentation has matured which for a 3rd album you would hope that it would. Amazon managed to hold my attention throughout the majority of the album and songs like "Three Lives" and "The Path" are just excellent. Continue reading »
Interview by Miriam C.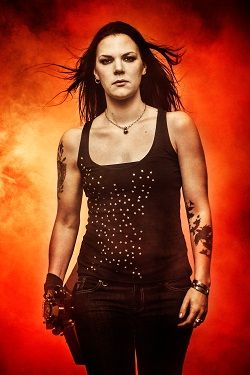 "In the Red"
, beside being the fourth album released for the Swedish explosive heavy metal quartet Crucified Barbara, it shows how the band, through its path, has matured, enhanced and enriched its musical palette. Yeah, don't get me wrong, I love the 'booze & party' themed songs but trying to improve and evolve stylistically is part of the natural flow for a band, probably in this particular case CB were helped by the fact that were able of counting on a reliable partner as their new label Despotz Records but let's read what the singer Mia has to say about it…
Hi Mia, first of all welcome back to Femme Metal Webzine. How are you?
Thank you! I'm fine! Right now I'm in a dressing room in Italy. We're playing at a club called Rock Planet in Pinarella di Cervia. We're out on the In the Red Europan Tour with Supercharger and Junkstars since 17 days and we're just about to finish a set of 13 days in a row with no day off so I'm a bit tired. Starting to mix up lyric lines and stuff on stage but the important thing is that my voice isn't that affected about it, which I'm very happy about. We've never done so many shows in a row before. And today I went to the beach 2 times during the day, very appreciated! Continue reading »
Label: Victory Records
Review by Tony Cannella
Sweden's Sister Sin is one hell of an in-your-face, confrontational band. With their 5th album "Black Lotus" this Gothenburg based has really upped the ante and produced – what I believe to be – their best album.
Even though Sister Sin comes at you head on, that does not mean that they don't have a sense of humor. Just listen to the lyrics to one of the best songs "Chaos Royale", 'I'll put an end to all music that sucks, according to my flawless taste', that is just a sampling but throughout the record lead vocalist Liv spits out the lyrics with all the subtlety of a machine gun. Musically, the band continues to have that classic Motorhead vibe. Another favorite is "Count Me Out" which has a great slow build before developing into a grinding track with a great, anthemic chorus. Other highlights include: "Au Revoir", "Desert Queen", "Stones Thrown" and "Ruled By None". Continue reading »
6 color styles available:

Style switcher only on this demo version. Theme styles can be changed from Options page.
Archives
Calendar