Browsing articles tagged with " here"
Independent Release
Review by Tony Cannella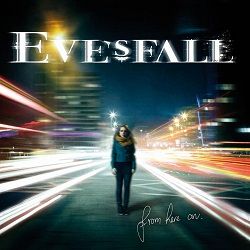 Eve's Fall is a melodic hard rock and metal band from The Netherlands. The band formed in 2012 and in a short amount of time has released their debut album, "From Here On". The impressive thing about Eve's Fall is their ability to mix catchy pop hooks and accessible melodies within a hard rock and metal framework. "From Here On" features plenty of that in abundance.
"Her Absence" opens things with a straight-forward riff as the soaring vocals of Liesbeth Cordia join in. This song features a great melody and pace. "No Compassion" picks up right where the previous song left off and is another quality number with a great, memorable chorus and melody. Continue reading »
Independent Release
Review by Tony Cannella
The four-piece band Motogruv formed in 2006 in Petaluma, California. They released their debut album in 2009 and now have released this 7-song, 30-minute EP independently. Some bands are hard to describe, others are not. Motogruv are not a very hard band to describe musically. For the most part they are a hard rock band with a definite 70s influence. In addition to their classic rock influences the band includes Jazz and Blues influences, to produce one of the more surprising albums of the year.
The raspy acapella style vocals of talented front-woman Corinne Reif kick starts "Nowhere & Here" – actually at the start her vocals have sort of a country twang to them, but that is not her usual style, still it shows the diversity of this band as the heavy, Black Sabbath (Ozzy-era) riffs come in. Continue reading »

Interview by Miriam C.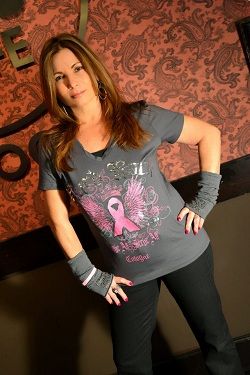 If metal impersonate as a queen the German Doro, instead in the melodic rock/AOR territory the true deal is the US Robin Beck. Known for the uber huge hit single "First Time" in 1988 born from a jingle of a Cola Cola commercial, after 6-years-break from the last album "Livin' on a Dream", Robin do her comeback with her 9th album "The Great Escape" on her own imprint, Her Majesty's Music Room. Want to know more? Continue to read this extensive interview…
Hi Robin, first of all thanks so much for accepting this interview! For me is a real pleasure to host and promote you in my webzine and I thank you for finding time out of your busy schedule to reply this humble questions.
Thank you Miriam I am happy to.
On your official biography, you stated that since you're a little child you wanted to be an artist and when you were 10 yrs old you have written your first lyric. Now, being passed so much time, did still keep it and what you think about it?
This is not a secret lyric. It's a childhood song about love of course… "Key to My Heart" Sort of a country song. I think it was pretty good for a kid.
Despite the fact that you are world famous singer, during your break for raise your daughter Olivia, you have still recorded album as a background singer. From this experience what you have learnt? Any good memory to share with us about that period?
I don't have anything but good memories… and still more coming. My daughter is the light of my life! You do learn from being a mother how to be a parent from your children. If they are happy… then you've done a good job… so I give myself a gold star. I will also say that from having Olivia that I became more conscience of how important school really is… this something I took for granted while I was growing up. I hated school but it's the most important part of our lives to begin with.
Let me get you to the early times of your career, at that time what were your favourite musical acts and are your musical tastes changed now?
Ha… Janis Joplin, Joe Cocker, Aerosmith, Queen, the Beatles, Stevie Nicks, Carol King, Crosby, Stills, Nash, Taylor and Reeves and the Supremes. Just to mention a few.
Your debut top hit single "First Time" in 1988 was a spin off for a Coca Cola commercial, how you got involved in it? Also the video clip was different in EU and in the US, why?
I was chosen to sing "First Time" the jingle… then the song was written and it just flew high by popular demand first in the U.K. – They then did an American Version since Americans don't speak English I guess! LOL It was perfect the way it was first created… then we simply rocked it out for the simple reason that I was noted as rock artist and that's the way they envisioned it for the States.
How was the genesis of your last album "The Great Escape", when you have started to nail down the first lyric?
Hummm… really don't remember specifically. It just came when it came… and out popped the entire album. We worked for about 5 months straight on it.
Your latest studio album was 2006's "Livin' on a Dream" (now I'm excluding the re-release of "Trouble or Nothing"), why it passed so much time since then?
I was putting together my own label and time was just flying by. I was also managing a band at that time and devoted a lot of attention to them.
How's born the partnership with Tommy Denander and James Christian (that's your husband)?
I met Tommy during a "Radio Active" invite to sing a song… and from there it was a relationship of 3. Me, James and Tommy. We are all very tight. James my husband is in House of Lords. He might be the best producer I've ever worked with. Not just because he's my husband, but because he really gets me and knows better what I can do than even I do sometimes… it's great to have these 2 men by my side.
What's your personal meaning and what do you want to express with the title album "The Great Escape"? Or it's simply related to a lyric present in the album?
For me it's meaning was simply to take a break from life and listen to some great music. But the song is literally about getting away or escaping the trappings of a bad relationship. The title of the album really has nothing to do with the song I'm afraid. I kept it because I just loved the image I had created in my own head. When I'm listening to music that I love… all my cares vanish. That's what I want for my fans.
Two songs that totally hit me are "The One" and "Don't Think He's Ever Coming Home". What are the subject of this lyrics?
You hit the nail on the head with these two songs Ms. Miriam. "The One" is clearly about the love of my life and how to let him in on it. "Don't Think He's Ever Coming Home", is a whole other story… this is an unhappy ending for a girl who tries to keep a man that truly wants to be with his intended. Some girls are just lying to themselves and this song spells it out for them in a most unforgiving light.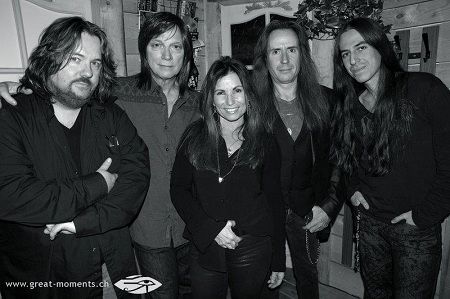 On "That All Depends" you sing with Joe Lynn Turner, how do you feel to realize such a dream? How was standing literally (and singing) beside him?
Ha… that's funny… I've known Joe Lynn Turner and have sung with him for years and years… you'd think I'd be immune'd by now … but he's dreamboat. I've always loved his voice and his way. I can't say enough nice things about Joe Lynn Turner. It was great that he took the time to do this with me. Hopefully we will do another song together in the future.
In February 2009 you founded your label Her Majesty's Music Room, why? I mean you haven't no more faith in the labels?
Yep! That's it in a nutshell. It's a smaller system but much more satisfying. I mean really… working with a label can make you or break you… but working with my own label makes me happy.
The re-recorded release of "Trouble or Nothing" include 4 bonus tracks. If I got it right the songs are original from that session and why at the time weren't included into the album?
No no no…. these songs were not from that time period. They were fresh newly written for the re release of "Trouble or Nothing".
In the 80's MTV was the leader in broadcasting and promoting AOR bands/singer like you now after 20 years or so we find that internet, with its connections of webzine and sites dedicated to music, is taking the lead. What do you miss of the 80's from this point of view? And also how much do feel confortable this all this new technology? Have you already notice any pros and cons for your activity?
It's great… no matter what this is how we evolved. For me it's wonderful. I have much more exposure… sometime not the exposure that you want but as they say… all press is good for the artist… good or bad.
Watching your long, stellar career what it is missing is a full concert DVD. Any plans to record it?
Yes… we almost did it at Firefest. But I'm looking to do something that spans my career, not just a rock concert. This takes time but I can assure you not too much longer.
Finally your EU fans have the chance to meet you during your upcoming "Here Comes Trouble Tour" made of 10 dates running thru Germany, UK, Switzerland and Austria. Any project for a full European tour?
I am trying to put that together already. It was only the beginning to start this year after so many years of being missing from the touring circuit. It will take some more time to build up the audience awareness… let's start here. Tell everyone to keep an eye on www.robinbeckrocks.com for coming tour dates in 2013 and Facebook as well.
After this EU tour, what are your next plans and if yes, are you involved in other musical related stuff?
I am in the middle of making a new album right now. We are also discussing new tour for 2013.
Olivia, your daughter is following your artistic footprints, would you mind present her and her songs?
She's amazing and living her dream right now as an actress… but this girl has pipes and she can do anything she wants to. I would be proud to see her live her life and use her talents to make her own dreams a reality.
I've a just a little curiosity to fullfil, you know I'm from Italy and time ago you have recorded a duet with Pupo (that's a real famous songwriter/singer here). Do you mind tell me how's born this collaboration? To me, discovering this was such strange because Pupo doesn't really represent the attitude of a rock star.
Well there's not that much to tell… he reached out to me to do a duet with him and I did. It was fun… and Olivia was only 10 months old at the time so she was in my arms the whole time I was with Pupo singing.
Well, Robin, we're at the end. I really thank you for your time. Please greet your fans and our readers as you like. Really thanks, Miriam.
Please come visit me at my website www.robinbeckrocks.com and on Facebook. I would love to see you there. If I'm in your area please come out and say hello. Watch my website for any details in the coming months. All my love.
Links

Interview by Miriam NocturnalConcerto
Transcription by Robin Stryker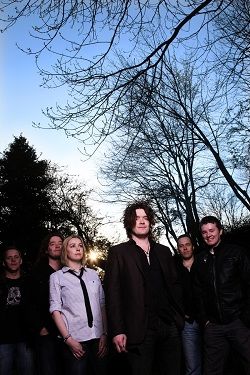 I cannot tell you how excited I was to doing this interview with Danny Cavanagh, Anathema singer and guitarist, for a lot of causes, take it because was my first phoner interview, take it because I was worried that something gone wrong. The interview has started with a delay of 30 minutes preview by the slot I was very nervous but in the end I'm happy to share with you this interview, hope like it!
Since are passed 7 years from your last album "A Natural Disaster", why it passed so much time?
Well, mainly it is because we didn't have a manager. We didn't have a record company, and one or two of our band members had family commitments they had to attend to. Different things were happening in their lives. You know, at the time, you don't realise… one month becomes another month, becomes another month. It was just one of those things. Without a record company, it was just something that happened, and it will never happen again.
And also we must add that is your first album under KScope Music (excluding the semi acoustic album "Hindsights"), why have you chosen this label?
Why did we choose KScope Records? Well, they are very good and they believe in us very much and they wanted it more than anybody else did. They were really keen to have our record, and they wanted it for many years. We saw that, with the work they did on "Hindsight", they are actually quite good. They do things properly and they don't spend a fortune. They don't spend quite a lot of money wastefully. Our manager — we have a manager now — he recommends we take this and we did. We were not the kind of band at that time that could attract a much bigger label, so we went with that one. We are happy and I am happy that we did.
I make a question about the title of the new album – it sound like a statement, who came up with title and why?
Well it's not very very important and it's not very meaningful. It is the title that we all liked. It's the only title that everybody in the band liked. We couldn't find another one where six people agreed. That's the only one that six people agreed on. For me personally, it doesn't have the greatest meaning for the songs. It does though, however, suggest the bond that we have as a band together… the family, the friendships, the caring that we have for each other. It is suggested in that title because we are here for each other, so I like it for that reason. I like it because it suggests "being there for each other" to me. It's not a great statement, it's not a spiritual statement or an anti-religious statement, or anything. It is just the fact that we all like it. Also, the fact is, it comes from a very moving story from the First World War in Europe when many, many millions of men and women died for no real reason. That was one of the most extreme situations that humanity has ever seen. And, during that war, young men in England used to sing this song, "We're Here Because We're Here". You can actually hear a very small selection of that song… as the song "Hindsight" is tuning into the radio, you can hear it there. They used to sing that song in defiance of the situation that they were in. They were in an impossible situation, and there was no reason for them to be there, so they used to sing that song, "We're Here Because We're Here". We like that story. And we like the meaning behind it and the memory of those men, so we chose it.
A question about the cover – How's your interpretation and in some manner, is it related to the lyrics of the album?
Yes and no, really. The front cover and all of the artwork is related to Anathema, to the people and to our childhood, our story, and to our personalities. They are childhood memories of everyone… an old school, an old playing field, an old street that we lived in. The beach with the man in the distance is actually Liverpool Beach in the north of Liverpool. The mountains in the distance are the Welsh Mountains, the mountains of Wales where we spent many, many years on holiday as kids. So, what I love about the artwork and title is not that it relates very, very, very closely to the meaning of the songs. It relates to the meaning of the band and to the people in the band and the personalities and the family and the heritage and the love and the memories that we have together. And that's why I like it.
I've listened to album like I said before and my favourite album song is "Everything" with the duet of Lee. What your favourite track?
My favourite track is "Dreaming Light" because it is probably the most personal one to me, and it is the one I am most proud of it. That's my favourite one, but I love them all really. I think it's the first record that … okay, well maybe not … I would say that it's a consistently good album. All the songs are very good, and (for me) one or two are truly great. Those two would probably be "Dreaming Light" and "Universal". What I like about "Dreaming Light" is the optimism in the melody and the emotion in the melody. I remember the day it was written, I remember how it came through me and I remember how I felt after it was written. It was just a special time. It was a special feeling to have that feeling come through. To feel that tune and feel those words. I do think it's a gift. That song is a gift.
So now I have three curiosity to satisfy: How's born the collaboration with HIM singer Ville Valo, how's working with Steven Wilson and who sang the spoken words on "Presence"?
Ville Valo is a lovely guy. He is a very nice person, and I like him very much. He is a good friend. And that is the only reason, really, that we asked him to do it. He's been very kind to Anathema and he's been a loyal fan, if you like, of the band. He likes the band very much and he's been supportive of Anathema very much. I wanted in a way to say "thanks" to Ville Valo because he's been such a gentleman and a kind person to us that it felt appropriate for me to ask him. And he said yes. It was simple and he has added something very good to the song. It's a background, but it works for me. He adds something to the song "Angels" and doesn't take anything away. I like it very much. And that was really just a matter of friendship, he's a good friend. Second question, Steve Wilson. Well, that was much more involved because we worked together for two weeks to mix the record, or maybe longer. It was a great pleasure working with him because he is very very very good at what he does. So I would go to his house, sit on the couch and drink tea and listen to his work and comment and work on the collaboration and he would suggest some things. He would try to make us think carefully about all the choices that we're making, and he would try to encourage more simplicity in the record. I had a clear vision, almost, of how it should sound. What I appreciated about Steve was his willingness to allow us to follow that vision and to only speak up when he really felt that something was a little bit wrong. We worked well together. There was no real difficulty and I like him very much. So that was a great pleasure and I am delighted we did that collaboration with him. I think it makes a difference in the impact of the record also, because people are talking about this record because of it. The final question was the spoken word on "Presence". That is an interview I made with a gentleman in Liverpool , England where I was living at the time. A gentleman called Stan Ambrose. He is a very beautiful person, he's a musician and a radio presenter. He was involved in counselling for a long time and he is a local activist. Just a gentleman who many people like… many people like this man. He is very humble, very kind and we became friends. We started to talk about spiritual things and the essence of life and these things. He's always been interested in those things, interested in mediation and all that stuff. So I interviewed him actually in the Cathedral — in Liverpool Cathedral I interviewed him – and he began talking about a book by Eckhart Tolle, who is a spiritual writer, a very successful spiritual writer whose message of stillness is making an impact around the world. Stan is a person who is very much interested in these things and very sincere. When he spoke to me about this, he almost had a tear in his eye. I made the interview with him, and it just seemed to fit with the song, "Presence". Also, the fact is that he is talking a little bit about the possibility of life beyond death and I know that he was thinking about that. And that relates directly to "Angels Walk Among Us", which is also asking that question. Just the same as "Are You There?" was asking that question: "Is there something beyond?"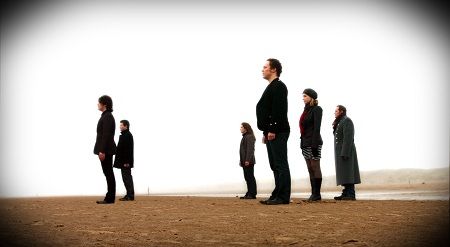 With this album you have confirmed Lee Douglas like a full member in Anathema. Can you give more infos about her and say something about the decision to confirm her in the line up.
Lee is family, and a very good friend, and a very very good singer. She was always there… she sang on all the records since "Judgement". Ever since "A Natural Disaster", she became more involved because she sang the lead vocal on that song. It just, you know, developed. When she came to the studio to record, she did say that she would like to be more present at the live concerts because she has to balance it with work and stuff. She has always been there, really. If I'm honest, she's always been there, so it's okay. We are very glad about it because she is one of us. She does fit very well — a very good singer, easy-going and easy to be around, fun. So, no problem there, really. We're happy about it.
So, now some advices for the new fans, what Anathema album to advise to start from?
I would advise to begin with the new album, "We're Here Because We're Here". That's what I would advise. And the reason is because that is the best one, and also it's the picture of who Anathema really is right now. I would start with this record. I would suggest that it is just open-minded music. A powerful rock band, it's emotional and it's honest and it's real … from the heart.
I would say that you have similitaries with The Gathering, you know, you first started like a doom metal band after you came through with an alternative rock band.
I understand what you're saying. They really developed and changed and grew into much more of an alternative rock band. And I suppose we did the same. But, I'm looking at the interview schedule and it's still Metal webzine, it's in Metal Maniac, it's in Metal Hammer (Germany). Those are our roots. The band is much more than metal and has not been a metal band for many years. Real musicians — like Radiohead or The Beatles, Pink Floyd, Led Zeppelin, Black Sabbath, U2, band like this – the real musicians, they do evolve. We are of that stock. I love Iron Maiden and their music has evolved a little bit. Our heritage is much more in the Radiohead, the Pink Floyd, the Led Zeppelin and the Sabbath and that area of evolution, which is much more expansive and open-minded. That's just our style. And if they don't like it, that's tough shit.
What are the next band planes (talking about tours ecc.)?
We are in between playing Turkey and Russia right now. In three days we're going to Russia, and then there is a show in London. Then I'm touring with Anneke van Giersbergen in South America. It's just one or two festivals over the summer and a time over the summer to collect ourselves, to relax, to gather our strength and to do some new writing. Then, in the autumn, a natural machine will start, and a long tour will happen. I look forward to that, actually.
We know that you do acoustic tours with Anneke van Giersbergen and now I make you a question, do you think that in the future there will be a project or a collaboration with Anathema? I mean not only with your solo project…
We have talked about that, and she would be welcome because she is such a great person and such a great singer. So, she would be welcome. But, the fact is, we have a female vocalist in the band. You know what I mean? Lee has the voice for our style, so she's in the band. I did have ideas for Anneke to sing on the new record and she would have sounded beautiful. But Lee Douglas is there and she's committed and it wouldn't really be appropriate. But we certainly love Anneke very much. She has sung live with Anathema. We love her very much. I think she is a wonderful person and a really wonderful singer and a really good professional. Of course, it's a possibility.
So we're at end greet as you want our readers.
Thank you, my dear. Ciao and grazie.
Links
MySpace * Facebook * Twitter * Site
Interview by Vard Aman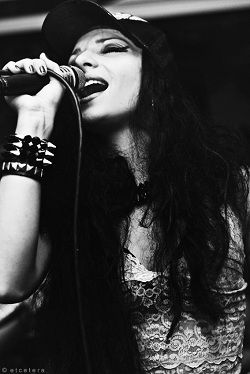 Marvel formed in 2006 in Kiev, Ukraine, where they are still based. Outside Ukraine, they are perhaps not that well known, but they certainly deserve to be – they are one of those bands that need discovering; and one of those bands that we will find are totally amazing when we do discover them. A hidden gem in the dust; one that equals, if not surpasses the quality of many of the gems we already know about and own; a gem that turns out to be, well… marvellous! And they are! They play a style that is very hard to define, so hard to define that I'm not going to try; you're just going to have listen to them. Fronting this unique and immensely talented outfit is Olga Skripova, with her meticulously controlled and powerful vocals. I got the opportunity to interview her!
Hello Olga, welcome to Femme Metal Webzine.
Hi!
When did you start singing? Is it something you've always wanted to do?
I started singing when I was seven at music school's choir. At 17 I joined girls' jazz band. There were seven girls and we sang classic jazz songs in vocal arrangement. At the same time I had rock band (with Anastasia of Delia). After that I sang in another rock band at the university. I like singing very much, especially driving songs!
How did you all meet and how did Marvel start? Were you in the band right from the beginning?
We met at the University of Culture and Art where we all were studying sound engineering. At that time we didn't know what music we wanted to play. First year we were trying to find our own music style. At the end of the second year of Marvel's existence two of the musicians (bassist and drummer) left the band. Me and the guitarist asked to some new guys to join Marvel and we started to record our first album.
How did audiences in Ukraine react to Marvel in the beginning?
Not bad. We played many concerts in all possible clubs and festivals. We had many friends who came to our concerts. It was a good time, it was fun.
Tell us a bit about your first album, "V Kazhdom iz Nas".
"V Kazhdom iz Nas" is very important work for us. We spent much time and energy recording the songs. When we released the album we got a lot of positive comments from people and invitations to participate in big concerts and festivals with famous rock bands, as a support. This album was officially released and sold in majority music shops in Ukraine.
And you recorded some music videos, right?
Yes! We have video clip "Vje ne tut" ("Not here"). The filming was done at a concert in Kiev. This video doesn't have some idea or story; it is only a Marvel presentation. That's why we chose a quick energetic song.
Then you recorded your EP, "Ona" and its English twin "Reduce My Pain" – and this was the first release of yours I heard after being introduced to you. First of all, I really like the album cover! Tell us a bit about it and why you chose it.
It is really a beautiful drawing. This picture we found in internet. We wrote to the author of this work immediately. His name is Elton Fernandes and he is from Rio de Janeiro (Brazil). I like style and colors of this. I think this woman with wings (probably she is some kind of an angel I don't know) symbolizes life with ups and downs.
When I listen to the EP from beginning to end, I get the impression of quite an intense musical "journey" taking place. Did you deliberately write it that way or is that just the way Marvel's music is? Give us a little insight into your songwriting process.
My aim was to write three different stories with different feelings and emotions. But you're right – there is a connection between the songs. First song ("Tantra") is about personal feelings and beautiful emotions which we feel when we're in love. After that euphoria the fear comes, because we worry about loved ones (like everybody). "Reduce My Pain" is something about that. And finally we understand that life is a good thing. "My Own Passion" is a very positive and life -asserting song about our music and life.
And now for the tough one! Describe Marvel's sound and style to someone who hasn't heard your music.
Something like this: Marvel is a lyrical music and profound texts with driving guitar riffs. Check it out guys!
How has your sound changed between when you first started out to your first album and to your most recent single "Naiti Sebya"?
I think difference is very big. Firstly, because we recorded the album and the single "Naiti Sebya" at different studios using different equipment. And we wanted to do something new when we worked on the single. We wanted to get nice rich sound with modern elements. I think that to find a new sound is very important for each band.
How often do you play live, and how is the support for your shows now?
Now we play rarely because we are working on new songs.
Have you done any tours inside and outside of Ukraine?
We played in many towns in Ukraine. And we've been to Belarus twice.
Do you have any personal favorite Marvel songs, or songs that have a special meaning to you?
I love the new songs. My favorite song is the newest song always.
What bands/music do you like to listen to (other than Marvel)?
I like many bands. Katatonia, Godsmack, Guano Apes, Queen, Pink Floyd, Karnivool and many many other! They inspire me to create.
What do you like doing outside of Marvel? Do you have any hobbies or interests?
Yes. I like travelling. I always go to the different city or country when I have free time. And I work at a TV Channel as a music redactor. I write about music stars and choose video clips for the TV Channel's audience.
What is next for Marvel?
I think it is new album. We have some new songs in English. And I hope you'll hear them soon.
That sounds good! What can we expect from your new album?
I think it will be interesting. Now we are working on change of music style. We try to compose more progressive songs with actual elements and sound. It is difficult but I believe we can destroy our usual views on structure of songs. Our new album will be not similar to the first.
OK, Olga, thanks very much for talking to us! We wish you every success and we're all looking forward to hearing the new album, and lots more from you and Marvel in the future!
Thank you! Goodbye.
Links
MySpace * ReverbNation * Facebook * Twitter
Latest Multimedia
6 color styles available:

Style switcher only on this demo version. Theme styles can be changed from Options page.