Browsing articles tagged with " instruments"

Interview by Alessandra Cognetta
In this interview we get to know a bit more about Trude Eidtang and her newest project When Mary. Their first album, "7SUMMERS7WINTERS" has been released a couple of months ago and it is a well-crafted, passionate work with lots of interesting elements and some of the most original vocals you're going to listen to this year. Trude gave us some really detailed insight on the album and on herself as a musician and as a person. We also get to know a few pros and cons of Norwegian culture and history and discuss songwriting, yoga and folk instruments. But enough with the blabbering, scroll down and read (and listen, too)!
Hello and welcome to Femme Metal, Trude! How are you and how's it going for When Mary? Continue reading »
Interview by Miriam C.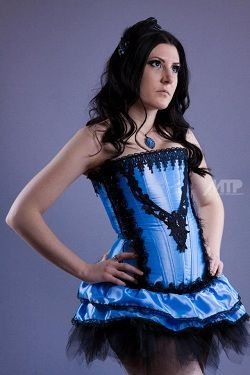 Schoolcraft is the solo musical entity leaded by Canadian singer and instrumentalist Lindz Riot. Recently she landed the touring female singer and keyboards position on UK symphonic extreme metal band Cradle of Filth and for this reason I thought it was a nice idea to ask her few questions about her next projects, her background and least but not last about her (former?) band Mary and the Black Lamb and her last release "Rushing Through the Sky". I'm sure that if you love ambient music, harps and cellos, you'll be get intrigued by Lindz.
Hi dear, how are you? I would like to start this interview asking more infos about your musical background/training. Also how do you manage to balance your classical training with the contemporary one?
Hey Miriam! Thank you so much for having me at Femme Metal Webzine. I actually started in country music when I was a child. I was taught guitar by my dad and that's where my singing started. I think the country style of voice training was a good foundation for me because it taught me the basics of belting as well as softer folky tones in the higher range. Well, I wouldn't call it training more so as just my own interpretation of it.
In my tweens I gave up music for a bit, but then when I turned 15 I discovered punk music and became very passionate about it. I formed an all-girl punk band and that's where I began in the music business and played bass for 8 years. I took lessons twice a week and really developed my song writing and basic theory skills at this time. I sometimes wonder where I'd be if I didn't give up the bass. I'm pretty sure I could handle technical death metal pretty easily, but the bass just wasn't in the cards for me anymore after the age of 20. Continue reading »
Interview by Robin Stryker
Illuminata is a new band from Graz, Austria with two multi-talented female singers, Katarzyna Nieniewska and Lisa Tomantschger. Illuminata's three-song EP, "A Frame of Beauty", has a lushly symphonic sound with the added beauty of passages featuring the piano, guitar and flute. Read on to learn more about this exciting new band.
Hello, Katarzyna and Lisa! We're glad you could join us today. Would you tell us a little about Illuminata's history and how you became involved with the band?
Well, the band was founded in 2006 by Luki, who played bass then and Dave. The guitarist of their former band joined and, as they had a pretty clear concept in mind, they auditioned two female singers and a keyboarder. The current line-up exists for about half a year now. We've released three records: the two EPs "Lachrymal" and "A Frame of Beauty" and one full length album "From the Chalice of Dreams".We have played concerts together with Elis and Grossstadtgeflüster and are currently looking forward to performing our first festival. That's Illuminata in a nutshell.
Katarzyna: After a long, tiring and unfortunately fruitless search for a band that would suit my style and ambition, I almost reached the point at which I wanted to abandon the thought of being in music altogether. At exactly that moment, I came across Illuminata's ad and it instantly clicked.
Lisa: Since Illuminata's search for a new singer was quite active, they rather found me than the other way round. One day they contacted me via a social network website and we arranged a meeting where Katarzyna and I noticed that we had already seen each other at university (and an exam we both failed). We instantly got on well and that's pretty much how I became a member of Illuminata.
Who are the other members of Illuminata?
Besides us (the singers), the band consists of Lukas Knöbl on guitar, Dave Slut on drums, Chris Vide on Bass and, for the moment, Sabrina Supan on keyboards.
I was sorry to read that your keyboardist, Sabrina, is moving to Germany. How is the search for a new keyboardist coming?
As said above Sabrina will, for the time being, remain with us as a guest musician so we can be on stage until we find a replacement. So far, we cannot say anything definite about a new keyboarder. We don't want to rush this decision as we are not just looking for some hands to play the keys but for a proper new member of Illuminata; so character is very important to us.
What does the name Illuminata mean?
Our name means, translated from Latin, "the illuminated one". In essence it expresses what we are trying to do, to illuminate people with our music. The female form underlines the influence female musicians and especially we singers have on the whole concept of Illuminata and it also fits to our ideal of the band as a unit.
How would you describe the music on "A Frame of Beauty"?
Although the songs are a bit slower than on the previous album we think they are much more powerful and focused. We are always trying to push our boundaries so it's got a lot of progressive elements in it, yet it is packed with emotion and passion. It simply is Illuminata.
Which bands influenced your sound the most?
We guess that all our favourite bands have influenced the way every single member contributes to the sound. The general style of our sound is however inspired by classical composers like Wagner on one hand but also modern composers like Hans Zimmer on the other.
The third song on the EP is an acoustic track in Polish called, "Czlowiek bez twarzy". What is the song about?
Katarzyna: The English title would be "Man Without a Face". This character in the song is afraid to show his true self, not recognising that he in fact hurts himself and others by always trying to manipulate in order to avoid being hurt. He represents that paradox in human character in general.
In 2008, Illuminata released its full-length debut, "From the Chalice of Dreams". Why was "A Frame of Beauty" released as a three-song EP?
One reason was our technical resources improved a lot at the time compared to "From The Chalice Of Dreams" so we could create orchestration as it sounds on "A Frame of Beauty". However, it took us quite a lot of time to get confident with these new possibilities. As we really wanted to improve in terms of sound with this release, we decided to concentrate on fewer songs in order to do them properly. After all, it took the band and our tireless Master of Sound, Mister Mac, almost a year to finish that record. It wouldn't have been possible to do a quality full-length album straight away. Another reason was that, for the first time, we did not copy the record ourselves. So we wouldn't have been able to realise anything other than the EP financial-wise without the quality suffering.
Of all the songs recorded by Illuminata, which is your favourite and why?
Katarzyna: It's a difficult choice, but one of my favourites is definitely "Czlowiek bez twarzy". The song is based on personal experiences, so it has a great emotional intensity for me.
Lisa: I like "Arnediad Lôr" from the "From The Chalice Of Dreams" album best. Maybe because the song was written before I joined the band and, as we have so much new material already, I don't have to practice it as often as our new songs which means I'm not sick and tired of it yet

Just kidding… I like it because it's a really powerful song, it has a very catchy melody and for me it creates a very special atmosphere.
You have both been involved with music since you were small children. Would you tell us about your musical backgrounds and training?
Katarzyna: Ever since I was a little girl, my family sang a lot at home. At school I sang in choirs and later performed in a musical. During High School I started taking vocal lessons in popular as well as classical singing. Presently I am improving my technique further with a speech-level-singing instructor.
Lisa: When I was young I experimented with a lot of different instruments like the violin, flute, drums, guitar and piano. I have always been singing in addition to that and finally settled for it. I've received professional lessons in classical singing for three years now and an additional five years of training in popular singing. Like Katarzyna I'm currently broadening my horizon with speech-level-singing.
When did you first become interested in metal?
Katarzyna: At the age of 19 which is in fact quite late, I suppose.
Lisa: I think it started at the age of 13. I had braces and a lot of pimples then, so I guess it helped me a lot. I could release a lot of anger and frustration by listening to metal.
What percentage of your music is driven by passion versus technique versus inspiration?
Katarzyna: Technique is a prerequisite of for making quality music but for me passion is even more essential. In my opinion passion is a means for transporting emotions. It's that certain spark that makes music genuine. Inspiration plays a major role in the writing of music. In general these three components have to add up to at least 100%.
Lisa: In my opinion all three factors are equal and it depends on mood and condition; we compose them differently every day but in the end they always amount to 100%.
How has the audience response been to Illuminata's live performances?
Usually the reaction ranged from "Hell, yeah!!!" to "Show us your tits!!!" . No, seriously, so far we've never received a single negative response to our performance. Of course, people sometimes compare us to bands they think are similar, after all the concept of female fronted metal with classical elements is not exactly new. But overall we think people appreciate the "I haven't heard anything like this before" experience we provide.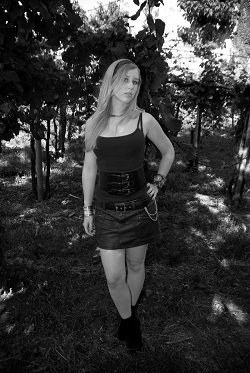 What are the biggest challenges for a new band like Illuminata? Is metal considered underground music in Austria, or has it entered the mainstream?
It is very difficult to be recognised when you are a young band nowadays. You literally need to grope for all the presence you can get which is often quite tiresome and difficult financial-wise. At the moment we finance everything we do from our own pockets. As a band we actually pay equipment, transport, merchandise and new releases quite through our nose. Another challenge is, of course, the search for gigs which often results in "You can play concerts when you've got a name but you can't get a name without playing concerts". Another challenge for new bands is the establishing of a network. We found that especially for a new band it is vitally important to have as many connections as possible. It might not sound romantic but often it matters who you know rather than who you are. However, we think the most important challenge is not to be caught up in all those "problems" and not to forget the music over them. We always wanted our music to determine who we are as a band and we will stick to that. Although metal is a quite established scene, not only in Austria, we think that the flair of underground is in a way essential to metal. It will always be something different or more extreme no matter how many people like it. As for ourselves, we think that in this respect we are pretty much underground of the underground. There are not many Austrian bands that are in a similar vein, though we have many, many young metal bands. Oh, well at least that way no one can accuse us of running with the pack .
If you could go back in time, what would you change and what would you leave the same?
We wouldn't change anything. We think that every phase we went through with this band was a phase of development towards our current level.
What can we expect from Illuminata in 2010?
One thing we can confirm is that we've just been invited to perform at the Newcomer Stage of this year's Metalcamp Festival. So you can definitely expect an overwhelming show there. In general we will be playing more gigs this year than ever before, just check our websites for dates. Furthermore, we are looking forward to release our second long-player "A World So Cold" (that's actually the first time we reveal the title to anyone) this year which is doubtlessly going to be the biggest thing we've ever done in terms of both sound and writing. Currently we are working on the last details within the songs and we will kick off the recording as soon as possible. Again do check our blogs and websites for updates.
Thank you both for taking the time to chat with us today. Do you have any parting words for your fans at Femme Metal?
Stay Metal!!!
Links
Label : SL Productions
Review by Luisa Mercier
Inspired by the E. A. Poe short novel of the same name, Grey November deliver us a monument devoted to the memory of funeral doom, nuanced with a romantic, decadent atmosphere that the writer himself would have liked. The opener "A Dull, Dark, and Soundless Day in the Autumn of the Year" is a synth-based track while the rain slowly set the mood for a grey autumn landscape. Then Marieke ethereal vocals kicks in gracing everything with a ghostly aura, while drums and guitars play their doomed dance. Spoken words from both male and female counterparts give an even more creepy vibe to the song. French language enhances the already inner elegance of the whole record, which is also partially sung in English. "Roderick Usher" has the typical doom pace, while Marieke and Cédric entwine their voices until the melancholic acoustic break, rain beaten and cold bitten. The silhouette of the Ushers haunted house is perfectly painted in the mind of the listener, completely covered in fog and gloominess. Thick guitars pave the ending of the song and their reverberating sound fills the air with mysteries. The following "Lady Usher" is the second longest track on the album. The first half is synth-driven, completely hopeless and sad, while the second leaves the listener aghast through whispers, spoken words, the rain and the wind. The outro is doom metal again and Marieke showcases her magnificent vocals. The fourth track is a short piece, full of sounds from a surrounding environment: the wind, an old door opening, steps on the stairs, drops falling from the ceiling. "Requiem" is a neoclassical instrumental only broken by a French spoken part and it works as intro for the title-track. Sixteen minutes long, it builds heavier and heavier, even some growl appear through the thunders and the ending has a sudden, obsessive black metal twist. Something you did not expect after a whole record so slowly paced. "Epilogue" closes the album; the first part is quite weird, full of electronic beats, it resembles an industrial song. Then it becomes neoclassical again, strangely peaceful with a slight restless feeling. Spoken parts and Marieke's singing creates a romantic atmosphere. The final minutes are completely made up of sounds taken from the surrounding of the house. Chaos and then the rain beating over the abandoned mansion. Not an easy-listening for sure, but if you love this kind of atmospehere you will love "The Fall of the House of Usher".
Rating – 80/100
Tracklist
A Dull, Dark, and Soundless Day in the Autumn of the Year

Roderick Usher

Lady Usher

Requiem

The Fall of the House of Usher


Epilogue
Line Up
Marieke Delanghe – Vocals


Cédric Seyssiecq – Music, vocals, lyrics, concept, artwork
Links
Label : Auerbach Tonträger/ Prophecy Productions
Review by Luisa Mercier
I have to admit that I do not like very much this kind of atmospheric folk music, mingled with doom mood. I think it is way too complex to listen to, but I will not deny that someone might find it really artistic.This review is for that kind of audience, the ones that will love "Dor". Din Brad is a side-project of the doom-metal band Negura Bunget and it is strictly related to Romanian folklore. On vocals you will find Inia Dinia (keyboardist in Negura Bunget), Alma and male vocalist Negru. The record is opened by floating "Amar" enriched by percussions and the eerie sound of synth. Female voices are different because Alma is more dark, while Dinia has a brighter voice. The album is filled with traditional instrumentation and it has also more of one solo moments as in the third track "Poarce 'N Suflet Greu Pacatu" where Negru vocalises for all the duration of the song. I found a little bit boring, but I am sure that fan of this kind of music are able to appreciate it. Following "Doin" offers more interesting elements, but I think I also have some problems with the way Romanian language sounds. "Cintecul Cununei" is another a capella track, sung by a guest, I think she is some local traditional singer. I would like to quote a fellow reviewer as far as the following tracks are concerned: ""Dor" provides more instrumentation (and even some of those chilling whispers from the first track), but it's too little too late. I enjoyed this song, but again after a couple of minutes, I found myself waiting for it to end". Also, because "Of, Of, Viata" is another a capella piece way too similar to the others. "Durere" is little attempt at spicing thing up, without a great result. Flute and female vocals soar over a musical background that is always the same. Other a capella track follows and it always is another one that closed the album, so I think this is the problem of Din Brad. There is little variety in music, so all results a bit dull overall. It is something they can work on, for sure and improve in next releases. At present state, I advice "Dor" only to hardcore fans of folk.
Rating – 65/100
Tracklist
Amar

Îmbratisat De Dor

Poarce'n Suflet Greu Pacatu

Doina

Cîntecul Cununei

Dor

Of, Of, Viata

Durere

Foaie Verde, Odolean

Cine Iubeste si Lasa

Bradule, Bradutule
Line Up
Alma – Vocals

Inia Dinia – Vocals, Keyboards & Flute

Negru – Drums & Percussions
Links
MySpace * ReverbNation * Facebook * Site
6 color styles available:

Style switcher only on this demo version. Theme styles can be changed from Options page.